Tomi Lahren (Fox News) Wiki bio, age, net worth, salary, husband, married
• Tomi Lahren is an American Conservative-Republican political commentator and former TV host.
• She is of German and Canadian descent, and was raised in a strict military family.
• She gained popularity for her short videos on a segment called "Final Thoughts".
• She is currently working for Fox News as a contributor and is estimated to be making over $200,000 per annum.
• Her estimated net worth is $3 million.
Who is Tomi Lahren
Tomi Lahren is a somewhat controversial American Conservative-Republican political commentator, and a former TV host. She previously hosted "Tomi" on a multi-platform news network called The Blaze, where she gained popularity for her short videos on a segment called "Final Thoughts". Many of her videos, which often criticize liberal politics, have gone viral, causing her to be described as a 'rising media star' by The New York Times.
At just 26 years old, Tomi has done really well for herself professionally, and is currently working for Fox News as a contributor.
Early Life and Education
Tomi Lahren is of German and Canadian descent, and was born in Rapid City, South Dakota, on 11 August 1992. Tomi was raised in a strict military family – her father was in the US Marine Corps – and attended Central High School, then the University of Nevada, Las Vegas from where she graduated with a BA in Broadcast Journalism and Political Science. While at university, she was the host and associate producer for the university's political roundtable show called The Scramble.
Limelight
Tomi Lahren first sprang into the limelight in 2016 after Beyoncé's 2016 Super Bowl performance which resonated with the Black Lives Matter, Black Panthers and the racial discrimination problem in the US. Tomi reacted to this by attacking the celebrity's husband on her "Final Thoughts" segment, stating that 'For fourteen years he sold crack cocaine. Talk about protecting Black neighborhoods? Start at home.' – the video went viral and had Beyoncé fans furious.
Her shows and videos have been criticized and labelled racist by a lot of people, including "The Daily Show" host, Trevor Noah.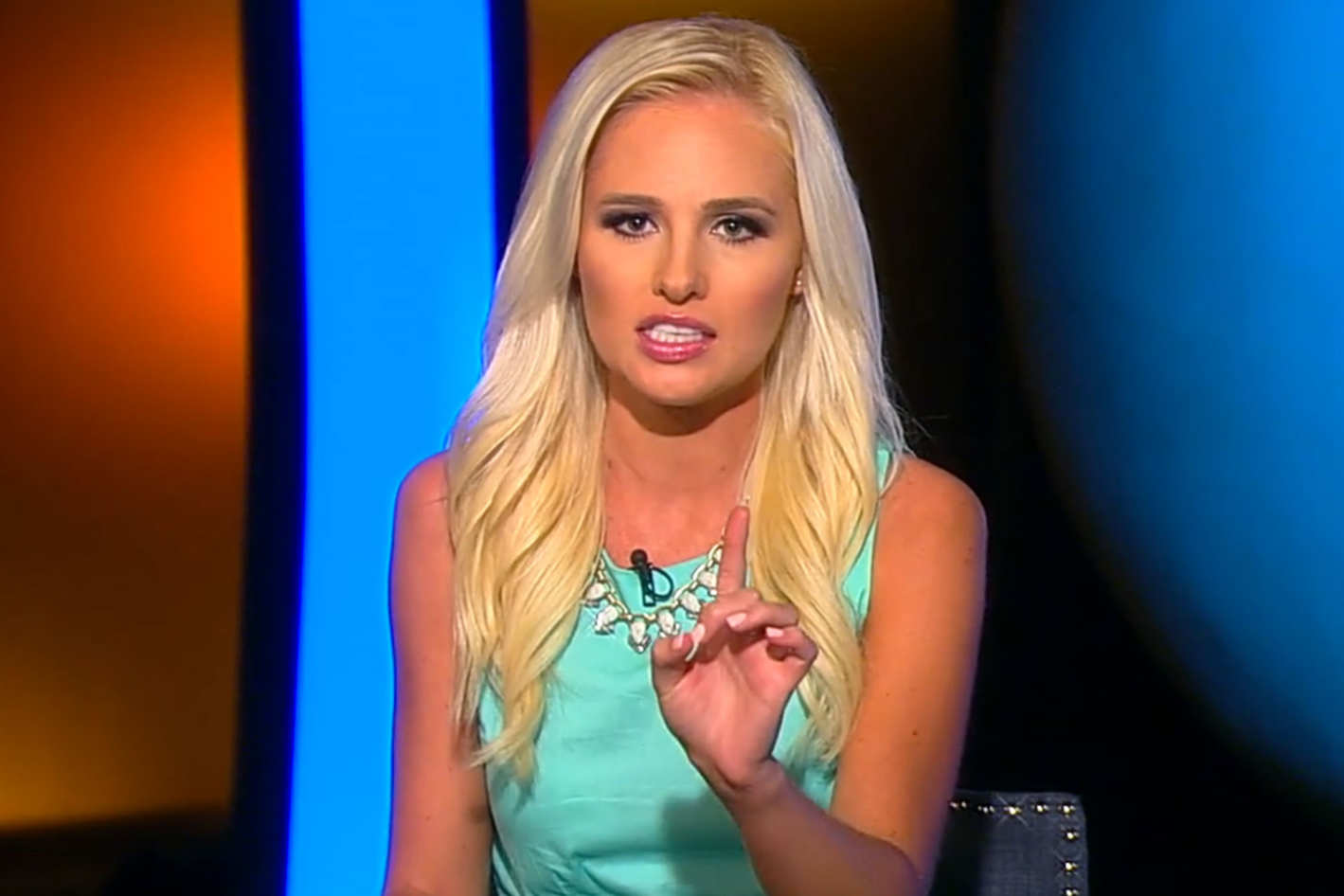 Career
Tomi Lahren began her career as an intern for Republican Congresswoman Kristi Noem in Noem's Rapid City Office.
After completing her degree, Tomi Lahren applied to One America News Network (OANN) for an internship in political commentary. Instead, she was offered an interview which culminated in an opportunity to host her own show, "On Point with Tomi Lahren", which debuted in August 2014 in San Diego, California.
In August 2015 Tomi announced that she had completed her last show for the network, and would be leaving OANN. She moved to Texas in November 2015, where she began a new show with The Blaze, a multi-platform news network. Her three-minute segment ending of her program called "Final Thoughts" quickly gained popularity – some would say notoriety – on social media for her blunt controversial statements on racism and other sensitive topics, liberal-triggering and her brazen support for Donald Trump and his administration.
Considering herself a 'constitutional Conservative', Lahren has recently been viewed as the voice of the young and millennial Republic Conservatives, and has spoken vehemently on topics that most of even seasoned Republicans shy away from.
Lahren is an outspoken Trump supporter, and has been very vocal in pushing the 'Make America Great Again' agenda, calling for the building of the Mexican border wall and verbally bashing the Black Lives Matter Movement among others.
In January 2016, Lahren endorsed Marco Rubio for President in the Republican Party Presidential Primary, but later changed her stance and ended up being a big Trump supporter and eventually a Trump administration supporter.
Tomi Lahren Fired by Blaze
In March 2017, Lahren appeared on The View and made comments about women's access to abortion, saying that she would be a hypocrite to support both 'limited government and also government restrictions on abortion'. The owner of The Blaze, who is pro-life, criticized her comments and suspended her with pay. Lahren filed for wrongful termination, and the suit was settled with an agreement that required her to remove all videos she had made with The Blaze from her Facebook page.
Tomi Lahren at Great America Alliance
In May 2017, Tomi joined Great America Alliance, an offshoot of Great America PAC, which is a large pro-Donald Trump Super PAC (Political Action Committee) chaired by Newt Gingrich and Rudy Giuliani, working in communications and describing her role as a 'side gig', as she waited to return to television as a commentator.
Tomi Lahren at Fox News
In August 2017, Tomi Lahren joined Fox News as a contributor, stating that she is a commentator and not a journalistm and that she is not about presenting news neutrally but about commentary and 'making news'.
Many of her commentaries have been described as racist and have been challenged by many including Trevor Noah who hosted her on "The Daily Show" in November 2016 for a 26-minute interview. Additionally, The Daily Beast has described Tomi as a 'right-wing provocateur'.
Come say hello! @FoxNews is here at the Wild Horse Saloon in Nashville! #foxnews2019 pic.twitter.com/NilFGgiWhO

— Tomi Lahren (@TomiLahren) December 31, 2018
Personal Life
According to Article Bio, Tomi Lahren is said to be in a relationship  with Branden Fricke after they were spotted together in Los Angeles having some quality time.
The Fox News contributor dated now ex-boyfriend Jared Christian from February 2015. Jared is a Utah native, a top graduate of the US Naval Academy in Annapolis and so a military officer, but is no longer with Tomi as of September 2016, and as a result all of their cute pictures together on Instagram have disappeared.
Tomi is also said to have dated Bachelorette contestant Chase McNary for a couple of weeks, and has also been linked to a black republican boyfriend by the name Kevin Martin who, much like Tomi, is not the least bit shy about expressing his unorthodox views, including the suggestion that black oppression is a myth, and that the BLM is a terrorist organization in the same league as the KKK.
Tomi is an avid animal lover and owns two pet dogs, Koko and Keta.
Tomi Lahren Net worth
Tomi Lahren's estimated net worth is $3 million, according to authoritative sources, most of which she has derived from working as a host and commentator for The Blaze. Tomi is currently working as a Fox News contributor, and is estimated to be making about over $60,000 per annum from that job, and over $200,000 in total per annum. With over a million Instagram followers, Tomi is said to have made over $500,000 from social media alone.