Tyra Banks Wiki: Baby, Net Worth, Husband, AGT, Pregnant, Weight, Measurements
• Tyra Banks is a former model, television personality, businesswoman, actress, producer, and author.
• She is the creator and host of the reality television show "America's Next Top Model" and "The Tyra Banks Show".
• She has a net worth of $90 million from her various endeavors, primarily modelling and business projects.
• She has guest starred in various TV shows and films, and is the executive producer of "Life-Size 2".
• She has written books, launched her own cosmetics brand, and is a philanthropist supporting the TZONE and Tyra Banks Scholarship programs.
Who is Tyra Banks?
Tyra Lynne Banks was born on 4 December 1973, in Inglewood, California USA, and is a former model, television personality, businesswoman, actress, producer, and author, perhaps still best known for finding popularity as a model from the mid-1990s to the mid-2000s. She was one of the world's top earning models, but then also found a lot of success in various acting endeavors. She is the creator and host of the reality television show "America's Next Top Model", and also had her own T series called "The Tyra Banks Show".
The Riches of Tyra Banks
How rich is Tyra Banks? As of late-2018, sources estimate a net worth that is at $90 million, earned through success in her various endeavors, initially in modelling, but subsequently her business and production work which exponentially increased her wealth. As she continues her career, it is expected that her wealth will also continue to increase.
Early Life and Modelling
Tyra grew up with an older brother, raised by their mother who was a medical photographer, while her father is a computer consultant, but when she was six years old, their parents divorced. She attended Immaculate Heart High School located in Los Angeles, and was often teased for her appearance during her youth. However, her physical appearance would change dramatically while at school, and she started modelling work at 15 years old. She was rejected by four modelling agencies before being signed by LA Models, and then switching to Elite Model Management a year later. She started by modelling in various countries in Europe, leading her to be featured in popular magazines, including "Vogue", "Cosmopolitan", and "Seventeen". She also worked her way to start walking in fashion shows for high profile designers such as Chanel, Yves Saint Laurent, Christian Dior, Calvin Klein, Perry Ellis and many others. Advertising campaigns soon followed, as she worked for Nike, Dolce & Gabbana, Tommy Hilfiger, Ralph Lauren, and H&M, to name a few. In 1993, she signed a contract with CoverGirl cosmetics, to work in various advertising campaigns. She became one of the few black models at that time to achieve supermodel status, earning considerable amounts for her modelling work.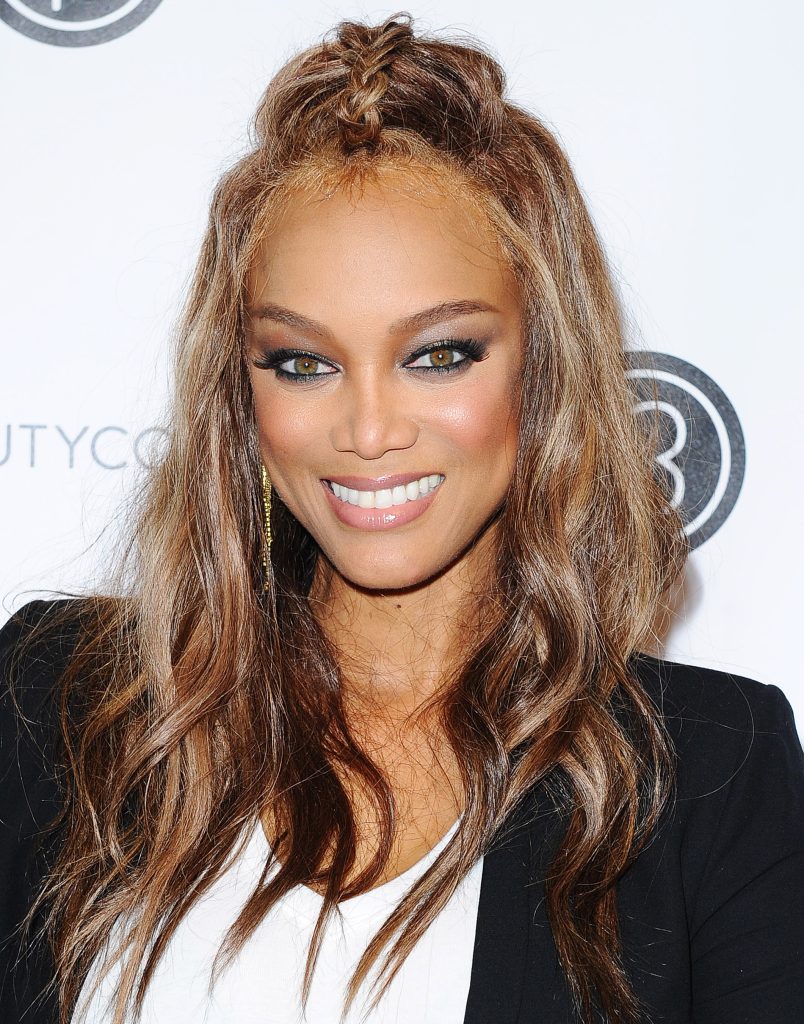 Acting Projects
Banks became the first woman to be featured on the cover of the noted "Sports Illustrated Swimsuit Issue", and was also the first African American to be chosen for the cover of Victoria's Secret, both considerably boosting her bank account. Her acting career began when she was cast as a lead character during the fourth season of "The Fresh Prince of Bel-Air" in 1993, playing the old friend of Will Smith's character. Since then she's had guest roles in other projects such as "The Price Is Right", "Felicity", "All That", and "Nick Cannon's Wild 'n Out".
She also launched her own production company called Bankable Productions, which would be esponsible for the production of her future shows. She worked as the executive producer and judge of "America's Next Top Model", and also created her own daytime "The Tyra Banks Show", which was aimed at younger women, winning a Daytime Emmy Award for her work on the talk show, and also appeared in several feature films, including "Coyote Ugly", "Halloween: Resurrection", and "Hannah Montana: The Movie". She is also the star and executive producer of the show "Life-Size 2", which is set to premiere during the Christmas season of 2018.
Eve is waiting for you.
Did you know you can watch #LifeSize2 on @Hulu, on demand and https://t.co/moqKmr7w66? pic.twitter.com/lF2kYmPQzf

— Tyra Banks (@tyrabanks) December 7, 2018
Other Projects
Tyra has also collaborated with various musical artists on their music videos – Tina Turner, Michael Jackson and Lionel Richie are just a few, and she also released a single with NBA star Kobe Bryant. Aside from these, she has written novels, with her first entitled "Modelland" which is loosely based on her own modelling experience, and whioch topped The New York Times Best Seller list a year after its release. She also co-authored a book with her mother entitled "Perfect Is Boring". In 2014, she created her own cosmetics brand entitled Tyra Beauty and had to take a non-degree certificate program at Harvard Business School specifically for this reason. She uses a multi-level marketing system, and has co-opted beauty models such as Melody Parra and Marita Gomsrud to promote her company.
A few of her most recent projects include the launch of the website tyra.com, an interactive e-commerce site focused on cosmetics. She also became a guest lecturer at Stanford University, holding classes on personal branding. She worked with photographer Udo Spreitzenbarth too, for a fashion photography project in which she transformed herself into 15 supermodels.
Personal Life
For her personal life, it is known that one of Tyra's past relationships have been abusive, naming herself as a victim and becoming outspoken about it. She did not mention any names, but opened up about it during a guest appearance on "The Oprah Winfrey Show". During the 2010s, she started dating photographer Erik Asia and they had a child together through surrogacy in 2016. She also mentioned that she avoids drinking and has never used recreational drugs.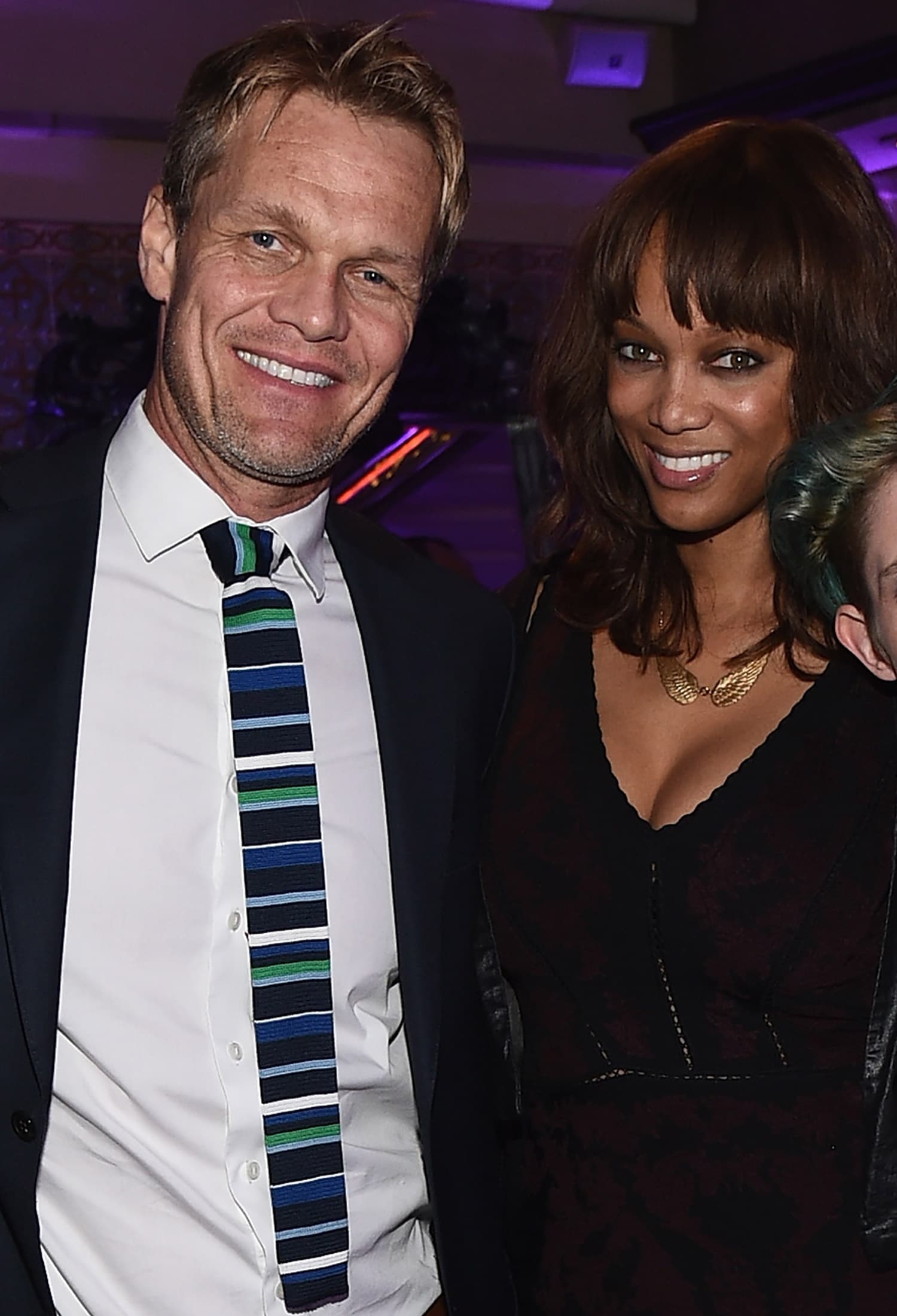 During her free time, she spends a lot of resources on philanthropic work, and established the TZONE program which aims at leadership development, acting as the patron of the organization. She is also the founder of the Tyra Banks Scholarship which aims to give African-American girls the opportunity to attend Immaculate Heart High School, her alma mater. TZONE initially did camp programs but transformed to a fully-fledged charity called the Tyra Banks TZONE.