Where is actress Elizabeth Ashley today? Bio: Ex-Spouse George Peppard, Net Worth, "Rancho Deluxe", "Celebrity Bowling"
• Elizabeth Ashley is an American theatre, film and television actress
• She is famous for appearing on the Tonight Show with Johnny Carson 24 times
• She received the best supporting actress award for her performance in Take Her, She's Mine and was nominated for a Tony for her performance in Barefoot in the Park
• She has appeared in various films and television shows, including Coma, Dragnet, Vampire's Kiss, B.L. Stryker and Treme
• She has been married three times and is currently living in Baton Rouge
Who is Elizabeth Ashley?
Born Elizabeth Ann Cole on the 30th of August 1939, Elizabeth Ashley is an American theatre, film and television actress, who became known for her roles in the production of "Take Her, She's Mine", the film "The Carpetbaggers", and the television series "Evening Shade." She is also famously known to have appeared in "The Tonight Show with Johnny Carson" 24 times.
Actress Elizabeth Ashley in 1964. pic.twitter.com/c6dSMAEoQQ

— Jessica Pickens (JP) (@HollywoodComet) October 19, 2014
Elizabeth Ashley's Early Life
Ashley was born in Ocala, Florida, but raised in Baton Rouge, Louisiana. She is the daughter of Lucille Ayer and Arthur Kingman Cole, a music teacher. She was educated at University High School in Baton Rouge, then briefly attended Louisiana State University, but decided to leave after her freshman year to become an actress.
Ashley moved to New York to pursue her dreams, studying acting at The Neighborhood Playhouse School of the Theatre to hone her skills, and at the same time worked as a showroom model and a Jell-O Pudding girl on a television commercial to support her studies. She also studied under Lee Strasberg, Shakespeare with Phillip Burton, and under Richard Lewis and Stella Adler.
Elizabeth Ashley's Career on Stage
After graduatinhg, Ashley started working as an actress on stage, debuting in 1959 in the off-Broadway production of "Dirty Hands." She later appeared in "Camino Real" playing the role of Esmeralda, and made her way to Broadway in the production of Dore Schary's "The Highest Tree." Her early years as an actress helped establish her career, as well as her net worth.
During the '60s, she formally used the stage name Elizabeth Ashley. She understudied the lead roles for "Roman Candle" and "Mary Mary", but eventually landed the lead role in "Take Her, She's Mine", with her performance as Mollie in the comedy production winning her the best supporting actress in the Tony and Theatre World Awards.
After that success, Ashley starred next in "Barefoot in the Park", playing the role of Corie Bratter, created specifically for her by Neil Simon, with her performance opposite Robert Redford garnering her another Tony nomination for best actress. She was also nominated for another Tony award, when she played the role of Maggie in "Cat on a Hot Tin Roof." Some of her other memorable performance on stage include "Agnes of God" and "August: Osage County." Her successful career on stage helped catapult her career as well as her wealth.
Elizabeth Ashley's Career in Movies and Television
Ashley also entered the world of film and television. Her screen debut was in the film "The Carpetbaggers" in 1964, followed by "Ship of Fools", "The Third Day", and "The Marriage of a Young Stockbroker." Some of her other notable movie roles have included "Coma" in 1978, "Dragnet" in 1987, and "Vampire's Kiss" in 1989. Her various film roles certainly helped in advancing her career as well as her wealth.
Wonderful to have Tony Award-winning actress Elizabeth Ashley on set today talking about her role in @CantTakeItBway pic.twitter.com/zNimdIKrJo

— Steve Adubato, PhD (@SteveAdubato) October 2, 2014
After striking a friendship with actor Burt Reynolds, Ashley eventually made her way onto the small screen after she became part of his series "B. L. Stryker," and was also cast in "Evening Shade", also starring Reynolds. Some of the other television series and films she has appeared in include "Ben Casey", "Sam Benedict", "The Six Million Dollar Man", "Miami Vice", "Caroline in the City", "Dave's World", "Law & Order: Special Victims Unit", and "The Larry Sanders Show."
Ashley also appeared in the HBO series "Treme" from 2010 to 2013, playing the role of Aunt Mimi. Her last television appearance was in the TV film "Understudies" in 2015, but her thriving television career also helped her net worth.
Elizabeth Ashley's Net Worth
As of late 2018 and based on authoritative sources, Ashley's net worth is reported to be well over $1 million, acquire from her years working as an actress, working on stage, television, and film.
Elizabeth Ashley's Personal Life
In terms of her personal life, Ashley has been married three times. She first tied the knot in 1962 with actor James Farentino, but they divorced after three years. In 1966, Ashley married another actor – George Peppard – whom she had worked with in various films, even deciding to leave acting to focus on her personal life and to start raising a family with Peppard. In 1968, they welcomed their son Christian Peppard, but despite enjoying a few good years together they divorced in 1972.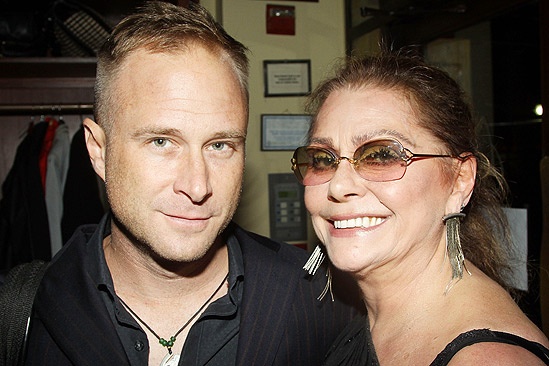 In 1975 Ashley found herself in another relationship when she married James McCarthy, but their marriage also ended in divorce, in 1981, since when she has been officially single.
In 1978 Ashley wrote a book, entitled "Actress: Postcards from the Road", a memoir published by M. Evans & Co.
Ashley is currently residing back in Baton Rouge.