Where is Chespirito now? What happened to him? Biography
• Roberto Gomez 'Chespirito' Bolanos was a Mexican actor, film producer, director, author and comedian
• He was best known for his portrayal of the main character El Chavo del Ocho in the eponymous family comedy series
• He attended the National Autonomous University of Mexico, graduating with a Bachelor's degree in mechanical engineering in 1951
• He married two women, Graciela Fernandez and Florinda Meza, and had six children with Graciela
• Chespirito died on 28 November 2014 due to heart failure caused by Parkinson's disease, and had a net worth of over $50 million at the time of his death
Who was Chespirito?
Roberto Gomez 'Chespirito' Bolanos, also known as 'Little Shakespeare', was born in Mexico City on 21 February 1929 – his zodiac sign was Pisces, and he held Mexican nationality. He was an actor, film producer, director, author and comedian, who appeared in more than 20 movies and TV series, while he remains remembered for his portrayal of the main character El Chavo del Ocho in the eponymous family comedy series, which he also created. Carlos Villagran and Ramon Valdes starred alongside Chespirito, in the series which follows the life of a homeless boy and a couple of his friends; it aired from 1972 to 1983 and won one of the two awards for which it was nominated.
Early life and education
Chespirito was raised in Mexico City alongside his siblings Horacio Gomez and Francisco Gomez, by their mother Elsa Bolanos Aguilar who was a secretary, and who passed away from pancreatic cancer in 1968, aged 66, and their father Francisco Gomez Linares who was an illustrator and painter, and who passed away in 1935, aged 41. Chespirito also had a half-brother from an affair of his father.
Chespirito was mostly interested in boxing while attending a local high school, and fought a couple of amateur matches. He became interested in acting and comedy when he was around 16 years old, appearing in school plays and writing his own jokes.
Upon matriculating in 1947, Chespirito enrolled at the National Autonomous University of Mexico, graduating with a Bachelor's degree in mechanical engineering in 1951, however, he never worked in his field of study. Chespirito wrote various plays and scripts for TV shows in the following decade, prior to launching his career as an actor.
Roles in movies
Chespirito made his debut film appearance in the 1960 musical crime comedy "Dos Locos en Escena", which he wrote together with Agustin P. Delgado, and which starred Marco Antonio Campos, Gaspar Henaine and Flor Silvestre. The movie follows magicians who are working at a theatre.
A couple of Chespirito's following roles were in the 1960 comedy "Dos Criados Malcriados", the 1967 romantic adventure comedy "The Crazy World of the Young", and the 1968 action crime comedy "Operacion Carambola".
The year 1970 saw him play Manolo in the comedy "Las Tres Magnificas", written and directed by Miguel Morayta, and which starred Lucha Villa, Maura Monti and Renata Seydel. The movie follows a man and his two sons who are controlling a small village, while a local priest has now invited his three nieces to come to the village to handle them.
Chespirito appeared in three other movies in 1970: the romantic comedy drama "El Amor de Maria Isabel", the comedy "El Cuerpazo del Delito" and the adventure crime comedy "La Hermana Trinquete". He starred as ElChanfle in the eponymous 1979 family sports comedy which he also wrote; the movie follows a waterboy who's working for a Mexican soccer team, and whose wife has just become pregnant. Chespirito reprised his role in the 1982 sequel "El Chanfle II".
Chesperito he appeared in only three movies: the 1983 crime comedy "Don Raton y Don Ratero", the 1984 western comedy "Charrito" and the 1988 comedy drama "Musica de Viento".
Roles in TV series
Chespirito made his debut TV series appearance in the 1970 episode "Los Pintores" of the popular comedy "Los Supergenios de la Mesa Cuadrada", and in 1979, he played the main character Vincente Chambon in the comedy "La Chicharra"; the series also starred Florinda Meza and Ruben Aguirre, and follows the life of a journalist working for the newspaper "La Chicharra".
Between 1973 and 1979, Chespirito starred as El Chapulin Colorado, alongside Ramon Valdes and Carlos Villagran, in the eponymous family fantasy comedy which he also created.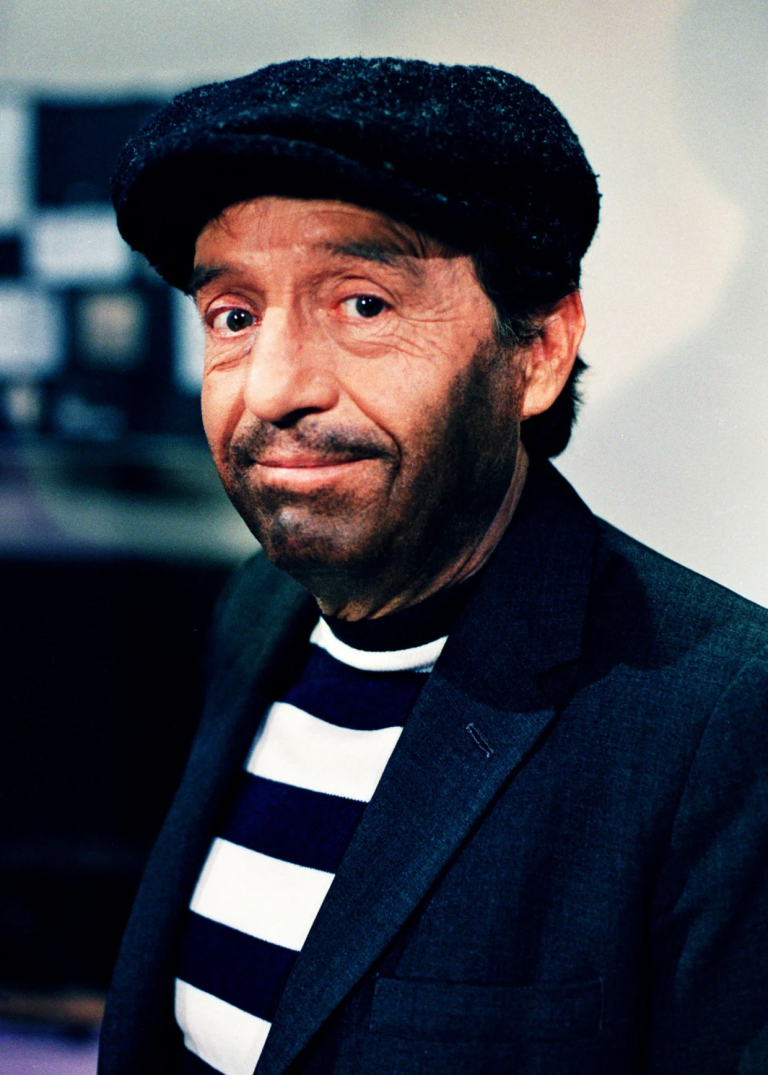 The series follows a superhero who seems to be causing more harm than doing good.
From 1980 to 1995, he played various characters in close to all the 700 episodes of the family crime comedy "Chespirito", created by him, and which also starred Ruben Aguirre and Florinda Meza. The series was a hit in Mexico, and each episode featured Chespirito playing characters which he'd created.
Chespirito's final TV series roles were his voicing of La Maquina in the 2009 episode "La Maguina Del Tiempo", and the 2010 episode "La Maguina del Tiempo II" of the animated adventure comedy "El Chavo".
Other credits
Chespirito received special thanks for the 1994 adventure family comedy movie "La Chilindrina en Apuros".
He was featured in a number of documentaries, such as the 2000 movie "No Contaban con mi Astucia", the 2005 film "Chespirito: 35 Anos en el Corazon de Mexico", and the 2008 series "TV o no TV".
Chespirito had 58 writing, 13 producing and nine directing credits, while some of the most successful movies which he had written include the 1961 comedy "Limosneros con Garrote", the 1963 science fiction comedy "Los Invisibles", and the 1967 romantic musical comedy "Un Novio Para dos Hermanas". He also wrote 57 episodes of the series "El Chapulin Colorado" between 1973 and 1978, 70 episodes of "El Chavo del Ocho" between 1972 and 1979, and 112 episodes of "El Chavo" between 2006 and 2011.
Chespirito had made a guest appearance in numerous talk-shows, including "Otro Rollo con: Adal Ramones", "El Gordo y la Flaca", and "De Pe a Pa".
Awards and nominations
Chespirito won a 1997 Mexican Cinema Journalists Special Silver Goddess Award for his performance in the series "El Chavo del Ocho".
Love life and relationships
Chespirito married his first wife Graciela Fernandez in 1968, in a private ceremony attended by only the closest of their friends and family members; she was a non-celebrity Mexican woman, and only a little about her is known. Graciela gave birth to their six children in the following 21 year, before she and Chespirito divorced in 1989, for unknown reasons.
He married his second wife, Florinda Meza in 2004, and they remained together until his death.
Florinda is a Mexican actress, film writer and producer, with close to 20 acting credits to her name, while she's probably known best for having starred alongside Chespirito in the series "El Chavo del Ocho" between 1972 and 1983.
Chespirito and Florinda didn't have children together.
Hobbies and other interests
Chespirito was a very friendly man, and apparently had numerous friends. He was a philanthropist, who worked with various charity organizations, but mostly with those which aimed to help underprivileged children and elderly people with no one to take care of them.
Chespirito enjoyed travelling, and his career took him to various South American countries and US states, while he also visited many Canadian cities and European countries; his dream travel destination was Brazil.
He liked playing sports with his friends, and was apparently good at both tennis and golf.
Chespirito enjoyed reading books in his spare time – his favorite author was Juan Rulfo, while his two favorite books were "El Llano en Llamas" and "El Gallo De Oro".
Death
Chespirito died on 28 November 2014, at the age of 85; he was suffering from Parkinson's disease, and heart failure caused by it led to his death. Numerous celebrities expressed their feelings and support for Chespirito's family on the internet, including the famous American comedian and actor George Edward Lopez, the Mexican actor and comedian Edgar Angel Vivar Villanueva and the Mexican actress Maria Antonieta Gomez Rodriguez. Chespirito was buried at Mexico City's Panteon Frances.
At the time of his death, his net worth was estimated at more than $50 million.