Who has Fantasia dated? Fantasia's Dating History Since Youth
Fantasia came to prominence after being named as potentially one of the most talented singers, as well as the winner of the third season of the reality TV singing competition show "American Idol" in 2004. It led her to huge popularity, and caused enormous media interest, not only in her professional life but also supposed private life, and over the years public interest in both has diminished little. It is known that the famous Grammy Award-winner has been romantically linked to six handsome men, if not more, reportedly making some poor decisions in her personal life, so let's dig a bit deeper, and find out what these might be!
Born Fantasia Barrino in 1984, in High Point, North Carolina, even before she achieved popularity, Fantasia was romantically involved with a man named Brandel Shouse, entering into a relationship with him when just 14 years old.
It didn't take her long to drop out of school – which was pretty bad mistake, wasn't it? – especially as under his influence and supposedly to be more just like her friends, Fantasia started drinking and hanging out at local night clubs. At the age of 17 she became pregnant to him, later revealing more details from that period of her life in an interview with Oprah Winfrey. She recalled, "That's when everybody seemed to give up on me. I was the girl who could sing and was supposed to grow up and do something with my life. But when I moved out, started hanging out with the wrong people, and got pregnant, people were like, "She ain't goin' nowhere now." I'd lost myself."
Their daughter, named Zion Quari Barrino, was born in August 2001, but according to People magazine, her relationship with Brandel had always been somewhat abusive, even after the birth of their daughter, not only verbally and emotionally but also physically.
As many people could not understand why she decided to stay in a relationship with him when she was bullied, Fantasia later tried to explain that. According to ABC News, she said, "Sometimes that abuse feels like love to you. That's all. Sometimes that's all you know." In August 2002, Brandel Shouse pleaded guilty to beating and choking her. Fantasia told People magazine -"We were kinda killing each other, fighting, arguing," but adding, "It made me realize I had to respect myself. If I let it go on, Zion would've grown up, letting herself be disrespected. I'm cautious now about relationships. I won't go through that anymore—no hitting, none of that."
After dating for five years, Fantasia ended their turbulent romance. Even though she often had no money and could barely make ends meet, she moved with her daughter into a small apartment, recalling "Sometimes I'd have to borrow to see that the child had Pampers, but we made it through that."
After more than a decade, in 2014 Shouse filed a lawsuit against Fantasia for full custody of their daughter. According to news website TMZ, Brandel claimed that he would be the better parent. In turn, she revealed that he never cared for Zion, nor did he pay child support, for which she sued him. She retained custody of their daughter.
After becoming popular, Fantasia came into contact with other famous personalities. In 2004, she met professional American Football wide receiver Michael Clayton, who was playing for the Tampa Bay Buccaneers at the time. They were spotted hanging out and enjoying each other's company, however, maybe they just wanted to keep their romance low profile, as he told the Tampa Bay Times, "We're just friends, really good friends." adding, "She's a very inspiring person, motivated, kind of like myself. She has a daughter who's three years old, and I do, too. We have some good conversations."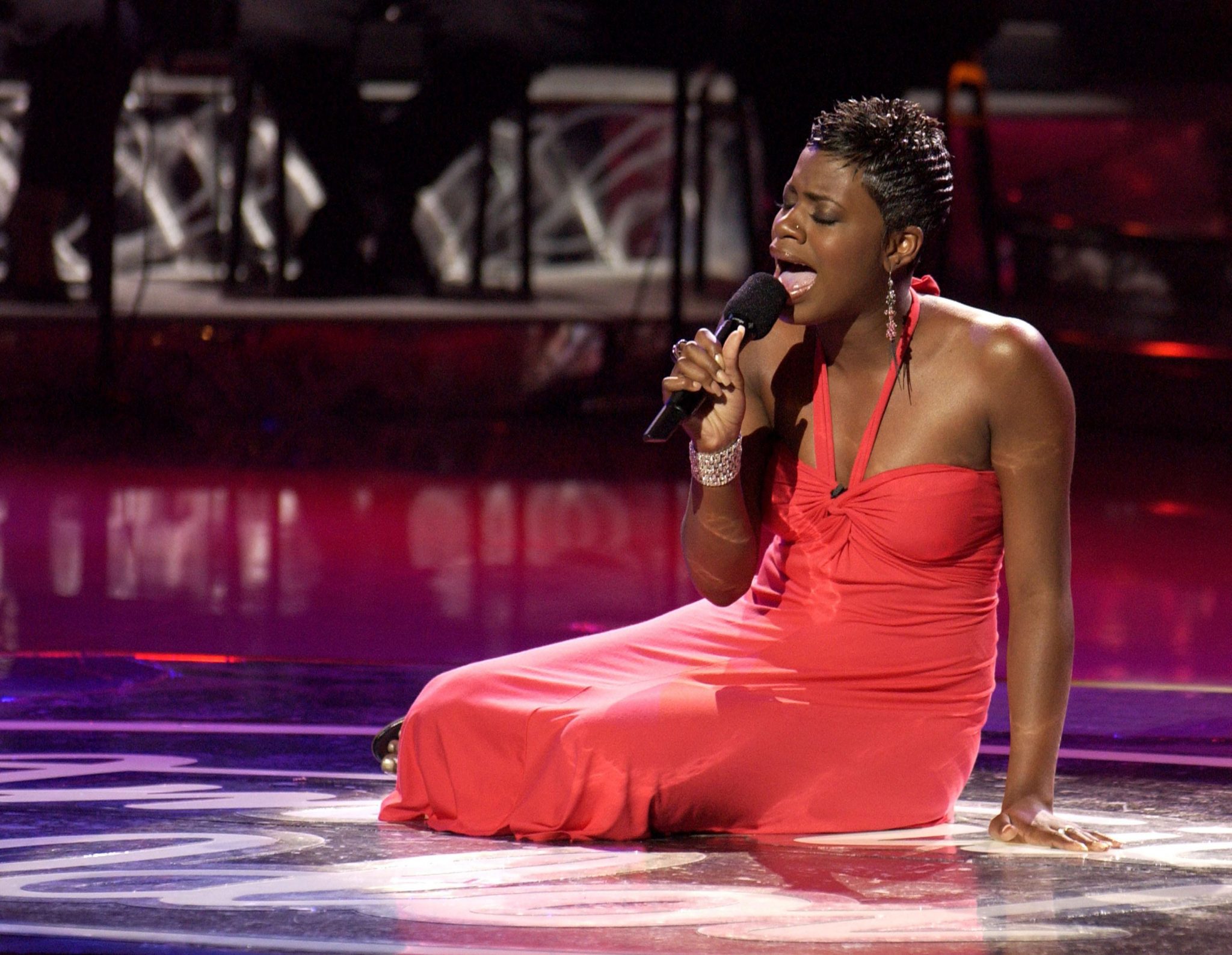 Just conversations? Not sure! Nonetheless, the couple reportedly ended their 'friendship' in October of the following year.
In June 2006, Fantasia was rumored to have had a brief fling with famous singer Jamie Foxx. At the time they went on tour together, professionally, and it was never confirmed that anything else happened between them. Nonetheless, they kissed at the 2006 BET Award during their together performance. Was it a sign that they had an affair, or was it just a part of the performance? One can only speculate.
In 2007, Fantasia apparently fell in love with rapper Young Dro, after they met at a recording studio, and hooked up. In his interview with Angela Lee, the famous rapper admitted that he fell in love anyway. He also revealed that there was a lot of stuff "in the middle", which caused many problems as well as tension in their relationship.
He even described their relationship as very "ghetto", whatever that meant, but he accepted Fantasia's daughter, and even became a father figure to her. He also claimed that he was the one who decided to end their story after two years of dating, but Fantasia said in her interview for MTV that she was the one to initiate their separation, and that the main reason was her career, saying "I mainly just focus on my career right now. Everybody wants love — right now it's not my main focus. When I let it be my main focus, it interfered with everything else I had going on." Fantasia described the handsome rapper as "hilarious. He will keep you laughing. He's very fun. He reminded me of my father — that's why I fell in love with him. He's a good man." After the split they remained good friends, and he even revealed, "She reaches to me when she wants to talk. I reach out to her when I want to talk."
2009 was the year of the singer's allegedly worst decisions, becoming romantically involved into a relationship with a married man named Antwaun Cook, a T-Mobile store manager.
They met each other at his store in August, and the chemistry between them worked immediately, and in the following month, Antwaun decided to leave his wife and their two children because of Fantasia. News about their affair hit the headlines, and in August of the following year his wife Paula sued the singer for having an affair with her husband since August 2009, and specifically making a sex tape with him, accusing her of breaking up their marriage. Fantasia said that she believed that the couple had already separated in summer 2009, while his wife claimed that they split in June 2010. According to People magazine, Fantasia said "When I met him, he was separated, wasn't living in his home. He didn't want to be back with his wife – that is what I was told."
Her lawyer Gena Morris told People, "She wasn't as effervescent and peppy as she normally is, but she has a lot on her mind. She is still physically and emotionally drained, but when she gets knocked down, she gets up pretty quick and she is on the same track to do that again."
Morris said in an official statement, "Antwaun would be remiss not to address the criticism and judgment he has received. He knew Fantasia Barrino, but the failure of his marriage can in no way be blamed on anyone except the two people that were a part of the union – Paula and Antwaun." In November 2010, the judge officially ruled in Fantasia's favor, that the Cooks were separated at the time she started her romance with Antwaun.
Fantasia and Antwaun's story even ended up in an episode of her reality documentary series "Fantasia For Real", aired on VH1. However, Fantasia supposedly realized that she couldn't withstand so much pressure, and tried to commit suicide by taking a huge number of sleeping pills. According to an interview for VH1's Behind the Music, "I just sat in the closet and looked at the mirror and took all the pills in the bottle. I wanted to go to sleep and just be at peace. I knew exactly what I was doing. You can't accidentally take a whole bottle of pills."
Fortunately, she was found lying on the floor by her manager Brian Dickens, and was hospitalized. He later told the magazine, "Fantasia will weather this storm with the dignity and grace that she has exemplified throughout a life in which she has repeatedly overcome obstacles and challenges."
Still, somewhat surprisingly, Fantasia continued her romance with Antwaun, and soon became pregnant, confirming the news that she was expecting a baby boy in a 'phone interview on "The Wendy Williams Show" in October 2011, and the couple welcomed Dallas Xavier Barrino on 13 December. Then in July 2012 they broke-up, and he reportedly reconciled with Paula, but the former lovers apparently remain on good terms, and actually share custody of their son. According to The Christian Post, Fantasia has a great relationship with her ex-lover and his wife, which is quite unbelievable! A case of 'fact being better than fiction', don't you think!?
Before she met her future husband Kendall Taylor, Fantasia took some time to be alone and focus on herself, subsequently revealing more details about that period of her life. She told AOL, "I did a seven-month fast. For me that was long. I went without drinking, partying, talking to any guys. That was a bit much for me. I needed something different. I began to let go of the bad relationships, the hurt. I had to let it all go. As soon as I got off the fast, I met my husband." According to E! News, she even bought a ring and married herself before she tied the knot with Kendall Taylor.
She opened up about that in an interview with Harry Connick Jr. on his talk show, saying "Before I met him I bought a ring and married myself. That's crazy, right?" adding "I married myself because I felt like before true love could come, I needed to learn how to love myself again, and so for me I forgot about myself." Are you as confused as we are!?
#Fantasia @tasiasWord & husband #Kendall #Q85 #QuincyJones #BET #RockSoulEntertainment pic.twitter.com/nwqrwAuoGc

— FantasiaDaily (@fantasia_daily) September 26, 2018
Fantasia met businessman Kendall Taylor in June 2014, at the Hyatt Hotel rooftop bar in Charlotte, North Carolina. She was there with friends, and at the moment when she was ready to leave, Kendall approached her. Can you guess? It was love at first sight! They spent the whole night chatting until six in the morning. She would later recall that night during her appearance on The Breakfast Club radio show. "Never did he ever try to come onto me. It was just great conversation. I knew he was my dude. He became my boyfriend that night." After dating for just three weeks, Fantasia and Kendall exchanged their wedding vows. She later said that one day they were sitting and talking about marriage, and then it happened. "He was like, 'let's do it.' We went and got married at the courthouse. None of y'all knew. The world didn't know," she said. They then wore matching wedding bands and her husband inked her name on his chest.
In April 2015, it was rumored that the couple had ended their marriage, however, they were spotted together looking happier than ever.
The lovebirds celebrated their anniversary with a beautiful wedding ceremony which took place on a yacht. She shared a photo of them and wrote in the caption "God made him just for Me and me Just For Him…" In order to prove to her that he married her out of love and not out of interest, Kendall encouraged Fantasia to sign a pre-nuptial agreement. She told The Breakfast Club, "He wanted the prenup, and I think that was a dope move because he wanted people to know 'I don't want you for your money."
On Christmas Day in 2016, the happy couple celebrated their love by walking down the aisle for the second time. She posted a photo with the caption, "I Love You so much that I'd do it over and over and over again! When I met You, I just never knew!! It's almost like I may have known you in another life. Like this love has happened before and that's how it works so well between us because we've been here before. So we did it AGAIN!! The right way.. so….Yes I DO! Isn't it romantic!?
In an interview with media company Essence, Fantasia revealed that her husband changed her for the better. She said, "I will have to say kudos to him because when he came into my life, he brought out a Fantasia that I didn't even know was there. It started with my whole transition and my fasting time, because if I didn't sit back and take the time to realize who I was and let go of some stuff, then I would have lost him." adding, "When he came into my life, I realized the queen I was because of the king that he is." She also said, "I always tell people I'm a wife and mother first. Marriage and motherhood give me what I really need. I don't want my kids to ever grow up and be like, "My momma was never there for this or for that." I make sure I am there for the most important things I need to be there for."
Although considering her previous relationships, and taking an enormous risk by ageing to marry Kendall Taylor  after only three weeks of dating, it was the best decision she had ever made in her life! They enjoy their marriage and love, and we can only wish them to live happily ever after!