Where is Ken Osmond today? Is he dead or alive? Wiki Bio, net worth, wife
• Ken Osmond is an American actor best known for his role as Eddie Haskell in the TV series "Leave it to Beaver".
• He also served as a police officer in the Los Angeles Police Department for 8 years.
• Ken married the love of his life, Sandra Purdy, in 1969 and the couple had two sons.
• He is the co-author of the book "Eddie: The Life and Times of America's Preeminent Bad Boy".
• He has a net worth of over $3 million.
Who is Ken Osmond?
Ken Charles Osmond was born in Glendale, California USA, on 7 June 1943 under the zodiac sign of Gemini, and holds American nationality. He is best known for his acting career, while he was also a police officer during a break that he took from acting.
Early life and education
Ken grew up in a family which had nothing to do with acting – his father was a carpenter while his mother was a housewife, however, she urged Ken and Dayton, his brother, to become actors as she thought they might be good at it. Just four years after he was born, Ken started appearing in his first commercials, while his mother took him to acting classes every day, and he also attended dance, diction, martial arts and drama classes.
Career
It's been a long time since Ken started acting, but the first role he remembers was in the "Plymouth Adventure" movie starring Gene Tierney –in which Ken didn't have a single line to say. His first speaking role was when he was nine in the movie called "So Big" starring Sterling Hayden, but in the upcoming years, Ken only played small roles and made short appearances in movies such as "Good Morning Miss Dove", "Lassie", "Wagon Train", "Circus Boy" and "The Loretta Young Show".
Ken's first big role was in te "Leave it to Beaver" TV series shot in 1957 when he was 14, playing Eddie Haskell – he was only supposed to appear in a single episode, however, the decision-makers loved Ken's acting skills, and he subsequently appeared in the entire six seasons run. While the show was in its final years, Ken was working in the US Army Reserve as their armorer, and he was allowed leave to shoot episodes but had to make personal appearances for the Army in return.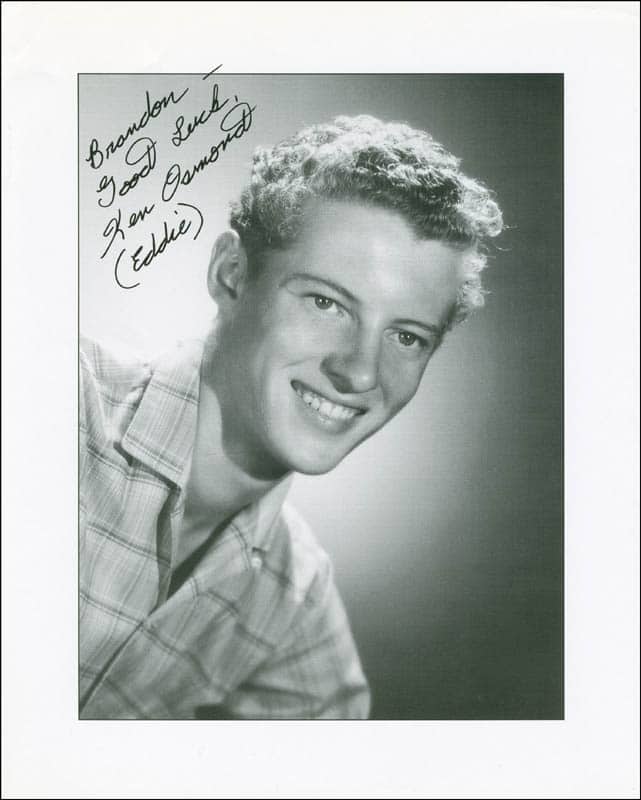 After "Leave it to the Beaver" was done in 1963, Ken had a hard time finding work – he appeared in a couple of movies, and TV series including "The Munsters", "Lassie" again and "With Six You Get Eggroll". He bought his first house in 1968 and married in 1969 – he and his wife wanted to start a family so he needed a job in order to feed them, so he decided to become a policeman in LAPD in 1970. He was a motorcycle officer and had a moustache to avoid people recognizing him from the TV. He had his biggest adventure on 20 September 1980, when he was chasing a car thief who shot him five times – four of those bullets were stopped by his bulletproof vest while the last one ricocheted from his belt buckle. He stayed eight more years in LAPD, and retired in 1988 at the age of 45 which was possible because he was diagnosed with depression caused by two shootings during which he was wounded – four years after that, an episode of the CBS series "Top Cops" was made, based on one of these shootings.
It seems that Ken was really made just for that one role of Eddie Haskell, as he returned to acting in 1983 with the same role of Eddie in the  "Still the Beaver" movie which was a major success, and eventually led to the making of the comedy series "The New Leave it to Beaver" in 1984, with Ken playing Eddie in the show for four years to its ending in 1989. He kept appearing in numerous movies and TV series, but again in support roles while, the last movie which he appeared in was the "Characterz" indie movie in 2016.
Personal life
Ken married the love of his life, Sandra Purdy, in 1969 and the couple had their first son Eric E. Osmond on 8 October 1971 and their second son Christian S. Osmond on 12 June 1974. During those years after he retired from LAPD, he worked in rental properties in LA, while also filming for movies and TV shows. In September, 2007 he filed a lawsuit which accused the Screen Actors Guild of stealing $8 million from US actors –which was supposed to be distributed amongst the actors but wasn't. Two other significant things to mention about Ken is that he became a celebrity spokesman for St. Joseph aspirin in August 2011, and he is also a co-author of the book "Eddie: The Life and Times of America's Preeminent Bad Boy" with Cristopher J. Lynch – the book was released in 2014, and was apparently liked by the readers.
Alice Cooper legend
Something very funny happened in the early 1970s – during one of his interviews, famous American singer Alice Cooper said that he was the real Eddie Haskell (the character which Ken played) and everybody thought that he really was Ken, even though he was just trying to compare himself as a kid to Eddie's character. In end, he had to wear a "No, I am not Eddie Haskell" shirt, but it didn't help as people still believed that he was.
Another funny thing which occurred was when people thought that Ken was legendary porn star John Holmes, and claimed that he retired from the porn business to become a police officer. Ken even had to prove his identity, as the Internal Affairs division demanded that of him – he stated during an interview that the best way to prove who he was, was to get naked because Holmes was famous for his male member's size.
It seems that Ken is a magnet for funny rumors, as one of these claimed that he was killed in Vietnam which, of course, is not true as Ken is alive and well today.
Appearance and net worth
Ken is currently 75 years old. He has short grey hair and blue eyes, but his height, weight and body measurements are not known.
Authoritative sources estimate that Ken's net worth is now over $3 million, accumulated from his activities in the movie industry, and from his time in the LAPD.
Social media presence
Ken is an old-fashioned soul which is completely understandable since he was born in 1943 – he doesn't have any social media accounts, while there is just one fan page on Facebook with around 1,000 followers.