Where is Tommy Wiseau (The Room) from? Wiki Bio, net worth, family
• Tommy Wiseau's origins are unknown and he tends to give false details about his life.
• It is believed that he is from Poznan, Poland, and moved to France and then the USA.
• He made the movie 'The Room' which gained unexpected success after college students found it hilarious.
• James Franco made a movie about Tommy's journey, 'The Disaster Artist', which won a Golden Globe Award.
• Tommy has a net worth of around $500,000 and is known for his long wavy hair and sunglasses.
Who is Tommy Wiseau?
It's hard to believe, but no one is sure about his origins, so he is one of the most mysterious, enigmatic and conspiratorial personalities in Hollywood. Tommy seems to like this veil of secrecy around him and has fun supporting it, misleading the audience and giving more and more false details about his life so it's difficult to find out about him, but let's try to seek at least something about Tommy Wiseau's origin, net worth and his way to worldwide popularity.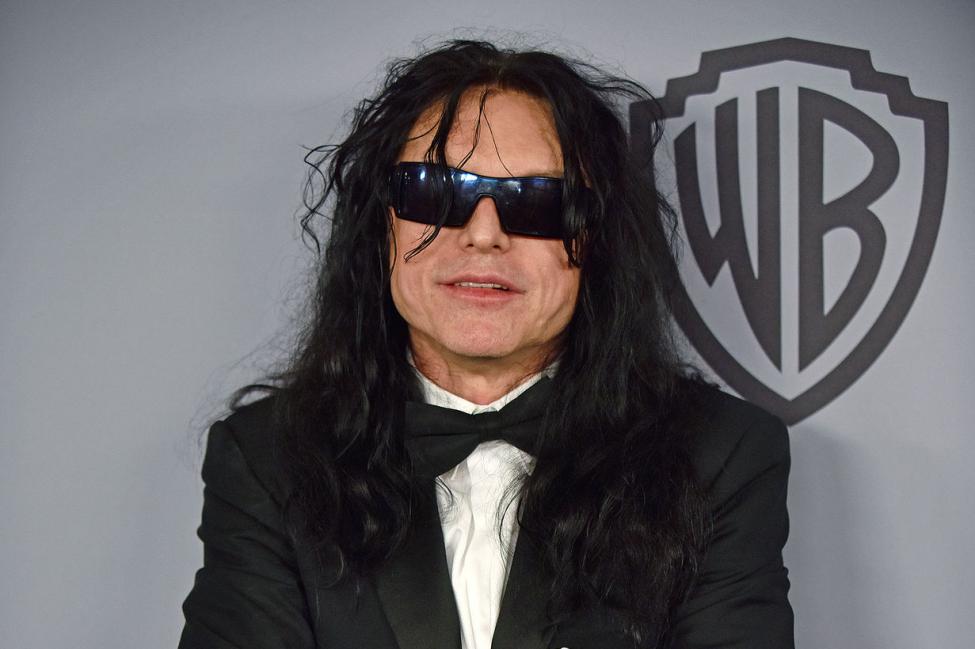 Early life and education
Tommy Wiseau tried hard to keep his origin and any information about his early life the greatest mystery of all times. In an interview Tommy mentioned his age which meant that he was born around 1968 or 1969, however, his friend and colleague Greg Sestero and his girlfriend claimed to have found his immigration documents which said that Tommy was born in the European bloc, on 3 October 1955, in Poznan, Poland, under the name of Piotr Wieczorkiewicz, and this information seems likely to be true. Many Eastern Europeans 'anglicise' their names on migrating to the west – although in this case possibly French – for a variety of reasons, most often for ease of pronunciation, especially in the world of entertainment.
As for the country in which Tommy spent his childhood, Wiseau has always maintained that he spent some period of his youth in France (Tommy speaks French very well, and adopted a French-sounding name), and then moved to New Orleans, USA, where he's got "an entire family now", as he says. When someone asks him about his origin, he loses his patience way too fast, answering: 'It's not important, and No. 2, it's a personal question,' he said in his interview for The New York Times. 'Long story short, I grew up in Europe a long time ago, but I'm American and very proud of it. Do you have any questions about the movie?' There's no information about the school Tommy attended, or a college from which he graduated – these facts are still mysteries for everyone.
Meeting Greg Sestero and making "The Room"
Tommy Wiseau met his future best friend and colleague on 13 July 1998, in San Francisco, while they were attending acting school – Shelton Studios. Inspired by the success of such legendary talents as Robert De Niro, Elizabeth Taylor, James Dean and Alfred Hitchcock, Tommy and Greg dreamt of a fairy-tale life of Hollywood celebrities, but both had serious trouble getting there, even as extras in crowd scenes.
Fed up with unfair decisions and rejections, and being amazed by the movie "The Talented Mr. Ripley" Tommy made probably the most important decision in his life. He decided to film his own movie. Acting as producer, screenwriter, director and a leading actor, Tommy turned his 500-page book into a legendary film which gained the glory no one ever thought about.
The movie turned out to be horrible, the plot was weird and lacked any sense in its waves, the actors failed every scene. A saving hand for the whole thing was a sudden occasion: two acting school students, Michael Rousselet and Scott Gardner, were intrigued with a poster of "The Room" on one of the cinemas they walked by with a sign "No refund". Michael and Scott were blown away with the movie, they never thought one could film a movie ignoring all the rules of playwriting. The actors were reading their lines not even trying to act. Rousselet and Gardner took 15 of their friends for another "The Room" cinema session. Then they brought 30 more friends there. They already knew the lines by heart, were dressed up like the characters of the movie and really enjoyed that creepy masterpiece. The glory of "the worst movie in the world" spread so fast, that it reached the Franco brothers, who wanted to make a movie about Tommy Wiseau's way to cinematography. Greg Sestero's memorial book helped them a lot, since Greg was by Tommy's side all those years, and had gone through the path of wins and losses with him.
Unexpected success of "The Disaster Artist"
James Franco directed "The Disaster Artist", where he and his brother Dave played Tommy Wiseau and Greg Sestero, telling the story of their lives and careers; among other actors were Seth Rogen, Zac Efron, and Ari Graynor. "The movie about the movie" was way more talented than "The Room" itself, and the whole world found out about the creation of "the worst movie ever made". "The Disaster Artist" won the Golden Globe Award for the Best Actor in a Comedy or Musical (James Franco), and his movie was also an Oscar nominee for Best Adapted Screenplay. Tommy Wiseau is very careful when it comes to discussions about the success of "The Disaster Artist" versus "The Room", and often answers in an offensive or abrupt tone if someone tries to make fun of him or his work.
Tommy has been compared to Uwe Boll, a German director, whose films "BloodRayne", "FarCry" and "Postal" were misunderstood by the audience. When Boll declared that he wanted to direct the "Warcraft" movie, the fans of the Warcraft universe sent an official petition to Blizzard Entertainment (the video game developer) in which the gamers prayed that Blizzard not let Boll even touch the screenplay of the movie the fans had waited for decades to see. Though Tommy's story got a happy endingwith the help of "The Disaster Artist", Uwe Boll is still struggling with the audience's negative feedback.
Current projects
"The Room" was not the only project that Tommy has released – he also directed and produced the documentary "Homeless in America" – which won the Social Award in 2004 – and the TV series "The Neighbors" (2014-2016). For now Tommy Wiseau is ready to announce his new project which he is still working on, called "Big Shark". "The dream team" of Tommy Wiseau himself, Greg Sestero and Isaiah Laborde are starring in the thriller about New Orleans firefighters who must survive and save the world from the attack of the sharks. The filming itself hasn't been started yet, but Tommy is pretty sure that the movie will be out in September, 2019.
Net Worth
According to Greg Sestero, Tommy was never poor. When they met, Tommy already had his own real estate in San Francisco and Los Angeles, a new business class Mercedes and lots of cash. Tommy assured Greg that he earned his money having several businesses running for a long time, including retailing jeans, leather jacket, souvenirs, etc. He accumulated a net worth of $6 million which he spent entirely on his first movie, "The Room", which never gave the money back, though the poster of it remained untouched for five years and was hung over Highland Avenue in West Hollywood, where the Oscar ceremony takes place. At the moment Tommy Wiseau's net worth is said by authoritative sources to be around $500,000.
Appearance
Tommy Wiseau looked the same for decades, and one can at once recognize him for his bumpy, pale, almost transparent skin, long wavy black hair (which Tommy rarely puts into a ponytail, having them loose all the time) and sunglasses which he adores wearing (as any Hollywood star). He's got grey eyes, is 5ft 8ins (1.73m) tall, and weighs around 183 lbs (85kgs). He loves dressing up since he's sure that fancy clothes for young people make him look younger than he is. He often wears jeans, shirts, waistcoats, and lots of metal accessories such as spiky bracelets, rings and leather belts with big metal buckle. For official events he mainly chooses tuxedos and fancy sunglasses which he doesn't take off even in the dark room.