Who is actor Gary Anthony Williams? Wiki: Weight Loss, Wife Leslie, Net Worth, Marriage
Who is Gary Anthony Williams?
Gary Anthony Williams was born on the 14th March 1966, in Atlanta, Georgia USA, and is a stage, voice, television and film actor, as well as a comedian, perhaps best known to the world as the voice of Uncle Ruckus in the animated series "The Boondocks" (2005-2014), and also for portraying Abraham 'Abe' Kenarban in the TV series "Malcolm in the Middle" (2000-2006), among many other achievements; Williams has over 190 acting credits to his name.
Do you want to read more about Gary's life, from childhood to most recent career endeavors, and his personal life as well? If yes, then stay with us for a while as we are about to bring you closer to one of the most renowned voice actors of the present day, Gary Anthony Williams.
Gary Anthony Williams Wiki: Early Life, Parents, and Education
Gary grew up in nearby Lafayette, where he attended high school, and where he became interested in acting, although rather accidentally. A computer mistake signed him into a drama class, and according to reports, Gary was too lazy to quit and eventually entered the class. This turned out to be a great thing, as Gary is now a noted actor, renowned throughout the world.
Career Beginnings
Gary started with stage roles, working with the Georgia Shakespeare Festival, while he was also involved in "Agatha's: A Taste of Mystery", and became a part of the longest running improv troupe in Atlanta, called Laughing Matters. After almost a decade of experience of acting on stage and in improv comedy troupe, Gary moved to Los Angeles to pursue further his acting career.
Initially Gary didn't have much success, until he was chosen for the part of Abraham 'Abe' Kenarban in the TV series "Malcolm in the Middle" (2000-2006), then in 2002 he was chosen for the part of Smart Brother in the action comedy film "Undercover Brother", starring Eddie Griffin, Denise Richards, and Aunjanue Ellis.
Voice Acting and Rise to Prominence
Gary couldn't find a place for himself on the screen, which resulted in him focusing more on voice roles. It was in 2005 that he made his breakthrough when he was chosen as the voice of Uncle Ruckus in the animated TV series "The Boondocks", which lasted until 2015, making Gary quite popular in the world of voice actors. He continued with voice roles, firstly in the TV series "The Goode Family" in 2009, then as Mr. Dos in another animated series "Special Agent Oso" (2009-2012), followed by voicing Dr. Falgot in the animated series "China, IL" (2011-2015), while from 2014 to 2016, Gary was the voice behind Dream Wizard, Wizard, and Reneger in the animated series "TripTank". Nothing has stopped Gary from continuing his voice acting career in recent years, and in 2014 he started giving his voice to Dirty Dan in the animated series "Sheriff Callie's Wild West" (2014-2017), then to Musafa in "The Lion Guard" (2016-2018), among many other voice roles that have helped him become so successful.
Actor, master comedian, and the voice of Uncle Ruckus on #TheBoondocks Gary Anthony Williams joins Rob to tape a new episode of #TalkinToons! Want to ask him a question? Send it our way. pic.twitter.com/zCI8RWAOjN

— Alpha (@JoinTeamAlpha) August 7, 2018
On-Screen Career
Although Gary gained his fame through his work as a voice actor, he has also made a number of successful appearances on screen. Following his role of Smart Brother, he played Tarik in the comedy film "Harold & Kumar Go to White Castle", while his next notable role was as Clarence Bell in the TV series "Boston Legal", featuring in 36 episodes from the third season until the end of the series. He then became fully focused on voice acting, and until 2012 didn't have any role worth mentioning, then co-starring with Cedric the Entertainer in the comedy series "The Soul Man". The series lasted until 2016, when he was cast in another notable role, as Bebop in the new take on the popular teenage ninja turtles franchise entitled "Teenage Mutant Ninja Turtles: Out of the Shadows". Most recently, Gary started portraying Brian in the TV series "I'm Sorry", and is working on the horror comedy film "WRZ: White Racist Zombies", scheduled for release in 2019.
Other Ventures
Gary has remained true to comedy, and has been a part of several improv troupes, including the Flying Fannoli Brothers, which he started with Fuzzbee Morse and Nick Jameson, which is more of a comedy band, while he can also be seen in the improvisational show "Cookin' With Gas", and "Whose Line Is It Anyway", among many other contributions.
Gary Anthony Williams Net Worth
Do you know how rich Gary Anthony Williams is? He has become extremely popular all around the world, and he has proven his talents not only on screen but also behind the screen. In addition to voice acting, Gary has also written and directed a few projects, including the comedy series "Life Hacks for Kids", which also contributed to his wealth. So, have you ever wondered how rich Gary Anthony Williams is, as of late 2018? According to authoritative sources, it has been estimated that Gary's net worth is as high as $2 million. Still decent, don't you think?
Gary Anthony Williams Personal Life, Marriage, Wife, Children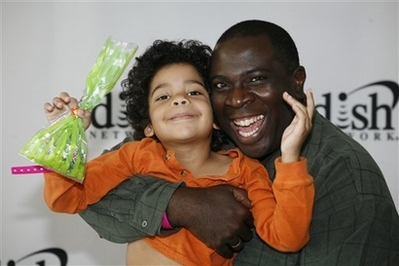 What do you know about Gary in his personal life? Well, Gary is married to Leslie, but  the two haven't shared the date of their wedding ceremony; the couple has one child together.
Gary Anthony Williams Internet Fame
Over the years, Gary has become quite popular on social media platforms, especially on Twitter and Facebook. His official Twitter page has over 8,500 followers, with whom he has shared his recent career endeavors, including his "We Talk Funny" comedy show with several other comedians. You can find Gary on Facebook as well but this account a bit more private.