Who is Chad Gilbert? Hayley Williams ex-husband Wiki Bio, net worth, kids
• Chad Everett Gilbert is a musician, frontman of the New Found Glory rock band, and record producer.
• He is known for his demos under the name What's Eating Gilbert, and released his album "The new Sound You're Looking For" in 2015.
• He married and divorced Hayley Williams (Paramore vocalist) in 2016.
• Chad has an estimated net worth of over $4 million.
• He wrote the song "Hit or Miss" for the "American Pie 2" movie.
Who is Chad Gilbert?
Chad Everett Gilbert was born in Coral Springs, Florida US on 9 March 1981, so under the zodiac sign of Pisces and holding American nationality. He is best known for his career as a musician – the frontman of New Found Glory rock band, while he is also a record producer.
Early life and education
There is not much known about Chad's early life as he doesn't talk about it. He rarely mentions his parents, except that his father died a long time ago, and during one of his interviews, Chad explained how that was the hardest period of his life. He attended J.P. Taravella High School, but after he matriculated decided not to attend university, and focus instead on his musical career. He was a big fan of retro '50s and rock '60s music, while he also liked country as his parents were always listening to that genre.
Career
Chad started his career when he became the vocalist of the Shai Hulud hardcore punk band in 1995. They became popular after they released their album entitled "Hearts Once Nourished with Hope and Compassion" in 1997, while they also did three-song EP entitled "A Profound Hatred of Man" in the same year. Chad decided to leave the band at the end of 1997, and with three of his friends Jordan Pundik, Ian Grushka, and Steve Klein founded his own rock band – New Found Glory – in 1998. He is not just playing lead guitar in the band, he is also composing their music and providing backing vocals – he was once a lead vocal for one of their side projects called "International Superheroes of Hardcore", which is now shut down but while they were active, they released two albums entitled "Takin' it Ova!" and "HPxHC (Extended Play)" in 2008. In 2012, Chad rejoined the Shai Hulud band and produced their "Reach beyond the Sun" album.
Chad's first album with New Found Glory was released in 1999, called "Nothing Gold Can Stay". During all these years that they've been playing together, they have released nine albums, their most popular entitled "Catalyst" was released in 2004. Their last album "Makes Me Sick" landed in 2017, while in the meantime Chad also worked on his demos under the name What's Eating Gilbert, and released his "The new Sound You're Looking For" album in 2015.
He has also produced numerous albums of others, such as "Prove" for H2O in 2008, "All I Have to Offer Is My Own Confusion" for Fireworks in 2009, "What Separates Me from You" for A Day To Remember in 2010, and "Use Your Voice" for H2O in 2015.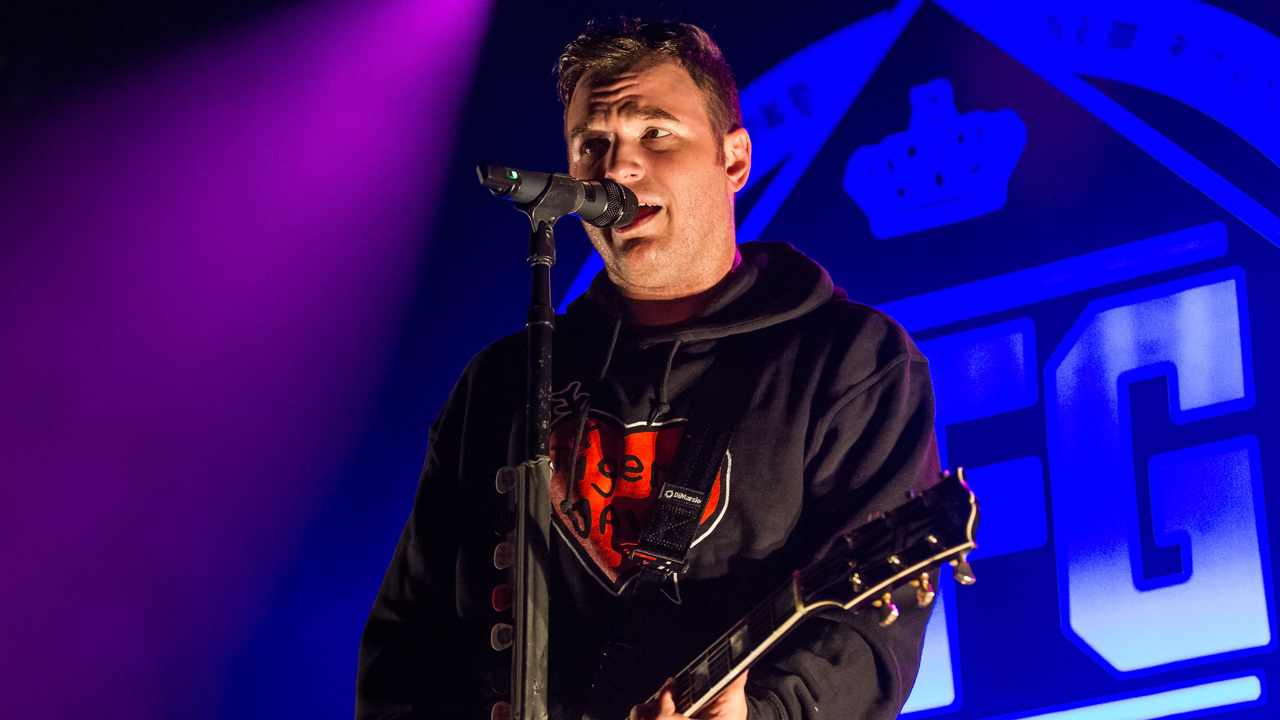 What's Eating Gilbert
Chad started writing songs as Gilbert in 2009 and these are a combination of pop, punk, retro, rock and country music – the name "What's Eating Gilbert" is a reference to a novel entitled "What's Eating Gilbert Grape" written by Peter Hedges in 1991. Even though Chad was very busy with New Found Glory, he managed to release three EPs in just 2010. His next EP "Cheap Shots" made up of five songs landed in 2012, while "Come On Let's Go" EP arrived in 2014, and included covers of songs by Roy Orbison and Johnny Cash. His one and only album called "That New Sound You're Looking For" landed in 2015 under the Hopeless Records.
Personal life and likes
Chad married Sherri DuPree, a member of the Eisley rock band in 2007, but the things quickly degenerated and they divorced in the same year. In 2008 he began dating Hayley Williams, the main vocalist and keyboardist of the Paramore band. They were dating for quite a long time before they announced on the 2014's New Year's night that Gilbert proposed to her on Christmas Day, and that they were going to marry. A year passed before they married on 20 February 2016, but the marriage lasted for less than two years, as they divorced in September 2017.
Chad stated in January 2010 that he might have cancer, and therefore underwent surgery to remove half of his thyroid. Just four days after the surgery took place, he announced on his Twitter account that everything went according to plan, and that there were no traces of cancer. Chad spent most of his adult life in Los Angeles before moving to Franklin, Nashville where he currently resides.
He loves watching WWE wrestling and collecting action figures.
#ThatNewSoundYoureLookingFor is available for $4.99 for one week only on Google Play! http://t.co/ZOYPQNpnzu pic.twitter.com/zr72DWCQaY

— Chad Gilbert (@XChadballX) September 4, 2015
Hayley Williams
Hayley Nichole Williams was born in Meridian, Mississippi USA on 27 December 1988 under the zodiac sign of Capricorn and holds American nationality – she is seven years younger than her ex-husband Chad.
Hayley moved to Tennessee when she was 15 after her parents separated. In 2004, she founded the famous band Paramore together with Josh Farro, Zac Farro and Jeremy Davis, while the band's current members are Hayley, Zac Farro and Taylor York. They have so far released five albums entitled "All We Know Is Falling" in 2005, "Riot!" in 2007, "Brand New Eyes" in 2009, "Paramore" in 2013, and "After Laughter" in 2017.
Hayley not only focused on Paramore, she recorded the "Teenagers" song for the "Jennifer's Body" horror dark-comedy movie shot in 2009, and she collaborated with other famous artists including October Fall, Set Your Goals, and Chad's New Found Glory. She was nominated once for a Grammy Award for Best Pop Collaboration with Vocals for the work she did with B.o.B. and Eminem in "Airplanes, Part II" song.
Hayley currently has her own hair dye company – "Good Dye Young" – and had an online beauty and music show in 2015 entitled "Kiss-Off". She is said not to have dated anyone after she split from Chad.
Appearance and net worth
Chad is currently 38 years old, has dark brown hair, dark brown eyes, is 6ft 2ins (1.88m) tall and weighs around 192lbs (87kg).
According to authoritative sources, Chad's current net worth is estimated to be over $4 million, and is likely to rise as Chad is still very active.
Social media presence
Even though Chad is a very busy man, he still finds time to post on his social media accounts, and is very active – he launched his Twitter account in April 2009 and has gathered more than 150,000 followers and tweeted nearly 18,000 times. His Instagram account is followed by over 110,000 people while he's posted nearly 350 times. His page on Facebook is liked by about 5,000 fans.
Fun Fact
Chad wrote the "Hit or Miss" song for the "American Pie 2" movie.