Who is Cleo in real life from Outer Banks? Her Age, Height, Spouse
Carlacia Grant Wiki Bio
American actress Carlacia Grant was born under the zodiac sign Capricorn on 18 January 2000, in New Haven, Connecticut USA. She has eight acting credits, and is perhaps known best for portraying Cleo in 15 episodes of the critically acclaimed crime action series "Outer Banks", which stars Madison Bailey, Madelyn Cline and Chase Stokes, and was created by Jonas Pate and Shannon Burke. It follows four friends as they're hunting for a legendary treasure on a remote island, the series has been airing since 2020, and has won four of the 13 awards for which it's been nominated.
Carlacia's currently focused on shooting for new episodes of "Outer Banks", and isn't working on any other projects.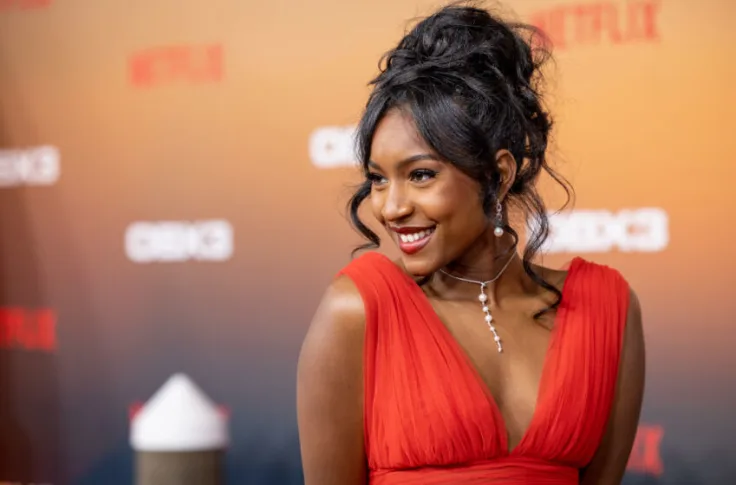 Early life and education
Carlacia was raised alongside her one sibling in New Haven, by their mother Carline Grant and father Karl Grant Sr.; not many details have been disclosed about Carlacia's family because she respects their privacy, but it's known that they often moved while she was growing up, and that they lived in South Florida, New York State and Georgia.
Carlacia was only 13 when her mother signed her up for the beauty pageant Miss Junior Teen Miami, which she went on to win; this led to Carlacia signing her first modelling contract, which then led her to sign her first acting contract. She was 16 when she made her debut TV series appearance, playing Irene in the episode "Part 4" of the war mini-series "Roots", which starred Forest Whitaker, Malachi Kirby and Jonathan Rhys Meyers, and follows an African man who's been sold into slavery in the US; the mini-series won five of its 57 award nominations. Carlacia's been active in the film industry ever since.
She attended a local high school in Los Angeles, California, having moved there so that she could pursue an acting career; she matriculated in 2022, and then chose not to go after a college degree, wanting to focus on acting.
Roles in TV series
Carlacia's appeared in only three other TV series besides "Roots" and "Outer Banks".
She played Leesha Bausch in four episodes of the 2016 drama "Game of Silence", which starred Larenz Tate, Michael Raymond-James and David Lyons, and was created by David Hudgins. It follows a successful lawyer who might lose it all now that his childhood friends are threatening to expose a dark secret from his past.
In 2016 and 2017, Carlacia played Danielle Turner in eight episodes of the drama "Greenleaf", which starred Merle Dandridge, Kim Hawthorne and Desiree Ross, and was created by Craig Wright. It tells the story of the Greenleaf family, covering their lies and dark secrets; the series aired from 2016 through 2020, and won five of its 16 award nominations.
In 2021, Carlacia played Trinity Jolson in the episode "Moving on and Mother Hens" of the drama "The Resident", which starred Bruce Greenwood, Manish Dayal and Matt Czuchry, and was created by Hayley Schore and Amy Holden Jones. It follows several doctors as they're working at Chastain Memorial Hospital, the series aired from 2018 through 2023, and won one of its three award nominations.
Roles in movies
Carlacia's appeared in three movies. Her debut was playing Crystal Thomas in the 2019 short thriller "Headlines", which starred Bernard David Jones, DeRon Horton and Jay Reeves, and was directed by Charles Lee Wilson. It follows three black journalists as they're trying to expose the defendant in a high-profile racially motivated case.
The year 2021 saw Carlacia play Janet Babysitter in the horror mystery "Apollyon – The Black Awakening", which starred Khalilah Joi, Celine Alva and Ty Trumbo, and was written and directed by Sean Rosa. It follows a man as he's trying to stop his demonic bloodlust behaviour, and the movie won 12 awards.
Carlacia's only other film role has been playing Kim in the 2022 drama "Bae Night: The Little Black Book", which starred Olga Bespalenko, Alex Bernadotte and Eliza Benlulu, and was written and directed by Luner Eugene. It follows Tony and Alexus Robinson who are close to divorcing each other.
Other credits
Carlacia sang the song "Charlie, Last Name, Wilson" in the 2023 short film "Teen Vogue: 'Outer Banks' Cast Play 'I Dare You'".
Some of her most recent talk-show appearances have been in "Snacked", "IMDb on the Scene – Interviews" and "Made in Hollywood".
Love life and relationships
Carlacia shies away from speaking about her love life in public, which is why there are today rumors circulating the internet, concerning both her past relationships and sexual orientation.
Some of her fans believe that she's today married to a non-celebrity American male, with some claiming to have seen Carlacia and her husband together in public on multiple occasions; no evidence has been provided to support these claims, nor has Carlacia addressed the rumors.
There are also some who claim that the popular actress is perhaps lesbian, believing that this is why she won't speak about her love life in public but this hasn't been confirmed either.
It's known that she was in a relationship with a man in 2010, but no details have been disclosed about the man in question.
Carlacia seems to be unattached as of October 2023, hasn't married and doesn't have children.
Interesting facts and hobbies
Carlacia seems to be enjoying the attention which she's receiving on her social media accounts; more than 1.4 million people are following her on Instagram today and she's posted over 200 pictures and videos onto the network, with most showing her during her everyday life, whether she's travelling around the world (most recently to Paris, France), attending various fashion events, or shooting for her TV series and movies.
She's into fashionm and has walked the catwalk a couple of times, while she's keeping up with all the latest fashion trends by reading various magazines on a daily basis.
Carlacia does yoga nearly every day, and she also occasionally works out at the gym.
Meryl Streep's one of her favorite actresses, and some of Carlacia's favorite movies are "The Devil Wears Prada", "Sophie's Choice" and "Doubt".
Height, age and net worth
Carlacia's age is 23. She has brown eyes and black hair, weighs around 135lbs (62kgs) and is 5ft 7ins (1.7m) tall.
Carlacia's net worth's been estimated at over $1 million, as of October 2023.