Who is Julie McCullough? Wiki Bio, ex-husband David Sutcliffe, net worth
• Julie McCullough is best known for her acting, modelling and stand-up comedy career.
• She was a Playmate of the Month and appeared in four "Playboy" issues.
• She is credited with more than 40 roles in TV series and movies, with her most notable role being Stacey Wright in "Robin's Hoods" TV series.
• She won awards for her poetry, and has been active on Twitter since 201•
• Julie is 54 years old and has a net worth of over $2 million.
Who is Julie McCullough?
Julie Michelle McCullough was born in Honolulu, Hawaii USA on 30 January 1965, so under the zodiac sign of Aquarius, and holding American nationality. She is best known for her acting career, while she is also a model, writer, and a stand-up comedian.
Love The Hoboken International Film Festival #SteamPunk #TheHobokenInternationalFilmFestival #GreenwoodLake #NewYork #TheNewContinentalInn pic.twitter.com/JvTgcJS0xk

— Julie McCullough (@JulieMcCullough) May 20, 2018
Early life and education
Julie is of Irish descent, and there's a story behind her name – her parents loved the "Oh Julie" song performed by The Crescendos in 1957. When she was four, her parents divorced, and a year later her mother Nancy married a US Marine named Herman Paynter – Julie also has an older brother named Joey. She didn't spend her entire childhood in Honolulu – she moved a lot, and lived in North Carolina, West Virginia, Florida, Missouri, and Texas, while she also spent some time in Canada and Italy in Europe, thanks to her stepfather who had to move frequently. She attended and matriculated from a high school in Poplar Bluff in Missouri, while it is unknown whether or not she attended and graduated from college.
Modelling Career
Julie was attracted towards modelling at first rather than acting. Her first shoot was just after she finished high school, when a photographer asked her if she would pose for "Playboy" magazine. Julie agreed and went on to appear in four issues of the magazine: she was on the cover page of the February 1985 issue, Playmate of the Month of the February 1986 issue, appeared on the cover again in September 1986, and in the October 1989 issue in which you could have seen her three previous shoots as well as some new pictures. She also posed for the "Inside Sports" magazine, and was featured on their cover page. Julie was named Azalea Queen of Wilmington, but the officials of the North Carolina Azalea Festival decided to take her crown away in 1989 because of her appearances in the "Playboy" magazine. Her last achievement when it comes to her modelling career was when she voiced her own character in the 2004 video game "Playboy: The Mansion" and took a tour through 50 cities in the US as a Playboy Bunny.
TV career
Julie is credited with more than 40 roles in TV series and movies – her first appearances were in 1987 in "Who's the Boss?" TV series, "1st & Ten: The Championship" TV series, and "Big Bad Mama II" movie. In 1988, she landed roles in "Max Headroom" and "Superboy" TV series, while she had her first recurring role the next year in "Growing Pains", and appeared in a total of 11 episodes before she was fired in 1990.
During the next three years, Julie only appeared in an episode or two of TV series, including "Beverly Hills, 90210", "The Munsters Today", "Jake and the Fatman", and "Revenge of the Nerds" which were all shot in 1991. She appeared in "Harry and the Hendersons" in 1992, "Arly Hanks" in 1993, and then landed one of the most important roles of her career in the second half of 1993 – she played Stacey Wright in 22 episodes of "Robin's Hoods" drama TV series. This was her last big role as she went back to appearing in single episodes of numerous TV series, while the last show she acted in was "Hospital Arrest" in 2013.
Julie also had roles in more than 10 movies during her career, but none of which were considered to be a major success or earned a lot in the box office – her most noticeable role out of all of these was as Teri Hart in "2012: Ice Age".
Stand-up comedy
Julie is also an experienced stand-up comedian – you could have seen her at the Hollywood Improv, and the Palms Hotel and Casino. She was also featured in "The Girls Next Door" reality show, and made an appearance in "Under the Covers".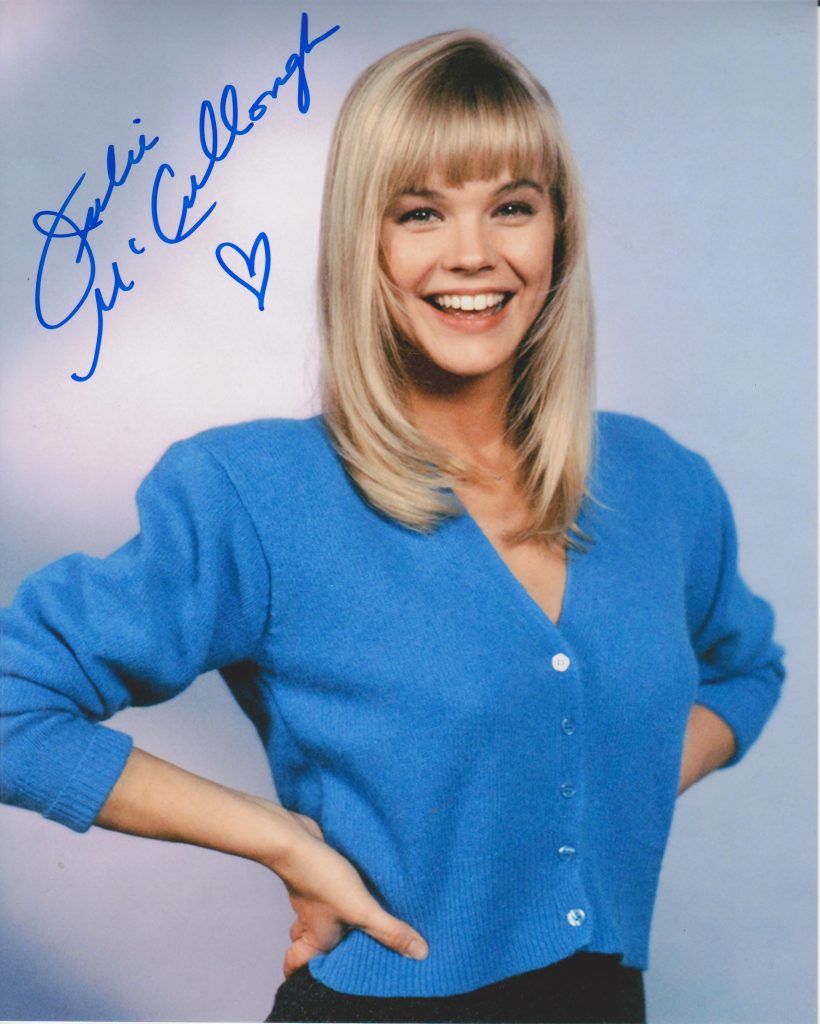 "Growing pains" controversy
Julie joined the "Growing pains" show in 1989 but was fired in 1990 – rumors first said that the star of the series Kirk Cameron converted to evangelical Christianity and it bothered him that Julie posed naked for Playboy and asked the producers to take her out of the show. Even though he denied this at first, 10 years later, he apologized to both his family and the producers but never straightened his relations with Julie – she claimed how he still avoided talking to her when they met, and she hasn't forgiven him to this day because of the controversy.
Personal life
Julie hasn't have much luck when it comes to her love life – she married David Sutcliffe, a popular Canadian actor on 10 November 2001 and although he seemed to be the right man back then, it turned out that he wasn't as they divorced two years later in December. David is best known for his role in "Gilmore Girls" TV series and he seems to not be dating anyone at the moment – Julie and David did not have any kids together, nor with anyone else.
Julie decided to celebrate her 50th birthday in 2015 with a stand-up comedy show – it took place at the "Comedy store" club in Hollywood, and tickets were sold out, with some famous names from the industry attended the show including Tia Carrere and Pauly Shore.
Appearance and net worth
Julie is currently 54 years old. She has long blonde hair, blue eyes, is 5ft 7ins (1.70m) tall, weighs around 115lbs (52kg), and her vital statistics are 36D-24-35.
According to authoritative sources, Julie's current net worth is estimated to be over $2 million, as of early 2019.
Awards
Julie also writes poetry which is something that not a lot of people know about her – she won an Outstanding Achievement in Poetry Award, and Poet of Merit Award from The International Society of Poets in August 2005. Six of her poems were published in a book entitled "Eternal Portaits" and these are called "The Mask", "Being Mrs Sutcliffe", "The Last Battle Cry", "A Prayer for Laz", "A Bunny Tale", and "Carolina Gold".
Social media presence
Julie is not as active on social media platforms as one would think – she launched her Twitter account in May 2011 and has so far gathered almost 14,000 followers and tweeted more than 6,000 times. She doesn't have an Instagram account while there is an official Facebook page of Julie with over 4,000 fans.