Who's footballer Memphis Depay? His Wiki: girlfriend Lori Harvey, Tattoos, Net Worth, Salary, Age, Height, Wife, Parents
• Memphis Depay is a professional football player from Netherlands
• He is known for his ability to maneuver around players, long distance shooting, and controlling the ball in the air
• He is engaged to 21 year-old Lori Harvey, daughter of world-wide famous comedian, actor and show host Steve Harvey
• He has many tattoos which each have their own meaning
• He has an estimated net worth of over $4.5 million
Who's footballer Memphis Depay?
Memphis Depay, often known just as Memphis, is a football (soccer) player from Netherlands, born on 13 February 1994. He now plays for the French Club Lyons and for the Dutch National Football team, and is known for his ability to maneuver around other players, long distance shooting and controlling the ball in the air. France Football named his the "Best Young Player in the World" in 2015, and even Cristiano Ronaldo has referred to him as one of the greatest young players alive. He grew up playing football, catching the eye of many scouts, and eventually made his professional debut in 2013 when he played for PSV Eindhoven, who he signed with in 2012. In July 2013 he scored his first European goal, and his career has building momentum ever since.
2017/2018 Football Season
According to ESPN here are the current statistics of Memphis Depay.
Games Played: 38
Shots taken: 85
Goals Scored: 14
Assists: 11
Who Were His Parents?
Depay's parents raised him in the Netherlands in a town called Moordrecht. His father was from Ghana and his mother was Dutch. In the early stages of infancy his family was strong. But over time the relationship of the parents started to fade. When Memphis was 4 years old, his father left and Memphis lived with his mother. He did on the day before Memphis's 15th birthday, which Memphis has a tattoo for. He was seen kissing his tattoo when he scored his first goal in the World Cup, showing that he still has a bond with the memory of his late father.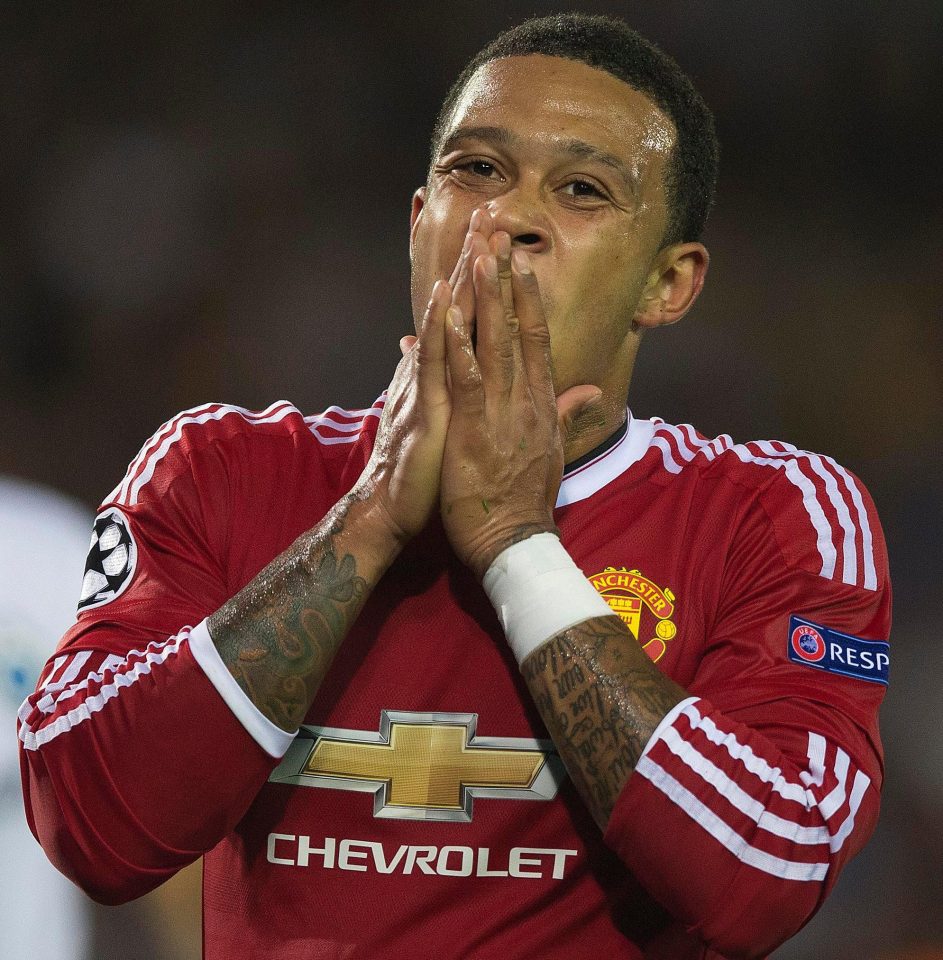 Relationship with Fiancé Lori Harvey
It is known that Memphis is in fact engaged to his long-time girlfriend Lori Harvey, the  21 year-old daughter of world-wide famous comedian, actor and show host Steve Harvey. They announced their engagement on Social Media in 2017. However, there have been many rumors circling that their engagement was broken-off because Lori was not wearing her ring, and neither were including the other on social media post, but the couple has neither confirmed nor denied the rumour.
At the beginning of their relationship Steve Harvey was asked if he was concerned about his daughter dating a famous athlete, and they don't have the best reputation as partners, but Harvey said that he was. However, he then had the coupled
followed
and photographs taken, about which they initially had  no idea, and were somewhat upset when they eventually found out. Harvey found nothing suspicious in his investigation of the couple, and full-heartedly approves of them.
On this day a queen was Born!
And Im So blessed to call her my queen.
Happy bday to my lover and bestfriend aka sweetbuttercake baby!!! 21 Years old and what a grown woman you are. I'm very proud off the woman you're becoming. Enjoy your time in Cabo with your family! I love you! pic.twitter.com/UcmPMKxzgc

— Memphis (@Memphis) January 12, 2018
Tattoos and Their Meanings
Memphis has many tattoos all over his body. But they are not all pointless. In fact, many of them relate to different goals he has scored over the course of his career. He has a "Christ the Redeemer" tattoo for his first goal in the 2014 World Cup. He also has a small circle on his wrist to stand for his small circle of friends supporting him in his life. But his most note-worthy tattoo is that of the huge lion on his back. That tattoo represents the jungle that is his life. He grew up on the outside and had a rough life. The lion symbolizes how strong and resilient he is. He also has tattoos for his family. His father died the day before he turned 15, and Memphis has a tattoo on his left arm in remembrance of him.
Net Worth
At such a young age, Memphis has been able to sign with big football teams, and get his name known in the sporting world. He has managed to pull in an estimated Net Worth of over $4.5 million, through football, sponsorships and commercials. His worth is expected to increase as his career continues to progress, especially as the amount paid for him to switch football teams is growing steadily larger, now that he is being compared to Ronaldo. He is a stunning example of what a modern-day professional football player looks like, dedicated and hard-working.
Salary
Memphis's salary has been changing and growing as his career advances and he changes football teams. He was previously making £100,000 a week while playing for Manchester United, which is quite an impressive sum. He was sold to Lyon in 2015 for £21 million – United was sad about losing such a promising player but was apparently glad to be rid of his weekly fee. We will see this number continue to rise as the years and his fame progress.