William Franklyn-Miller Wiki Bio, age, height, parents, sister, dating, salary
• William Franklyn-Miller is a young British model and actor
• He is known for playing Giovanni de Medici in the historical TV series "Medici" and for appearing in episodes of "Neighbours" and "Arrow"
• He began modeling at the age of four and his first contract was with London's Bruce and Brown modeling agency
• He has also taken on acting roles, appearing on TV series such as "Jack Irish" and "Medici"
• As of 2019, he has an estimated net worth of $400,000.
Who is William Franklyn-Miller?
William Franklyn-Miller is a young British model as well as an actor, who is probably best known for portraying the character of Giovanni de Medici in the historical TV drama series "Medici". Apart from this, William is also widely recognized for appearing in a couple of episodes of popular TV series such as "Neighbours" and "Arrow".
William Franklyn-Miller's Early Life
William Franklyn-Miller was born under the zodiac sign of Aries on the 25th March 2004 in London, England, so is of British nationality while his ethnicity is white. Speaking about his early life as well as his family's background, William was raised alongside his two younger siblings – a brother named Noah and a sister named Siena, by their mother, Australian model and actress Shannon Franklyn-Miller, and their father Dr. Andy Franklyn-Miller, who is widely recognized for his collaborations with the British Olympic Rowing Team, England's national rugby team as well as with the New Zealand Black Ferns and the Melbourne Storm Rugby League team. Details of William's educational background have never been publicly disclosed either.
William Franklyn-Miller's Modeling Career
William dived into the world of modeling at the very early age of four, and at the age of seven he caught the eye of a modeling agent, and signed a contract with London's Bruce and Brown modeling agency. Just a couple of days later, William landed his first modeling deal when he was hired for a promotional campaign for Next. He was later approached by the Bayside Modeling Agency, and now his manager is Megan Klein from the New York Model Management agency. William has since worked with several of the world's most popular brands, including collaborations with brands such as Marks & Spencer, Pavement Brands, Harrods, SUDO and RatBag to name a few. William has also been featured in numerous fashion magazines, such as Vogue Italia, Vogue Russia, La Petite Magazine and Hooligans Magazine, among several others.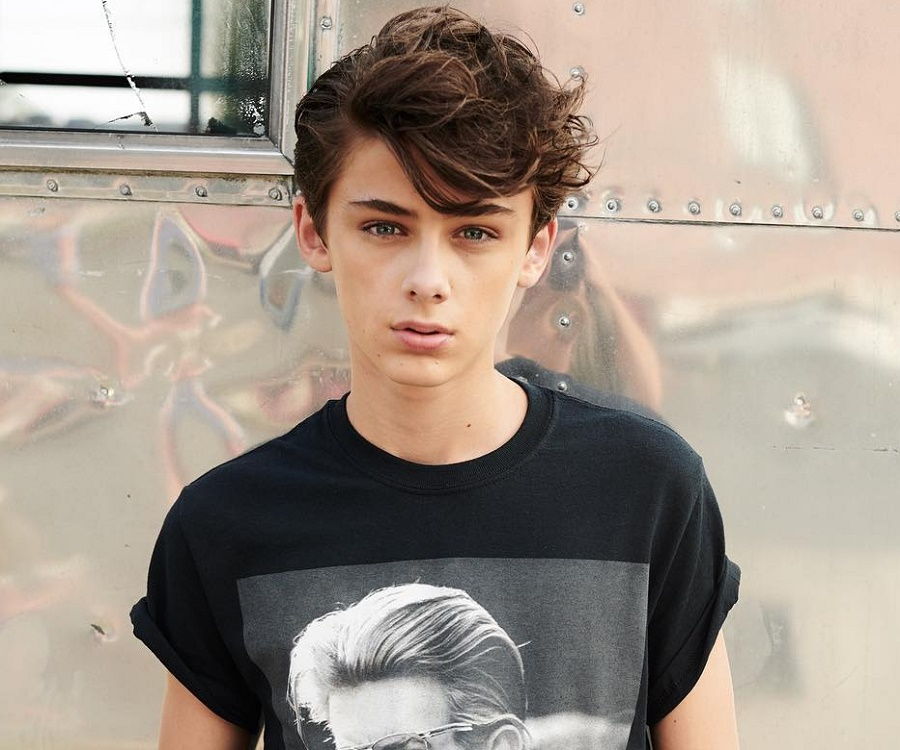 William Franklyn-Miller's Acting Career
Into the world of acting William moved in 2016. when he appeared briefly in the short movie "A Fish Out of Water", after which he appeared alongside Golden Globe-nominated Australian actor Guy Pearce in an episode of the Australian TV crime series "Jack Irish". However, to greater prominence William came later in 2016, when his photo posted on Twitter by a Japanese schoolgirl, went viral and gathered over one million views within just a week. With his popularity on the rise, William began starring in more demanding acting roles, and by the end of 2016 had appeared in half a dozen episodes of the first season of the historical TV drama series "Medici", in the recurring role of Giovanni de Medici.
The real breakthrough in William's acting career occurred in 2017, when he was cast for the role of Brandon Henley in the long-running Australian TV soap opera entitled "Neighbours", as well as for the recurring role of Young Joseph Wilson in the TV action crime series "Arrow", based on the DC Comic's superhero character Green Arrow.
When it comes to William Franklyn-Miller's more recent acting engagements, in 2018 he appeared in the short movie entitled "The Resurgence", while in 2019 he made two on-camera acting appearances – in the family movie "Spring Breakaway" and the TV comedy drama series "Chicken Girls".
William Franklyn-Miller's Appearance
The now 15-year-old model and actor is 5ft 11.5ins (1.82m) tall, and sports a slim and fit figure with a weight of around 132lbs (60kgs), and vital statistics of chest size 36″ and waist measuring 30″. William also has deep blue eyes and brown hair, which apparently makes his appearance quite alluring.
William Franklyn-Miller and Social Media Networks
Apart from regularly appearing in front of the camera due to his modeling and acting engagements, William is also active on several popular social media networks on a daily basis. His official Twitter account – @willfmofficial – has gathered over 37,000 followers while his Instagram profile – @william.franklyn.miller – has been followed by more than 1.2 million fans. He is also active on Facebook, on which he has amassed a fan-base of over 200,000 people, as well as on YouTube on which his eponymous channel has gathered more than five million views, and over 127,000 subscribers.
15 today #laclusaz pic.twitter.com/O5yTvNtX7U

— Will Franklyn-Miller (@willfmofficial) March 25, 2019
William Franklyn-Miller's Personal Life
Curious about William Franklyn-Miller's private life, aren't you? Well, after being raised in England, in January 2013 at the age of eight and alongside his family, William moved to Melbourne, Australia, where he honed his modeling skills. However, in 2018 he re-located to Dublin, Ireland, where he now resides. In his spare time, aside from playing video games William also enjoys swimming as well as playing basketball and rugby with his friends. Despite his popularity, he has somehow managed to keep his intimate life for himself and far from the media, as there aren't any relevant details about any love affairs, dating history and romantic connections, probably unsurprising at his still young age.
William Franklyn-Miller's Net Worth & Salary
Have you ever wondered how much wealth this 15-year-old British actor and a model has accumulated so far? How rich William Franklyn-Miller is? According to sources, it is estimated that the total of William Franklyn-Miller's net worth, speaking of early 2019, revolves around the sum of close to $400,000, with an estimated salary per episode of $8,000, acquired through his acting career since 2016, and his modeling engagements from a very early age.