Yussuf Poulsen: Wiki Bio, salary, net worth, nationality, wife, children
• Yussuf Poulsen is a professional footballer from Denmark born in 1994 from a mixed marriage.
• He started his career at the age of 13 and eventually made it to FC Leipzig in 201•
• He also plays for the Danish national team and has scored on the 2018 World Cup.
• His net worth is estimated to be around € 4 million.
• He is currently in a relationship with a Danish designer.
Yussuf Yurary Poulsen is an example of a real athlete. Despite the difficult life and many obstacles, this guy has become a top player whom many famous European football clubs want.
Yussuf Poulsen Personal Life
Yussuf Poulsen was born on 15 June 1994, in Copenhagen, Denmark, in a mixed marriage, from the father a Tanzanian Muslim, and by the mother who's Danish. Until he started a professional football career, Yussuf and his mother, Lene Poulsen, lived in Copenhagen. He currently resides in Leipzig, Germany, where he assigned for the football club of the same name.
Yussuf got a Muslim name from his father's side. When he was just six, his dad died of cancer. Until then, Shihe Yurary tried to ensure a good life for his family, working on a container ship. In the honor of his late father, Yussuf wore the kit with the name Yurary on the World Cup 2018 in Russia. He has an authentic hairstyle, a ponytail, and he plays with his right foot.
Yussuf Poulsen's Professional Career
In the age of 13, while still in elementary school, Yussuf Poulsen started to train at the local football club BK Skjold. He is a tall guy – he is 6ft 4ins (193 cm) and weighs around 176 lbs (80 kg). So his coach forced him as a defender or defensive midfielder. After certain transfers happened in the club, Yussuf was moved forward, on the position of a striker.
The next year, Yussuf went to Lyngby BK, a football club from the northern suburb of Copenhagen. In December 2011, he had his first professional appearance. Then he entered the game only a few minutes before the finish of the match. It took him nearly a year to prove himself to the coach and to get into the first team.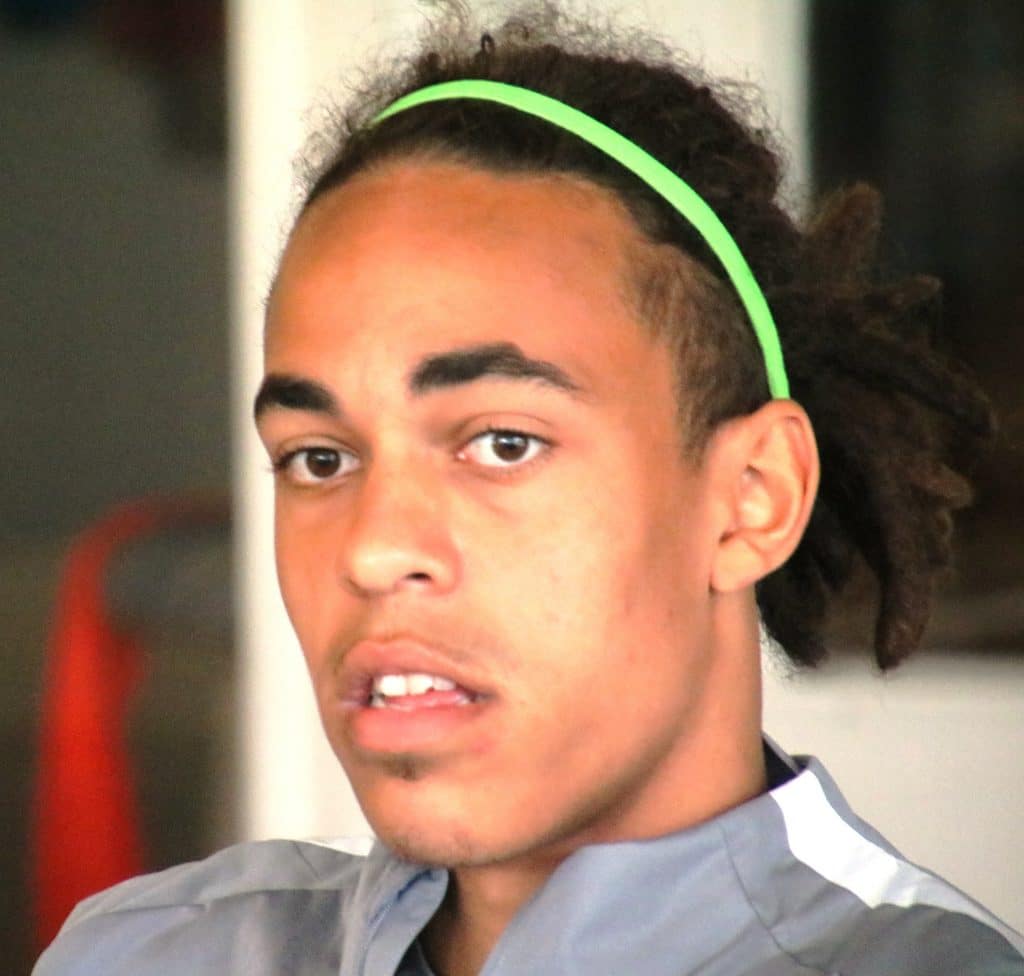 Fulfilling of Yussuf's Dreams about International Career
Soon, due to good performances, Yussuf came to the focus of managers and clubs. Although many teams from Denmark showed interest, Yussuf wanted to continue his career abroad. That was his aim because he thought he would never play the Champions League with a Danish club. On 3 July 2013, Yussuf Poulsen assigned a professional contract with FC Leipzig, where he was one of the two foreign players. Yussuf and his manager knew this was a good move, although Leipzig was not at the top of German football. The club spotted him during the qualifying match he played for Denmark Under 19 team.
His first season at the club, FC Leipzig played in the 3rd German Leagueand Yussuf wore 9 on his shirt. However, the good games of him and the whole team led to the club's transition to a higher ranking in 2014. In the next two seasons of the 2nd Bundesliga, Yussuf Poulsen played 64 times, both in the League and Cup, and scored 19 goals. Since 2016, FC Leipzig has become a member of the Bundesliga. Yussuf Poulsen has finally got the feeling of playing big games. For the first time in the highest competition rank, he scored on the match against Augsburg, which his team won 2-1. After signing the extension of the contract in September 2017, Yussuf remains loyal to FC Leipzig until 2021.
Poulson's Representative Career
After several successful seasons in BC Lyngby, Poulsen became a part of the junior team of Denmark. He was a member of the Under 17 crew who played a semi-final on the European Championship in 2011. However, the dream of every boy is to play for senior team one day – Yussuf Poulsen achieved this as a 20-year-old; more precisely, on 11 October 2014, at the match against Albania. The following year, on a friendly game against Serbia, he was a scorer for his national team, for the first time.
Denmark easily passed the qualifications and got on the World Cup 2018. This team was one of the favorites from the shadow. Poulsen managed to score against Peru. Unfortunately, Yussuf and team-mates stop their road to the title in the round of 16. Croatia was better after the kick-off. The interesting fact is that Yussuf Poulsen first wanted to play for the national team of Tanzania, because of his dad. However, he never received a call from a football federation. That's why Denmark federation was more specific in their offers – Poulsen went through all the younger selections, and became one of the biggest stars of the senior selection.
Very happy to have extended my contract with @DieRotenBullen until 2022! #MyTeam #YP9 #RBL pic.twitter.com/F4PchnekaO

— Yussuf Y. Poulsen (@YussufYurary) March 14, 2019
Salary and Earnings
During four seasons spent in FC Lyngby, information about Yussuf Poulsen was not available. However, in 2013, his market value was around € 400,000. The agreement he signed with FC Leipzig brought him annual earnings of about € 1.3 million. In December 2017, Poulsen's market value increased to about € 10 million; at the end of 2018, it was almost doubled. According to this information, a rough estimation of Poulsen's current net worth could be about € 4 million. He earns most of his salary from football, but there are also numerous sponsorships, among others with Nike. Although it makes a good profit, Yussuf is quite modest, compared to other footballers – currently driving an Audi car, which costs 'only' € 45,000.
Is Yussuf Poulsen Married?
There are no affairs associated with the name of Yussuf Poulsen. This charismatic guy is fully committed to football, although, due to his exotic look, he attracts the attention of many ladies. Judging from his posts on social networks, he's currently in love with young Danish designer Maria Duus. Poulsen was not married so far, and he has no children yet.