Ashley Force's Bio: Net Worth, Husband Daniel Hood, Drag Racing, Baby, Children, Wedding, Height
• Ashley Force is a retired drag racer who competed as part of John Force Racing from 2007 to 201•
• She is the daughter of NHRA drag racing champion, John Force.
• She set a few records, including becoming the first woman to earn a win in the Top Fuel Funny Car championship.
• She is married to Daniel Hood and has two sons.
• Her net worth is estimated to be around $3 million.
Who is Ashley Force?
John Force is her father, the renowned NHRA drag racing champion, who 16 times lifted the trophy at the end of the season. She followed in his footsteps and has earned a name for herself as a racer. Ashley Force was born on the 29th November 1982, in Yorba Linda, California USA, and is a retired drag racer who competed as a part of John Force Racing from 2007 to 2011, setting a few records, including becoming the first woman to earn a win in the Top Fuel Funny Car (TF/FC) championship. Do you want to read more about John Force's daughter, to learn about her childhood, career, and personal life as well? If yes, then stay with us for a while, as we are about to bring you closer to Ashley Force.
Ashley Force Bio: Early Life, Parents, Siblings, and Education
Ashley, the daughter of Laurie and John Force, has two sisters, Courtney and Brittany, who are also involved in car racing; she also has an older half-sister named Adria. Ashley went to Esperanza High School, located in Anaheim, California, from which she matriculated in 1999, and during which she was a cheerleader, showcasing her athletic and choreographic abilities. Upon matriculation, she enrolled at California State University, Fullerton, from which she graduated with a Bachelor of Arts degree in communication, with a focus on television and video.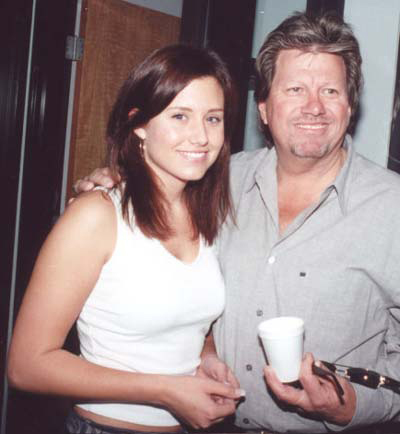 Career Beginnings
Following her graduation, Ashley became more focused on racing, and it was in 2004 that she joined Top Alcohol Dragster. She won three races during the season, which were all in the last five races, and it was then that she entered the winner's circle with her father, becoming the first ever father-daughter winners. She was fourth in the end of the season's standings. For the next two years she competed in the Top Alcohol Dragster division, and then in 2007 she became a professional racer, joining her father's team John Force Racing.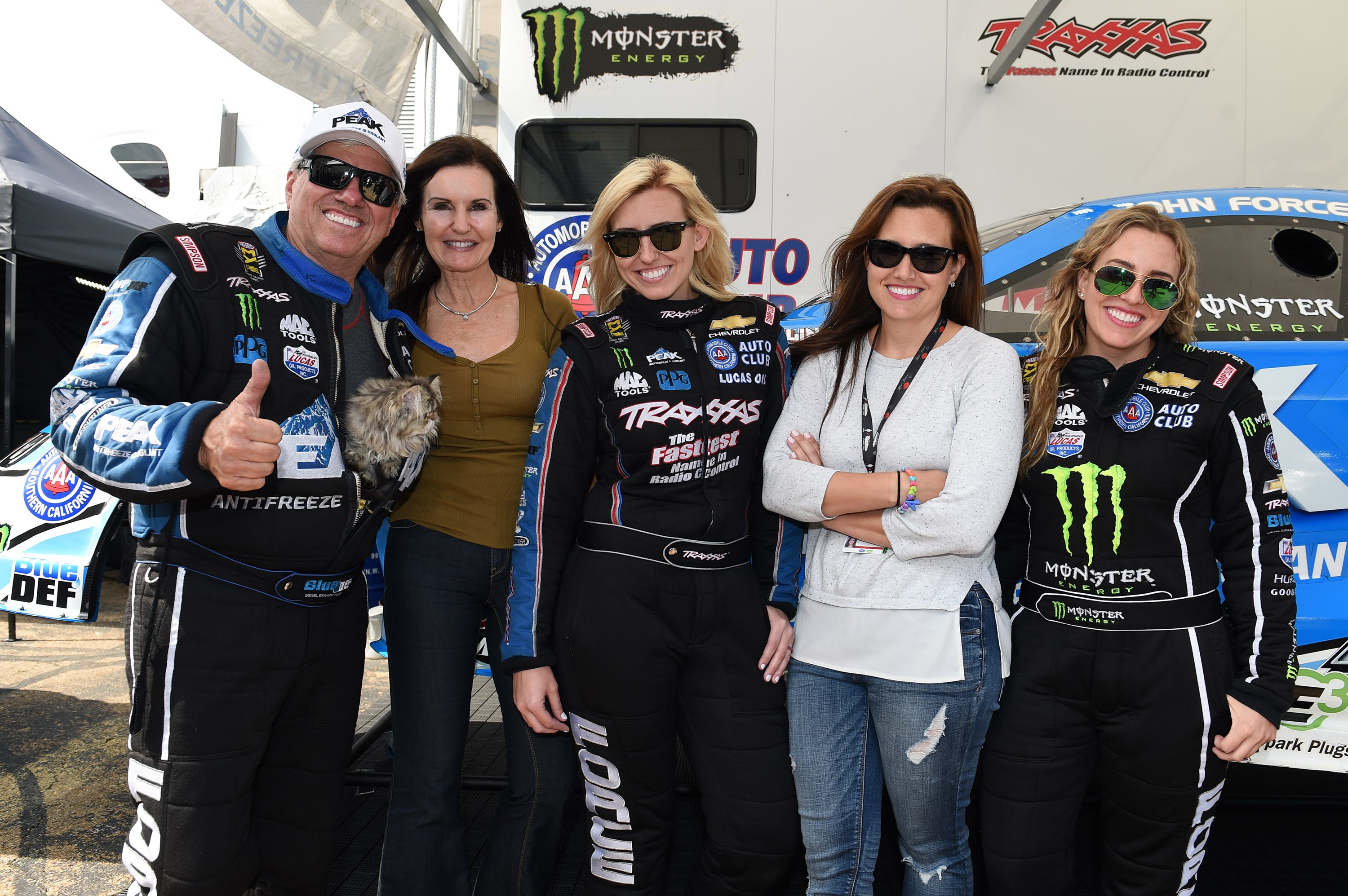 Rise to Prominence
She entered the Castrol-sponsored Mustang Top Fuel Funny Car, and it was in Atlanta in April that she and her father became legends as they became the first father-daughter to race each other. She was better than her father with a top speed of 317,05 mph, equal to 510.24 km/h, and a finish time of 4.779 seconds. She reached the semi-finals before losing, but it was in October the same year that she progressed to the finals at The Strip, Las Vegas Motor Speedway, however, she didn't have much luck and was defeated on a holeshot by Tony Pedregon. The next year for Ashley was quite successful, as she was in the final round in three consecutive races, Houston, Las Vegas and Atlanta, losing in the final rounds of first two races, and then in Atlanta again defeated her father to become the first-ever female to secure the win in NHRA Funny car, and also the first woman to lead in the standings.
Further Success
In 2009 she secured her second win by defeating Jack Beckman at the Reilly NHRA Spring Nationals, and the same year won at the US Nationals by beating Robert Hight. She finished 2nd in the championship, setting another record as she was the female with the highest finish position ever in the Funny Car championship.
Baby Announcement and Subsequent Retirement
Ashley didn't race throughout 2010, and in 2011 announced that she would be on hiatus from racing for the season due to pregnancy. Her father assumed her place, while Ashley became President of John Force Entertainment, focusing on media and promotion of the team, its products, and projects. She returned briefly to the track in 2014, but only as a test driver at Las Vegas Motor Speedway, and since then hasn't raced, and instead is now Vice-President of John Force Racing. Her sister, Brittany, who is also a part of the John Force Racing, suffered a terrible crash in Pomona in February this year, but after a few days in the hospital, she was released home.
Ashley Force Net Worth
Do you know how rich Ashley Force is? Her records and other successes on tracks increased her wealth by a large margin. Also, her endeavors in the media have contributed to her wealth. So, let's see just how rich Ashley Force is. As of late 2018, Ashley Force's net worth is estimated at $3 million, which is pretty impressive, don't you think?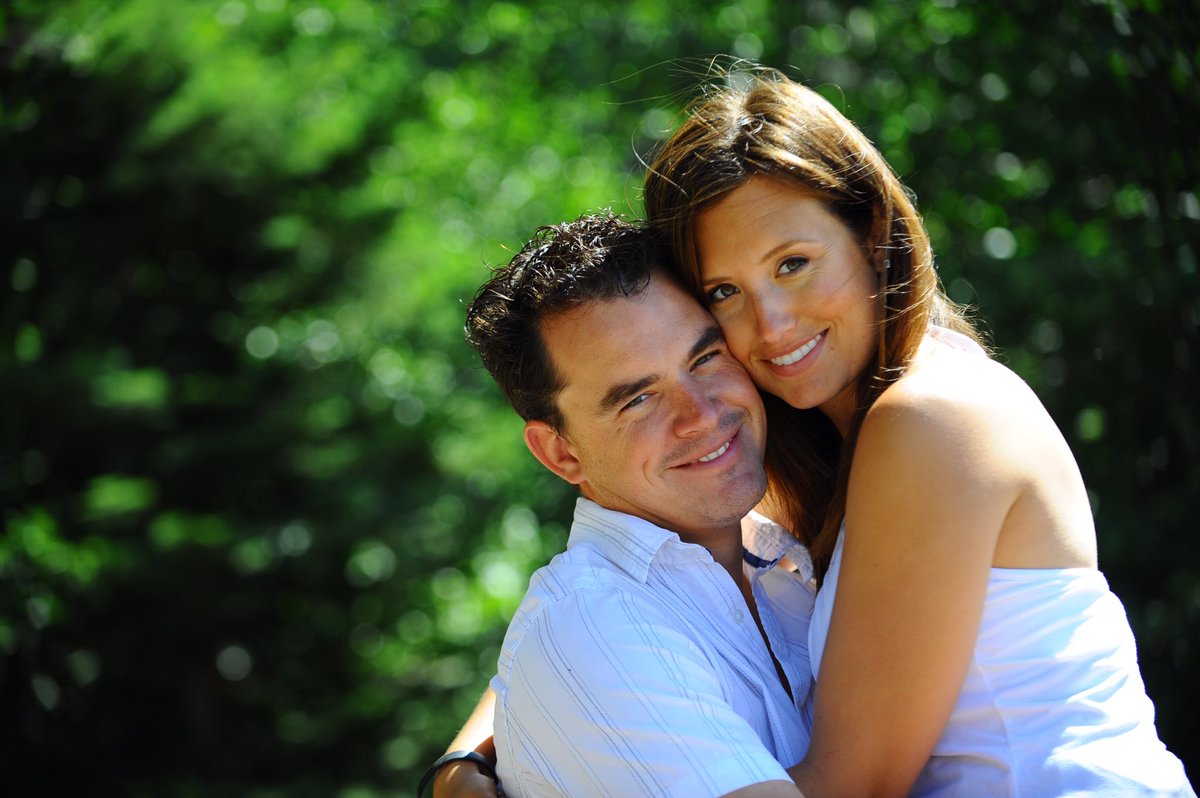 Ashley Force Personal Life, Marriage, Children, Husband Daniel Hood
Ashley has been quite open when it comes to her personal life, having shared all the interesting details on her social media pages. She has been married to Daniel Hood since 2008 – he is the parts manager of the Castrol GTX Funny Car team. The wedding ceremony was held in Lake Tahoe, and since the wedding ceremony, the couple has welcomed two children, both sons.
All dressed up & ready to head to the @NHRA awards banquet!?????? (Moose is mad he can't go?) @DanielHoodJFR pic.twitter.com/EVY2wQzmln

— Ashley Force Hood (@ForceHood) November 13, 2018
Ashley Force Height, Weight, and Hobbies
Do you know how tall Ashley is, and how much she weighs? Well, she stands at 5ft 6ins, equal to 1.70m, while she weighs 125lbs or 56kg. She is rather attractive, do you agree? When she is not working, Ashley tends to spend her free time focused on another sport, kickboxing, though only at an amateur level, and also enjoys video production and montage.
Ashley Force Internet Popularity
Over the years, Ashley has become quite popular on social media platforms, especially Instagram and Twitter. Her official Instagram page has over 55,000 followers, with whom she has shared details from both her personal and professional life, often pictures of her children, and from the track as well. You can find Ashley on Twitter too, on which she has just over 11,000 followers, which she uses to promote her career, including the newest projects of the John Force Racing, such as collaboration with Pit Boss Grills, among many other posts. So, if you aren't already a fan of Ashley Force, then this is a perfect opportunity for you to become one, just skip over to her official social media pages.