Brittanya Razavi's net worth, kids, career, family, dating, husband, wiki bio
• Brittanya O'Campo (Razavi) was born in Oxnard, California in 1985.
• She grew up in a large family, with her father teaching them to take care of one another.
• She was homeless at one point and was arrested for threatening a woman and spent 7 months in prison.
• She is a glamour model, TV personality and co-founder of the clothing brand 187 Avenue.
• She has an estimated net worth of over $8 million.
Brittanya Razavi is well-known as a glamour model, a television personality and a TV shows contestant. Her Instagram account is followed by 12,5 million people and the number is only getting bigger. Who is she and how come she attained that fame? Let's try to discover the story of her success.
Early life and family issues
Brittanya O'Campo was born on 7 July1985, in Oxnard, California USA. Her name was probably made up by her mother, at least Brittanya thinks  so. In her interview with Reality Tea in 2009, Brittanya claimed herself to be a Mexican.
She grew-up in a large family, the youngest with 4 siblings. She mentioned  in her interview for MoneyInc in 2017 that love was the main value for them: 'I loved having my siblings around, it was a blessing. My father taught us to always take care of one another and that's what we did'. The love and support of her family seemed to make Brittanya strong and hard-working from childhood, since she once said  she got her first car at age 12 and her first job when she was 13.
Their life changed in a day when her father was taken to prison, for unspecified reasons, leaving his wife and his kids to live on their own and to take care of each other without him.
Back then Brittanya was 15 years old already having  her firstborn son, and although she missed her father, at the same time she admitted  that even at that young age she was prepared for adult life and understood that she could bear it. However, things weren't so easy for Brittanya. 'At one point of my life I was homeless, so I've lived and seen it all', said Brittanya in one of her Facebook posts .
At the moment Brittanya's father is free, and she seems to love him no matter what happens in their life. Calling herself a 'daddy's girl', Brittanya posted  a photo of herself and her dad with a comment: "I place no one above you". She even calls  him 'My Hero': 'He taught me to be strong, independent, positive' – she shares  with her Instagram followers.
Education
Brittanya is said to have attended a private school and an exclusive college in California, but there is no proper information proving or disproving her graduation. Nevertheless, Brittanya insists  that it's more valuable to keep on self-developing: 'Formal education will make you a living; self-education will make you a fortune!'
First reality TV shows and movies
Already working as a model, Brittanya first appeared in theVH1 reality television series' "Rock of Love Bus" and "Charm School 3". In her interview for Reality Tea in 2009 she admits she took these shows seriously and was very disappointed to be eliminated, not winning any of them. However, her popularity grew rapidly, and she graced the cover of some significant magazine, including MMA Sports Magazine, Tattoo Magazine, Savage Tattoo, Revel Ink, Sports Magazine, and Tattoo Energy. In 2012, Brittanya had a minor role in a movie called "Dysfunctional Friends; the movie's rating on IMDb is 5.30.
Locked Up
Being arrested for threatening a woman, Brittanya pleaded guilty and spent around seven months in prison. Her bail was a quarter of a million dollars, as she said  in her interview for Reality Tea in 2009, and  'That time is very valuable and you just have to be a stronger person and walk away from situations', shares  Brittanya. The charge   to assault with a deadly weapon causing bodily harm, and Brittanya says used all money she had to pay her lawyer and all she could do was to wait and pray: 'Believe it or not, I pray like every single night. I probably pray like three times a day. I'm really into God and stuff. I feel that I'm just going to leave it in his hands'. If convicted, she could have spent three years in prison, but in fact she didn't. All she cared about was being apart from her children for a long period of time.
Marriage, Kids
In her interview for MMA Sports Magazine Brittanya confessed : 'That's the one thing I hate, being alone. I want a boyfriend so bad, but guys never understand my lifestyle. With me being on the road all the time, it's so hard'. She was heard and finally found the one who could understand and support her. Lucky Moe Razavi became that very special man to whom Brittany dedicates  long posts of appreciation for everything he's done for her so far: 'When I was locked up, He would drive sic hours round trip every Saturday to visit me for seven months straight… When I fired all my management, he said he would take over and help manage me and look over all my companies', she writes.
Brittanya mentioned that her husband was a college graduate with two degrees, but there's no information to confirm that, so we can only believe her words. They have two sons, and Brittanya shares her photos with them not revealing any other kids, or at least the eldest one she gave birth to when she was 15. According to her recent photos with sons Brittanya seems to feel more confident being a mother, though back in the day she considered herself to be a bad mom:  'I know that I'm not the best mother because I'm not always around. But all that matters to me is my son. He's eight, so he's not a little kid. He knows that I would kill and die for him. He knows that he is my world, and his opinion is the only person's opinion that I care about. He's my best friend. I love him to death and I talk to him every single day', she shares in her interview for Reality Tea .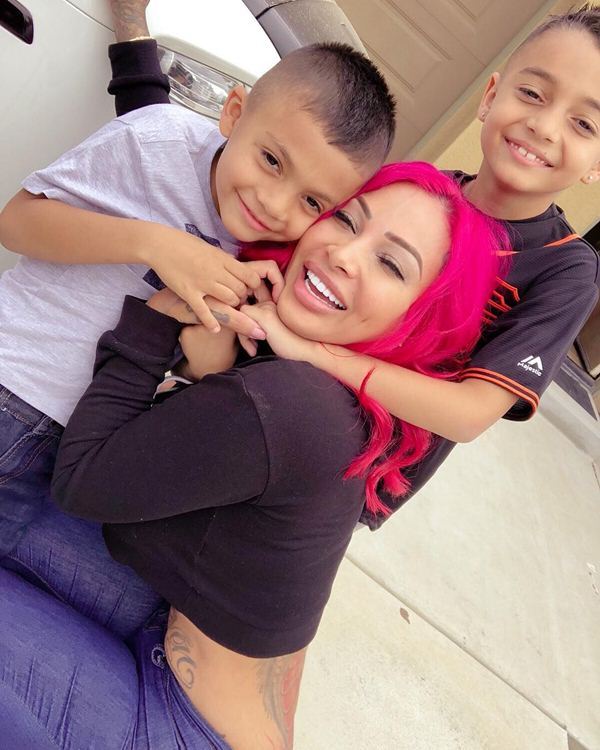 Instagram success
One can say it's obvious how she's attracted so many followers on Instagram though Brittanya herself is quite sure it's not just about 'hot pictures'. 'I'd say getting on the app when it first started which was timing. And also being blessed with the audience who wanted to follow me. And always staying consistent with new photos that I think my audience would like. So it's a mix of those three things and I'm so thankful for it all every single day', commented Brittanya.
More than adding another tattoo on her body, Brittanya loves playing with her hairstyle. For the moment she's got black hair color but who knows what shade will be next. According to the photos that can be found on the Internet, Brittanya has tried many hair colors, not being afraid of changes – red, brown, gray, fuchsia, purple, mermaid green and fiery red, wearing dreadlocks, wigs, hair extensions, even having part of her head shaved. Back in 2013 she even dyed  her son's hair blonde.
She never tried to hide the fact of her appearance modifications. Her Instagram account description says "100% Not Natural". People keep asking whether she's had implants or any surgery or injections, and fans protect Brittanya answering such comments for her saying she never denied her beauty was built with the help of specialists, and was a result of hard work of plastic surgeons, fitness instructors and nutritionists.
As she told  InkedMag in 2017, it was Instagram that gave her such success: 'Reality shows were my stepping stone… I definitely have more attention through Instagram than I ever had on TV… Through the Instagram photos I feel confident, I feel happy.'
Appearance and tattoos
Brittanya is said to be 5ft 2 ins (1.58m) tall, weighs around 123lbs (56 kgs) and her vital statistics are 36D-25-35. She has hazel eyes and long hair which she dyes often.
Having almost all parts of her body covered with tattoos, Brittanya keeps planning  more:  'I am going to do a little more on my legs and then get something big on my throat'. Brittanya had her first tattoo at age 11, the person who did it turning out to be an amazing artist, so he's done most of the tattoos on her body. He himself later covered the tattoo he did when Brittanya was 11.
187 Avenue clothing and other businesses
Brittanya is a co-founder, co-owner and a designer of a clothing brand called "187 Avenue" (Section 187 (often referenced in slang simply as 187) of the California Penal Code defines the crime of murder). Provocative prints, criminal life quotes, guns, Native Americans' portraits on clothing (even for kids and babies) are being sold worldwide.
Brittanya also has a site BrittanyaTV  on the StreamX platform which has a subscription. For $19,55 per month one can get access to her private adult photos and videos.
She's also a co-author of the book  called "Millionaire Self Talk" which is claimed to be a Work Book to help guide your daily goals and motivation to succeed.
'I know that I won't  be able to always count on my looks so I am focused on having cash flow when I can't make money off hot pictures anymore. Right now I have my rental properties, my brand 187 Clothing and I'm always looking for the next hustle',  says Brittanya.
Net Worth
In 2016 Brittanya posted the numbers from her ConnectPal account. According to her post, she had 4,121 active users (and she asked for more subscribers to get to 5500 in total) who paid her $70,057 per month. Her Facebook page shared a link to an article claiming her to have $6 million net worth. In 2019 she is authoritatively estimated to have a net worth of over $8 million.