Brooke Burns Wiki Bio, children, height, ex-husband Julian McMahon
• Brooke Elizabeth Burns was born on 16 March 1978 in Dallas, Texas.
• She was a ballet dancer as a child and moved into modeling as a teen.
• She is known for her roles on TV series such as "Baywatch" and "Ally McBeal".
• She is currently the host of the TV quiz show "The Chase".
• She is a spokesperson for NASS and the Think First National Injury Prevention Foundation.
Who is Brooke Burns?
Brooke Elizabeth Burns was born in Dallas, Texas USA, under the zodiac sign of Pisces on 16 March 1978 to parents are Brad and Betsy Burns. She is now a TV personality, a model and actress, mostly known from her appearances on TV including in fashion shows as well as TV series such as "Baywatch"..
Early life
Brooke grew-up with two sisters' she used to be a ballet dancer, as she danced for 12 years starting from age three, and had a dream of becoming a famous ballerina, but that dream was destroyed when she had a skiing accident when she was 14. It was a major disappointment for Brooke, but her mother thought that she might do something else so she sent her to a modelling school, and within a year, Brooke was already being featured in both US and European fashion magazines. She was still attending school and was determined to finish it as well, but concurrently visited Europe, and lived for a short time in Paris and Munich.
Career
After being featured in magazines, she went on to become a model in commercials, which led to her first role in a TV series – "Out of the Blue" in 1995. Most of the people who recognize Brooke know her from the "Baywatch" TV series. Her first audition for "Baywatch" was unsuccessful, but within a half a year she was called-up and given the permanent role of Jessie Owens. You can say that this was the real beginning of her career.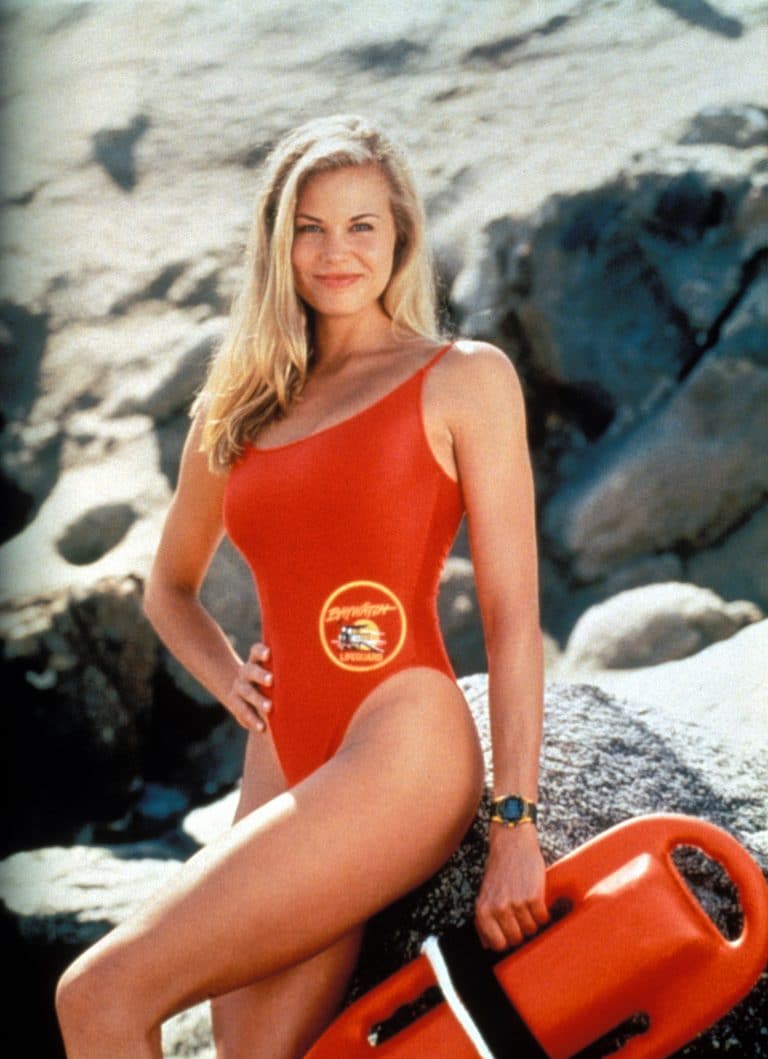 She stayed as a cast member of "Baywatch" for two seasons, then she found out that she was pregnant. She was also featured in a couple of episodes of "Ally McBeal" in the meantime. She was ready to go back to acting as soon as she gave birth, and got her first but not really big movie role in the comedy "Shallow Hal" – a shallow man who falls in love with a 300lbs woman. The movie has a rating of 5.9/10 on IMDb and even though that is not so good, the audience loved the movie.
After an amazing scene in "Fear Factory" in which she jumped onto the roof of a double-decker bus, she was offered the position of host in a TV reality show called "Dog Eat Dog", a game show in which contestants compete physically and in other kind of games for a prize of $25,000. Her next movie role was in "Death to the Supermodels", a comedy about supermodels on a deserted island, but which achieved a disappointing 2.3/10 rating on IMDb. She then starred in a couple of movies, including "The Salon" and "Time and Again".
She is currently the host of "The Chase" – a TV quiz show which premiered in August 2013 in which three contestants challenge a quiz show genius known as the chaser (Mark Labbett who is also called "The Beast"), and need to answer more questions than the chaser to win money.
Movie star moment created by @mykemakeupguy @DolbyTheatre for @qatarairways pic.twitter.com/lnLqPr3kmr

— Brooke Burns (@BrookeBurns) January 13, 2016
Personal life
Around the time when she started appearing in "Baywatch", she met her future first husband, actor Julian McMahon – the son of a former Prime Minister of Australia – who at the time was appearing in "WB Charmed" as Cole Turner. Their agents arranged that the two of them go together to the premiere of a movie, and they immediately fell for each other. Cole asked her to marry him at the end of 1999, and they married about two weeks later, on 22 December, and she gave birth to their daughter Madison Elizabeth on 9 June, 2000. However, they eventually divorced in September 2011, because Julian cheated on her with Shannon Doherty, an actress in "Charmed".
Her next relationship was with Bruce Willis – we're sure everybody knows who he is? They started dating in 2003, became engaged in April 2004, but split just a month later, although they remain good friends even today. She has been married to her second husband – Gavin O'Connor, who is a film director – since 22 June 2013; Brooke gave birth to their daughter, Declan Welles on 22 January, 2017.
Appearance and net worth
Brooke is 40 years old now; she has a long blonde hair and blue eyes. She is 5ft 8ins (1.74m) tall and weighs around 132lbs (60kg) while her vital statistics are 36-23-35 inches. According to authoritative sources, Brooke's net worth is estimated to be around $3 million. She still earns over $50,000 per year as a fashion model, but most of her earnings have come from her role in "Baywatch".
Trivia
She had a horrible accident on 11 November 2005, when she fractured a bone in her neck while diving in her pool. Lucky for her, her good friend who was a firefighter was there and helped to stabilize her until she reached hospital where she had minor surgery, and had to wear a prosthesis on her neck for the next three months. However, they had to put a titanium fusion in her neck with a plate, rod, and ten screws. She even became a spokesperson for NASS and the Think First National Injury Prevention Foundation after this accident.
She adopted a dog back in 2007 called Max. She owned a BMW 5 Series 530d M Sports which costs around $50,000. She is quite active on her Twitter account – she has around 2,300 tweets and 15,000 followers. Her description says 'Above all else. Mom.' She does not have an Instagram account. She is actively helping a couple of charity organizations.
Brooke was named number 31 in Maxim magazine's "Hot 100" in 2005. Her father is a former national swimming champion who taught her how to swim, fish and sail. She has a tattoo on her foot, and another on her hip.