Dave Rienzi's Wiki: Dwayne Johnson's personal trainer who married his now ex-wife Dany Garcia
• Dave Rienzi was born in the United States in 1984 and is a personal trainer.
• He is best known for his work with actor Dwayne "The Rock" Johnson.
• His net worth is estimated at over $2 million.
• He has been married to The Rock's ex-wife Dany Garcia.
• He has participated in bodybuilding competitions, runs his own fitness center, and has trained other celebrities.
Who is Dave Rienzi?
Dave Rienzi was born on 25 April 1984, in the United States of America, and is a personal trainer, best known for his work with actor Dwayne "The Rock" Johnson; The two have collaborated since The Rock's professional wrestling days. Dave is also known for being married to the actor's ex-wife, Dany Garcia.
The Net Worth of Dave Rienzi
How rich is Dave Rienzi? As of late-2018, sources inform us of a net worth that is over $2 million, earned largely through a successful career in physical fitness. His work with Dwayne Johnson has also allowed him to expand the reach of his business to numerous other celebrities. As he continues his career, it is expected that his wealth will also continue to increase.
Early Life and Career
While there is little public information about Dave's childhood, it is known that at a young age he developed a strong passion for physical fitness, and even then aimed to become a trainer. The aspects included bodybuilding and conditioning, while also trying to grow a business based on it. He became acquainted with The Rock during the start of the actor's rise in Hollywood, and was hired thanks to his expertise and passion for fitness. The two worked together while Dwayne was finalizing his professional wrestling career, transitioning to Hollywood. One of the first projects the pair worked on was in 2013 on the film "Pain & Gain", directed by Michael Bay, starring Johnson alongside Mark Wahlberg and Anthony Mackie, loosely based on the book "Pain & Gain: This is a True Story" compiled from articles written by Pete Collins for the Miami News, following crimes committed by an organized group comprised of bodybuilders. The following year they collaborated on "Hercules", which stars Johnson in the titular role which is based on the novel "Hercules: The Thracian Wars" by Steve Moore. To prepare for the role, the embarked on a grueling training routine for eight months, to allow Dwayne to transform into the titular character.
Grt day w/ @44blue @RienziStrength adding final touch to their bodybuilding reel#RienziStrength#BringingTheSizzle pic.twitter.com/losjwWiFKz

— Dave Rienzi (@DaveRienzi) December 11, 2014
Dwayne Johnson
Dwayne Johnson aka "The Rock" is one of the most popular actors of modern times, but he actually began his career in football, first playing for the University of Miami's Hurricanes team, but after his professional football career was cut short after trying out with the Calgary Stampeders in the Canadian Football League, he started training for professional wrestling, following the footsteps of various family members. He joined World Wrestling Federation (WWF), now known as World Wrestling Entertainment (WWE) to become one of the most widely celebrated professional wrestlers of all time. His run with WWE allowed him to gain mainstream fame, as he won multiple championships.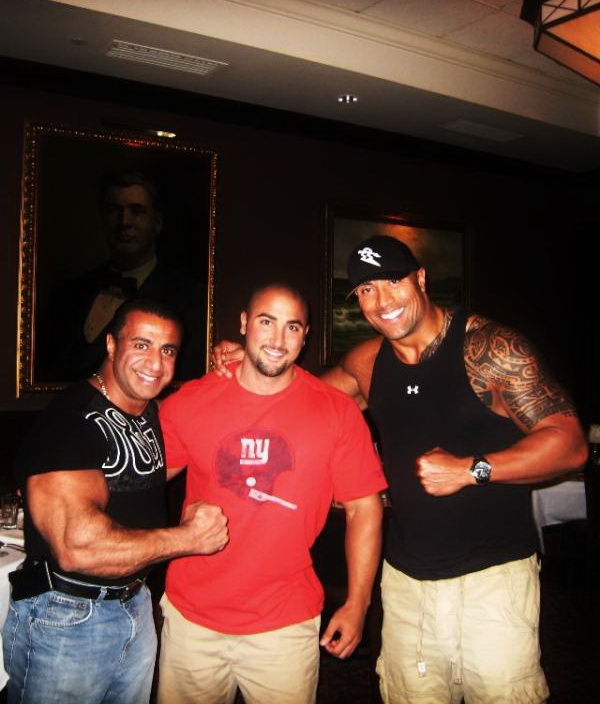 One of the reasons for his dramatic rise in fame was due to his in-ring persona, which brought a lot of attention to his acting prowess, charisma, as well as professional wrestling skills. This led him to his first film role in 2002 in "The Scorpion King" which increased his net worth dramatically. Seeing the opportunity for a career in acting, he then retired from full-time professional wrestling, only making sporadic appearances. One of his best known roles is the character Luke Hobbs in "The Fast and the Furious" film franchise.
Ex-Wife to Wife
Dwayne Johnson's ex-wife is Dany Garcia, who he married in 1997 after dating for seven years. They have a daughter together, and she worked as his manager for several years since his days in professional football, including his professional wrestling career. During the time of his transition to acting, she helped him land numerous roles, however, in 2007 the couple announced that they were splitting up amicably. Despite the end of their relationship, they still continued to work together with her as his manager, but also had separate business endeavors.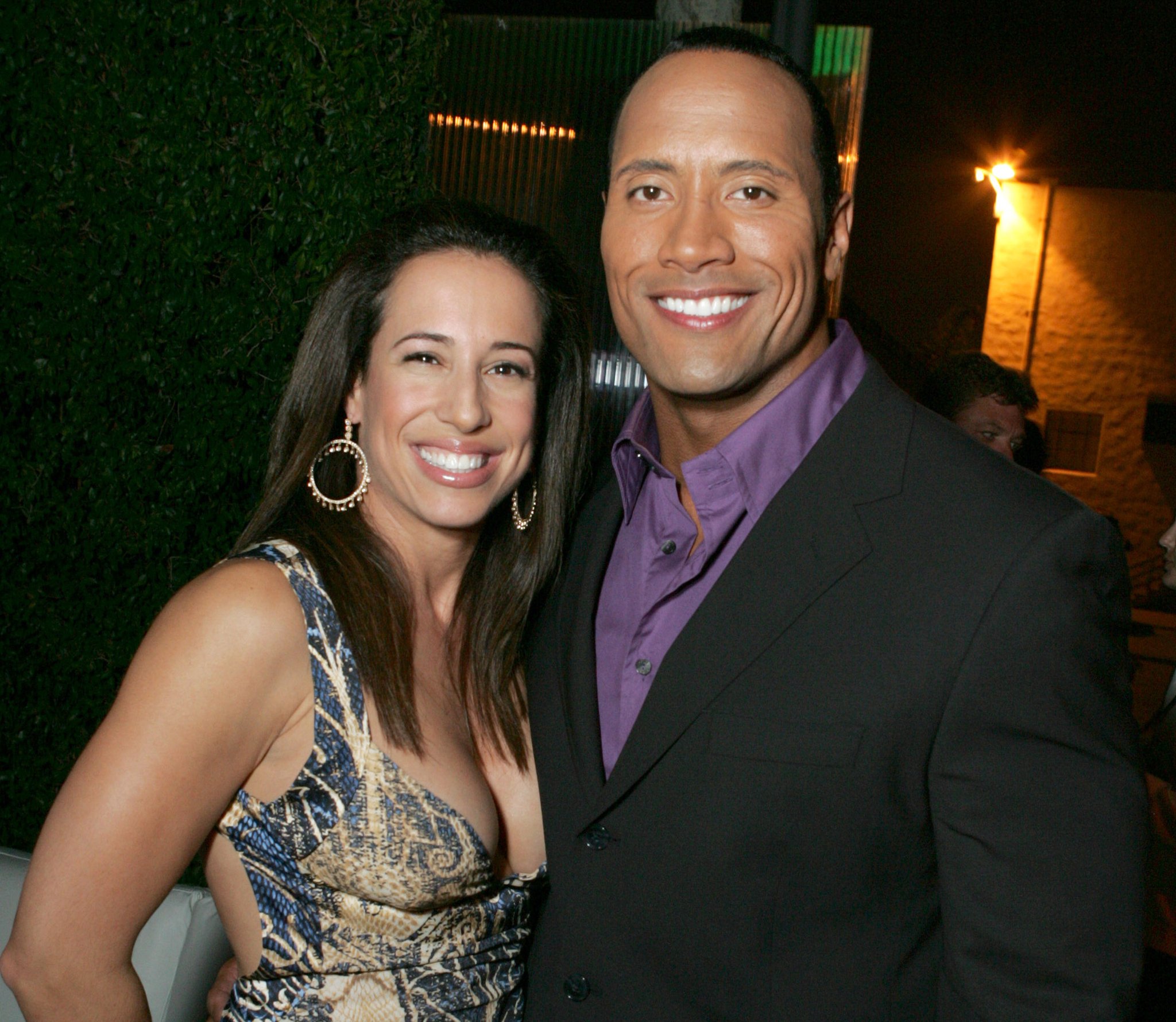 The two also created the production house entitled Seven Bucks. While she managed The Rock's professional side, Rienzi focused solely on his physical development, and this shared connection with the actor led the two to meet which eventually led to a romance. Despite this unusual setup, the three worked well together and remain friends. The Rock calls Dave a good friend and they even celebrate numerous occasions together. Rienzi and Garcia eventually married while Johnson started dating Lauren Hashian – the daughter of drummer Sib Hashian – after meeting on the set of "The Game Plan".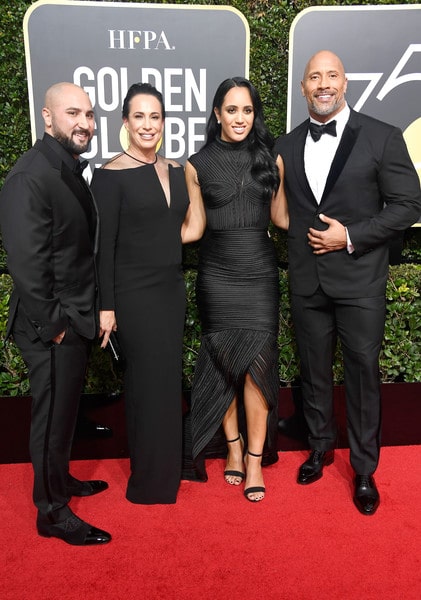 Bodybuilding Career and Recent Endeavors
Aside from his work with The Rock, Dave has participated in numerous bodybuilding competitions, in the light heavyweight category. In 2011, he competed at the NPC South Eastern US Championships, where he got fourth place, and then got third place at the IFBB North Americans bodybuilding competition. Full-time he runs his own fitness center, Renzi Strength and Conditioning. He also has his own private training facility located in Sunrise, Florida.
He has trained other celebrities as well, as his success with The Rock's various physical transformations led to other clients; another popular name he's worked with is National Football League (NFL) player Kayvon Webster. Dave believes in short intense workouts with healthy nutrition. His regiments often have a span of 45-60 minutes. Thanks to his exposure, he has a lot of followers on various social media websites including Instagram and Twitter, on which he also promotes his Hercules workout program.