Drew Carey's fiancé, Dr. Amie Nicole Harwick's Wiki: Age, Net Worth, Engagement, Wedding
• Dr. Amie Nicole Harwick is a licensed marriage and family therapist.
• She is currently based in Los Angeles, California.
• She is in a relationship with Drew Carey, who proposed to her after a year of togetherness.
• She works with a lot of patients suffering from a wide range of psychological and physical issues.
• She is active on social media and has an Instagram page for her cat which has over 1,200 followers.
Who is Dr. Amie Nicole Harwick?
Born Amie Nicole Harwick, now Dr. Amie Harwick is a licensed marriage and family therapist, with a thriving career and a rather romantic life. Even if she is a very secretive woman, trying to keep all her private life details away from the public eye, we have managed to discover that she is born on 21 May 1982. Her birthplace, parents, any siblings and other childhood information is unknown. What we do know is that she is currently based in Los Angeles, California where she practices in her medical office in West Hollywood. She studied Psychology at California Polytechnic University in Pomona, and later got her Master of Arts from Pepperdine University in Clinical Psychology, focusing on Marriage and Family Therapy. She didn't stop there and worked till she got her Ph.D. from the Institute for Advanced Study of Human Sexuality, and so Amie Harwick is now a licensed Doctor in Psychotherapy and Sex Therapy.
The relationship with Drew Carey
They first met at a house party in the summer of 2017, and apparently immediately fell in love with each other, posting on Instagram after only a month their first photos as a couple. The announcement was made by Drew by saying "The face of a lottery winner (L)." as the caption of a photo with Harwick. Then, they couldn't stop uploading photos while enjoying the time spent together at Disneyland, celebrating Winter Holidays, Valentine's Day and, totally unexpectedly, their engagement. After less than a year of togetherness, Drew proposed to her and they took their relationship to the next level. A source close to the couple said to
RadarOnline
that the romantic New Year's trip to Paris helped Drew take the great decision: "Drew's convinced that Amie's the one that he wants to spend the rest of his life with!" He even defended her once publicly when she was called to be his "arm candy". His reaction was: "No. My Ph.D.-holding therapist-author-girlfriend was invited and brought me". He is very proud of her professional life and loves the fact that she helps other people a lot. We can see the major support he gives to her simply by scrolling through her Instagram. They appear together at every important event, and she keeps thanking him in different posts for always being by her side: "I loved being able to share my passion for this cause with my partner".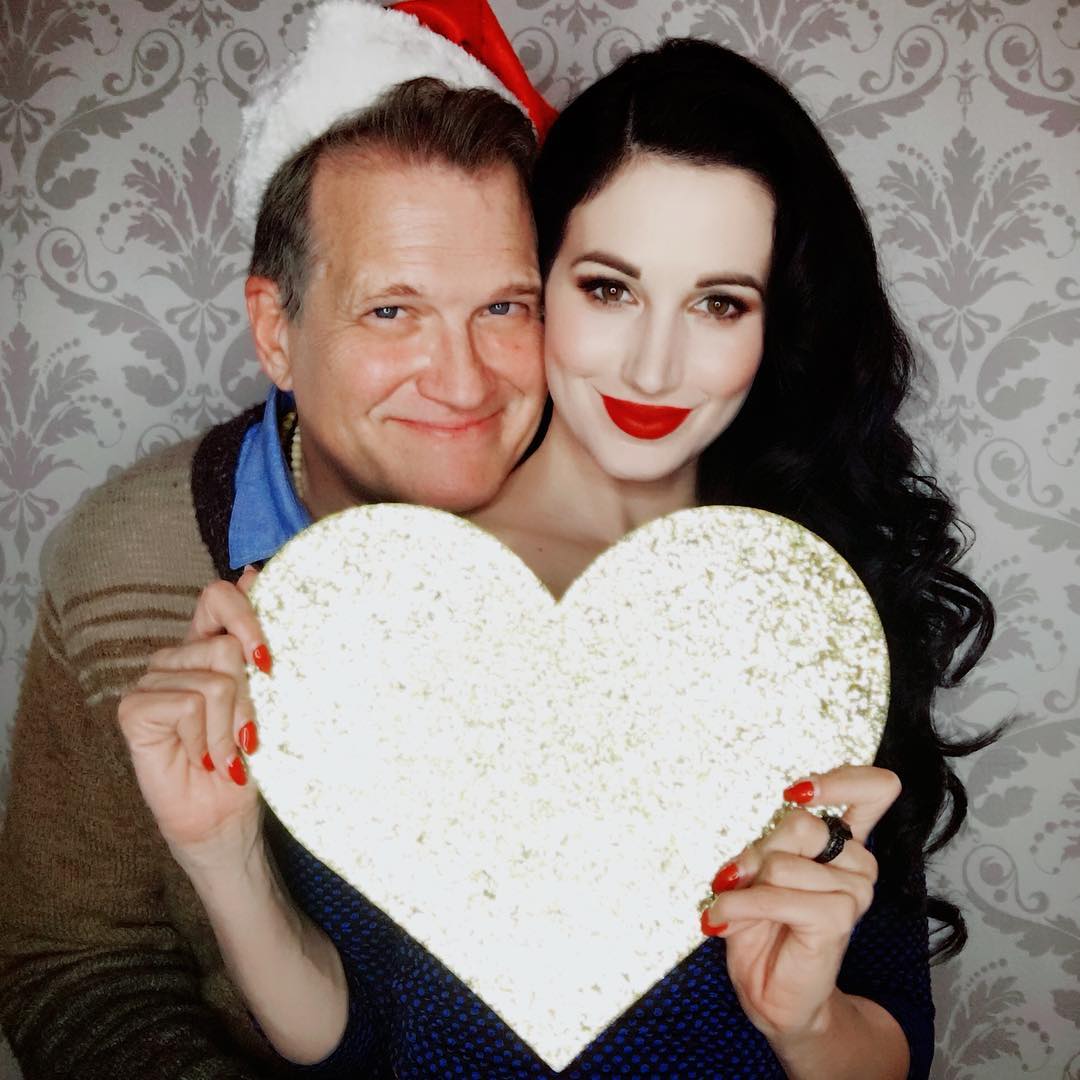 Drew Carey's previous love affair
The 60-year-old "Price Is Right" host had a nearly five-year relationship with Nicole Jaracz, with whom he got engaged in October 2007. Even if they broke up in 2012, before Nicole could become his wife, Carey had enough time to bond with Connor – Nicole's son from a marriage. The little boy, who was around five years old then, inspired Carey to lose 80 pounds and they keep playing an important role in each other's life even to date.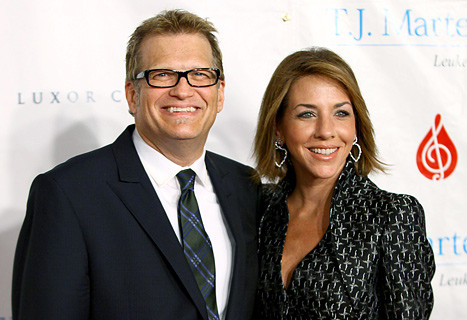 Harwick's professional experience
According to Dr.Harwick's personal website, she has worked with a lot of patients suffering from a wide range of psychological and physical issues, such as sexual harassment, domestic violence and abuse, drug and alcohol addiction, anxiety, depression, eating disorder, et cetera. She has also professionally helped people who were sexually exploited or had sexual identity issues, bipolar disorder, or different types of trauma.
Amie is specialized in Human Sexuality, and most of her research regarding this topic is included in her book "The New Sex Bible for Women", published in 2014. The book destroys the stereotypes about sexuality, and gives women a complete sexual guide to reach satisfaction. Topics like oral sex, sex positions, sex tips, body image, and self-love – all appear in the book. She has also been a Contributing Writer for "Elite Daily", "Viva Glam Magazine" and "Wild Spice" since 2013, having many articles published. Amie continues her work outside the office too, as she is a member of various associations, such as American Association of Sexuality Educators, Counselors, and Therapists or California Association of Marriage and Family Therapists. Her public speaking skills are also well known in the industry, as she frequently discusses family and sexuality issues on panels, or in TV shows such as WE TV's "Braxton Family Values". For her activity in the domain, she received a stipend award from Phillips Graduate Institute.
Make sure to check out the season finale of #BraxtonFamilyValues on @WEtv featuring me as an educator. ? pic.twitter.com/r68ER1Hi9J

— Dr. Amie Harwick (@DrAmieHarwick) August 26, 2016
How much money does she make?
Amie is as tight-lipped about her income as she is about her past. We can, however, assume by looking at her fancy lifestyle, that her income is rather impressive. For a 50 minutes session with Amie Harwick, people pay almost $200, and authoritative sources estimate that her net worth is close to $1 million. On the other hand, her fiancé's net worth is almost $165 million.
Defamatory rumors around Amie Harwick
Her popularity increased after her engagement with Drew Carey, making her privacy and her secrets a possible subject for gossip articles. She was called to be a drug addict, and some judged her for posing for Playboy as Nicolette Novak. Her name was even linked with P4P industry. Accusations didn't stop there, and extended towards her professional life, too. It was said that her Ph.D. was purchased online from the Institute for Advanced Study of Human Sexuality. All in all, in the absence of evidence, these statements remain only gossips and rumors. The sure thing we all can see is that she has a lot of success in her career, and people really do appreciate her hard work.
Amie is very active on social media, especially on Instagram, on which she has professional and a personal accounts. The first one has over 3,000 followers and a very interesting feed with funny memes and motivational quotes. The second profile has more than 41,000 followers and reflects her lifestyle in a nutshell – a lot of red carpets, holidays with Drew, evenings with friends and between them, nothing but smiles. Besides her Instagram page, Harwick has also launched a YouTube channel to make her knowledge accessible to more people, by discussing common misconceptions about relationships, sex and families, and continuing to promote a positive attitude towards sex and the topics around it. She has also set up an Instagram page for her beloved cat Marquis De Chat, which has over 1,200 followers.
It looks like Drew did win the lottery with Amie. She is apparently a perfect combination of beauty and intelligence. What more could a man desire? We hope that their relationship lasts and that our next article will be about their wedding.