Floor Jansen net worth, height, pregnant, married, family, salary, Wiki Bio
• Floor Jansen is a Dutch singer, songwriter and vocal coach, born on 21 February 1981.
• She discovered her true vocation by chance while playing in a school musical.
• Her first band was the Dutch band After Forever, where she became the front lady.
• She is currently a part of the Finnish symphonic metal band Nightwish.
• She is in a relationship with Hannes Van Dahl, the drummer of Sabaton, and they have a daughter together.
Floor Jansen entered the world of music when she was only 16 years old. Today, at 31, she still impresses her rock fans at every live performance with a pleasant and powerful voice. And she is not going to stop soon from demonstrating how important is the right attitude and the passion when you truly want to succeed in a particular domain. A lot of things changed in her life on the road. Are you sure you know them all? Then keep reading.
Short Bio
The Dutch singer, songwriter and vocal coach comes from the little town of Goirle, North Brabant, Netherlands and was born on 21 February 1981. Without knowing much information about her family background, we mention the fact that she grew up in her hometown with her parents and her younger sister, who eventually became a singer, too – Irene Jansen. Floor learned to play the guitar, the flute and the piano at an early age.
She is a vegetarian, and in the past, wanted to become a biologist, but destiny had other plans for her. She discovered her true vocation by chance, while playing in a school musical. That was the moment when she realized she was born to sing on stage, and hopefully be applauded by enormous crowds. That's why she attended a high school musical and then 'this young Flying Dutchy got hooked for life on music, singing and performing. It turned out to become a colorful career', says she in the beginning of her own biography on her Nightwish official website.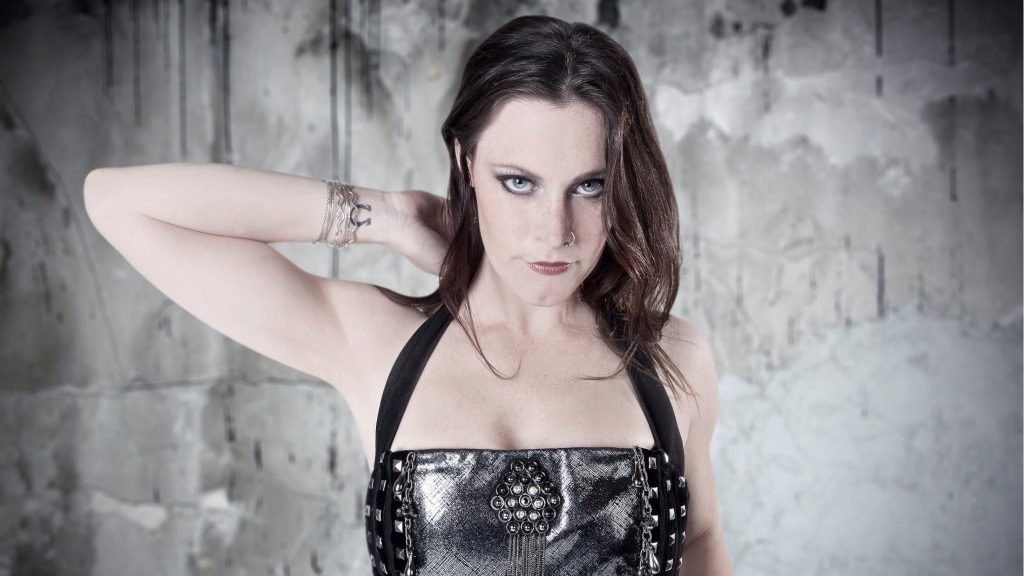 The start of the journey – After Forever
The first band Floor sang in was the Dutch band After Forever. She liked the idea of being a female singer in a rock band – Anneke van Giersbergen's presence in The Gathering inspired her. That's why she went to the auditions in 1997, and subsequently took the place of female background singer in After Forever. Things evolved fast in an exclusively gladdening way for the group. They released their first album "Prison of Desire" in 2000, and Floor became the band's front lady.
By that time, she was 18 years old, and had just finished high school. As things got serious with the band, she still continued her studies at the Rockacadamy, a music school in Netherlands. There she studied a wide range of music styles, from musical/opera, to rock and metal, which helped her increase her vocal range and improve her soprano skills. The success of the band continued with the release of another four albums: "Decipher" (2001), "Invisible Circles" (2004), "Remagine" (2005), and "After Forever" (2007).
Singer's life after After Forever
After a year-long break (2008-2009), After Forever disbanded in 2009 and Floor founded her own band – ReVamp, and wrote the music for their first album – "ReVamp" (2010) – but after the release she faced some health problems, so the second album was scheduled only for 2013. In the meantime, Floor received an invitation to join Nightwish – a Finnish symphonic metal band – which she accepted, and put her own band on hold to focus only on Nightwish's concerts and performances.
Reinventing herself in Nightwish
The new experience was quite overwhelming for the singer, who during the first show with Nightwish in Seattle in October 2012, was thinking: 'What on earth do you think you're doing? You don't know these songs, you've had no time to learn them. And everybody in the venue was holding a cell phone, so it would be on YouTube straight away'. However, she got used to the new environment, even moved to Finland to learn more things about her band mates' culture. The first album released with Floor Jansen as singer was "Endless Forms Most Beautiful".
Talking about things that changed after the move to Nightwish, currently Floor is not the main songwriter of the band; her colleague, Tuomas Holopainen, wrote the songs for the first album, and Jansen states to be more than satisfied with the way it sounds: 'The reason why Nightwish sounds the way it does is because he writes the music', says she in an interview for Duke TV. She is enthusiastic about the new releases and about the projects the band will launch.
Personal life
Floor tries to keep her personal life far from the public eye. As far as it is known, she has been in a romantic relationship with Hannes Van Dahl, the drummer of Sabaton, for several years. Moreover, the couple welcomed on earth their first child on 15 March 2017. The baby girl is named Freja, and the family is currently living in Finland.
#ThrowbackThursday
Ever been to Schiphol? They take security serious, just so you know ????????? pic.twitter.com/EPddpA3hG6

— Floor Jansen (@FloorJansen_) June 13, 2019
At a height of 6ft (1.83 m) and a weight of 174lbs (79 kgs), Floor has a well-proportioned and good-looking body even after giving birth.
Regarding her net worth, the majority of sources estimate it to be over $3 million, with her income varying dependent on her activities in any one year.