How did Natalie Noel become famous? Her Age, Height, Boyfriend
Natalie Mariduena, or Natalie Noel as she's commonly known, is a familiar face on Instagram, and a recognized social media influencer in the United States. Her journey to fame took an upturn when she teamed up with the YouTube sensation and longtime friend, David Dobrik, becoming an integral part of the Vlog Squad, and making appearances in David's YouTube content, which significantly boosted her popularity.
Beyond her social media presence, Natalie is also an entrepreneur, running her own clothing line, and venturing into the world of photography and social media networking with the launch of a new application. Let's take a closer look at this multifaceted woman as we delve into her story.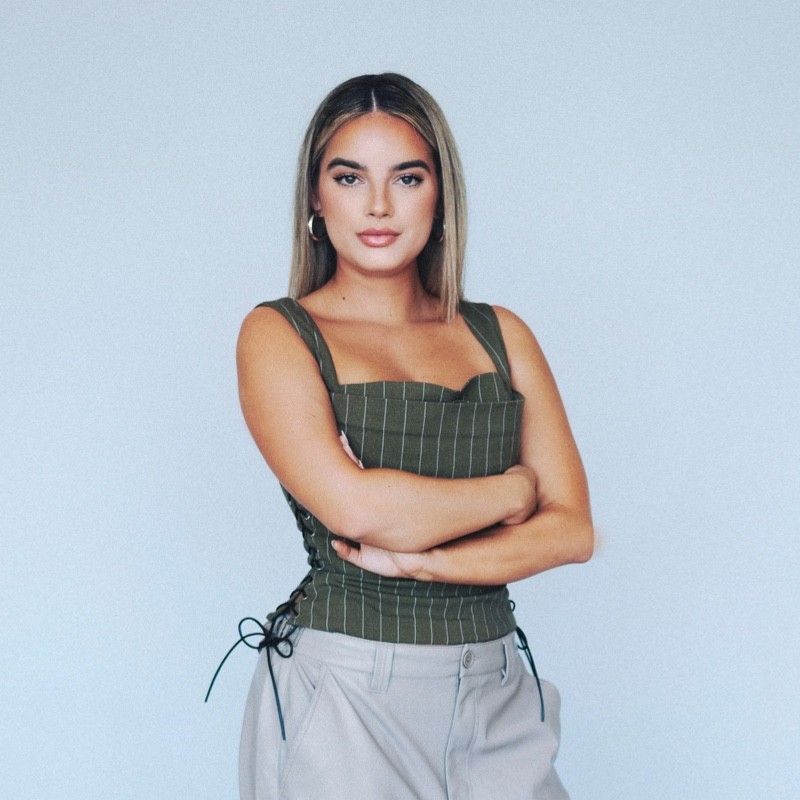 Early Personal Life
Born in Vernon Hills, Illinois, on 1 December 1996, Natalie Mariduena has become a notable figure on social media. Despite her public presence, she opts to keep her personal life relatively private, and shares little of import to her private life on her social platforms.
Natalie shares a special bond with her two sisters, Lauren and Isa, who also reside in Illinois. However, the details about their parents and the specifics of her childhood remain discreet and undisclosed.
Education
Completing her education at Vernon Hills High School in Vernon Hills, Illinois, Natalie pursued higher studies at Lake Forest College where she focused on psychology and environmental studies.
It was during her high school years that she crossed paths with YouTube luminary David Dobrik, sparking a connection that would go on to influence the rest of her life.
Career
Natalie's career kicked off in 2017 when she took her first steps on a remarkable journey – it was in this year that David extended an invitation to join his team, and audiences quickly warmed up to her witty and relatable personality.
Natalie's initial year with Dobrik saw her in a strictly behind-the-scenes role, in which she didn't make on-camera appearances. However, as David started incorporating her into his videos, her online following experienced a significant surge.
This transition placed her in a unique position, balancing dual roles as both an influencer and a key player in managing David's business affairs.
In essence, she found herself navigating two distinct careers – by day, she served as David's assistant, while by night, she embraced her role as a content creator. Her journey is a testament to her adaptability and the unique opportunities her career path has presented.
2019 marked a significant development, as Natalie co-founded "Dispo" alongside David, launching a new image-sharing and social networking app, showcasing her entrepreneurial spirit.
The year 2020 saw her further diversify her endeavors, by creating an online shop on Poshmark, providing a platform for her cherished clothing items to find new owners.
Stepping into 2021, Natalie ventured into modelling, making her debut in the swimsuit issue of the renowned "Sports Illustrated" magazine.
Natalie is also the proud founder of eladay, a lifestyle brand encouraging women to embrace their personal style.
Interesting Facts
Natalie's social media presence promotes values that resonate with many: a focus on a healthy lifestyle, self-care, self-improvement, and personal growth. Her online feed serves as a source of inspiration, demonstrating the positive impact of these pursuits on one's life.
Interestingly, Natalie initially aspired to have a career in medicine, majoring in psychology during her college years. If it weren't for her success in the entertainment world, she might have pursued a path in the medical field.
She's also a sports enthusiast, frequently attending games and supporting teams both in Los Angeles, where she resides, and in Chicago, her home town.
Her connection to sports extends to her own athletic background, as she was a member of the Alpha Phi sorority in college, where she held the role of social chair and played an active part in the Women's Varsity Soccer team.
Balancing her commitment to an active lifestyle, Natalie also embraces her love for food, making her a genuine foodie while maintaining her fitness and well-being.
i chopped alotta my hairs off !! pic.twitter.com/pTh9icEzzJ

— Natalie Mariduena (@natalinanoel) June 27, 2021
Later Personal Life
As of the latest information available, Natalie is believed to be single and focused more on her career than romantic affairs. However, her history includes a previous relationship with influencer Todd Smith, which began in February 2020 and continued for slightly over three years before quietly concluding sometime in 2023; the last public appearance of Natalie with Todd was at the end of March of that year.
In a September 2023 episode of the All Good Things podcast, Todd confirmed their separation, explaining that he had initiated therapy before their break-up, suggesting that he might have benefited from starting therapy sooner. Todd expressed that he was unhappy with himself, which had an impact on their relationship.
Todd is a well-known YouTube personality who has made a name for himself with his entertaining videos that are characterized by their humor and comedic flair. His content has resonated with viewers, drawing them in with his distinctive style and engaging skits.
Beyond his YouTube channel, Todd maintains a strong presence on social media platforms, notably Instagram, on which he boasts a substantial following of millions. His interactive and amusing posts consistently entertain his fan base, creating eager anticipation for his next video or social media update.
Hailing from California, Todd has carved a niche for himself in the world of comedy, bringing laughter and joy to the lives of millions of fans. His journey began with content creation on Vine, eventually transitioning to YouTube which effectively replaced Vine, on which he continues to showcase his unique sense of humor and impeccable comedic timing.
There were reports of a prior relationship in 2017 and 2018, linking Natalie with a man named Shawn Nelson, although it seems that all traces of their rumored connection have been removed from her Instagram.
Addressing long-standing rumors, it's essential to clarify that David Dobrik and Natalie have consistently maintained that they share a childhood friendship and currently work together as colleagues, dispelling any speculations of romantic involvement.
David is a prominent figure on YouTube and achieved widespread recognition for his online endeavors. His journey to internet fame began with Vine and later transitioned to YouTube, becoming a notable member of the Vlog Squad.
David is renowned for his prankster persona, often generously giving away substantial sums of money, and occasionally even cars to friends and individuals in need. Today, his professional pursuits extend beyond vlogs, as he collaborates with various Hollywood personalities.
In 2019, Dobrik earned a place on "Variety Magazine's" Power of Young Hollywood list, and secured a Teen Choice Award. "People" magazine also honored him with the title of Sexiest Heartthrob in 2019.
Venturing into entrepreneurship in 2020, the YouTuber introduced a mobile camera app called Dispo, and launched his own fragrance brand, David's Perfume. As of 2022, his vlog channel boasts over 17 million subscribers and approximately seven billion views, attesting to his enduring popularity in the digital realm.
Physical Characteristics
Natalie is of average height at 5ft 5ins (166cms) and weighs about 120lbs (55kg). She has dark brown eyes and long brown hair.
Net Worth
As of late 2023, Natalie's net worth is estimated to be about $5 million, which comes from her online content creation as well as business endeavours.