How Did NF and Bridgette Doremus Meet? His Age, Height, Spouse
NF, the renowned rapper and composer, needs no introduction to rap fans, as he'as made an indelible mark in the music industry. His artistry is characterized by raw emotions and unfiltered lyrics, resonating deeply with audiences and propelling him to multi-platinum success. It's because of this honesty that his fans love him and his music so much.
His journey began with his 2015 album "Mansion," and continued with its 2016 follow-up, "Therapy Session." These albums both claimed the number-one spot on the Christian charts, offering a glimpse of his burgeoning potential. But who is NF really when he's away from his mic and the recording studio? Also, who is the woman who's captured his heart, and how did they meet? Let's find out!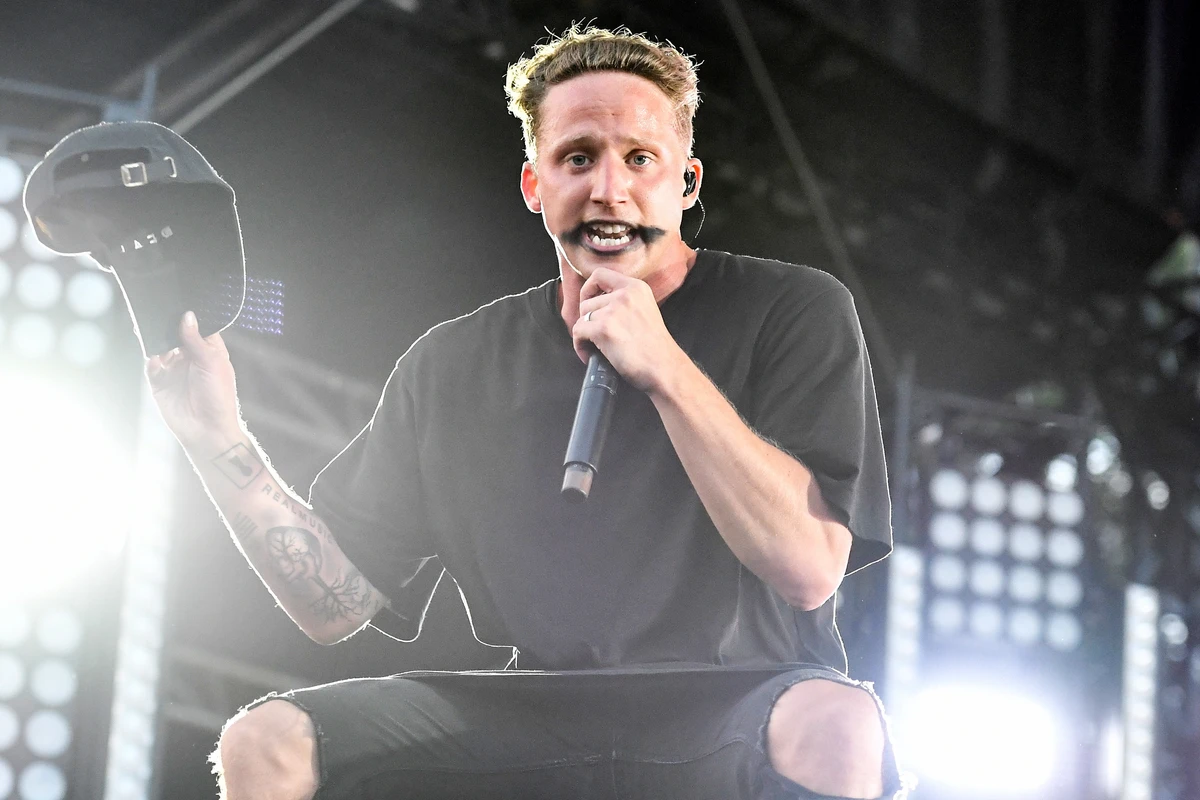 Early Personal Life
Born on 30 March 1991, in Gladwin, Michigan, USA, Nathan John Feuerstein, recognized by his professional moniker NF, has a life story marked by challenging circumstances. Following his parents' divorce, he lived with his mother, enduring mistreatment at the hands of her boyfriend. It wasn't until later that he found refuge in the care of his father.
Tragedy struck in 2009 when his mother succumbed to a drug overdose. In tribute to her memory and as a means of grappling with his emotions, he dedicated a heartfelt song entitled "How Could You Leave Us."
Apart from this, however, we don't know much about NF's childhood. While he's stated that he had a difficult time growing up, he hasn't gone into too much detail. Some details are slipped into the lyrics of his songs, but it's hard to tell if everything is factual or embellished creatively to make good songs.
Education
There isn't a lot of information available about NF's educational journey; he completed his high school education at Gladwin High School.
Career
NF's deep-rooted passion for rap music, particularly his admiration for Eminem, heavily influenced his musical journey. Regrettably, some people mistakenly label him as an 'Eminem copy' due to their sonic similarities. For NF, rap served as both an escape and a creative outlet from the realities of life. His early attempts at music were recorded on a karaoke machine.
His musical endeavors began to take shape in 2010 with the release of his debut album, "Moments" under his birth name. The following year he introduced his debut single, 'Alone.'
In 2012, he drew the attention of Xist Music, subsequently releasing an EP entitled "I'm Free" comprised nine tracks, including an exclusive version of 'Alone,' featuring Sean Simmonds. Following the EP's release, he parted ways with Xist Music, then in the subsequent year, he released a handful of singles.
MANSION is my mind. Excited to share a piece of it with you March 10th. #NFMansion pic.twitter.com/qSmZ6QFJlg

— NF (@nfrealmusic) March 4, 2015
In 2014, he signed with a new music label and unveiled another EP, simply entitled "NF", which marked a significant milestone in his career, registering on various weekly music charts.
The turning point arrived on his 24th birthday, 31 March 2015, when he released his first studio album, "Mansion" which reached a broader audience, and even made its way onto various television channels.
The following year he released two singles, both of which were later incorporated into his second studio album, "Therapy Session." In January 2017, he embarked on his inaugural tour, aptly named the "Therapy Session Tour."
In October 2017, he unveiled his third studio album, "Perception", which shattered previous records by debuting at #1 on the Billboard 200 chart. One of its singles, 'Let You Down' became a viral sensation, becoming his most popular track to date, amassing over a billion streams on Spotify. In the wake of this album's success, he embarked on two tours.
In January 2018, he released a single entitled "NO NAME", and in the subsequent year he delivered his fourth album "The Search," on 26 July. Later in December that year, he released another single, 'Paid My Dues,'. While he'd consistently released a new album every year, he opted not to release one in 2020 due to the constraints imposed by the pandemic, as he couldn't embark on tour.  Nonetheless, he did release a single entitled 'Chasing' in October, featuring Mikayla Sippel, a devoted fan of his.
In 2021, NF unveiled a mixtape entitled "CLOUDS"; the mixtape's first single was introduced in February, followed by the full mixtape release in March, featuring collaborations with fellow rappers Hopsin and Tech N9ne, and climbing to #1 on the US Independent Albums charts.
Interesting Facts
NF has openly acknowledged Eminem's profound influence on his rap career. He fondly recalls his childhood days of listening to the Detroit native's music, finding inspiration in the raw authenticity of Eminem's lyrical artistry. While he may not have completely related to the subject matter of Eminem's raps, it was the sheer honesty and genuine expression that resonated with him. NF holds a deep appreciation for the energy, sound and overall style that Eminem brings to his music, making him NF's most significant influence.
Notably, NF's songs do not contain any curse words, reflecting his commitment to maintaining clean and impactful lyrical content.
Additionally, his track 'Intro' found a place on the soundtrack of the video game "Madden N.F.L. 16."
NF embarked on his journey as a writer and rapper at the tender age of 12, marking the early beginnings of his musical career.
His unique style has often drawn comparisons to other renowned rappers who share similar elements in their music, such as Machine Gun Kelly and Logic.
While his early exposure to music was in the realm of Christian hip-hop, NF prefers to be recognized as a Christian but not confined to the label of a Christian rapper. He maintains that his lyrics revolve around his personal experiences, and one need not be a follower of Jesus Christ to find a connection with his music.
NF takes pride in his roots and background. He turned to rap as a means of both escape and expression during the challenging years of his upbringing.
In a significant upset in the music industry in 2019, NF's fifth studio album, "The Search," managed to secure the No. 1 position on the Billboard 200 chart, effectively sidelining Chance the Rapper's debut album, "The Big Day," making it one of the most unexpected turn of events in the music scene that year.
Later Personal Life
NF is happily married to Bridgette, enjoying both a fulfilling professional career and marital bliss.
Their journey to matrimony began when NF popped the question to his longtime girlfriend, with their engagement taking place in January 2018. His wife proudly shared the news of their engagement on her social media platform, showcasing her exquisite engagement ring.
On 1 September 2018, they exchanged vows in an intimate ceremony surrounded by dear friends and family. Opting for an all-natural wedding setting, the couple celebrated their love on a picturesque farm, enveloped by lush greenery.
But how did their love story begin? Back in May 2015, NF and Bridgette's paths first crossed. Bridgette received an invitation from a male friend who resided in LA to attend a block party. Initially hesitant, she eventually decided to attend the gathering. Surprisingly, her friend had also invited an up-and-coming rapper to perform at the event, none other than NF himself. Following his captivating performance, NF struck up a conversation with Bridgette, and the two exchanged contact information.
They started a year of long-distance dating before deciding to take the significant step of moving in together. Notably, Bridgette had recently emerged from a long-term relationship with her ex-boyfriend at the time of their meeting.
What adds a touch of warmth and endearment to their relationship is Bridgette's annual expression of gratitude every May, commemorating the momentous day they first met in 2015. This heartfelt tribute illustrates the depth of their connection and the appreciation they hold for the small, meaningful moments in their journey.
Their attraction swiftly blossomed into love, culminating in their decision to tie the knot. In August 2022, NF and Bridgette welcomed their first child, a boy they named Beckham John Feuerstein. They joyfully introduced their newborn son to the world via Instagram, sharing this precious moment with their devoted fans.
In much the same vein as her husband, Bridgette has a deep passion for her work, and holds the title of a certified Fitness Guru. Her dedication to health is evident as she maintains a strict dietary regimen, exclusively consuming gluten-free and dairy-free food items. Additionally, she identifies as a Pescatarian, abstaining from meat products while incorporating fish into her diet.
Bridgette's enthusiasm for a wholesome lifestyle extends beyond her fitness expertise, as she's also an accomplished author, having penned numerous cookbooks focused on promoting healthy living. Furthermore, she manages her own line of clothing, aptly named "Halfway Hippie."
In their journey through life, Bridgette has also encountered moments of tragedy within her family. experiencing the loss of her father, who sadly took his own life. Bridgette originally hails from Seattle, Washington State.
Physical Characteristics
NF is quite tall at 6ft 1in (185cms) and weighs about 143lbs (65kgs). The rapper has light brown eyes and dark brown hair.
Net Worth
NF primarily generates income from his music, earning through the sale of his music releases and receiving compensation based on the number of streams on prominent streaming platforms. In addition, he supplements his earnings by offering merchandise for sale on his official website. Furthermore, he enjoys substantial revenue from his live performances during concert tours. As such, he has an estimated net worth of over $6 million as of late 2023.