Is Lia McHugh related to Gavin McHugh? Her Age, Height, Career
Who is Lia McHugh?
American actress Lia Ryan McHugh was born under the zodiac sign Scorpio on 18 November 2005, in Pittsburgh, Pennsylvania USA. She's appeared in 15 movies and TV series, and is perhaps known best for portraying Sprite in the 2021 action adventure fantasy movie "Eternals", which starred Angelina Jolie, Richard Madden and Gemma Chan, and was written and directed by Chloe Zhao. It follows the lives of the Eternals, a race of immortal beings who once lived on Earth, and the film won seven of its 25 award nominations.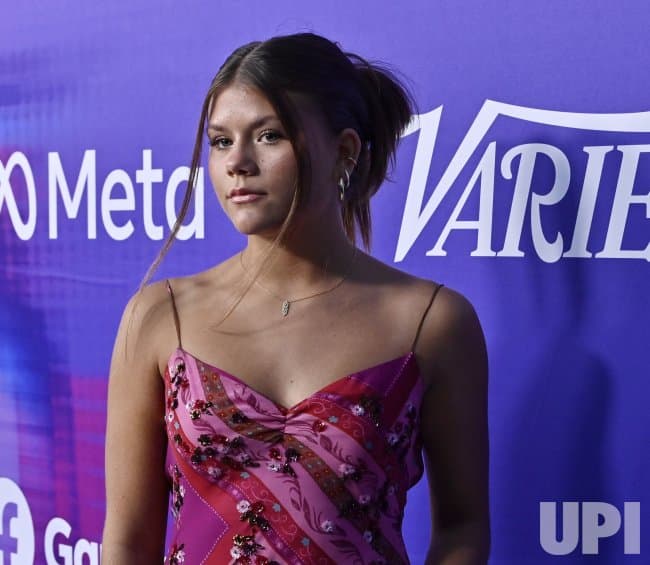 Education and early life
Lia was raised alongside her younger brother Gavin and older siblings Shea, Logan and Flynn in Pittsburgh, by their mother Lisa and father Michael McHugh. Both Michael and Lisa are actors, as well as Lia's brother Gavin, who's suffering from cerebral palsy; Gavin portrayed Christopher Diaz in the popular action crime series "9-1-1".
Lia grew up being passionate about acting, wanting to follows in her parents' footsteps; she was eventually able to convince them to start taking her to auditions and was 10 when she made her debut TV series appearance, playing Jacey in the 2016 episode "Tunnel of Death" of the horror mystery documentary "A Haunting", which starred Terry Jernigan, Andrew Ragan and Anthony D. Call, and features various people talking about their encounters with the paranormal.
Lia's currently attending a local high school in Los Angeles, California, as she's moved there with her family because of her career; she's set to matriculate in 2024, and it's widely believed that she won't be enrolling at college, but will rather focus on acting.
Roles in movies
Lia's debut film role was playing Summer Bird Sister in the 2017 romantic crime drama "Hot Summer Nights", which starred Alex Roe, Maika Monroe and TImothee Chalamet, and was written and directed by Elijah Bynum. It follows a teenager as he's selling pot to gangsters in Cape Cod in 1991; the film was nominated for two awards.
Also in 2017, Lia played Abby in the mystery horror thriller "Totem", which starred James Tupper, Ahna O'Reilly and Kerris Dorsey, and was written and directed by Marcel Sarmiento; the film follows a teenager as she's protecting her family from a supernatural entity. Lia was then cast to play Young Ashley in the 2018 horror thriller "Along Came the Devil".
Check out the official trailer for The Lodge starring Riley Keough, Jaeden Lieberher, Lia McHugh, Alicia Silverstone and Richard Armitage!Release Date: Fall 2019#TheLodge is a 2019 horror film directed by Veronika Franz and Severin Fiala, from a screenplay by Franz, Fiala, and Sergio Casci. It stars Riley Keough, Jaeden Martell, Lia McHugh, Richard Armitage, and Alicia Silverstone. #HorrorMovies

Posted by Fan Reviews on Tuesday, May 7, 2019
The year 2019 saw her play Mia Hall, one of the main characters in the horror mystery "The Lodge", which starred Jaeden Martell and Riley Keough, and was directed by Veronika Franz and Severin Fiala. It follows a woman who's become stranded at a remote holiday village together with her two step-children; the film won two of its 13 award nominations.
In 2020, Lia portrayed Emma Griffin in the science fiction thriller "Songbird", which starred Craig Robinson, Sofia Carson and K. J. Apa, and was written and directed by Adam Mason. It follows a group of people trying to survive a pandemic.
She's appeared in only two other movies: the 2021 mystery horror thriller "A House on the Bayou", and the 2023 horror "Baby Blue".
Roles in TV series
Lia's appeared in only two other series besides "A Haunting". She played Jessica Nolan in 11 episodes of the 2018 comedy "American Woman", which starred Jennifer Bartels, Mena Suvari and Alicia Silverstone, and was created by John Riggi. It follows a single mother as she's raising her two daughters in 1970s Los Angeles; the series was inspired by the early life of American reality TV star Kyle Richards.
In 2019, Lia played Maggie Singer in the episode "They Come Knocking" of the fantasy horror "Into the Dark", which starred Dylan Arnold, Diane Sellers and Aurora Perrineau; each episode of the series is a separate horror story, it aired from 2018 through 2021, and won one of its six award nominations.
#Eternals actress Lia McHugh seen at the Marvel Studios 'Black Widow' Fan Event at the El Capitan Theatre in Los Angeles, California, 29-06-2021#BlackWidow #Marvel pic.twitter.com/4HdHQy5lGA

— Bishop Swift (@BlindWanda) June 30, 2021
Other credits
Lia sang the song "Itsy Bitsy Spider" in the 2017 movie "Totem".
Some of her recent talk-show appearances have been in "Made in Hollywood", "Marvel Studios: Assembled" and "The Victor Hong Berries".
Awards and nominations
Lia was nominated for a 2021 Las Vegas Film Critics Society Award for Young in Film – Female for her performance in "Eternals".
Love life and boyfriend
Lia prefers not to speak about her love life in public, and while most of her fans believe her to be too young for dating, some claim otherwise.
Some of Lia's fans believe her to be lesbian, as well as that she's today in a relationship with a non-celebrity American girl whom she's featured in a couple of her Instagram pictures; a fan has claimed to have seen the two being rather too close to each other, but no evidence has been provided to support these claims, nor has Lia addressed the rumors.
There are also those who believe that the popular actress is currently focused on her career, and isn't pursuing love.
Lia seems to be unattached as of October 2023.
Interesting facts and hobbies
Lia enjoys being active on Instagram, and is today followed by close to 200,000 people on the network, while she's uploaded 85 pictures and videos; most of her content shows her spending time with her friends and family members. She's also active on TikTok, but is followed by only a few over 300 people on this network.
Lia loves summer, as she gets to sun tan at the beach with her siblings, and play beach sports.
She loves sports, and her favorites are baseball and basketball.
Lia likes to wear dresses; one can say that she's a bit of a shopaholic, as she buys new clothes at least once a week.
One of Lia's favorite actresses is Elle Fanning, and some of her favorite movies are "The Neon Demon", "All the Bright Places" and "Maleficent: Mistress of Evil".
Height, age and net worth
Lia's age is 17. She has brown hair and blue eyes, is 5ft 2ins (1.57m) tall and weighs around 115lbs (52kgs).
Lia's net worth's been estimated at over $250,000, as of October 2023.