Is Trevor Noah getting married? Wiki, Girlfriend Jordyn Taylor, Net Worth, Father, Education
• Trevor Noah is a multi-talented comedian, writer, actor and TV host from South Africa.
• Born in 1984, Noah was born during the apartheid era and had a difficult upbringing.
• He speaks multiple languages and is mainly known for his hosting of The Daily Show.
• Noah has made a successful career for himself, earning an estimated salary of $4 million per annum and a net worth of $13 million.
• He is currently in a relationship with US singer Jordyn Taylor.
The renowned South African multi-talented comedian Trevor Noah, is a man with incredible gifts. He is a writer, an actor and a television host with multiple hosting roles on the South African broadcasting corporation, and is also an international showbiz personality. Noah is a lovable character, and has many fans who love everything about him. As you may know, he speaks many languages; in fact, he is described as a multilingual, and credited with the ability to speak six of the 11 languages spoken in South Africa, and is able to converse fluently in Zulu, English, Sotho, Afrikaans, Tsonga, Xhosa, Tswana, and German his paternal parents' language. Besides being an international celebrity, Noah had a checkered upbringing and parental history. How did he overcome many of his travails, and grow to become one of the most respected entertainment stars in the world? In this post, we look back on his life to bring you sizzling information about his education, his parents, and how Trevor became a stand-up comedian. You will read about his personal life and who he is dating now. Keep reading as we will tell you about his career, how much he makes as salary, and how much Noah's net worth is now.
Who is Trevor Noah?
Noah came into this world on 20 February 1984 in Soweto, South Africa, of mixed heritage, through an interracial marriage with his mother being a black and father a white of Swiss-German origin. His mother is Patricia Nombuyiselo, a native of Xhosa, South Africa, while his dad is Robert Noah. Noah was born during the apartheid era in South Africa, when a marital relationship between black and white was considered illegal.
Early life
Being born illegally wasn't funny for Noah as a growing child during the infamous South African racial discriminatory policy. Indeed, Trevor's childhood was at the peak of the segregated system of his country. Noah referred to his early childhood saying "I was born a crime." During this time, when Noah was going with his mother, she would walk ahead of him to pretend not to know him when she saw the police, about which Noah said: "I felt like a bag of weed," a sort of contraband!
The country's twisted political situation when he was born denied his parents the opportunity to live together in marriage. The mother had to take responsibility to bring him up, with risks to her personal life. At the height of his upbringing travails, there was an occasion his mother even threw him out of a moving minibus, when she suspected that the driver, from another tribe, was going to kill them.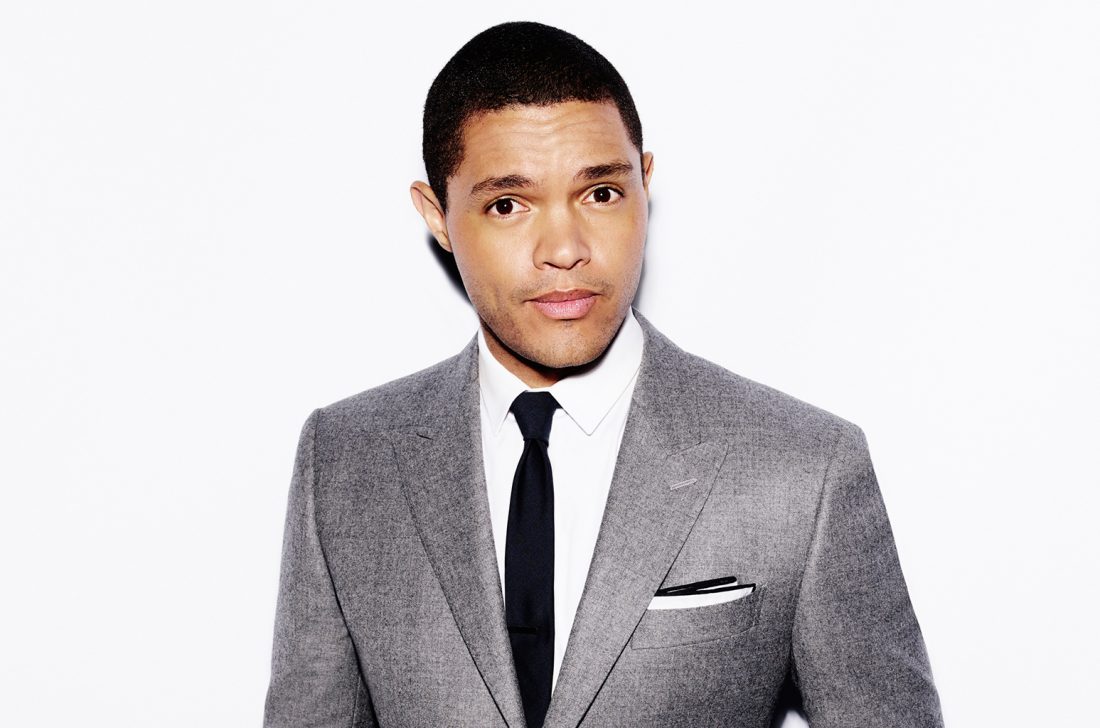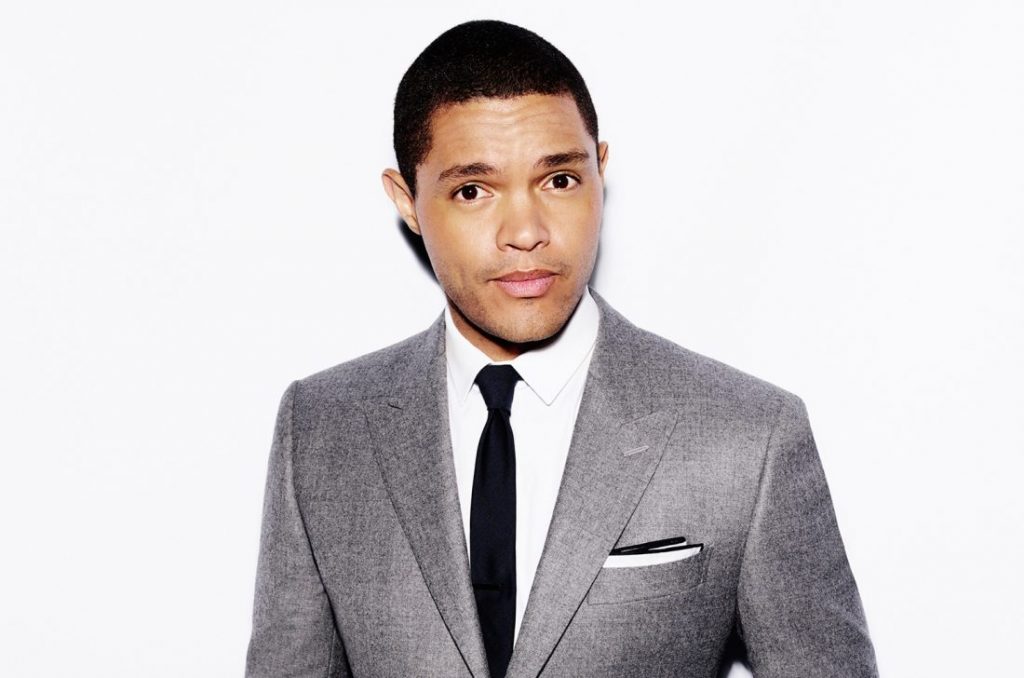 Education
There is no information about the primary school he attended, but Noah went to the private Maryvale College, and every Sunday attended the Roman Catholic Church.
Career
Noah didn't start comedy knowingly; he stumbled upon it by chance! He was out with friends at a bar one day in South Africa, all of them drunk and criticizing the stand-up comedian performing at the bar. In the process, the comedian challenged him and his friend to come on stage and show their stuff. That was it! Trevor represented them, and boom! His jokes caused the audience to laugh, so that incident at the bar was the discovery of a talent that would take the world of stand-up comedy in South Africa to a new level.
Radio host
Noah had a minor role in a South African TV program called "Isidingo," but his career really began at the Gauteng youth radio station, when he hosted a program entitled "Noah's Ark", which built his speaking and broadcasting skills with every passing day.
It was after he left his radio hosting job that he focused on stand-up comedy, working with other comedians including David Kau, Marc Lottering, Nik Rabinowitz, Riaad Moosa, and Kagiso Lediga, and some international comedians such as Paul Rodriguez, Dan Ilic, and Carl Barron.
Television Host
Noah turned to television hosting with the South African Broadcasting Corporation's (SABC) educational TV program entitled "Run Adventure." He also hosted a gossip talk show "The Real Goboza" on SABC 1in 2007, then on the SABC 1, he co-hosted "The Amazing Date" with Pabi Moloi in 2008.
Noah participated in the 4th season of "Strictly Come Dancing" in 2008. In 2012, he featured in the comedy show entitled "Trevor Noah – The Racist," and was in the movie "Mad Buddies." In 2014, he started featuring as a regular contributor in "The Daily Show with Jon Stewart", a late-night talk and news satire program, and in which he later succeeded Stewart as the substantive host in 2015.
From 2017 to date, Noah stars in the talk show titled "The Opposition with Jordan Klepper."
While pursuing his television career and hosting programs, he works his comedy on the side, and performs all over South Africa, appearing at various events and shows. One thing his upbringing helped him with is in giving him enough issues about his past to discuss; he uses his life as the subject of comedy while he thrills his audience with his real-life events.
Noah has performed in many shows across South Africa, including festivals, and other comedy events, among them "Heavyweight Comedy Jam", "The Vodacom Campus Comedy Tour," "The Blacks Only Comedy Show," The Cape Town International Comedy Festival, and the Jozi Comedy Festival, among others. He has been on the international comedy circuit since 2009, and organizes his own shows in partnership with relevant best and business corporations as sponsors.
In 2018, Noah was announced as the executive producer of the show "Re-established" alongside Roy Wood Jr., and signed a contract with Viacom to give first-look rights to any of his future projects, irrespective of the platform and design.
Books
Noah has a book deal with Spiegel & Grau; his book centered on his birth entitled "Born a Crime", and was published in 2016 to favorable critiques by major US reviewers, and made The New York Times Bestseller List. However, Noah is not resting as an author as he is on his second book hoping to be published soon.
Personal life
After hiding for some time, his father relocated to Switzerland, leaving his mother and Noah's maternal grandmother, Nomalizo Frances Noah, to raise him. His mother later married in 1992 to Ngisaveni Abel Shingange, and gave birth to two boys, giving Noah two siblings named Andrew and Isaac.
His mother's marriage to Shingange was anything but peaceful, of domestic violence which reached its peak with a gunshot in which her husband shot her in the leg and through the back of her head. The incident could have been fatal, but she was lucky to escape with her life, sustaining minor nostril damage. The episode made Noah query why he would do such a thing, and was threatened with his life; Noah had to flee to Los Angeles. However, his mother divorced Shingange, who was later sentenced for attempted murder in 2011 and sentenced three years under correctional watch.
Noah's social orientation, according to him, is progressive. He lamented how South Africa treats cases of domestic violence with levity, citing his mother's situation with his stepfather as a case of police negligence, who ignored his mother's repeated report of her torment in the home until it resulted in being shot.
His love life
There was a rumor of Noah being a gay, perhaps because he is not married. However, authoritative sources confirmed his current love affair with Jordyn Taylor, who is a US singer. Before her, Noah dated other ladies, including Dani Bagel, another singer among other women.
The Daily Show is in Miami this week so I decided to pop into Mar-a-Lago. Unfortunately they wouldn't let me in the front luckily there's no wall around the back?. pic.twitter.com/N0Kg3Qm3OG

— Trevor Noah (@Trevornoah) October 29, 2018
How much is his net worth?
Trevor is having a good time and very successful career especially for a South African youth, no doubt one of the more wealthy, living a life of relative luxury, with a salary estimated to be around $4 million per annum, and a net worth estimated authoritatively at $13 million, as of early 2019.