Jimmy Fallon Wiki Bio, wife Nancy Juvonen, Net Worth, Salary, Family
• Jimmy Fallon is an American producer, actor, television host, writer, and singer best known as the host of "The Tonight Show Starring Jimmy Fallon".
• He has a current estimated net worth of $60 million earned through his successful television career.
• He started taking classes with improv comedy troupe The Groundlings and eventually joined "Saturday Night Live" (SNL).
• He transitioned to film projects and eventually became the sixth permanent host of "The Tonight Show".
• He is married to Nancy Juvonen, and the two have two daughters, and a Golden Retriever named Gary Frick.
Who is Jimmy Fallon?
James Thomas Fallon was born on 19 September 1974, in New York City, USA, and is a producer, actor, television host, writer, and singer, best known as the host of the late-night talk "The Tonight Show Starring Jimmy Fallon" the sixth permanent host of the long running "The Tonight Show". He was a contributor to "Saturday Night Live" (SNL) early in his career.
The Net Worth of Jimmy Fallon
How rich is Jimmy Fallon? As of early-2019, sources inform us of a net worth that is at $60 million, earned through a successful career on television. He's also done a bit of acting work throughout his career, and as he continues his endeavors, it is expected that his wealth will also continue to increase.
Early Life and Education
Jimmy is of Norwegian, Irish and German descent, and he grew up with his sister His father was a Vietnam War veteran, who had spent most of his youth singing in doo-wop groups. After Jimmy was born, his father started working as a machine repairman for IBM. The family later moved to Saugerties, New York.
During his youth he considered becoming a priest, but was later swayed to a career in comedy, thanks to the radio program "The Dr. Demento Show". He then developed an obsession for the program "Saturday Night Live", which he watched religiously. He also practiced impressions, and was musically inclined, starting to play the guitar at 13 years of age. He attended Saugerties High School, and during his time there appeared in numerous stage productions. After matriculating in 1992, he then enrolled at The College of Saint Rose where he was initially a computer science major before switching to communications. During his time at college, he took stand-up gigs during the weekends.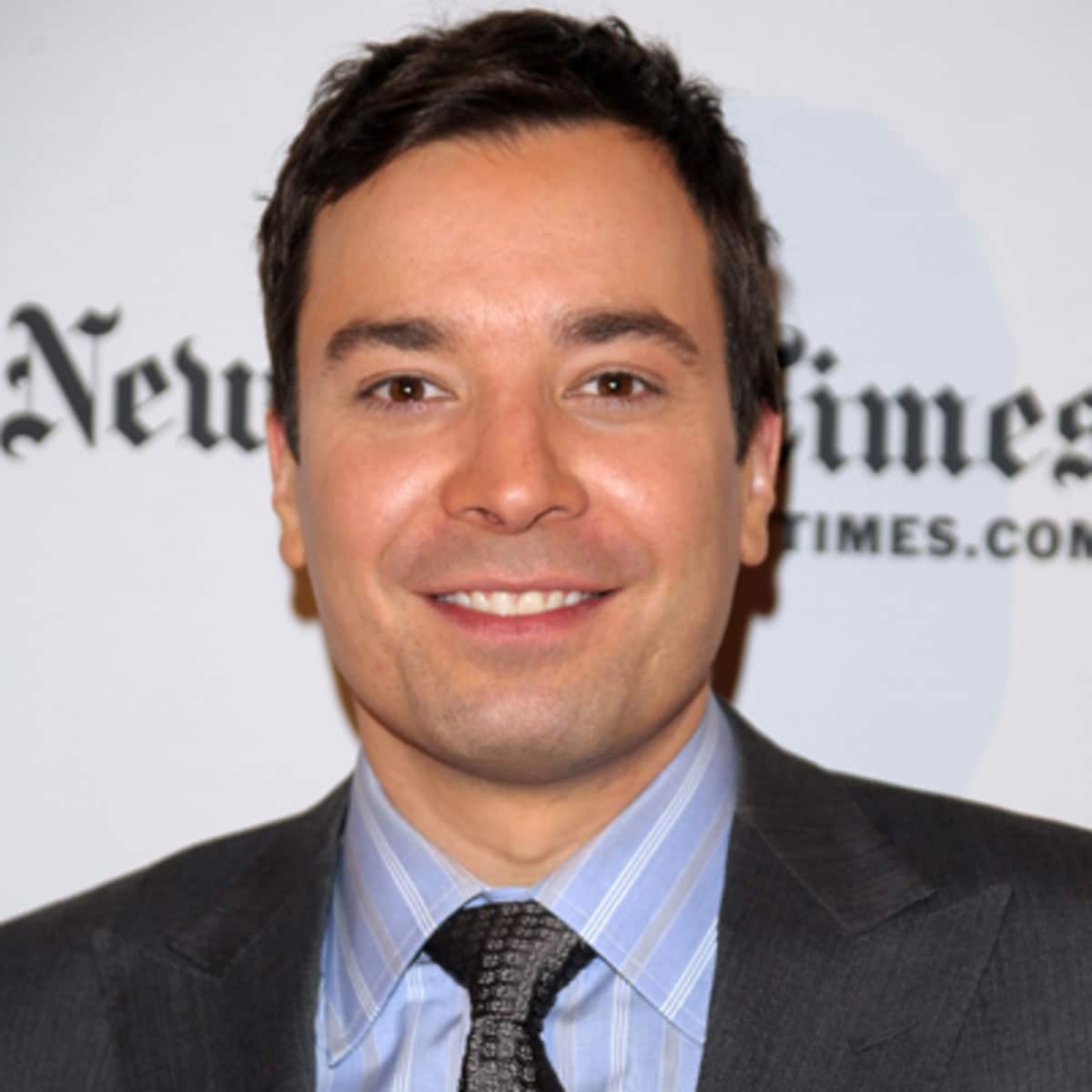 Comedy Career Beginnings
In 1995, Fallon dropped out of college to pursue comedy full-time in Los Angeles. He started taking classes with improv comedy troupe, The Groundlings while also performing in a few stand-up shows, and appeared in small roles in "Spin City", and "The Scheme". In 1997 he auditioned for "Saturday Night Live" but was unsuccessful, so continued with other projects, but was ultimately set on joining SNL. At the age of 23, he auditioned once more and did well onstage with numerous impressions of SNL alumnus who recently left the show.
According to Tina Fey, he was one of two people who were completely ready to be on the show, with Kristen Wiig being the second. Weeks passed before he was contacted by creator Lorne Michales who informed him that they wanted him to be in the show. He made his debut as a featured player during the 24th season in 1998, and got his own starring role by the fourth episode. He became the program's most featured mimic, and gained numerous fans, particularly a strong female base.
Saturday Night Live
Aside from his impressions, he also did numerous original characters on the show, and became a repertory player in his second season. When he was not working on SNL, he worked on a book entitled "I Hate This Place: A Pessimist's Guide to Life", and had a small role in "Almost Famous". He was a close friend of Horatio Sanz, and the two went drinking together often, even taking part in a few bar fights. Jimmy initially thought of having only three years with SNL, but was convinced for another three years when he was given reign to "Weekend Update" alongside Tina Fey.
He started collaborating with Justin Timberlake in "The Barry Gibb Talk Show", which would be the beginning of a long running collaboration between the two. Jimmy was known to break character in sketches, and it became a challenge for SNL cast members to make him do this. He used his success on the show to co-host the 2001 and 2002 MTV Movie Awards, and also recorded his debut comedy album which was nominated for a Grammy Award. He also modelled for Calvin Klein.
Film Projects
In 2004, Fallon became interested in pursuing a career in film, gaining his first lead role in "Taxi", a remake of a French film. The project had him moving back and forth from New York to Los Angeles which culminated in him deciding to end his SNL run during its 29th season. "Taxi" was a flop, but he was already signed to another film entitled "Fever Pitch", starring opposite Drew Barrymore; the film did little better than "Taxi". With his major film failures, offers decreased and this led him to years when he did not know what to do with his life.
He was being considered as a replacement for the "Late Night" franchise to replace Conan O'Brien, and to prepare for the role, he toured comedy clubs for the eight months, practicing a new routine, and started to watch comedy of other popular late night show hosts. He eventually became the successor of "Late Night" in 2008, although considered an odd choice for the job. His show debuted the following year to mixed reviews, but he eventuall he started to incorporate more comedy into his show, which was successful. He relied a lot on games, dancing, music, and impersonations, and hired the house band The Roots. During the end of his run with "Late Night", he was earning a salary of $11 million a year. He also hosted the 62nd Primetime Emmy Awards.
The Tonight Show
After a period of speculation, Jimmy was offered the position to succeed Jay Leno, and become the sixth permanent host of "The Tonight Show". Around this time he released his first work entitled "Your Baby's First Word Will Be Dada". His new show continued to gain the success he had already accrued with his previous one. In 2016, he hosted Donald Trump during the US presidential election, a move which was criticized by numerous people, mainly due to the questions he asked Trump. He later apologized for his actions and the way people interpreted it, stating that he never said he believed any of Trump's political statements.
Personal Life
For his personal life, it is known that Fallon married Nancy Juvonen in 2007. She is the co-owner of the production company Flower Films, and the two met during the filming of "Fever Pitch". They have two daughters, and a Golden Retriever named Gary Frick which has appeared on "Late Night with Jimmy Fallon". In 2015, he suffered a ring avulsion in which his finger was nearly torn away. A surgeon was sent to perform microsurgery on him and it took a great deal of time for his finger to fully recover. Two years later, his mother passed away from undisclosed causes. Tapings of his show were cancelled after the event, and he later paid tribute to his mother during a monologue.