• T-Boz is an icon of the music industry, being one of the founding members of the sensational Hip Hop group, TLC.
• T-Boz has experienced many sorrows in life, some on a professional level, and some stemming from experiences and circumstances closer to home.
• T-Boz has been battling with Sickle Cell Anemia since the age of seven, and is an advocate for the disease.
• T-Boz has experienced a difficult love life, including an abusive relationship and financial ruin.
• In recent years, T-Boz has been living a relatively quiet life, being a mother to her adopted son and daughter, and launching her own fashion line.
Audiences unfamiliar with the depth of the Hip Hop music genre, might not be familiar with the name T-Boz. Still, despite not being as famous as Beyonce, she is nonetheless a remarkable figure, and an icon of the music industry. If T-Boz doesn't ring any bells for some reason, then the all-girl group TLC, who peaked the charts all through the '90s and early 2000s, might be more familiar.
Along with Lisa Lopez, T-Boz became the founding members of the sensational Hip Hop group, with the only other founding member, Crystal Jones, being replaced with Rozonda Thomas shortly before achieving initial success. Following her separation from TLC, T-Boz dabbled in a solo career, but she never again experienced the success she shared with TLC. As such, T-Boz has remained less active than most of her fellow group members, shying away from all the attention of the tabloids.
Regardless, over the years and due to TLC's incredible popularity, T-Boz amassed a great following, and has countless adoring fans who continue to support her even to this day. After all, she walked away from a successful career as the proud owner of no less than four Grammy Awards. By all means, T-Boz was an influential icon whom many still adore, though despite the public's interest, few fans actually know about the struggles she's had to overcome.
Like many of us who can relate, T-Boz has experienced many sorrows in life, some on a professional level, though most of it stemmed from experiences and circumstances far more personal and closer to home. For T-Boz, born Tionne Tenese Watkins, some of the difficulties have plagued her from her youth. Tionne addressed many of the problems she faced in her semi-biographical novel, 'Thoughts', discussing it up-close and personal with her many fans, though some still remain out of the loop.
Even more so, a lot has happened during the many years since 'Thoughts' was published, and, of course, her loyal fans would be eager to know everything.
Frail Beginnings
Tionne Tenesee Watkins is known to have spent most of her life in Atlanta, Georgia, the home of Hip Hop, though her family only moved there when she was nine. Little is known about her early life, except that she is the daughter of James and Gayle Watkins, born on 26 April 1970 in Des Moines, Iowa. Other than that, some of her fans might know that she has struggled with a life-threatening disease from childhood, which she later revealed to the world following TLC's rapid rise to fame.
Since the age of seven, Tionne has been in and out of hospital receiving treatment for a painful disease known as sickle cell anemia. In short, SCA is a hereditary disease classified among blood disorders, and causes patients to experience abnormalities in the red blood cell component responsible for carrying oxygen.
TBoz Talked On TMZ? WHATTTTTTTT!!!! Yup The Other Day T👀! 👀👀👀👀👀 https://t.co/5xKj5aVXaj

— Tionne T-Boz Watkins (@TheRealTBOZ) October 17, 2020
The disease is named after the abnormality that occurs, which assumes a sickle shape, and causes a long list of symptoms. The most prominent symptoms include fits of pain, anemia, and in severe cases, it can lead to strokes.
Sadly, it's more common than most people think, and for nearly every patient, it can have long-term effects, forcing them to live most of their lives in pain. Aside from that, it's life-threatening, and the oldest life expectancy ranges between 50 to 60 years.
While the disease in itself is already a difficulty that few people can endure, knowing that patients receiving the diagnosis most often suffer the symptoms from as young as six-months-old, makes it all the sadder.
Thus, it's safe to say that Tionne did not have the fun-filled, happy childhood many children experience. Instead, she frequented the hospital suffering severe pain, and considering that treatment for SCA includes blood transfusions and bone marrow transplants, it must have been a nightmare to experience.
Instead of allowing her disease to keep her down, T-Boz accepted it as a powerful motivator. In later years she met Crystal Jones, which marked the beginning of her success. As she grew more famous and popular with TLC, Tionne also become an advocate for SCA. Today, she travels around the world, spreading information and awareness about Sickle Cell Anemia.
She often explains that even to this day, she has to struggle with the difficulties of the disease. Some things that other people take for granted, such as deciding what to eat, can pose a problem for patients with SCA.
Stress also plays a variable factor in SCA, and having lived through a demanding career, Tionne admitted that it too had taken its toll on her body. Sadly, this was only the first of many sorrows that Watkins would have to experience in her life.
Romantic Disasters
Tionne has had a couple of interesting romantic connections during her career, though despite this, her love life often seems like a disaster. Sure, she may have dated the likes of Jay-Z and Delvin DeGrate, and according to rumours had something going with Chuck Smith and Anthony 'Treach' Criss, but by the end of her career, Tionne had experienced the disappointment of being caught in an abusive relationship.
As her fans would know, T-Boz was married to Mack 10, and things ended quite dramatically between them. Of course, the only good thing that came from their relationship was the birth of their daughter, Chase Anela, but the rest of their history became more fuel for Tionne's sorrow. Tionne met Dedrick Rolison, who raps under the name Mack 10, back in 1999.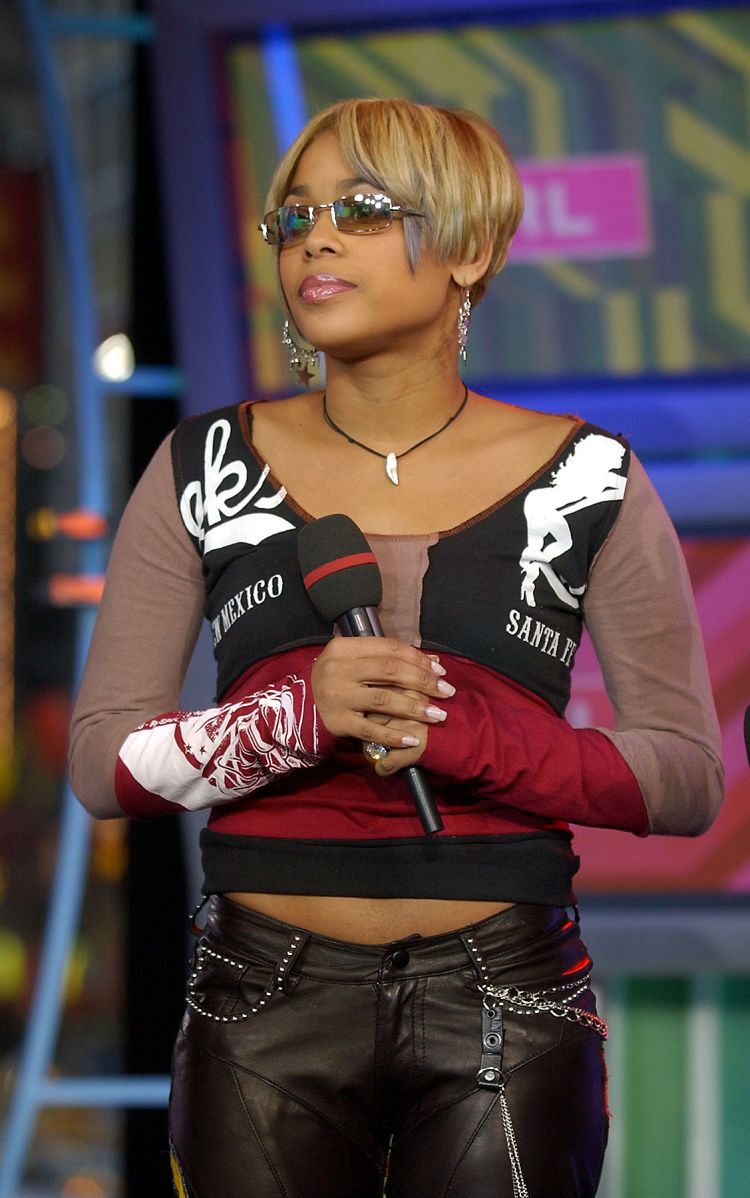 They started dating, and things seemed to go quite well between them initially. In fact, the following year the couple tied the knot, setting out to start their family after only dating for about a year. Sadly, by October 2002, their relationship began to fall apart. As Tionne would later reveal, when she filed a restraining order against her husband, Dedrick began acting violently towards her, even threatening to kill her on several occasions, with the first incident taking place in 2002.
Tionne explained that she attempted to leave her home, taking a then two-year-old Chase with her, but Dedrick didn't allow her to leave, so the police became involved in allowing Tionne and Chase to leave peacefully. During the altercation, Dedrick became physical with Tionne and continually threatened to kill her.
According to Tionne, most of the difficulties that strained their relationship stemmed from Mack 10's infidelity, and once she learned about it, Dedrick attempted to bully her into staying with him.
Sadly, that same year, TLC, suffered the loss of a fellow band member, Lisa Lopez, and aside from dealing with a difficult man, Tionne had to come to grips not only with the death of a friend but also the end of TLC. In June 2004, T-Boz filed for divorce, as well as obtaining a restraining order against Dedrick.
Despite their differences, the two have raised Chase together, and in 2012, Tionne relocated to Los Angeles, leaving Atlanta behind, so that Chase could be closer to her father.
Since then, as the only other relationship on record, Tionne has dated former American football star Takeo Spikes. Unfortunately, they parted ways in 2010 after dating for nearly five years. Following this, it's assumed that T-Boz has been living the life of a single mother.
An Unfortunate Diagnosis
Just when you think that Tionne has experienced enough drama and sorrow in her life, the star revealed to the world in October of 2009 that she was diagnosed with a second life-threatening disease, although for three years had kept the news quiet, silently battling against it in her own privacy.
In March 2006, doctors diagnosed Tionne with a grape-sized brain tumor that had the potential to end her life.
The diagnosis not only threatened her life, but immediate symptoms affected her balance, facial movement, sight, weight, and hearing, leaving Tionne in what she easily describes as one of the most unpleasant experiences of her life.
To complicate things for her even further, suffering from SCA made her future seem even grimmer. Due to complications that could arise from sickle cell anemia, doctors refused to operate on Tionne. Since surgery was the only option available to cure her of the brain tumor, it seemed as if she'd reached the end of the line.
Fortunately, she underwent surgery at the Cedars-Sinai Hospital in Los Angeles. Surgeons successfully removed the tumor, but since then, it has left her financially destitute.
Although she survived yet another life-threatening disease, the musician filed for bankruptcy in 2011, claiming that with an income of $11,000 a month and having expenses at a monthly cost of $9000, she could not pay the $770,000 debt she owes on her home. Luckily, since then, Tionne has been able to recover financially.
How She's Been Since
After experiencing a life-altering disease from childhood, reaching great heights to only crash due to the worst kind of misfortune, surviving both a brain tumor and an abusive relationship, not to mention financial ruin, it's safe to say that T-Boz has had a sad life.
In light of this, fans might be wondering how she is doing nowadays. In 2017, Tionne published another biographical work, this time detailing more of her career with TLC in 'A Sick Life: TLC 'n Me'.
The year before, in 2016, she announced that she successfully adopted a young boy, though his identity has not been revealed. At the time of his adoption, the boy was only ten months old. Unfortunately, no new reports regarding T-Boz's current affairs have surfaced, though it is safe to assume that things have certainly improved for the Grammy Award-winning Hip Hop sensation.
As far as can be learned, T-Boz is spending most of her time being a mother to her adopted son, and of course continues to be the best mother for her daughter Chase. Financially, things also seem better for Watkins.
Some time ago, she launched her own baby-girl fashion line named after her daughter, 'Chase's Closet', though the line has been discontinued according to recent reports.
Unfortunately, there is little else to report, but undoubtedly, her many loyal fans who have supported her through the many years would certainly wish her the best.