Jimmy Fallon's wife Nancy Juvonen Wiki Bio, wedding, net worth, kids
• Nancy Juvonen is an American film producer, co-owner of Flower Films with Drew Barrymore.
• Attended University of Southern California and has had various odd jobs.
• Married Jimmy Fallon in 2007 and has two daughters through gestational surrogacy.
• Her net worth is estimated to be around $20 million and Jimmy's net worth is estimated to be over $60 million.
• Her father experienced a wing failure and had to eject from his F-8C Crusader jet in 1961.
Who is Nancy Juvonen?
Nancy Juvonen was born in Marin County, California USA on 18 May 1967 under the zodiac sign of Taurus, and so holds American nationality. She is best known for her career as a film producer – she is the co-owner of the production company "Flower Films" with Drew Barrymore. Nancy's father is William H. Juvonen who is from Finland, and worked as an aviation industry executive, while he was also a Marine Aviator, and her mother was Pamela Robin Newell who unfortunately passed away on 7 October 2011. Nancy has a brother named Jim Juvonen, who is a producer and a writer.
Early life and education
Nancy attended the University of Southern California, and graduated with a degree in sociology and cooperative education. She then had a couple of odd jobs including at a ranch in Wyoming, as a personal flight attendant, and the weirdest amongst them was probably when she worked for an artist who was trying to completely rid California of homelessness.
Career
The first job which helped her get where she is today was for Clarence Clemons ,who was then a member of the band called "E Street Band". After that, in 1993 Nancy's brother Jim introduced her to Drew Barrymore, who was already a writer and a producer, and the two of them started their own production company called "Flower Films".
Nancy and Drew's company can be accredited for producing many movies which were critically acclaimed, and so have won numerous awards – some of these movies include "Charlie's Angels" in 2000, "Donnie Darko" – in which Nancy also starred-  in 2001, "50 First Dates" in 2004, and "He's Just Not That into You" in 2009. The last movie which they produced was "Freak Show" in 2018.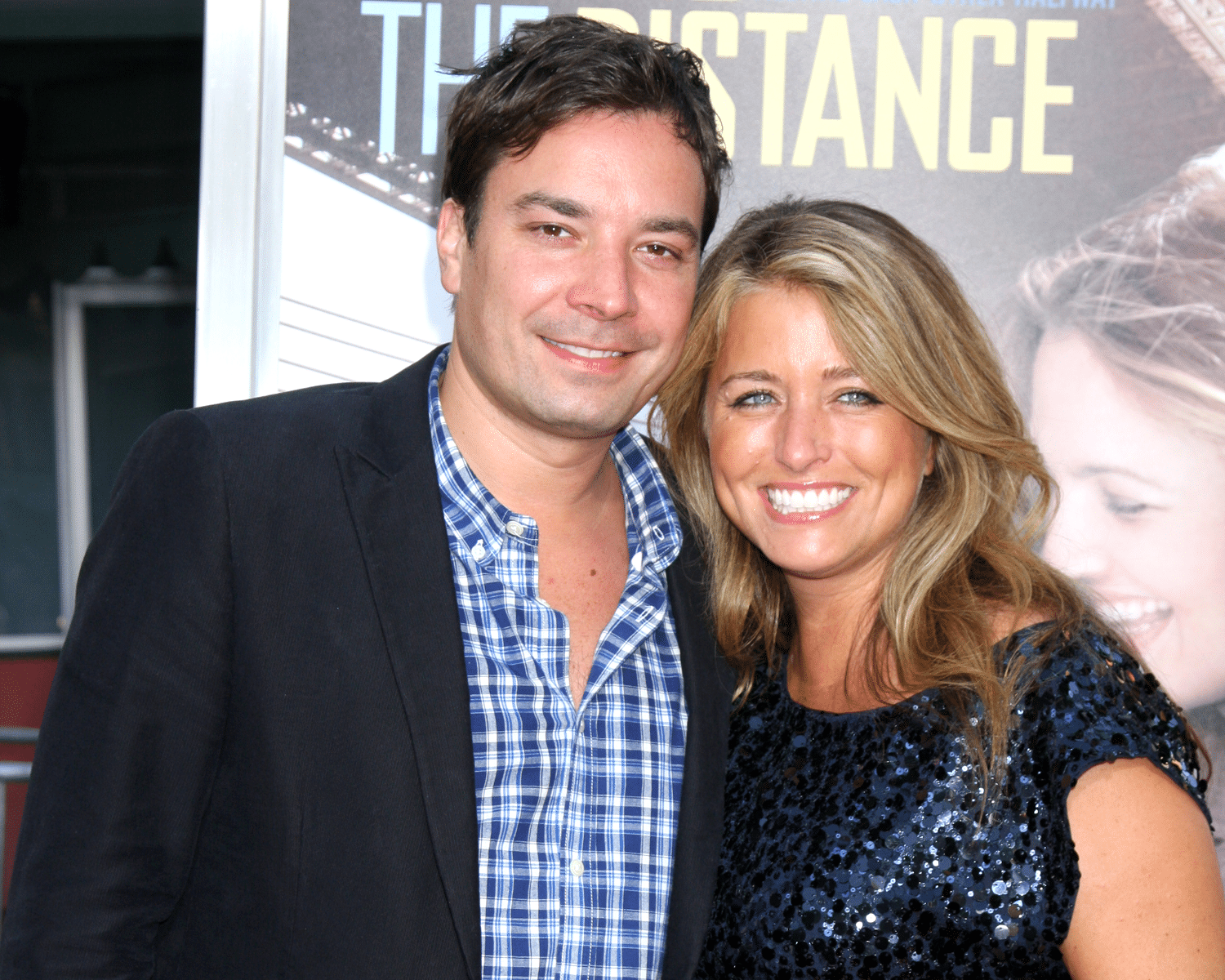 Personal life
Possibly Nancy wanted her husband to also be from the movie industry, as she married Jimmy Fallon, a famous comedian, on 22 December 2007, on Necker Island in the Caribbean. They first met on the set of the romantic comedy movie "Fever Pitch" in 2005, but didn't start dating until two years after that, in May 2007 – their first kiss was at Nancy's birthday party which Drew organized and to which she invited Jimmy. Just three months later, Jimmy proposed to Nancy and the couple were married four months after that. They have two daughters, Winnie and Frances Rose born in 2013 and 2014, however, they are not their biological daughters as both of them were born by gestational surrogacy, meaning that another woman carried them for nine months. The couple is currently living together with their kids in New York City.
As there are always rumors, there were some about Nancy and Jimmy as well – according to some websites such as inquisitr.com, the couple was living separately because of Jimmy's drinking habits. Apparently, media reports claimed, Jimmy nearly lost his ring finger after a serious accident which occurred because he drank too much. Jimmy had to undergo surgery to save his finger, and didn't wear his ring after the accident which again people saw just as an excuse. However, the couple denied all rumors, and appeared together during the 2018 Golden Globe Awards.
my seatmate's a real cutup pic.twitter.com/kpoBit19

— juvonen (@juvonen) June 3, 2012
Jimmy Fallon
Other than being a comedian, Jimmy is also an actor, television host, singer, writer and a producer. He is seven years younger than Nancy, and is best known for being a member of the "Saturday Night Live" show, and also for hosting "The Tonight Show Starring Jimmy Fallon". He really managed to make him dreams come true, as he wanted to be a comedian since he was a kid – he moved to Los Angeles when he was 21, and started doing stand-up comedy. He also acted in the movie "Fever Pitch" in 2005, which was produced by his wife's company. Jimmy has also released two comedy albums – "The Bathroom Wall" and "Blow Your Pants off" – and written five books.
Jimmy has had a very successful career, winning six Primetime Emmy Awards, a Webby Award, one Grammy Award, five People's Choice Awards and one Critics' Choice Award, while having been nominated for more than 40 others. Jimmy's net worth is authoritatively estimated at over $60 million, while he reputedly makes around $16 million per year.
Appearance and net worth
Nancy is currently 51 years old, has long brown-blue hair, blue eyes, is 5ft 4ins (1.64m) tall, and weighs around 120lbs (55kg).
According to authoritative sources, her net worth is estimated to be around $20 million, earned mostly as a film producer, but also from her successful commercial hits. She and her husband also possess two houses valued at around $7 million.
Social media presence
Nancy is not active at all on Instagram, but her husband Jimmy is and he has a whopping number of 13.6 million followers. Nancy only has a Twitter account which she opened in December 2008, and has so far gathered around 3,500 followers and tweeted nearly 2,000 times, but again she can't compete with her husband who has 51 million followers on his Twitter account.
Trivia
Nancy's father William was flying a gunnery mission in September 1961 when he experienced a wing failure and had to eject his seat from his F-8C Crusader jet. In order to commemorate this event, Nancy's husband Jimmy gifted William a Martin-Baker watch on 31 March 2015 during "The Tonight Show" – Martin-Baker is the manufacturer which made William's ejection seat.