Joe Lo Truglio Wiki Bio, wife Beth Dover, net worth, brother, height, weight
• Joe Lo Truglio is an actor, producer, writer and comedian
• He is best known for his work in the sitcom "Brooklyn Nine-Nine" in which he plays the character Charles Boyle
• He has an estimated net worth of $5 million
• He is married to actress Beth Dover, and they have a child together
• He is active on social media, with accounts on Instagram, Twitter, and Facebook
Who is Joe Lo Truglio?
Joseph Lo Truglio was born on 2 December 1970, in Queens, New York City, USA, and is an actor, producer, writer and comedian, probably best known for his work in the sitcom "Brooklyn Nine-Nine" in which he plays the character Charles Boyle. He's also appeared in other television shows throughout his career, including "The State" and "Reno 911!"
The Wealth of Joe Lo Truglio
How rich is Joe Lo Truglio? As of early-2019, sources estimate a net worth that is at $5 million, earned largely through a successful career as an actor. He's also had roles in numerous films, including "Wet Hot American Summer" and "I Love You Man". As he continues his endeavors, it is expected that his wealth will also continue to increase.
Early Life, Education, and Career Beginnings
Joe is of Italian and Irish descent, and while he was born in Queens, his family later moved to Margate, Florida where he would grow up. He attended Coconut Creek High School, and after matriculating, enrolled at New York University, discovering his passion for acting there. He joined the school's comedy sketch group, which included many future cast members of his first professional acting project.
This first project would be "The State", which is a comedy sketch show created with a teenage audience in mind, in which he acted and wrote various skits, including animated segments until the show's end in 1995. Throughout the 1990s, he worked on other television shows mainly as a guest, including "Third Watch", "Law & Order", and "Upright Citizens Brigade". In 2001, he appeared in the comedy film entitled "Wet Hot American Summer", created by fellow "The State" alumnus David Wain, in which he played a camp counselor.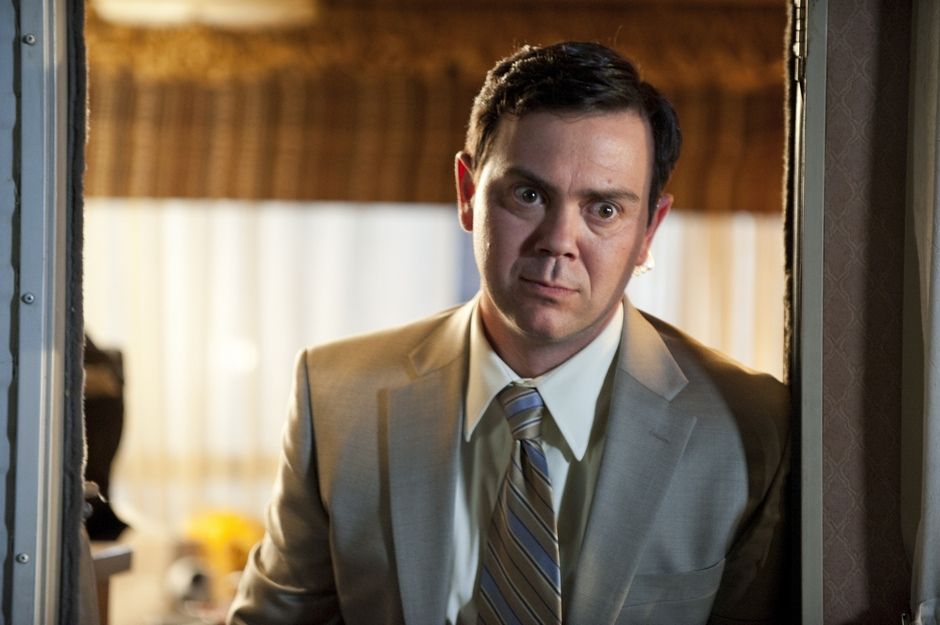 Rise to Fame
After making several cameo appearances in the "Stella Shorts", Lo Truglio also made cameo appearances in projects such as "The Baxter" and "Reno 911!" and appeared in the 2007 movie "Reno 911!: Miami", before then trying his hand at voice acting for video games, which included "The Warriors" created by Rockstar Games, based on the 1979 film of the same name. He also worked on the video game "Grand Theft Auto: Libert City Stories", also by Rockstar Games.
His next project was a supporting role in "Artie Lange's Beer League", a comedy film starring the titular comedian, then worked on several television commercials for Crispy Pop, Jack Link's Beef Jerky, and Gateway Computer. He played the role of Francis the Driver in the comedy "Superbad" which stars Jonah Hill and Michael Cera as two teenagers about to graduate from high school, and comedy roles kept coming his way, including supporting roles in popular films such as "Wanderlust", "Pineapple Express", "Role Models", and "I Love You, Man". He also starred in the web series "The Line", alongside Bill Hader and Jason Sudeikis.
Recent Projects – Brooklyn Nine-Nine
Joe tried his hand at various comedy podcasts, such as "Superego", "Never not Funny", and "Comedy Bang Bang", then made an appearance in the comedy "Party Down" which is a show following a group of Los Angeles caterers hoping to make it in Hollywood. In 2010, he had a recurring role in the sitcom "Sons of Tucson" which was short-lived, and also co-starred in the series "Free Agents", but which was also cancelled after its first season. He voiced a character in an episode of "American Dad!" and then gained one of his most notable roles in "Brooklyn Nine-Nine".
The sitcom stars Andy Samberg as an NYPD detective in Brooklyn's 99th Precinct, and featured an ensemble cast including Terry Crews, Andre Braugher, Melissa Fumero and Dirk Blocker. The show was praised for its cast's performances, and won multiple awards over the course of its run. It was cancelled by Fox after five seasons, but was later picked up by NBC on which it aired its sixth season with it being renewed for a seventh as well. He also reprised his role in the series "Wet Hot American Summer: First Day of Camp", which is a prequel to the 2001 film, released through Netflix.
Charles Boyle reporting for duty! All new #Brooklyn99 tonight! pic.twitter.com/D2EgjKs6OV

— JoeLoTruglio (@JoeLoTruglio) March 22, 2019
Personal Life and Social Media
For his personal life, it is known that Lo Truglio has been married actress Beth Dover since 2014, after being engaged for a year; she is best known for her work in the Netflix series "Orange is the New Black" playing the role of Linda Ferguson. The two have worked together in an episode of "Brooklyn Nine-Nine" and the third season of "Burning Love" which is a spoof series about reality dating shows, and also on the film "Wet Hot American Summer: First Day of Camp". They have a child together.
Similar to numerous actors, he is highly active online through accounts on social media; his Instagram account features a lot of photos of himself alongside "Brooklyn Nine-Nine" cast members, and a lot of promotion of the show, and comedic content as well as a few throwback pictures. His Twitter account functions in the same capacity, posting pictures while on set, and also posting clips from "Brooklyn Nine-Nine", plus the inevitable comedic content.