Juanita Vanoy: Michael Jordan's ex-wife Wiki, Net Worth, Parents, Boyfriend, Divorce, Height
Who is Juanita Vanoy?
Juanita Vanoy, born on the 13th of June 1959, is a former American model, but who became better known as the former wife of National Basketball Association (NBA) superstar, Michael Jordan. She is also known as a co-founder of the Michael and Juanita Jordan Endowment Fund.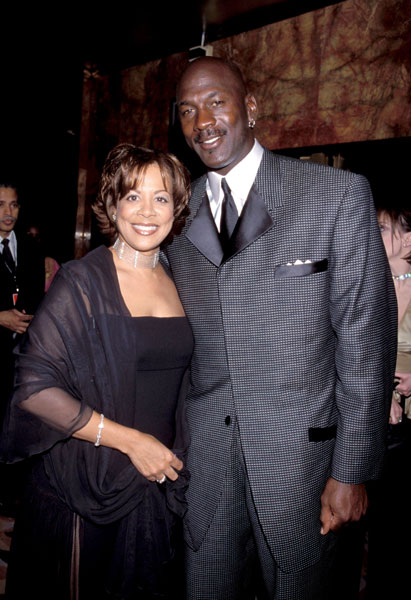 Juanity Vanoy's Early Life and Career
Vanoy was born in Chicago, Illinois and was raised in South Chicago. She started working as a model when she was just a teenager, but later was able to get a job as an executive secretary for the American Bar Association, and as a loan officer at Heitman Financial Services. She also wrote from time to time for Copley News Service during the '90s.
During her marriage with Jordan, Vanoy co-founded and then managed the Michael and Juanita Jordan Endowment Fund, a charitable foundation,  Unfortunately, not much is known about her personal life, education, and career.
Juanita Vanoy's Body Measurements
In terms of her body measurement, Vanoy is known to have a curvy body but specific measurements about her height and weight are unknown. She also has a beautiful black hair and dark brown eyes.
Juanita Vanoy's Net Worth
As of late 2018 and based on authoritative sources, Vanoy's net worth is reported to be over $170 million, acquiring such huge wealth after her divorce from NBA superstar, Michael Jordan. The huge amount is said to be one of the largest celebrity divorce settlements of all time.
Juanita Vanoy's Personal Life
In terms of her personal life, Vanoy is currently single but is famously known to be the former wife of Michael Jordan. Vanoy and Jordan met in 1984 at a Chicago Bennigan restaurant, then met again a couple of weeks later at a friend's party and their relationship soon blossomed.
Their relationship hit a milestone in 1987 when Jordan proposed to Vanoy at Nick's Fish Market in Chicago. After some time they decided to call off their marriage, but decided to talk about it again a year later, and in 1989 after she gave birth to their first child Jeffrey Michael, the two tied the knot at the Little White Wedding Chapel in Las Vegas. Vanoy was said to have received a five-carat marquise diamond ring on the day of her wedding, which took place on 2 September.
After their Vegas wedding, Vanoy and Jordan's family grew bigger – Jeffrey Michael Jordan was followed by Marcus James Jordan, born on 24 December 1990, then by Jasmine Michael Jordan, on 7 December 1992.
Juanita Vanoy's Divorce
Vanoy and Jordan's marriage ended in divorce in 2006 – Vanoy initially filed for divorce in 2002 citing irreconcilable differences, however, they tried to work it out and decided to stay married, but just a couple of years later Vanoy filed for divorce one again, which was finalized in December of 2006. She received a total of $168 million in settlement, dubbed as one of the largest celebrity divorce settlements at that time.
There were rumors that one of the reasons why Vanoy filed for divorces was because of Jordan's alleged affair with Karla Knafel – there were claims that Jordan paid Knafel $250,000 to keep their relationship in secret, but after finding out that she was pregnant, Knafel insisted that the child was Jordan's and she asked for $5 million to keep her mouth shut. However, a DNA test exonerated Jordan.
Juanita Vanoy's Ex-Husband
Michael Jeffrey Jordan was an American professional basketball player in the NBA; he played 15 seasons, most of which were for the Chicago Bulls, plus two seasons for the Washington Wizards. He is acknowledged as the greatest basketball player of all time.
Jordan joined the Chicago Bulls in 1984 as the third overall draft pick. He became known for his dunking abilities early on in his career, and was even nicknamed Air Jordan and His Airness, but also gained a reputation for his defensive playing abilities. He is best known for winning six NBA Championships with the Bulls in 1991, 1992, 1993, 1996, 1997, and 1998; he retired in 1999 but returned from 2001 to 2003 as member of the Wizards.
Aside from a successful basketball career, Jordan also became known for his various product endorsements. One of the most popular and profitable products he has ever endorsed is Nike and their Air Jordan sneakers that are still widely famous until today. He is also known for appearing in the movie "Space Jam."
Today, Jordan is part-owner and head of basketball operations for the Charlotte Bobcats. In 2014, he also became the first billionaire player in NBA history. His net worth is conservatively estimated at over $1.7 billion, as of late 2018.
In terms of her personal life, Jordan is currently married to Cuban-American model Yvette Prieto. The two tied the knot in April 2013 at Bethesda-by-the-Sea Episcopal Church. They have two children together – identical twins named Victoria and Ysabel.