Lionel Messi's Adorable Son: Ciro Messi Roccuzzo's Early Years
After winning the World Cup, several Ballon d'Or awards, and uncountable professional championships, it's unsurprising that Lionel Messi is the center of attention wherever he goes. It's no different for his family, including his wife Antonella Roccuzzo, and their three sons Thiago, Mateo, and Ciro.
While the entire Messi family stands out for good reasons, the youngest of the clan Ciro has recently become the center of attention for his adorable antics and beaming smile, which he's never afraid of showing, even during his father's professional events.
So how is it to be the youngest son of one of the greatest soccer players of all time? Keep reading to find out more about the little Ciro and the entire Messi family.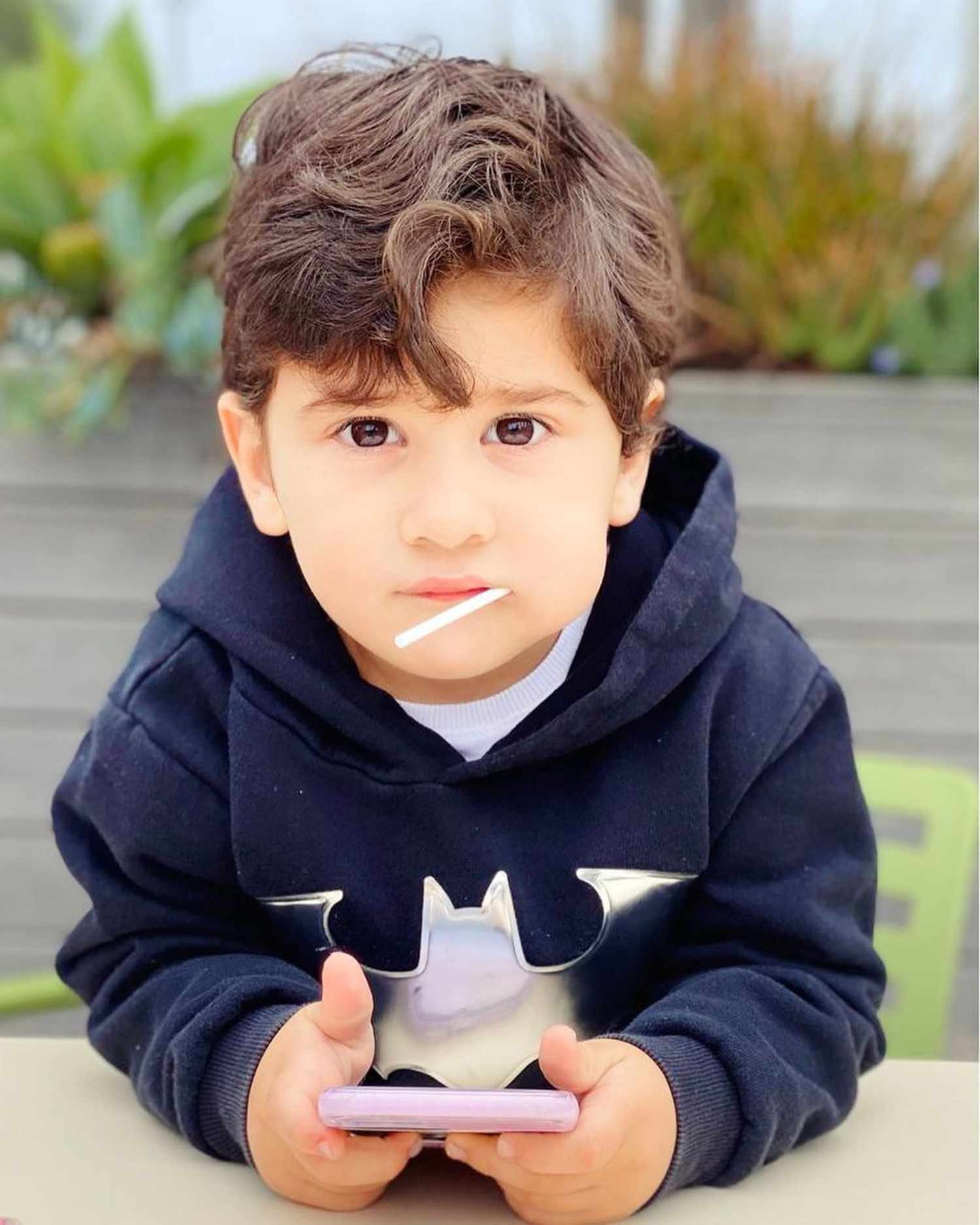 Who Is Ciro Messi?
Ciro Messi Roccuzzo was born on 10 March 2018, in Barcelona, Spain, the son of soccer player Lionel Messi and Antonela Roccuzzo, who are also parents to two other boys.
According to reports, Ciro was born in a 164 sq ft-sized Royal Suite located at the Hospital Universitario Dexeus, where his two older brothers were also born. While both Lionel and Antonela were born in Argentina, Ciro and his brothers are of Italian descent on both of their parents' sides. The news of her pregnancy was first announced in October 2017 by Antonela herself, who posted a lovely Instagram pic with the caption 'family of five'.
To celebrate the birth of Ciro, his parents wrote heartfelt messages on social media, and several important online platforms and magazines covered the news. Nonetheless, the couple is committed to celebrating their children in more personal ways, with Antonela having Ciro's name tattooed on her arm, while Lionel has his son's birth date and name tattooed on his calf.
Who Are His Brothers?
Ciro's older brothers attract as much attention as he does, and for good reasons as well. The oldest Messi boy is Thiago, who was born on 2 November 2012 in Barcelona. It was for Thiago that Lionel started the tradition of having his sons' birth dates and names tattooed on his calf.
According to an interview from 2013, Lionel affirmed that welcoming his firstborn Thiago 'changed my life more than the Ballon d'Or [awards] have'. On his part, Thiago is following in his father's career steps, having attended soccer academies in Barcelona and Paris Saint-Germain, though he's currently playing with the Juvenile Squad of Inter Miami in Florida.
The second oldest Messi boy is Mateo, born on 11 September 2015. Mateo has been described as very calm and always on the lookout to try new things, yet his competitive attitude stands out. According to his father Lionel, he's very similar to how he used to be in his childhood. Just like his brothers, Mateo is an avid soccer player, and his parents also have his name tattooed.
Ciro's Personality
Despite his young age, Ciro has unknowingly found himself at the center of attention more than once for his good-natured personality and childish mischief. According to Lionel Messi, Ciro usually follows his brother Mateo's example, hence he's never afraid of having fun and being carefree about it.
While international media have caught Ciro doing some childish tricks during the World Cup Qatar 2022, and the Ballon d'Or Awards ceremony the next year, there's no doubt that Ciro's tricks are always light-hearted and amicable.
With that being said, Ciro's age hasn't stopped him from demonstrating his love for soccer. Though he's still too young to join an academy as his brothers have already done, Ciro takes every opportunity he gets to play with his father, and with other kids.
Who Is Antonela Roccuzzo?
Although millions of people have grown to admire Lionel Messi for his accomplishments on and off the soccer pitch, many don't know much about his wife's life and professional endeavors.
Antonela Roccuzzo was born on 26 February 1988, in Rosario, Argentina, the middle of three sisters born to Jose Roccuzzo and Patricia Blanko, who owned a small business. As reported by Vanity Fair Spain, Antonela's family is of humble origins, as the family's business started as a small grocery store founded by her grandmother and passed down to Antonela's father.
While Antonela has been known by the media since she started dating her now-husband Messi in the late 2000s, the truth is that she has consistently kept a very low profile when it comes to giving interviews and revealing many details about her personal life.
Te Amo Mucho Mi Amor Te Banco y Estoy Siempre Con Vos Mi Vida <3 @LeooMessi_ pic.twitter.com/UtQknD1ZJd

— Anto Roccuzzo (@Antoo_roccuzzo) July 15, 2014
However, Antonela has made good use of her fame to not only work with international brands as a model, but also to support UNICEF (United Nations International Children's Emergency Fund) and other non-profit organizations. She's also quite popular on social media, having 37 million followers on Instagram alone.
How Did Antonela and Messi Meet?
Lionel Messi and Antonela Roccuzzo met as children in Rosario, Argentina, where the soccer star was also born. A cousin of Antonella who was a friend of Lionel was the one who introduced the pair, at a time when the future athlete was still training with his original club Newell's Old Boys.
Though Lionel and Antonela became close friends, life went on and he eventually moved to Spain after being scouted by Barcelona's club at 13 years old. The distance wasn't enough to forget their friendship, and Lionel returned to Argentina to offer emotional support to Antonela, at the time when she'd just lost her best friend in a car crash.
The tragedy made Lionel and Antonela closer than ever, so it didn't take them long to fall in love. They officially started a relationship in 2008, but it wasn't revealed until the next year.
After welcoming two children and spending several years together, in 2017 Antonela and Lionel tied the knot in a glamorous ceremony held in their native town of Rosario.
Besides their wedding and raising a family together, Lionel and Antonela have demonstrated their mutual love by having tattoos dedicated to each other.
Parenthood & Life In Family
While the love story of Antonela and Messi is inspiring, they're also known for their dedication to their children. As Messi revealed to Sports Illustrated in 2016, his family's routine consisted of taking care of the children, training, and spending time at home or outdoors, overall having the 'normal, calm life' that he always wanted.
Later in 2019, Lionel told Barcelona's blog that despite having not many moments of rest with his tight schedule, he and Antonela did their best to spend as much time with their kids as they could.
Although the life of the Messi family has surely gone through many changes following the welcome of their third son Ciro, and Lionel's exit from Barcelona and move to Inter Miami, the truth is that the family always seems to be happy and very stable.
Appearance & Net Worth
Ciro Messi is a child with brown hair and brown eyes. He usually sports a beaming smile and likes to wear sports clothes. The average height for a child between four and six years is 3ft 1in (95.2m) tall, which is most likely Ciro's current height.
Given Ciro's young age, it's difficult to calculate his net worth. However, his father's fortune was estimated by Forbes at $130 million, meaning that Ciro and his brothers surely enjoy a very comfortable life money-wise. Only time will tell if they will build fortunes on their own, though.