MMA UFC Fighter Nate Diaz's Wiki: Net Worth, Conor McGregor, Wife, Brother Nick Diaz, Sister, Family
• Nate Diaz was born in 1985 in Stockton, California and is a professional mixed martial artist.
• He has a net worth estimated at $2 million earned through a successful career in MMA.
• He won "The Ultimate Fighter 5" and has had notable victories over many other high profile fighters.
• He has fought for Strikeforce, WEC and UFC, and holds the record for highest UFC pay per view buy rate with Conor McGregor.
• He is in a relationship and has a daughter, and is an advocate for cannabis.
Who is Nate Diaz?
Nathan Donald Diaz was born on 16 April 1985, in Stockton, California USA, of part-English as well as Mexican descent, and is a professional mixed martial artist, best known for fighting under the banner of the Ultimate Fighting Championship (UFC). Prior to signing with UFC, he competed with other organizations such as Strikeforce and World Extreme Cagefighting (WEC). He is the winner of "The Ultimate Fighter 5", and is in the top 10 in UFC lightweight rankings. He holds the record for highest UFC pay per view buy rate, along with Conor McGregor.
The Net Worth of Nate Diaz
How rich is Nate Diaz? As of late-2018, sources inform us of a net worth that is at $2 million, earned through a successful career in mixed martial arts. He's had notable victories over many other high profile fighters, and as he continues his career, it is expected that his wealth will also continue to increase.
Early Life and Early Career
Nate grew up in Stockton, and at the age of 11 developed a strong interest in martial arts, and started training with his brother Nick Diaz, who would also become a professional mixed martial arts fightert. He attended Tokay High School, and after matriculating focused on his professional fighting career. At the start he competed mainly for WEC, and would battle for the WEC Lightweight Championship during "WEC 24", a fight against Hermes Franca which he lost via submission during the second round. He then transitioned to the UFC, and made his debut as a contestant for "The Ultimate Fighter 5", which exclusively featured lightweight fighters, and he became a part of Jens Pulver's team – the reality television show has 16 prospective fighters who train and fight in hopes of being awarded a six figure UFC contract. He would fight against Rob Emerson, Corey Hill, and Gray Maynerd before reaching the finals where he fought Manvel Gamburyan, and won during the second round via submission, after Gamburyan was forced to tap out due to the dislocation of his right shoulder after attempting a takedown. so Diaz became the winner of the competition.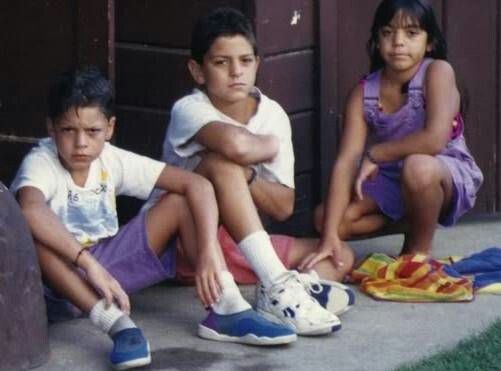 UFC Career Beginnings
After Diaz won his first two fights in the UFC, he was matched against Kurt Pellegrino at "UFC Fight Night 13", which he won during the second round through a triangle choke submission, and followed up his victory with a split decision win against Josh Neer in "UFC Fight Night 15". In 2009, he fought Champion Clay Guida, a former Strikeforce Lightweight, but lost on a split decision, being taken down by his enemy's wrestling techniques multiple times. This was his first loss, and also his pay per view debut. His next fight would be against Joe Stevenson at "The Ultimate Fighter 9" finale, which he lost via unanimous decision as he was unable to do anything significant during the fight.
He bounced back with a victory against Melvin Guillard in a close fight in which he was knocked down before he was able to do a modified guillotine choke that led to his victory. In 2010, he lost against South Korean Dong Hyun Kim as he was too late to make a rally to do him any good on the judge's score cards. He also lost against Rory MacDonald in "UFC 129", before defeating Takanori Gomi – a former PRIDE Lightweight Champion – during "UFC 135", winning via an armbar submission.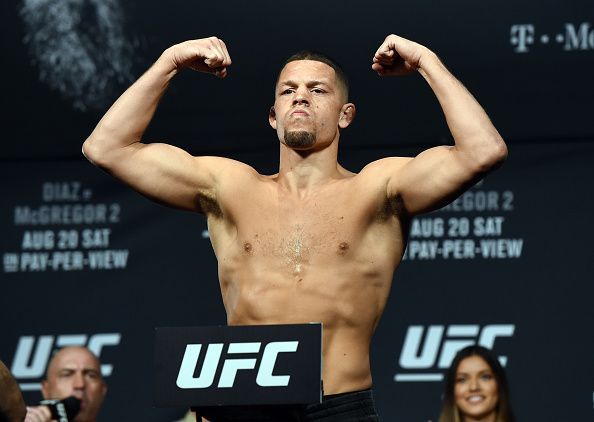 Further Improvement
Nate would show significant improvements over the next few fights, winning against Donald Cerrone in what was considered one of the best performances of his career, landing 82% of the strikes he threw. In 2012, he received his Brazilian jiu-jitsu black belt from Cesar Gracie, before fighting fellow black belt Jim Miller which Nate won using a rolling guillotine choke; it was the first time that Miller had been stopped in his MMA career. This win led him to compete for the UFC Lightweight Championship against Benson Henderson, which he lost in a one-sided bout.
In 2013, he lost against former Strikeforce Lightweight Champion Josh Thomson via a TKO, his brother Nick having to physically throw a towel into the octagon to signal the referee to end the fight. Nate was suspended for 90 days following a homophobic slur online, but returned later in the year to win against Gray Maynard. Afterwards he became inactive and was removed from the lightweight rankings, taking a self-imposed hiatus for a year. His return led to a fight against Rafael Don Anjos which he lost, and it looked like he wasn't motivated for most of the fight.
Later Career
Diaz sat out again for a year, and returned in 2015 to face Michael Johnson which he won via unanimous decision in what was considered the Fight of the Night. He was then billed as a replacement to face Conor McGregor in UFC 196, and even with just 11 days' notice, he won the fight via submission during the second round. His victory led him to second place in all time submission victories in the UFC behind Royce Gracie. They set a rematch in UFC 200, but it was later rescheduled for UFC 202, which Diaz lost via majority decision.
With @stitchduran and my boy @mikekogan #100 https://t.co/SwZ2T0rrtc pic.twitter.com/tbF1QQPxTY

— Nathan Diaz (@NateDiaz209) May 15, 2016
The post-fight conference caused a bit of issue as he was caught smoking Cannabidiol (CBD) in a vape pen a few hours after the fight which was not sanctioned. USADA changed their rules regarding the subject soon after, as CBD is not a performance enhancing drug. He would take time off for another two years, and it was expected that he would he a co-headliner of UFC 230 against Dustin Poirier, but his opponent pulled out due to injury and the fight was cancelled.
Personal Life
For his personal life, it is known that Nate is in a relationship and has a daughter from that relationship though he does not share a lot of details about his partner and their daughter. He is one of the few professional mixed martial artists who are vegans. He runs a Brazilian jiu-jitsu school in Lodi, California alongside his brother, and both of them are advocates of cannabis. Nick Diaz is a former welterweight champion for both Strikeforce and WEC, also competing in the UFC.