WWE wrestler Big Show's Wiki: is he dead? Weight Loss, Net Worth, High School, Retired, Kids
• Big Show is an American professional wrestler and actor
• At the age of 12 he was already 6 ft. 2 ins. (1.88 m) tall and weighed 220 lbs. (100 kg.) due to his acromegaly condition
• He has won various awards and championships in wrestling, including two WCW World Heavyweight Championships, two WWF/WWE Championships, two World Heavyweight Championships, and one ECW World Heavyweight Championship
• Show has also made appearances in films, game shows, and music videos
• He is currently married to Bess Katramados and has three children together
Who is Big Show?
Born Paul Donald Wight II, on the 8th of February 1972, Big Show is an American professional wrestler and actor, who became famous through his involvement in World Wrestling Entertainment's (WWE) various programs. He is also known for his appearance in the films "The Waterboy" and "Jingle All the Way", and starring in his own film – "Knucklehead."
Big Show's Early Life
Show was born in Aiken, South Carolina. During his younger years, he was diagnosed with having acromegaly, a disease of the endocrine system in which the pituitary glands produces too much growth hormone. At the young age of 12, he was already 6 ft. 2 ins. (1.88 m) tall and weighed 220 lbs. (100 kg.).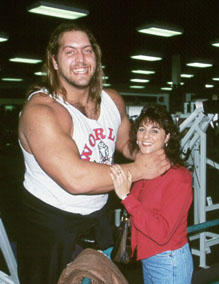 Despite his disease, Show decided to use his quick growth to his advantage, initially in school sports. During his high school years, he attended Wyman King Academy in Batesburg-Leesville, South Carolina in which he joined the basketball and American football teams. After having a dispute with his football coach, he left the team and joined the cheerleading squad, out of sight, but he still credits the experience as a great event during his high school years.
Show subsequently attended various schools, including Northern Oklahoma Junior College and Southern Illinois University, playing basketball in both. He also enrolled into Wichita State University, in which he also joined the school's basketball team. During his college years, he was already 7 ft. 1 in. (2.16 m) tall, so in the late '90s, he decided to have his pituitary gland removed via surgery to stop the progress of his condition.
Big Show's Career
After school, Big Show worked in various jobs, including bounty hunting, bouncing, and for a karaoke company answering calls, where he met Danny Bonaduce, who introduced him to Hulk Hogan. While playing basketball for the promotion of World Championship Wrestling (WCW), Hogan saw his potential as he worked the crowd, and suggested to Eric Bischoff, the vice president of WCW, to consider him as a wrestler.
In 1994, Show debuted for the World Wrestling Association but only played one game. In 1995, he signed with WCW, and debuted that same year, billed as the son of Andre the Giant. He stayed with WCW for a year and earned the nickname The Giant. His early years in wrestling helped establish his career as well as his net worth.
Show has since appeared in various wrestling federations, including New World Order (now) from 1996 to 1999, World Wrestling Federation (WWF) – Champion from 1999 to 2000 – and most popularly with WWE.
Big Show's Accolades in Wrestling
With his successful career as a professional wrestler, Show has won plenty of awards and competitions, including two WCW World Heavyweight Championships, two WWF/WWE Championships, two World Heavyweight Championships, and one ECW World Heavyweight Championship. He is the only man to have world titles with WCW, WWE, World Heavyweight, and ECW.
Show also has 11 tag team world championships under his belt, winning in the WWF/World, WWE, and WCW World Tag Team Championship a number of times, playing with various partners. Overall, he is the 24th Triple Crown and 12th Grand Slam Winner in WWE history.
Today, Show is still part of the WWE family.
Big Show's Other Media Endeavours
Show's success in wrestling also led him to become a celebrity. He has been featured in an infomercial for food supplement Stacker 2, alongside NASCAR drivers Scott Wimmer and Kenny Wallace, NASCAR Xfinity Series driver Elliott Sadler, and former crew chief turned broadcaster Jeff Hammond. He has also appeared in the game show "Are You Smarter Than a 5th Grader?", and in the music video "Thong Song." His various endeavours have also helped in increasing his wealth.
Show also has an impressive acting CV, and has appeared in many films since the late '90s, such as the movies "Jingle All the Way", "The Waterboy", and TV series "MacGruber." He also starred in his own film entitled "Knucklehead" in 2010, about Walter Krunk, Show's character, a 35-year old man who has been living in an orphanage his whole life, who becomes a travelling fighter; unfortunately, the movie got negative reviews. His career as an actor also helped in increasing his net worth.
WWE's Big Show Hits NY Jets Game, Helps Kids Fight Cancer https://t.co/Pk9YaopwCB

— TMZ Sports (@TMZ_Sports) October 9, 2018
Big Show 's Body Measurement
In terms of his body measurement, Big Show is 7-feet tall (2.13 m) and weighs 380 lbs. (174 kg.)  He has a fit physique, thanks to his career as a wrestler and his trainers Larry Sharpe and Glenn Ruth.
Big Show's Net Worth
As of late 2018 and based on authoritative sources, Show's net worth is reported to be over $4 million, acquired from his years as a professional wrestler as well as his other media endeavours.
Big Show's Personal Life
In terms of his personal life, he has married twice and has three children. His first marriage was with Melissa Ann Piavis, from Februaru 1997. They had one child together, but separated after three years of marriage, and were officially divorced in 2002.
Show's second marriage is with Bess Katramados, since 11 February 2002, and have two children together, and are apparently still going strong today.
Show has recently been making headlines for his new physique. He has lost over 70 lbs, and has been sharing his journey to becoming fitter through his Instagram account.