Robert Carradine's daughter Ever Carradine Wiki Bio, cousins, net worth
Who is Ever Carradine?
Ever Carradine is an American film and television actress, best known for her roles as Tiffany Porter in the series "Once and Again" (1999-2002), as Kelly Ludlow in "Commander in Chief" (2005-2006), and as Naomi Putnam in "The Handmaid's Tale" (2017-2018). She has also appeared in such films as "Bubble Boy" (2001), "My Boss's Daughter" (2003), and "Guns for Hire" (2015), among many other projects
So, do you want to find out more about the life and work of Ever Carradine, from her early childhood to date, including her personal life? If yes, then stay with us for the length of the article as we bring you closer to the American actress.
Ever Carradine Wiki: Age, Early Life, Family, and Education
Ever Dawn Carradine was born on the 6th August 1974, in Los Angeles, California, USA; she is the daughter of Robert Carradine, an actor, and horse trainer's assistant Susan Snyder, and is a member of the Carradine family which has produced several Hollywood actors. During her time at the Lewis & Clark College in Portland, Oregon, Ever started as an anthropology major but decided to follow her family's steps and pursue a career in acting; she skied and played volleyball too.
Career Beginnings
Carradine returned to Los Angeles after her graduation, the same college that Monica Lewinsky attended, and appeared in an episode of the Primetime Emmy Award-nominated series "Diagnosis Murder" in 1996, and the same year played alongside Angelina Jolie in the drama "Foxfire". From 1997 to 1998, Carradine was Pepper in eight episodes of the Golden Globes Award-nominated series "Veronica's Closet", and continued on television by appearing in the Golden Globes Award-winning "Party of Five" (1998), and "Once and Again" (1999-2002).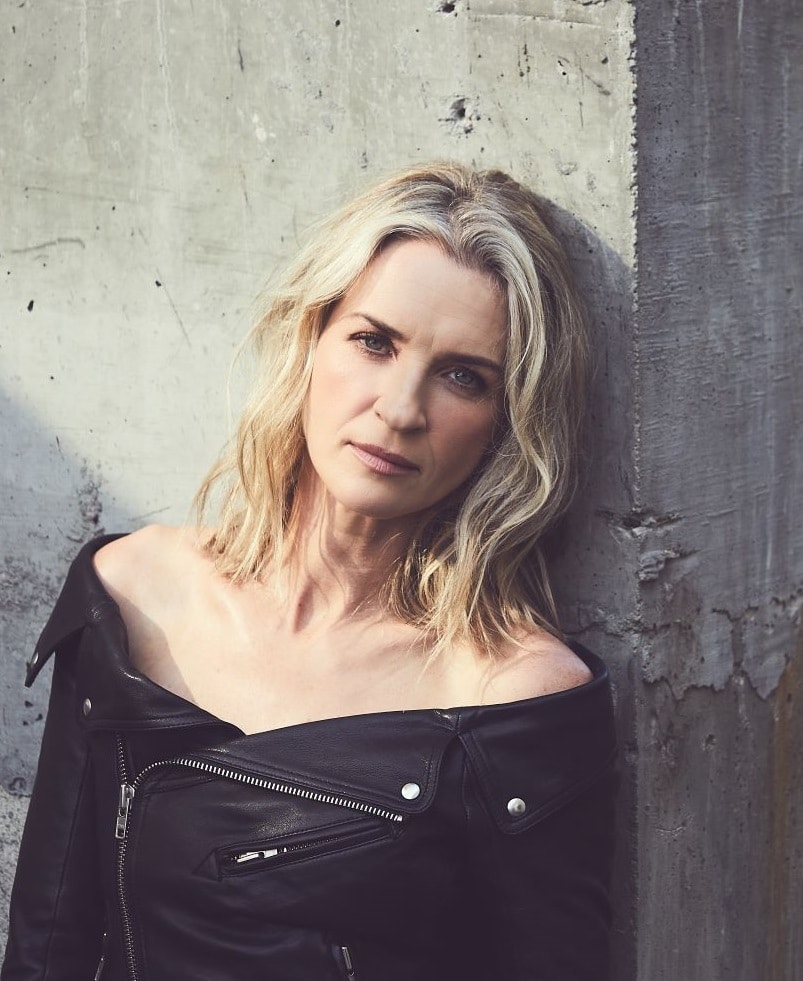 "Commander in Chief" and the 2000s
Ever Carradine entered the 2000s as Pam in a couple of episodes of the Golden Globes Award-nominated series "Will & Grace" (2000), and then played Jay's Mother in the comedy "Jay and Silent Bob Strike Back" (2001), starring Jason Mewes and Kevin Smith. In 2003, Carradine was Theresa in 10 episodes of the Primetime Emmy Award-nominated "Lucky", while also in 2003 she appeared alongside Ashton Kutcher, Tara Reid and Terence Stamp in the comedy "My Boss's Daughter". Ever's most notable role in the 2000s came in the Golden Globes Award-winning series "Commander in Chief", starring Geena Davis and Donald Sutherland, in which from 2005 to 2006 she played Kelly Ludlow in all 19 episodes of the political drama about MacKenzie Allen (Davis), the first American woman president, and although the series didn't receive the best critiques, Geena Davis earned a Golden Globe for her part. Carradine was quite busy at the end of the decade, during 2007 and 2008 playing Heather Donnelly in eight episodes of "Women's Murder Club", followed by eight episodes as Lexi Carter in the Primetime Emmy Award-nominated "A Town Called Eureka" (2008-2009), and later in 2009 appeared in five episodes of the Golden Globes Award-winning series "24", starring Kiefer Sutherland.
Most Recent Work and "Runaways"
Early in this decade, Ever appeared in several popular series such as "Castle" (2010), "The Mentalist" (2011), and "Bones" (2013), while from 2014 to '16 she played Sharon Beck in ten episodes of "Major Crimes". In the meantime, Carradine switched to films, and played alongside Evan Peters and Juno Temple in the drama "Safelight" (2015), and starred in "Guns for Hire" (2015) with Jeffrey Dean Morgan and Michele Hicks. In 2016, Ever worked in the Golden Globes Award-nominated series "Shameless" and in the Golden Globes Award-winning "Goliath" starring Billy Bob Thornton. Most recently, Carradine played Naomi Putnam in nine episodes of the Golden Globes Award-winning series "The Handmaid's Tale" (2017-2018) and had a bigger role in "Runaways", playing in all 23 episodes from 2017 to 2018.
Ever Carradine Net Worth
Since launching her career, Ever has appeared in over 60 TV and film titles, all of which have contributed to her wealth. So, have you ever wondered how rich Ever Carradine is, as of early 2019? According to authoritative sources, it has been estimated that Carradine's net worth is as high as $5 million, which is quite impressive, don't you think? Undoubtedly, her wealth will become higher in the upcoming years, assuming that she successfully continues her career.
Ever Carradine's Cousins
The Carradine family is well-known for its members who are working as actors, and Ever is a niece of the Oscar-winning actor Keith Carradine and Golden Globes Award-nominated actor David Carradine. She is a cousin of actor Tom Carradine and actresses Kansas Carradine, Sorel Carradine, and Primetime Emmy Award-winning Martha Plimpton.
I really wanted to be Gert for Halloween, but couldn't get the hair right. @marvelsrunaways @ArielaBarer ? #marvelsrunaways #gert #HappyHallloween pic.twitter.com/65GU7EFNw7

— Ever Carradine (@EverCarradine) November 1, 2018
Personal Life
What do you know about the personal life of this successful actress? Well, Ever Carradine married composer Coby Brown in 2005 and has two children with him; a daughter named Chaplin Haddow Brown, born in 2010, and a son named Samuel Hauck Brown, born in 2015. Fellow actress Anne Lockhart was Carradine's babysitter for the first five years of her life. Ever enjoys bowling, playing Scrabble, and horseback riding. She currently lives in Los Angeles, California, with her husband and kids.
Ever Carradine Internet Fame
Over the years, Ever has become quite popular on social media platforms, especially Instagram and Twitter. Her official Instagram page has over 42,000 followers, with whom she has shared details from her personal life, such as time spent with her husband, among numerous other posts.
You can find Ever on Twitter as well, on which she has just over 7,300 followers.
So, if you aren't already a fan of this prominent actress, then this is a perfect opportunity for you to become one, just skip over to her official pages.