Sean McVay Wiki: Wife, Girlfriend Veronika Khomyn, Salary, Net Worth, Married, Family
• Sean McVay is the youngest head coach in the history of the NFL at the age of 30
• His passion for football comes from his family legacy, his grandfather John McVay was a coach for the New York Giants and San Francisco 49ers
• He studied at Marist School as a quarterback and defensive player, and then at Miami University in Ohio as a wide receiver
• He became head coach of the Los Angeles Rams in 2017 and has been undefeated for eight rounds this season
• His net worth is estimated to be around $7 million and he is 5ft 10ins tall (1.77 m) and has a mass of 187lbs (84 kg).
Who is Sean McVay?
The last two years from Sean McVay's career have undoubtedly changed his life overall, due to his outstanding performance as a coach for the Los Angeles Rams National Football League (NFL) team, meaning his popularity is on the increase. Therefore, Sean McVay doesn't even need a presentation. Today he is known not only for becoming the youngest head coach in American Football history at the age of 30, but also as the ambitious, inventive and hardworking trainer who kept his team undefeated for eight rounds.
The passion for football – a family legacy
When we look at the McVay family's history, we understand where Sean's talent and passion for football and coaching comes from. His father, Tim, played amateur football in high school as a defensive back, but it all started with his grandfather, John McVay, who coached the New York Giants for two years at the beginning of his career. Then, he has written his name into the history of the NFL by managing the San Francisco 49ers for more than 20 years, during which in an effective co-operation with the vice president, Bill Walsh, they led the team to the winning of three Super Bowl Championships out of five appearances.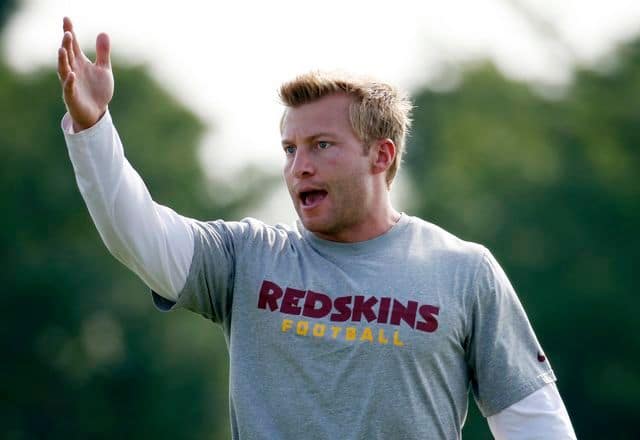 Growing among legends
Born on the 24th of January 1986, in Dayton, Ohio, Sean grew up around his grandfather and the team he had been ruling. This noticeably influenced Sean; not only did he see the background of such a complex and interesting world, but he also met important people, who eventually became his role models in his playing and coaching career, as well: 'I can remember being around those guys, around Jeff Garcia and Terrell Owens. They were always so great to me. At the time I was so young, you didn't realize what a unique and neat experience it was', McVay said in an interview for Sports Illustrated.
31-year-old wunderkind coach #SeanMcVay leads smartest, most well-coached team in @NFL. @RamsNFL @Fancred https://t.co/X2kGiactbd

— Kerry J. Byrne (@footballfacts) November 12, 2017
Early life and studies.
If you ever wondered how Sean's path wound towards success, well, you should definitely read this paragraph. In his teen years, Sean merged studying very well with playing football. He went to the Marist School, and played in the football team as a quarterback and defensive player, stealing the show on the field by completing more than 2000 yards rushing, and constantly playing an important role in his team's wins, being declared Georgia 4A Offensive Player of the Year in 2004. He matriculated high school in 2004, and his studies were proceeding well as was his playing, as he also smashed a lot of records at Miami University in Ohio as a wide receiver, where he studied from 2004 to 2008.
Right after graduating, he began his coaching career as an assistant for Jon Gruden at Tampa Bay Buccaneers in 2008. Sean had a close relationship with the Grudens in general, through an old friendship between Jon Gruden Sr and John McVay, his grandfather, so Jon wasn't only his superior, but his so-called 'protector' in the extremely competitive world of football. That's why some weren't surprised when Sean became an assistant at the age of 24, but we should also consider his professionalism, innovative spirit and talent as important factors that helped him successfully begin his career. Whatever the media and the grumpy people would say, his records speak for themselves.
The great year 2017
From January 2014 to 2016 he was an offensive coordinator at the Washington Redskins and made impressively good changes in the team's offense. The results were mostly seen at the end of the season – Redskins finished 3rd overall – an honorable position for the entire team and a major impact on Sean's career.
As a result, at the beginning of the following year he became the head coach of the Los Angeles Rams, at 30 years of age, the youngest in NFL history. His debut against the Indianapolis Colts in September 2017 was a great success, resulting in a categorical 46-9 win. From that moment, the Rams were continuously improving their game, hardly being beaten. This season, Sean's team won eight matches in a row, dominating the ratings. The strike ended unexpectedly, on the 5th of November after a defeat to the New Orleans Saints. According to McVay, this first fail in such a remarkable season was unavoidable and also necessary: 'The sense we got from our players is that if anything, it creates an added sense of urgency', he said after the game.
Does his personal life hit the same high rankings?
Some say that you can't have both professional and personal success, but Sean seems to be the one who can break the stereotype. Along with the successful career he's built, he looks like having a love-story with Veronika Khomyn, a Ukrainian who is a hot model working with Fairfax and UFC Gym, and becoming even more popular as McVay's girlfriend.
Supposedly, their relationship dates back to the time when Sean was an assistant at the Redskins. However, the first photos of them on social media appeared in 2016, and since then, they have constantly been seen together. Being a regular Instagram user, Veronika shares a lot of couple moments on her page, showing how much they enjoy each other's company. Not only is she a big football fan (and a Rams supporter, of course), but also a trustee for Sean – he often discusses his work with her, and she has helped him in crucial moments, such as when they moved to Los Angeles.
Here comes the wedding?
Even if they look like having a strong relationship, the next step hasn't been made; neither a wedding nor an engagement has been announced by the couple. Whether wedding bells will ring or not for them, is not so important, as long as they keep those smiles on their faces and the love in their hearts.
Sean's net worth
Sean's net worth has considerably increased, especially in the last two years. Reportedly, his salary as a head coach is $1.2 million annually, and his overall net worth is estimated to be around $7 million. So he can probably afford to live a life of luxury as every 30 year-old would dream, but instead McVay is the calm type of man, who doesn't spend on small purchases, opting for the big important ones. For instance, he has recently bought an imposing house in California for $2.71 million – not that much, is it?
Does he have the "perfect" measurements?
It's more than obvious that Sean has a very fit body and he would steal the show in every company with his green eyes and charming smile. He is 5ft 10ins tall (1.77 m) and has a mass of 187lbs (84 kg). Although his height is not so bad, this could have been one of the factors that didn't allow him to reach the highest point of his career as a player, but choosing coaching has done pretty well for him so far.