Seth MacFarlane net worth, Wife, Girlfriends, Dating Emilia Clarke, Wiki Bio
• Seth MacFarlane is a writer, filmmaker, actor, animator, voice artist, and singer, best known for appearing in "Family Guy" and creating "American Dad!"
• He has won four Primetime Emmy Awards, and was an Oscar nominee for the Best Achievement in Music Written for Motion Pictures, Original Song for "Ted" (2012).
• He created "Family Guy" and "American Dad!" and gave voice to some of the main characters.
• He also created "The Cleveland Show" and starred in "Ted" (2012) and its sequel "Ted 2" (2015).
• Seth MacFarlane has a net worth of $200 million and is a devoted supporter of the Democratic Party.
Who is Seth MacFarlane?
If you ever watched the animated TV sitcom series "Family Guy", then you surely know who Seth MacFarlane is; a writer, filmmaker, actor, animator, voice artist, and singer, but best known for appearing in "Family Guy" (1999-2019). However, Seth is also known as a co-creator of another animated series, "American Dad!" (2005-2019), and director of the movie "Ted" (2012) and its sequel "Ted 2" (2015). He is an Oscar nominee for the Best Achievement in Music Written for Motion Pictures, Original Song for "Ted" (2012), and has won four Primetime Emmy Awards. He also hosted the 2013 Oscars.
So, do you want to find out more about the life and work of Seth MacFarlane, from his early childhood to date, including his personal life? If yes, then stay with us for the length of the article as we bring you closer to the Oscar-nominated artist.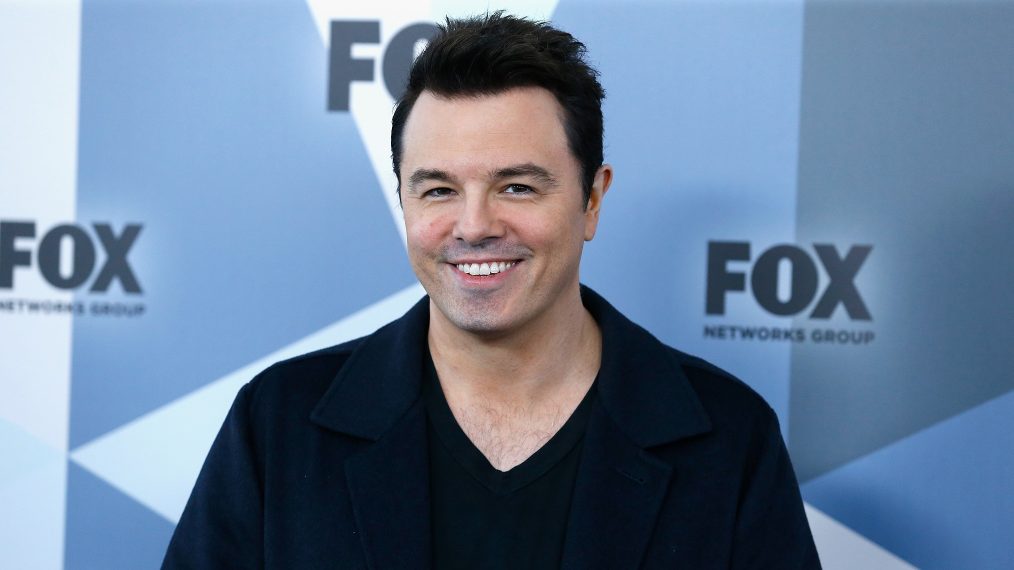 Seth MacFarlane Wiki: Early Life, Parents, and Education
Born Seth Woodbury MacFarlane on the 26th October 1973, in Kent, Connecticut USA, he is the first child of Ronald Milton MacFarlane and Ann Perry. He has a sister Rachael Ann MacFarlane (born 1976), who is a voice actress, known for her work in such TV shows as "Johnny Bravo" (1997-2002), "Family Guy" (1999- ), and "The Grim Adventures of Billy & Mandy" (2002-2007), among others. MacFarlane's roots go back to New England and the 1600s; his parents met in Boston in 1970, where Ronald worked as a teacher and Ann as an academic administrator.
Education and first projects
Seth first developed an interest towards illustrating as a very young boy, starting by drawing cartoon characters Woody Woodpecker and Fred Flintstone at two years of age. He earned his first money from drawing when he was nine, doing a weekly comic strip named "Walter Crouton" for the local Kent newspaper, The Kent Good Times Dispatch, and was paid five dollars a week. MacFarlane got his high school diploma from Kent School in 1991, and went on to study film, animation and video at the Rhode Island School of Design, where he created several independent films, performed as a stand-up comedian, and met Mike Henry, a future "Family Guy" cast member. During his stint at the RISD, MacFarlane created a thesis film entitled "The Life of Larry", the original inspiration for "Family Guy", and after a professor submitted this film to famous studio Hanna-Barbera, Seth later got a job there. He received a Bachelor of Fine Arts degree in 1995.
Career Beginnings, Family Guy, and American Dad!
Seth MacFarlane began his career with Hanna-Barbera thanks to a good reception of "The Life of Larry", and worked as both a writer and storyboard artist for such projects as "Dexter's Laboratory", 'Cow and Chicken", "I Am Weasel", and "Johnny Bravo", all of which were Cartoon Network hits. While working on "Johnny Bravo", MacFarlane met Adam West and Jack Sheldon, who took part in "Family Guy" a few years later. An important moment in Seth's career was the writing the animated series "Ace Ventura: Pet Detective" (1995-1997).
Family Guy
During his time at Hanna-Barbera, MacFarlane sent his idea for "Family Guy" to the producers of Fox, who then gave him a budget of just $50,000 for the pilot episode. After six months, he got the green light and became television's youngest executive producer at age of 24. "Family Guy" saw daylight on 31 January 1999 and became an instant hit, and recorded high DVD sales, developing into a US$2-billion franchise. The show follows the scatty Griffins family – parents Peter and Lois, kids Chris, Meg, and Stewie, and their anthropomorphic pet dog, Brian; the show is set in Quahog, Rhode Island, a fictional city. MacFarlane gives voice to the Family Guy's main male characters – Peter Griffin, Stewie Griffin, Brian Griffin, and Glenn Quagmire, while the "Family Guy" video game hit the stores in 2006.
Although the show has been canceled on two occasions, in 2008 and after almost two and a half years of negotiations, Seth made a $100 million deal with Fox to keep the "Family Guy" and "American Dad!" until 2012, becoming the world's highest paid television writer. The show is still airing, and has received eight Primetime Emmy Awards.
American Dad!
Along with Mike Barker and Matt Weitzman, Seth MacFarlane created his next big TV project, "American Dad!" that is still showing on television, since February 2005. Although he left Barker and Weitzman to do most of the creative direction, MacFarlane is involved with extensive voice acting, but Barker left the show due to creative differences in November 2013. The show has plenty of similarities to "Family Guy", as the story is centered on the Smith family and particularly Stan Smith, the head of the household, who works as a CIA officer. Francine is Stan's wife, and their two children are neo-hippie daughter Hayley and nerdy son Steve. Other members of the family are the alien Roger, whom Stan rescued from Area 51, the man-in-a-fish-body pet Klaus, and Hayley's boyfriend Jeff Fischer. MacFarlane gives voice to Stan and Roger, while his sister Rachael MacFarlane is voicing Hayley.
Other projects, Film and Music Career
MacFarlane also created "The Cleveland Show", a spin-off from 'Family Guy", with parents Cleveland Brown and Donna Tubbs, children Cleveland Brown, Jr., Rallo and Roberta Tubbs as main characters. The show aired for four seasons and 88 episodes from 2009 to 2013, and received a Primetime Emmy nomination.
Film Career
With the release of "Ted" in 2012, MacFarlane made his directorial film debut, and even received an Oscar nomination for Best Original Song. The plot is about the jumbo teddy bear named Ted and his best friend (owner) John Bennett, who is played by Mark Wahlberg; Mila Kunis, Joel McHale and Giovanni Ribisi also play in the movie, helping it to become the 12th highest-grossing film in 2012, making nearly $550 million worldwide. The sequel "Ted 2" came out in 2015 and grossed over $216 million, while in 2014, Seth created the comedy/western "A Million Ways to Die in the West", and starred in it along with Charlize Theron and Liam Neeson; the movie earned around $86 million.
Music Career
MacFarlane's singing influence came from Frank Sinatra, and he often has singing performances in his TV Shows, and has also recorded four studio albums to date. The "Music Is Better Than Words" came out in 2011 and peaked at the No. 2 on the US Jazz and No.2 in the US Heatseekers charts, while "Holiday for Swing" (2014) topped the US Heatseekers. He also released "No One Ever Tells You" in 2015, and most recently, "In Full Swing" in 2017.
Seth MacFarlane Net Worth
Thanks to the international success of the "Family Guy" and "American Dad!", and multi-million grossing of "Ted" and "Ted 2", Seth MacFarlane has become a rich man. His work on television and film has earned him quite a lucrative amount, so have you ever wondered how rich Seth MacFarlane is, as of early 2019? According to authoritative sources, it has been estimated that McFarlane's net worth is as high as $200 million, which is quite impressive, don't you think?
Seth MacFarlane Personal Life, Relationships, Politics, and Activism
Seth MacFarlane currently lives in Los Angeles, California – he is a skilled pianist and loves playing golf. He was supposed to board the American Airlines Flight 11 that was scheduled to fly from Boston to Los Angeles on September 11, 2001, but his agent gave him incorrect departure time – the plane was crashed into the Twin Towers that day.
Ted 3 will feature more 2-dimensional beer. pic.twitter.com/yL9ldh6VcG

— Seth MacFarlane (@SethMacFarlane) April 26, 2018
Dating Emilia Clarke
MacFarlane openly said that he is similar to Bryan Griffin's character when it comes to dating women and although he's currently single, Seth dated the "Game of Thrones" star Emilia Clarke from 2012 to 2013. The pair met in New York and even though there were many rumors that the relationship never actually happened, Emila confirmed that she dated Seth.
Politics and Activism
MacFarlane is a devoted supporter of the Democratic Party, and is known for mocking Republicans and their policies through his shows. The irony is that most of his shows are airing on the Fox Network, which is mainly a Republican-supporting channel. He donated more than $200,000 to numerous Democratic congressional committees, and also to the 2008 presidential campaign of then-US Senator Barack Obama. Seth is also known for his support of gay right, but nonetheless was criticized for his portrayal of transsexualism in the "Family Guy" episode "Quagmire's Dad", when Glenn Quagmire's dad actually became a woman.
Internet Fame
Over the years, Seth has become quite popular on social media platforms, especially Twitter and Facebook, though he is also active on Instagram. His official Twitter account has more than 14 million followers, while on Facebook Seth is followed by around 1.7 million people. He can also be found on Instagram, on which he has just around 580,000 fans. He has used his fame to promote his career, especially his work on "Family Guy", among numerous other posts.
So, if you aren't already a fan of this prominent multi-talented artist, then this is a perfect opportunity for you to become one, just skip over to his official networks, and see what he is up to next.