Stitches (rapper) net worth, wife Erica Duarte, height, age, kids, Wiki Bio
• Phillip Nickolas Katsabanis is a rapper known as Stitches
• He earned popularity for the song "Brick in Yo Face"
• His net worth is estimated at $200,000
• He was influenced by rappers such as Juicy J, Wiz Khalifa, and Gucci Mane
• He has been arrested numerous times and is married with three children
Who is Stitches?
Phillip Nickolas Katsabanis was born on 17 June 1995, in Miami, Florida USA, and is a rapper, best known for performing under the name Stitches, previously being known as Lil Phill. He earned popularity for the song "Brick in Yo Face" and he's also released mixtapes and albums throughout his career.
https://www.instagram.com/p/BroZ9HMAS2v/
The Net Worth of Stitches
How rich is Stitches? As of early-2019, sources inform us of a net worth that is at $200,000, earned through a successful career in rap. He's also earned notoriety due to his promotion of drugs and violence through his music, but as he continues his endeavors, it is expected that his wealth will also continue to increase.
Early Life, Education, and Music Beginnings
Stitches is of Greek and Cuban descent; his parents divorced when he was just one year old. He grew up in Kendall, a suburb of Miami, and attended John A. Ferguson High School, however, he soon dropped out, rumors suggesting that the reason was because he hit the principal in the face.
He then moved to South Beach, Florida and to help make ends meet, turned to a life of crime, including selling guns and drugs. In 2012, he decided to try his hand at a career in music, going under the stage name Lil Phil and releasing the track "Lil Phil", but which he changed a few years later, and started to use the name Stitches.
Music Career
He released his debut mixtape in 2014 entitled "No Snitching is My Statement", containing the track "Brick in Yo Face" which became popular online, and its YouTube release received more than 25 million views. The popularity of the track led him to continue releasing music, in 2015 two more mixtapes – "Supply and Demand" and "Brick Bible". He then released his debut album entitled "For Drug Dealers Only" shortly afterwards, and the following year the album "Tales of a Drug Lord" which included another well received track in "Pain and Success", which gained further attention online.
A few more of his projects were released in 2017, entitled "I Need Rehab", "Cocaine Holiday", and "The Trap House", and in he following year worked on two more albums entitled "Bipolar" and "Time For Murder". Sources have stated that his music has inspiration taken from the styles of popular rappers such as Juicy J, Wiz Khalifa, and Gucci Mane. According to him, he has also been inspired by Trace Cyrus, Compton Menace, Fat Trel, and Blac Youngsta. He's been criticized similar to numerous rappers in the industry as he was seen as promoting negative influences such as crime, drugs and violence. Despite all of this, he seems intent on turning away from those acts, much like other rappers who've put that kind of lifestyle behind them.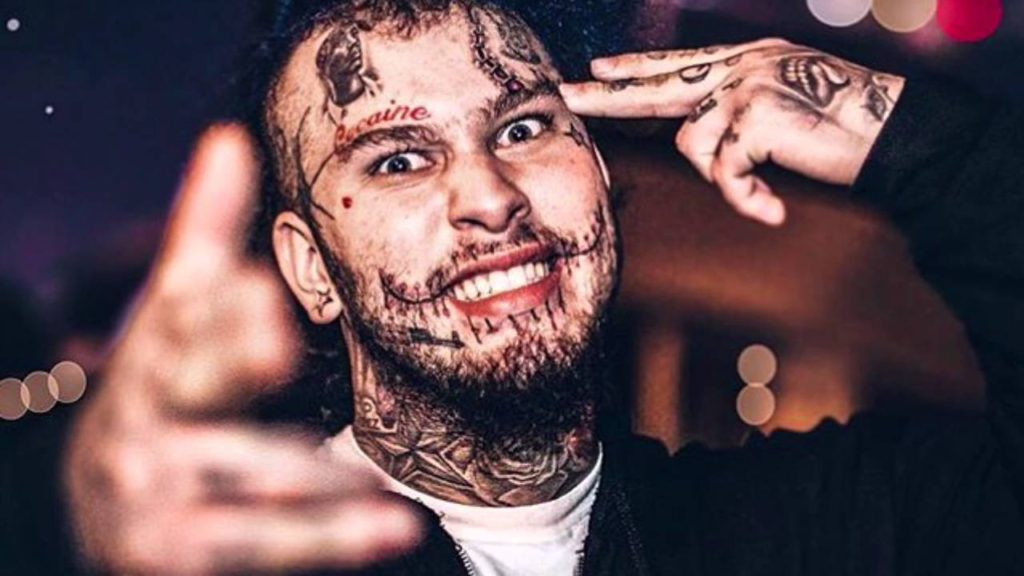 Arrests and Tattoos
Stitches has been arrested numerous times, perhaps partly because his unusually tattooed face leads him to be immediately noticed by police officers in the Miami area. In 2017, he was caught parking in a handicap space at a Miami Whole Foods lot – the police asked him if he had a gun which he denied, but he did hand over a slightly used marijuana joint. However, this was not enough as the police searched his car and discovered a Glock as well as ammunition. He then stated to the officers that he meant that he did not have a gun on him, only in the car.
The police also discovered a mason jar with one oxycodone pill and 39.2 grams of weed without a prescription, so he was arrested for weed possession and felony gun possession. To avoid jail time, he struck a plea deal that will place him in an intervention program instead of prison. According to legal documents, he is not allowed to possess any firearms until he obtains a gun license, and has to take a firearm safety course and 25 hours of community service. He mentioned to the media that he is thankful for having another opportunity at a fresh start.
I wanna see everybody win I swear to god . Life is too short to be worried about nonsense. I love you all. If I can do it so can you .

Posted by Stitches on Wednesday, October 11, 2017
Personal Life and Social Media
For his personal life, it is known that Stitches married Erica Duarte in 2012, at the age of 17 years; she is 11 years older than him, and when they married she was his judicial assistant. Prior to their marriage, she was known for being featured in the reality television show "Paris Hilton's My New BFF", in which Paris looks for a new best friend through a reality competition. The couple have three children together, but divorced after five years of marriage.
Since their divorce, there have been no details regarding Stitches' ex-wife. He is active online through accounts on social media, particularly on Instagram. He mentioned in an interview that he no longer desires to sell drugs and wants to make more positive music. He's moved on from hard drugs and only smokes weed, which is his definition of being sober compared to the numerous numbers of drugs he used to take. He mentioned that he was overwhelmed with fame, and has been making amends to a few of his enemies, as a result of maturity as well as concern for the well-being of his children.