Taylor Spreitler (Kevin Can Wait): Wiki Bio, Boyfriend, Engaged, Net Worth
• Taylor Spreitler is a successful model and actress who was named 'Hottest Newcomer' by Soap Opera Digest magazine at 16.
• She spent part of her childhood in Mississippi and is now based in Los Angeles, CA.
• Taylor has appeared in many commercials, TV shows, and movies.
• Taylor is in a serious relationship with musician David Antonsson Crivello.
• Her net worth is estimated to be $1 million.
Many girls dream of a successful modelling career and to become a part of the Hollywood jet set. Some succeed, some not, but Taylor Spreitler can boast of being successful in both fields – this sexy brunette was named 'Hottest Newcomer' by Soap Opera Digest magazine when she was only 16.
Taylor Spreitler's Early Life
Sexy Danielle Taylor was born under the zodiac sign of Scorpio on 23 October 1993, in the small town of Hattiesburg, in Mississippi, USA, one of the two kids of Denise and Daniel Spreitler; her older sister Samantha is a designer.
A part of her childhood the young actress spent in Wiggins, Mississippi, and later the family moved to Amory, Mississippi. Her current residence is in Los Angeles, California, where she moved because of her ascending career.
From a young age this actress was predetermined for the big scene. When she was only six, she participated in the Mississippi State Talent and Beauty contest, and won it. Her love for cameras and public appearances had begun.
Because she stepped into the world of acting and modeling early, Taylor often missed her classes, and so she was homeschooled from A Beka Academy. After matriculation, she focused on her acting career. An interesting fact about Taylor her matriculation is that she was not able to attend it because of a shoot, so her casting crew gave her a surprise party, and actress Melissa Joan Hart made a commencement speech.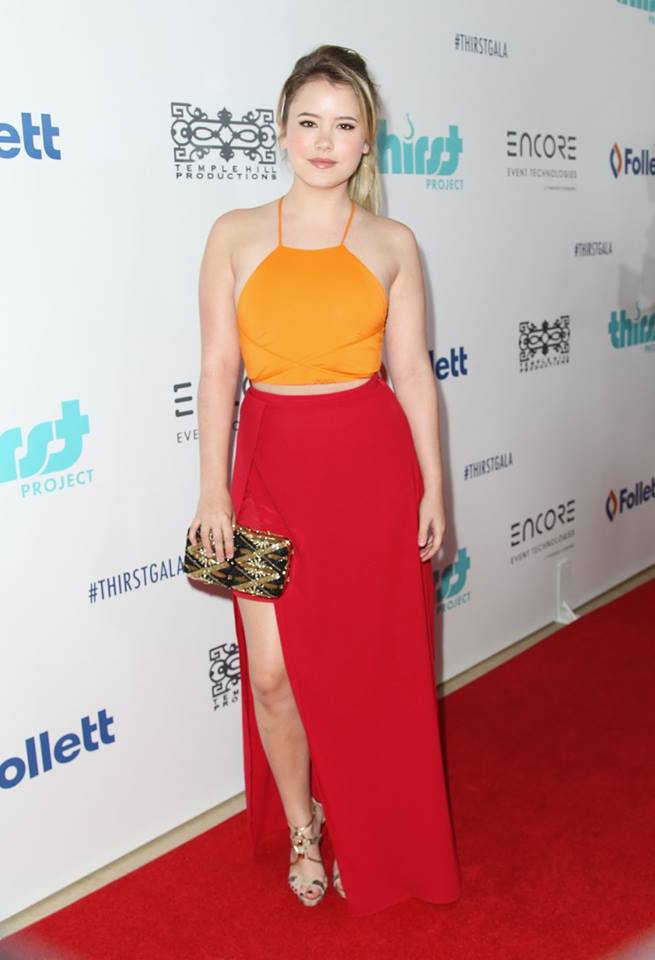 Taylor's Family Hard Time
Taylor Spreitler's dad Danny was a very successful man, a former CEO at the Gilmore Medical Center and director of the Gilmore Foundation in Amory until 2015, after which he dedicated himself to the restaurant he ran. That's why motives for his suicide in July 2016, remain unclear. Although his family suspected depression. Taylor was very close to her dad, but she didn't even think he would do this to himself, and of course her mother Denise was devastated.
Is Taylor Engaged?
The first rumors about Taylor's love life appeared when she starred in "Melissa & Joey," and they were related to Nick Robinson, who played her younger brother. This relationship has never been confirmed.
In 2014, Taylor revealed her relationship with hockey player, Spenser Knight, after a kiss that happened at her 21st birthday. Spenser is a brother of her TV boyfriend, Sterling Knight. Young actress fans were discussing whether Taylor was dating with Dylan Patton, with whom she played along in "Days of Our Lives," but the young actors never confirmed it, saying they were just friends.
Since 2017, Taylor is apparently in a happy relationship with a guy who is not so familiar to the audience, David Antonsson Crivello who is a musician. They often share their photos on social networks and appear to be these days of their lives. Their relationship seems serious, but it seems David still hasn't put a ring on it.
Taylor Spreitler's Career and Net Worth
Since she was a kid, Taylor has appeared in many commercials; she was a cover face of the national campaign for the medication Motrin, then there were advertisements for brands known worldwide such as peanut butter label "JIF", fast food restaurant chain "Chuck E. Cheese's" and global energy corporation "Hess."
Along with modeling and playing in commercials, Taylor Spreitler started her acting career. Her debut on TV screens happened when she was only 12, a small role in the popular crime series "Law & Order: Special Victims Unit." She appeared once more in this TV show in 2012 but interpreting another role.
?? in the rain pic.twitter.com/ldsc3mFpr0

— Taylor Spreitler (@TaylorSpreitler) April 7, 2017
After moving to New York, Taylor got the opportunity to become part of the longest-standing soap opera in the history of television, "Days of Our Lives," which has been shown for over 53 years. She played a minor but notable role of Mia McCormick.
Taylor Prefers Acting in Comedies
This period was very productive for the young actress, given that she had one of the lead roles in the successful sitcom "Melissa & Joey" the following year. Taylor got a lot of fans, as a rebellious teen with a complicated love life, during the five-year run she had in the series.
Concurrently the actress shot two movies – "3 Day Test" and "The Contractor," and after the end of the series, appeared in one episode of "Bones" in 2015. The same year, she won her first award for Best Actress at the "Independent Filmmakers Showcase" movie festival for a lead role in the movie "Girl on the Edge."
Taylor seems to be best suited to comedies, proving it with her role in "Kevin Can Wait," next to great comedians Kevin James and Leah Remini, interpreting Kevin's daughter from 2016 to 2018. Currently, we can watch the actress in the horror comedy "Leprechaun Returns," the latest from the series of movies about the savage and violent dwarf, who in every way tries to recover his stolen gold.
Although Taylor is only 25, she has been in the movie world for a long time. In 2016, her net worth was estimated by sources at $700,000, increased to $ 1 million in 2018, mostly because of the popularity she gained in popular comedy shows "Kevin Can Wait" and "Mellisa & Joey". As Taylor is still young, there's little doubt that she'll have a great career ahead of her, and that her income will be boosted considerably.