The Astor Family Fall – John Jacob Astor Was The Richest Passanger On Titanic
The richest passenger on the Titanic
John Jacob 'Jack' Astor IV was an American business magnate and a member of the Astor family – a long line of successful businessmen. Jack was born on 13th July 1864 on the family's country estate, Ferncliff in Rhinebeck, New York State, USA. At the age of 47 he was a passenger on the RMS Titanic and met his untimely death in the cold waters of the North Atlantic Ocean on 15th April 1912. He was presumed to have been the wealthiest person on board the Titanic – and possibly the wealthiest person on the planet!
So what happened to cause this riches to rags story, and the downfall of the Astor name? Let's go back to the beginning and see how it all unfolded:
How did the Astor family accumulate their wealth
During the 19th and 20th centuries, the Astor family rose to prominence in the US and the UK through business, politics and societal connections; their ancestral roots are from the Asdours in the Swiss Alps. Johann Jakob Astor was born in 1763 in Waldorf, German, moved to London when he was 16, and together with his brother George, started a musical instruments and flute-making company. Johann Jakob then emigrated to North America, and met a fur trader on the voyage who sparked his interest in the business. Upon landing in New York, he launched into a fur-trading enterprise.
Johann Jakob married Sarah Cox Todd, who became a consultant in his business; the couple had eight children. He changed his name to John Jacob, and by the beginning of the 18th century, had earned almost $250,000 trading with indigenous tribes and exporting beaver furs from Canada – a fair sum of money for the time, and worth about $5 million at today's value. He was known as an astute, but unscrupulous businessman, and exploited people and situations wherever he could e.g. the local American Indian tribes from whom pelts were purchased for next-to-nothing, yet sold at a whopping profit. He almost lost his fortune when the British forces took over his trading outpost, Fort Astoria, during the 1812 war, but recovered by changing direction and trading in opium, pianos and real estate. In 1815, after the war, he was instrumental in getting a bill passed in congress preventing non-US citizens from owning fur businesses in the US, and also received additional aid from the US government, which culminated in his almost having a monopoly in the fur trading business. The riches he garnered put him on the map as America's first multi-millionaire, and one of the world's wealthiest people in history.
With time, John Jacob moved away from the fur trade and focused entirely on property acquisition and development, mostly on the fast-developing island of Manhattan. He created a family trust in 1834, thought to be America's first, and the Astors became known as 'the landlords of New York' or what some would derogatively refer to as 'slumlords'. The famous Waldorf-Astoria Hotel, Astor Row, Astor Avenue, Astor Court and Astoria, Queens can all be attributed to their family name, which also spread to various areas of the US and further.
John Jacob passed away in March 1848 and left a legacy of about $20 million. He bequeathed money to several charity groups, and about $400,000 towards the building of a free public library. The majority of his wealth was inherited by his son, William Backhouse Astor Sr. who grew the family fortune and left almost $50 million when he passed away, and so the Astor name was upheld by the following generations, and when Jack took the helm, the name Astor stood out proudly in America's business world.
John Jacob Astor IV – a true entrepreneur and achiever
John Jacob (Jack) IV  was the great grandson of John Jacob. He had four sisters and was the youngest and only son of William Backhouse Astor Jr. Jack was schooled at St. Paul's in Concord, New Hampshire and graduated from Harvard College. He not only made a fortune in real estate, but also published a science-fiction novel in 1894, "A Journey in Other Worlds", patented several inventions including a bicycle brake, a machine that produced gas from peat moss, and a pneumatic road upgrader, and assisted in developing a turbine engine.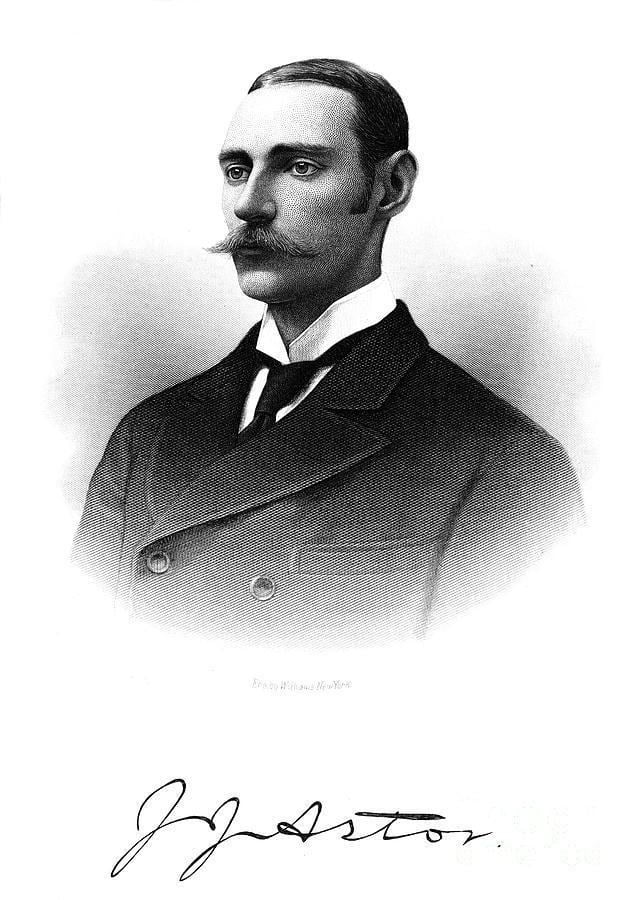 Jack served as a Colonel from 1894 to 1896, and financed the Astor Battery, a volunteer artillery unit in the Philippines. He was appointed a Lieutenant Colonel in the US Volunteers in May 1898, and served as an officer in the Santiago campaign in Cuba. He featured in two movies: "President McKinley's Inspection of Camp Wikoff" in 1898, and "Col. John Jacob Astor, Staff and Veterans of the Spanish–American War" in 1899. He was a member of many military and other societies, and his military achievements were many, whereby he achieved the rank of Colonel after the Spanish-American war of 1899, and thereafter was often referred to as 'Colonel Astor'.
All Jack's sisters married into prominent and wealthy families; on 17th February 1891, he married socialite Ava Lowie Willing. They had two children, William Vincent born 15th February 1891, a businessman and philanthropist who died 3rd February 1959, and Ava Alice Muriel, born 7th July 1902 and died 19th July 1956.
Jack and Ava divorced in November 1909, and to add to what was a great scandal during that time, he married the 18-yr-old socialite, Madeleine Talmage Force, who was 23 years younger than him. The ceremony took place in the ballroom at Beechwood, the family's mansion in Newport, Rhode Island on 9th September 1911.
The Titanic tragedy
Jack and Madeleine enjoyed an extended honeymoon in Europe and Egypt, hoping to allow time for the gossip about them to evaporate. Madeleine fell pregnant with her first child during the journey, but her wish was that the baby be born in the USA. It was for this reason that the couple boarded the ill-fated vessel the Titanic on her maiden voyage, traveling first class with an entourage consisting of their valet, maid and nurse, plus their Airedale pet dog, Kitty. Soon after the Titanic collided with an iceberg, Jack was advised to wake up his wife, but they apparently remained unperturbed even when the lifeboats for first class were been prepared. He was reported to have said, "We are safer here than in that little boat."
Archibald Gracie IV, one of the passengers, survived by clambering atop an overturned lifeboat and wrote a book about the tragedy. Unfortunately he never quite recovered from the trauma and died eight months later. He wrote that Jack helped his wife, maid and nurse into Lifeboat 4 and then asked if he might join his wife because she was in 'a delicate condition'. Jack was told men were not allowed on the lifeboats until all the women and children were on board. From some survivors' accounts, apparently some of the lifeboats had some extra space, and at least some of the men could have been saved. Madeleine, her maid and nurse were lucky to have survived.
The last sight anyone had of Jack was him smoking a cigarette on the bridge wing with the American journalist and mystery writer, Jacques Futrelle. Within 30 minutes they had disappeared as the ship sank into depths of the ocean.
1,517 passengers and crew went down with the ship, and of those only 333 bodies were recoverd. Jack's valet and the dog Kitty did not survive. Jacks body was recovered and identified by his initials sewn onto his jacket's label. His gold pocket watch was found, which his son Vincent claimed and wore for the rest of his life.
Jack was buried in Trinity Church Cemetery, Manhattan, New York City. His second son, John Jacob "Jakey" Astor VI was born four months after his death. It was estimated that Jack was worth about $87 million – about $2.65 billion today.
The family trust that the patricarch of the Astor family, John Jacob, had built up was dissolved in 1919 following the death of the last of his grandchildren. Many Astor descendants benefited financially from his legacy, but regretfully Jack, who had gone down with the Titanic, never got to enjoy that windfall.
Madeleine went on to marry a banker, William Karl Dick in 1916, and they had two sons. In 1933 she married the boxer Enzo Fiermonte.
"Astor: The Rise and Fall of an American Fortune"
This is the title of a book written by Anderson Cooper and Katherine Howe. In an interview with CBS News in 2023, Anderson talks about how Vincent Astor inherited the title and the bulk of the wealth of the richest man in America after his father's death on the Titanic. His sisters, Madeleine and Ava, as well as his brother, Jakey inherited trust funds. Jakey was engaged in ongoing legal battles against Vincent in an attempt to inherit a larger portion of their father's fortune. Jakey got engaged many times, and married four society women.
Vincent lived the high life, and wasn't well-liked as he smoked and drank copiously. He was perturbed by the fact that the family were being called 'slumlords', so sold off some of their assets. He started a foundation whose intention was rather vague, but which Vincent idealised as being for the betterment of mankind. Vincent passed away in 1958, leaving his third wife, Brooke Astor (nee Russell), his fortune and the foundation. Brooke became a philanthropist and focused on 'giving back to New York City'.
Sadly, Brooke Astor's son from a previous marriage, Anthony (Tony), was accused of defrauding money from her when her mental faculties deteriorated due to Alzheimer's. The case hit the tabloids at the time, and much dirt on the family's bad deeds was uncovered. It appeared that Tony was stealing to secure more money for his wife, Charlene whom Brooke despised. Tony was tried, convicted and imprisoned for only two months at the Fishkill Correctional Facility. He was released on the basis that he was too ill to sit out the rest of his sentence.
All the wealth and power in the world couldn't help the Astor family from facing the inevitable downfall that often comes with inherited fortunes; they'd acquired so much wealth by the fifth generation that there was hardly any work ethic left amongst them. All had been born with silver spoons in their mouths, lived lavish lifestyles, and rode on their status like star-studded celebrities enjoying the benefits of their dynasty.
Alexander Aldrich, John Jacob's fifth great-grand-daughter, wrote a memoir before she went to boarding school, entitled "The Astor Orphan". In the book published in 2013, she describes her childhood growing up in the 200-year-old Rokeby Mansion in Barrytown, New York; by that stage the family was rich in land but had no cash. Her grandmother was an alcoholic and her father unemployed. The once proud Astor home that was a symbol of the family's lofty status in the American business world was reduced to housing Astor descendants stricken with poverty, living in squalor, and relying on food from neighbours to survive.
John Jacob IV was probably the most famous of all the Astors, attributable to the sinking of the Titanic. Many popular movies and mini-series were created featuring the story of the tragedy, which struck people's hearts globally and in the 2012 production of "Titanic: The Musical" he was portrayed by his great-grandson, Gregory Todd Astor. Yet perhaps one could say that he was the last of the line that upheld the name of Astor and when he sank, the glory of that name and its standing in society unravelled and slowly drowned too. Notwithstanding the family's demise, the name Astor will always have a place in, and remains a cornerstone of American history today.