The Untold Truth of Gfriend Member – Eunha
• Eunha is a singer and actress best known for being a member of the K-pop girl group GFriend.
• Her net worth is estimated to be over $200,000.
• GFriend gained fame with their single "Glass Bead", and have since released a number of successful albums.
• Eunha has been involved in a number of solo projects including acting, producing and singing.
• She was diagnosed with Langerhans cell histiocytosis as a child, but was successfully treated.
Who is Eunha?
Jung Eun-Bi was born on 30 May 1997, in Seoul, South Korea, and is a singer as well as an actress, best known for being a member of the K-pop girl group GFriend. She is the lead vocalist of the group, and has also appeared in numerous television dramas during her career.
The Riches of Eunha
As of early-2020, Eunha has a net worth estimated to be over $200,000, earned through a successful career in the entertainment industry. Both her work with GFriend and her acting projects have helped her gain high valued contracts.
Early Life and Career Beginnings
At a young age, Eunha wanted a career as a performer, and was able to gain acting roles as a child. One of her earliest appearances on television was in the drama "The Clinic for Married Couples: Love and War", a weekly program featuring stories of husbands and wives seeking a divorce. A panel looks at their problem, analyzes them, and suggests possible solutions to help fix the marriage. The show ran for two seasons and around 600 episodes.
However, she was unable to continue acting for long as she struggled with a disease. After it was cured, she returned to the entertainment industry on a different path, as she signed with Source Music, a company that was formed in 2009 by So Sung-jin, though it was later acquired by Big Hit Entertainment. In 2015, she was announced as a member of the girl group GFriend, the six members of the group being Eunha, Sowon, Yerin, SinB, Yuju, and Umji.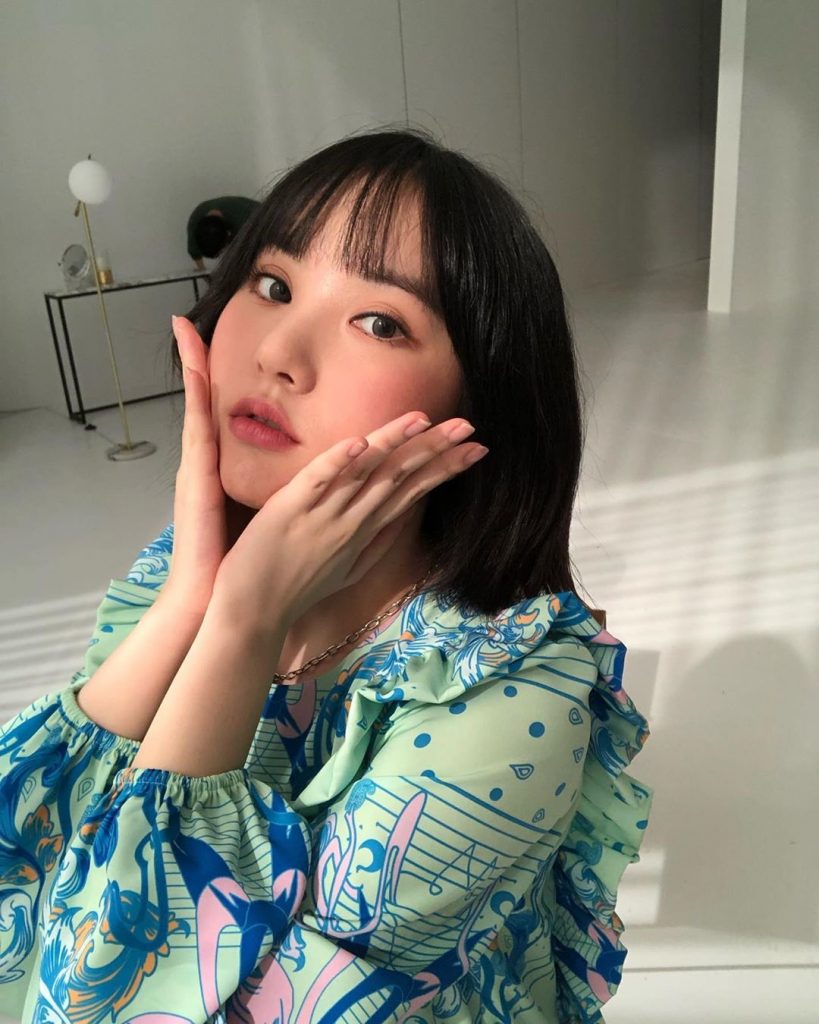 Shortly after their introduction, they released a five-track debut extended play (EP) called "Season of Glass" with the song "Glass Bead" gaining significant attention.
Rise to Fame
"Glass Bead" gained a lot of attention online, leading to GFriend being named as one of the top K-pop artists to watch for the year. They then worked on their second EP called "Flower Bud", which contained the single "Me Gustas Tu", and became one of the bestselling songs of the year.
They gained fame while performing the song on a slippery stage, and despite falling numerous times, they finished their performance, gaining praise for their professionalism. They were nominated for Best Korean Act during the 2015 MTV Europe Music Awards, the only girl group to be nominated.
In 2016, they released their third EP – "Snowflake" – and promoted their release through the SBS MTV program "The Show"; it debuted in tenth spot of the Billboard World Albums chart. They went on to win 15 awards that year for their music, with their songs "Rough" and "Navillera' gaining significant attention.
The following year, they released their fourth EP "The Awakening" which reached fifth spot on the Billboard World Album charts, and followed it up with a fifth EP called "Parallel", which had the title track "Love Whisper".
Recent Releases and Solo Work
In 2018, GFriend signed with KingRecords in Japan, leading to more work in the country. They released their sixth EP "Time for the Moon Night" which sold well internationally, and a compilation album for Japan called "GFriend 1st Best", then worked on the mini-album "Sunny Summer". They also released their first Japanese album – "Memoria"- which reached fifth spot on Billboard Japan.
In 2019 they released their second studio album called "Time for Us", and then worked on their next two Japanese albums – 'Sunrise", and "Flower/Beautiful". A few of their recent releases include their seventh EP "Fever Season", and their first Japanese studio album "Fallin' Light". They are set to release a new EP called "Labyrinth" in 2020.
Aside from GFriend, Eunha has had many solo projects, including the song "Don't Come to Farewell", which was a part of the soundtrack for the television drama "Six Flying Dragons".
?: Sweet B pic.twitter.com/zFA0opXAHb

— ♡⃕ Eunha Pics ? (@MEunha97) February 17, 2020
She has also done acting work, appearing in the web series "Oh My God!" alongside Park Kyung of Block B. She later produced the single "Inferiority Complex" with Kyung, and her second single called "Love-ing", which was used for the soundtrack of the drama "Temperature of Love".
Personal Life
Eunha is single, and like many K-pop artists, is busy with a lot of projects which means she has little time to engage in romantic relationships. Management is also often strict with the relationships they have, as it may affect their public image.
When she was a child, she was diagnosed with Langerhans cell histiocytosis (LCH), a rare form of cancer that affects the bone marrow, which can also affect skin and lymph nodes. She had to undergo treatment for the disease with regular blood tests, but it was successfully treated with no chance of the disease ever recurring.
Away from work, she is a quiet person and she loves having short hair though she initially hesitated at the change. She also enjoyed the "Twilight" series of films.