The Untold Truth of Gfriend Member – Sowon
• Kim So-jung, known as Sowon, is a singer and rapper in GFriend
• As of early-2020, Sowon has a net worth estimated to be over $1 million
• She was taken in by DSP Media and trained for four years before moving to Source Music
• GFriend has released numerous albums and singles, expanding their reach to other countries such as Japan
• Sowon adopted her stage name because it means "wish" in Korean
Who is Sowon?
Kim So-jung was born on 7 December 1995, in Eunpyeong-gu, Seoul, South Korea, and is a singer as well as a rapper, best known for being a member of the K-pop girl group GFriend, which is managed by Source Music. She is the leader of the group responsible for hits such as "Me Gustas Tu", "Rough", and "Love Whisper".
The Riches of Sowon
As of early-2020, Sowon has a net worth estimated to be over $1 million, earned through a successful career in the music industry.
She's released numerous albums and singles through GFriend, expanding their reach to other countries such as Japan.
Early Life, Education, and Career Beginnings
She grew up with an older sister, but at a young age, Sowon aspired to a career in the music industry, and began auditioning to become a trainee in an entertainment company. and eventually her efforts proved successful, as she was taken in by DSP Media. The entertainment company is known to manage several prominent artists, and has been the home of several popular groups of the past, including SS501, A-JAX, and Rainbow.
She trained for the next four years with the company, while taking up her high school education at the Hanlim Multi Arts High School; the school is known for specializing in various art programs, and where many entertainment company trainees are educated. Not finding any breakthrough with DSP, she moved to another company called Source Music, where she trained for over a year. She completed her high school education, and enrolled at the private Sungshin Women's University, which has around 12,000 students enrolled annually.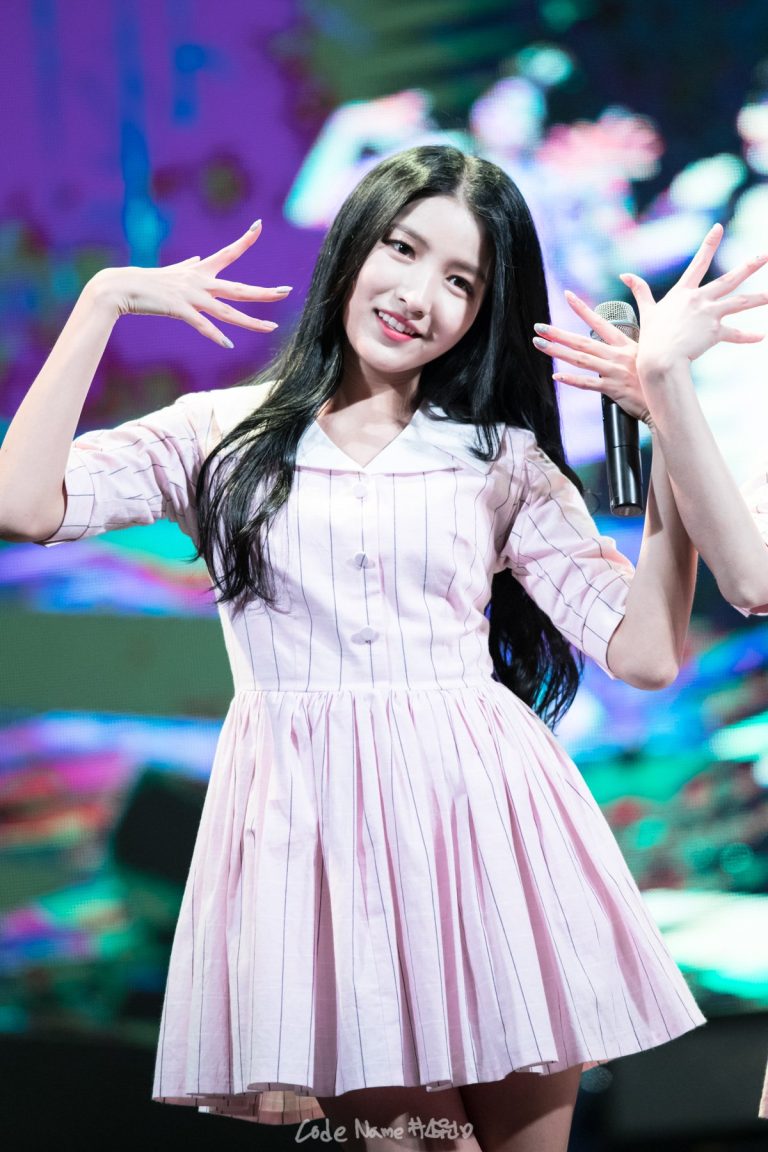 Eventually, she was introduced as a member of a new girl group called GFriend, consisting of herself, Yerin, Yuju, SinB, Umji, and Eunha.
Rise to Fame
In 2015, GFriend released their first extended play (EP) called "Season of Glass" which debuted in 12th spot of the Gaon Weekly Album Chart. They started promoting their music through television programs and on YouTUbe, and followed up with another EP a few months later, called "Flower Bud", with the lead single "Me Gustas Tu" gaining a lot of attention.
They were nominated in the categor, Best Korean Act during the 2015 MTV Europe Music Awards, the only girl group to be nominated during the event.
In 2016, they released their third EP called "Snowflake", which debuted in 10th spot on the Billboard World Albums Chart – the lead single "Rough" would lead them to their first win on a South Korean music show, and they would win more awards thanks to the success of the song. They later appeared in a season of "Showtime", and by the end of the year they had a few of the most successful music videos in South Korea.
In 2017, they released another EP called "The Awakening", which had over 100,000 pre-orders,  and debuted in fifth spot of the Billboard World Album Chart. They followed it up with another EP called "Parallel", which contained the title track "Love Whisper".
Recent Projects
In 2018, GFriend announced their first solo concert called Season of GFriend, and afterwards signed with the Japanese label King Records. Their next release called "Time for the Moon Night" found a lot of popularity internationally, and also reached the top of the Gaon chart.
They then toured Japan to promote the compilation album called "GFriend 1st Best", which peaked in 10th spot of the Oricon chart. By mid-year, they released another EP called "Sunny Summer", before working on their first Japanese album – "Memoria".
In 2019, they released their second full album called "Time for Us", which became their highest selling album to date. They then produced their second Japanese album called "Sunrise", then a third Japanese release called "Flower/Beautiful".
191108 ICN 8pics#여자친구 #소원 #GFRIEND #SOWON

The day I met you,
I began to forget a life without you.

?: https://t.co/llJ6X053k9 pic.twitter.com/CpVPzMBmd3

— SOMEONE (@some1kr) February 18, 2020
A few months later, their seventh EP "Fever Season" appeared, and they then collaborated with Japanese group Sonar Packet for the album "Oh Difficult – Sonar PocketxGFriend". Later in the year, they released their first Japanese studio album called "Fallin' Light", which contained a lead single of the same name.
They made a comeback in 2020 with the EP "Labyrinth", which marks their first release after the acquisition of Source Music by Big Hit Entertainment.
Personal Life
Sowon is single and she does not share any information about any past or present romantic endeavors. Idols often prefer to keep these details away from the public, due to how strict management is when it comes to relationships. She is also busy with work with GFriend, which means she has little time to engage in anything else.
During her free time, she enjoys cooking, reading mystery novels, and watching films. She dislikes bugs, rain, and snow. She prefers more upbeat songs. She adopted the stage name Sowon because it means wish in Korean.