The Untold Truth of Twice Member – Hirai Momo
• Momo Hirai is a Japanese singer and dancer, best known for being a member of the South Korean K-pop girl group Twice.
• Her net worth is estimated to be over $300,000 from her music career.
• She appeared in an online video with her sister which led to them being invited to audition for JYP Entertainment.
• She is part of the reality television program "Sixteen" which is responsible for looking for each year's new stars.
• She is dating another K-pop star, Heechul, and enjoys food and dramas.
Who is Hirai Momo?
Momo Hirai was born on 9 November 1996, in Kyotanabe, Kyoto, Japan, and is a singer as well as a dancer, best known for being a member of the South Korean K-pop girl group Twice, which was formed by JYP Entertainment. She is one of three Japanese members of the group, and often performs under the single name Momo.
The Wealth of Hirai Momo
As of early-2020, Hirai Momo has a net worth estimated to be over $300,000, earned through a successful career in the music industry.
Her work with Twice has gained her a lot of fame, high income, and opportunities, both in South Korea as well as in her home country of Japan.
Early Life and Career Beginnings
Momo grew up in Kyoto, and at a young age became interested in dance, learning with her older sister as young as three years old. Growing up, she aspired to a career in entertainment, and became interested in becoming an idol as well as a popular singer. She pursued opportunities in South Korea, and during 2008 she made her first public appearance. in a music video for rapper Lexy.
Three years later, she participated in the annually talent show "Superstar K" which is held.
The show is known for being the biggest audition platform in South Korea, responsible for looking for each year's new stars. Some of the acts which have gained fame through the show include Seo In-Guk, Kang Seungyoon, Busker Busker, and Jung Joon-Yung. Since 2016, the show has identified with the year it aired, and winners of the show have a chance to perform at the Mnet Asian Music Awards along with other prizes.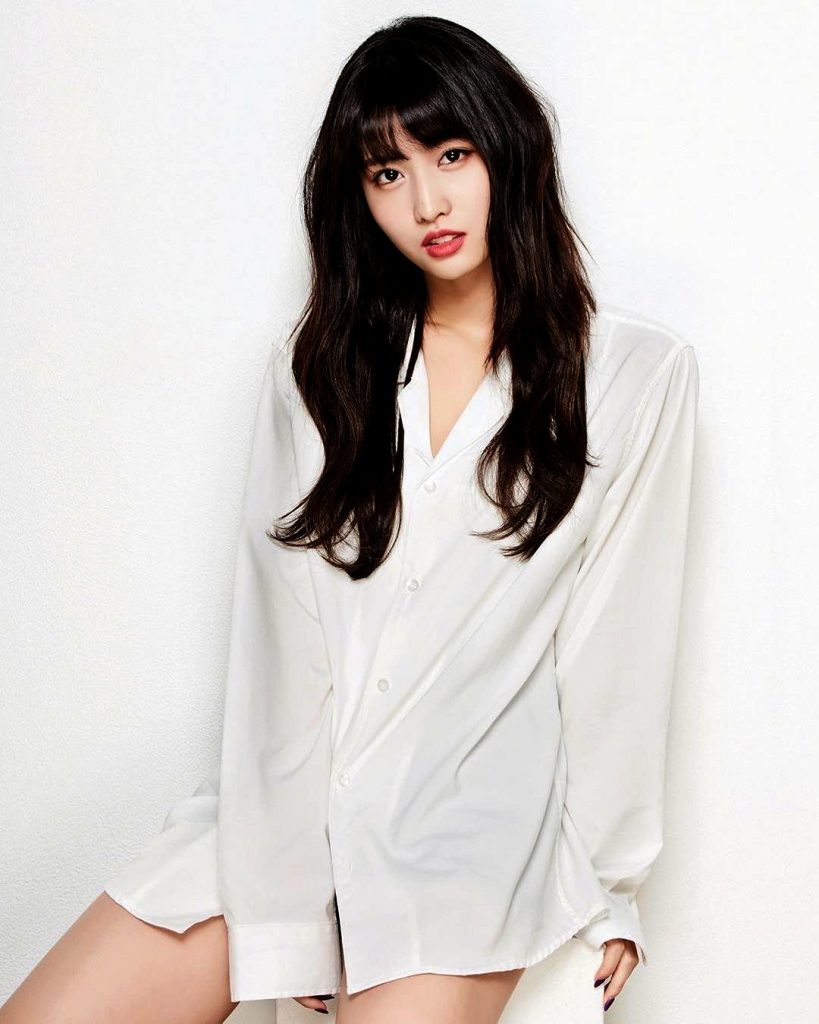 However, Momo didn't make it far into the competition.
Success with Twice
A year after Momo's run in "Superstar K", she and her sister were discovered in an online video they published, which led to the two being invited to audition for JYP Entertainment. The company is one of the biggest in South Korea, responsible for managing acts such as Day6, 2PM, Itzy, Got7, and JJ Project. They also previously managed Miss A, 15&, Rain, and Baek A-Yeon.
The two went to the audition, but only Momo was successful. Following her acceptance, she moved to South Korea in 2012, and began training with the company.She appeared in several music videos as a trainee before becoming a member of the reality television program "Sixteen". The show was created to help determine the lineup for JYP's planned girl group Twice. She was eliminated in the competition, but was later contacted by the judges and was invited to become a part of the group.
This decision attracted a lot of controversy at the time. Just a few months after the formation of Twice, the group released its first extended play (EP) called "The Story Begins"; it contained the lead single "Like Ooh-Ahh", which was the first K-pop artist debut to reach over 100 million views on YouTube.
Continued Work with Twice and Recent Projects
Twice then released another EP called "Page Two" which contained the single "Cheer Up" which would become their first number one hit at the Gaon Digital Chart.
It was the best performing single at the year, leading to the group winning Song of the Year at both the Melon Music Awards and the Mnet Asian Music Awards. Their confidence boosted, the group continued producing more hits, with the release of their third EP called "Twicecoaster: Lane 1" which contained another chart-topping hit in "TT" – they were named the top-selling K-pop girl group of 2016. They also expanded their reach to Japan making an easy transition due to the group's three Japanese members, Momo, Mina, and Sana.
190503 #트와이스 #TWICE #トゥワイス #모모 #MOMO #モモ pic.twitter.com/ha3JwJZYZH

— ???.¹¹⁰⁹ (@ringheart_momo) February 18, 2020
They signed with Warner Music Japan, and released the compilation album "#Twice", which achieved platinum certification, and they were among the top artists of 2017 in Japan. They've released two Japanese studio albums so far, and eight Korean extended plays. The group is one of the world's most recognized K-pop acts, and responsible for the rise of the stock of JYP Entertainment. They have achieved numerous firsts in their career, including being the first K-pop girl group to hold a Japanese dome tour.
Personal Life
In 2020, it was confirmed that Momo is dating another K-pop star, Heechul, known for his work with Super Junior. The couple first met three years earlier, and started dating just a few months before their relationship went public. The two have been spotted in each other's social media accounts.
She enjoys food, Korean in particular, and enjoys food so much that her bandmates have called her an eating machine. She also enjoys watching dramas. She sleeps the most out of every member of Twice.