The Untold Truth of Twice Member – JIHYO
• Jihyo is a South Korean K-pop singer, main vocalist and leader of the band Twice.
• She has an estimated net worth of $300,000 as of early-2020.
• Jihyo was discovered at a Junior Naver contest and has trained with JYP Entertainment for over 10 years.
• She is in a relationship with Wanna One singer, Kang Daniel.
• In her free time, she enjoys surfing the Internet and listening to classical music.
Who is Jihyo?
Park Ji-Soo was born on 1 February 1997, in Guri, Gyeonggi, South Korea, and is a singer, best known for being a member of the South Korean K-pop girl group called Twice. She is the main vocalist of the group and the leader. She has been noted for her exemplary dance and vocal ability, and is also one of the most charismatic in the group.
The Net Worth of Jihyo
As of early-2020, Jihyo's net worth is estimated to be over $300,000, earned through a so far short but successful career in the music industry.
Twice has become one of the most popular and most successful K-pop girl groups, gaining recognition internationally.
Early Life and Career Beginnings
Jihyo grew up in Guri, and at a young age she became highly determined to make it in the entertainment industry as an idol. She was able to join JYP Entertainment at the age of eight, as she was discovered during a Junior Naver contest in which she placed second. She began training with the company, spending around a decade improving her skills.
JYP is one of the largest entertainment companies in the country, holding numerous notable artists including Stray Kids, Itzy, JJ Project. In the past, they also held Wonder Girls, Rain, Baek A-Yeon, and many more.
As a trainee, she worked on a few projects, including with the boy band Boyfriend, as the face of the teen line of the cosmetics brand Innisfree. She also trained with a lot of notable K-pop idols including Jo Kwon, Sunmi, Nichkhun, and Bae Suzy. JYP had intended for her to become a part of a girl group with future Twice members such as Sana, Jeongyeon, and Nayeon. However, that project was canceled.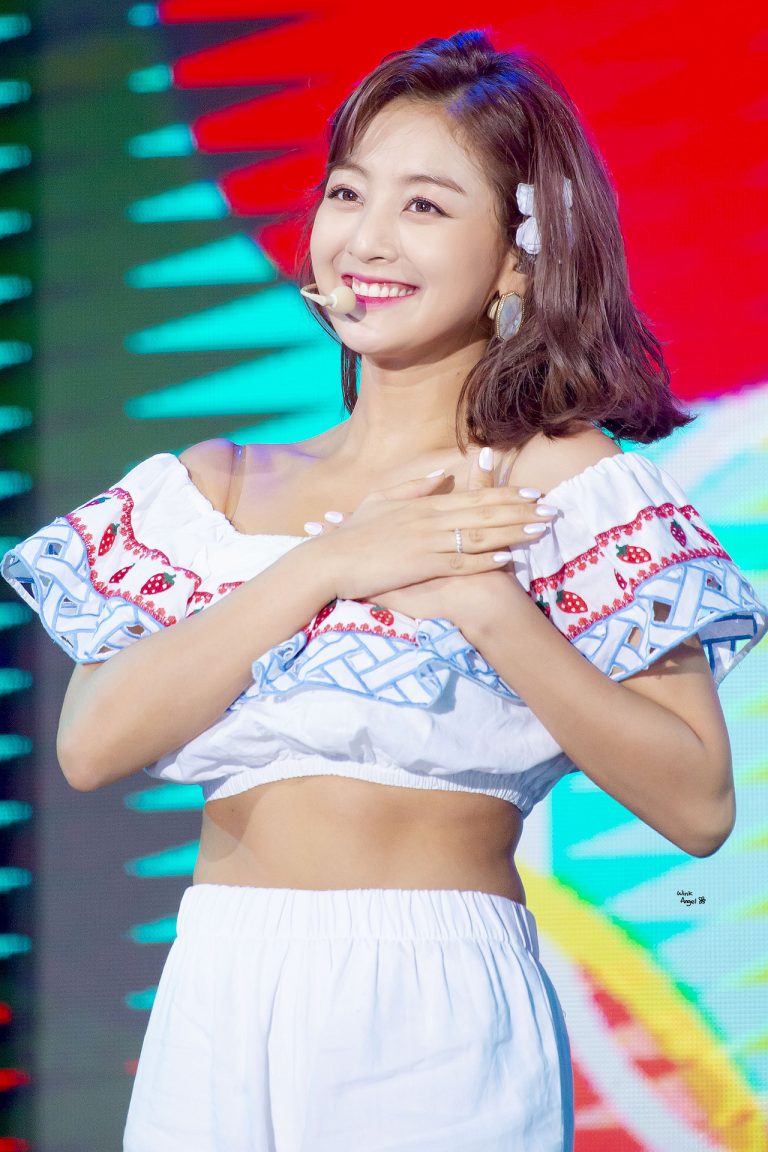 Twice and Success
JYP then put Jihyo in the television show "Sixteen", which was intended as a reality survival show to determine the final members of their girl group Twice. As the name denotes, 16 trainees competed but only eight were chosen. It was later revealed that one of the eliminated contestants, Momo was being brought back to become the ninth member of the group.
They made their debut a few months later with the extended play (EP) "The Story Begins" and their debut single "Like Ooh-Ahh" would eventually reach over 100 million views on YouTube, making it the highest for any K-pop girl group debut music video.
They quickly worked on a second EP the following year, called "Page Two" which contained the single "Cheer Up", and the EP reached over 100,000 units in sales.
Later in 2016, they released their third EP "Twicecoaster: Lane 1" which contained the hit "TT", which reached over 200 million views on YouTube. The group did their first solo concert later in the year, and began expanding their reach to their fanbase in Japan. They released Japanese singles, a compilation album called "#Twice", and their first full-length album "Twicetagram".
Recent Work with Twice
In 2018, Jihyo and Twice went on their first Japan tour, before the release of their fifth EP called "What Is Love?", which gained Platinum certification in Korea, selling over 250,000 copies. They also had numerous platinum and double-platinum hits in Japan including "Wake Me Up". Later in the year, they released their first Japanese studio album called "BDZ" and then worked on their sixth EP called "Yes or Yes" which became the seventh biggest YouTube debut of all time.
The group went on to become the first female K-pop act to hold a Japanese dome tour, the  tickets for which were immediately sold out.
In 2019, the group released several singles before going on tours of North America and Southeast Asia. Later in the year, they released their eighth EP – "Feel Special" – which contained a lead single of the same name, and their second Japanese studio album called "&Twice".
#JIHYO's pictorial & selca for D-icon magazine ??#TWICE #트와이스 @JYPETWICE pic.twitter.com/MZUXw4L4h6

— misa •ᴗ• (@misayeon) February 18, 2020
They have sold over a million units of their albums for three consecutive years, and rank among the top five artists of Billboard Japan for the past three consecutive years. In 2020, they are set to continue their world tour with the finale being held in Seoul.
Personal Life
In 2019, it was confirmed by their respective agencies that Jihyo is dating singer and songwriter Kang Daniel, who is best known for being a member of the boy band Wanna One.
After their relationship went public, they began trending on social media, particularly in the Philippines. Since then, they have been considered a power couple of K-pop.
Jihyo's favorite color is red and during her free time, she enjoys surfing the internet and catching up on webtoons, with one of her favorites being "Appearance Supremacy". She also listens to a lot of classical music, which helps her sleep. To cope with stress, she often goes to karaoke with members of Twice.