The Untold Truth of Twice Member – Sana
• Sana Minatozaki (born 29 December 1996) is a singer best known for being a member of the South Korean K-pop girl group Twice.
• She has a net worth estimated to be over $300,000 as of early-2020.
• She originally envisioned herself becoming a singer in Japan, but was scouted by an employee of JYP Entertainment in South Korea.
• Twice has become one of the top-selling K-pop artists internationally, and has numerous awards to their name.
• Sana has also done solo projects outside of the group, including endorsements, hosting work, and promoting relationships between South Korea and Japan.
Who is Sana?
Sana Minatozaki was born on 29 December 1996, in Tennoji-Ku, Osaka, Japan, and is a singer, best known for being a member of the South Korean K-pop girl group called Twice, managed by JYP Entertainment. Twice has attracted numerous accolades, and is one of the best-selling K-pop artists internationally. She also has several solo projects to her name during her career.
The Net Worth of Sana
As of early-2020, Sana has a net worth estimated to be over $300,000, earned through a successful career as a singer.
She's toured internationally with Twice, and outside of the group has numerous endorsement contracts that help build her wealth.
Early Life and Career Beginnings
Sana originally envisioned herself becoming a singer in Japan, and at a young age she began training in the Japanese management company EXPG, based in Osaka – the company is known for the creation of the Japanese boy band Exile. However, during a trip to a shopping mall while a junior high student, she was scouted by an employee of JYP Entertainment, one of the largest entertainment companies in South Korea, and was invited to the JYP Japan audition held annually in the country.
She passed the audition, and was brought into JYP's trainee program, moving to South Korea in 2012. She began learning the language, and developed her singing as well as her dancing skills for the next three years. She was intended to be a part of a new girl group with several of Twice's future members, but the project was later scrapped. Instead, she was cast in the reality television show "Sixteen", which was created to help finalize members of the girl group Twice. Out of sixteen contestants, only nine were chosen, and she was one of the successful ones.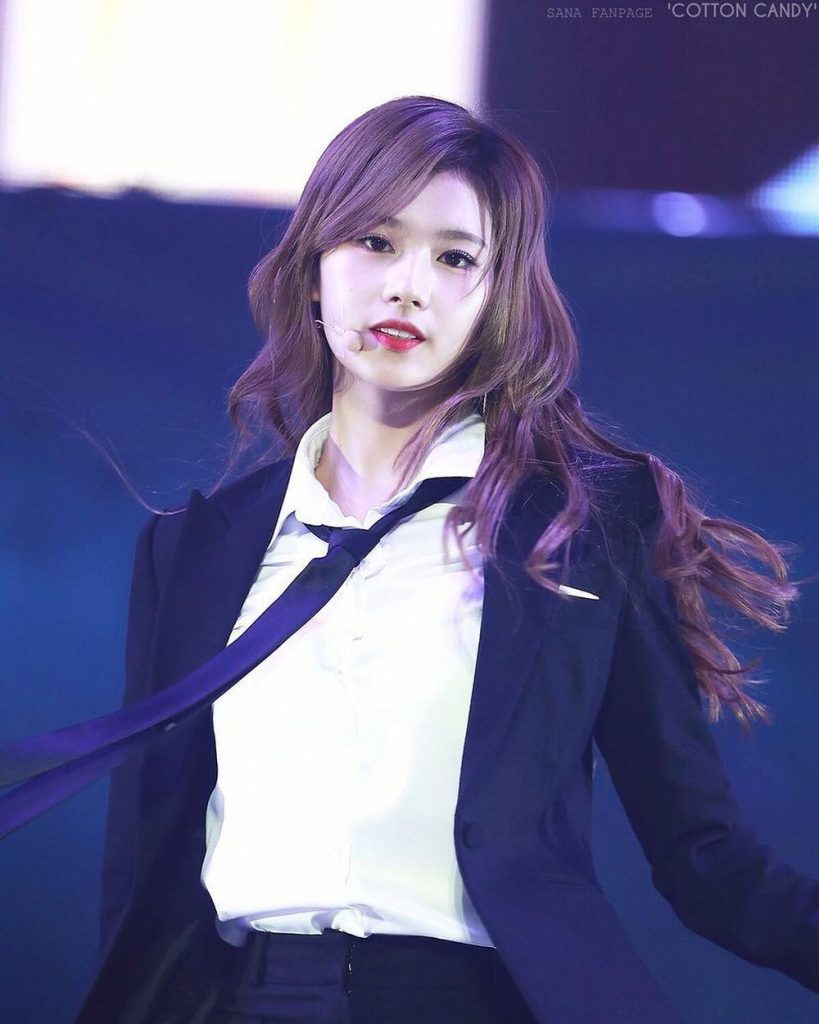 Success with Twice
Shortly after the group was finalized, Twice made their debut with the single "Like Ooh-Ahh" which is on their debut extended play (EP) called "The Story Begins". The music video for the single would become the highest viewed for any K-pop artist's debut on YouTube. They continued this momentum with another high profile single called "Cheer Up", which reached the top of the charts in Korea, earning numerous awards in the process, such as song of the year.
Their third EP would be called "Twicecoaster: Lane 1", which contained another hit in "TT" which claimed the top spot on the charts for four consecutive weeks.
Twice soon became one of the top-selling artists in Korea, and their recognition was expanding internationally. They signed with Warner Music Japan, and began producing singles and albums for the country, including the compilation album "#Twice", which was certified platinum by the Recording Industry Association of Japan (RIAJ).
They've released several original Japanese singles as well, and in 2017 they were ranked the Top Artist of Billboard Japan. In 2018, they released their first Japanese studio album called "BDZ", which was also certified platinum.
Recent Projects with Twice and Solo Endeavors
Later in 2018, Twice released their sixth EP "Yes or Yes", which became the seventh biggest 24-hour YouTube debut in the history of the website. The following year they held a Japanese dome tour, the first female K-pop act to hold such a tour, in cities such as Nagoya, Tokyo, and Osaka.
A few months later, they toured internationally again, holding shows in Southeast Asia and North America under their World Tour called Twicelights. One of their latest releases is the EP "Feel Special", and they also produced their second Japanese studio album "&Twice". Their world tour is set to end in a finale in Seoul in 2020.
Outside of Twice, Sana works as a promoter, endorser, and commercial model for numerous brands, for several companies in South Korea and Japan.
She along with the two other Twice Japanese members Mina and Momo, have been credited with helping improve relationships between South Korea and Japan. She was also ranked highly in the Gallup Korea most popular idol poll, making her the highest Japanese individual ranked at 17th. She's also done a bit of hosting work on television.
Personal Life
Sana is single, and like many K-pop artists they prefer to keep their relationships away from the public. They also often have very little time to engage in romance due to the busy schedules they keep.
In 2019, she commented on the transition of the Japanese era from Heisei to Reiwa following the coronation of a new emperor, commenting online that she will miss the era in which she was born. However, critics took offense, referencing the time when South Korea and Japanese had tensions due to the history of Imperial Japan ruling over Korea. Many of her fans defended her , and accused the critics of bringing the comment too far when she had not made any statement about it at all.