The Untold Truth of Twice Member – Tzuyu
She was born in Taiwan, but trained and debuted in South Korea as part of the K-pop girl group Twice. Her flag controversy there made her a pro-independence symbol in Taiwan.
Who is Tzuyu?
Chou Tzu-Yu was born on 14 June 1999, in East District, Tainan, Taiwan, and is a singer, best known for being a member of the South Korean K-pop girl group Twice. She is the youngest member of one of the current top-selling girl K-pop girl groups, with hits such as "TT" and "Cheer Up".
The Wealth of Tzuyu
As of early-2020, Tzuyu has a net worth estimated to be over $2 million, earned through a successful career in the music industry. She is one of the most popular idols in South Korea, and has been featured in numerous publications. She's also gained endorsements from various companies.
Early Life and Career Beginnings
Tzuyu is the daughter of two entrepreneurs in Taiwan. At a young age, she aspired to a career in the performing arts, and was discovered by talent scouts while at a MUSE Performing Arts Workshop in 2012. She was quickly invited to start training in South Korea, preparing her for a path towards becoming an idol. She became home-schooled as a result, and later passed an exam at the Tainan Municipal Fusing Junior High School.
Afterward, she enrolled at South Korea's Hanlim Multi Art School to complete her high school education.
The school is known for its focus on various aspects of the arts, such as theatre, dance, music, film, and many more.
In 2015 she competed in the reality television show "Sixteen", created by JYP Entertainment, to help determine the final line-up of their planned girl group called Twice. She became one of the successful contestants, though chosen due to winning the audience vote. It was also noted that even if she didn't win through audience voting, that she would still be included in the final lineup thanks to her ability and personality.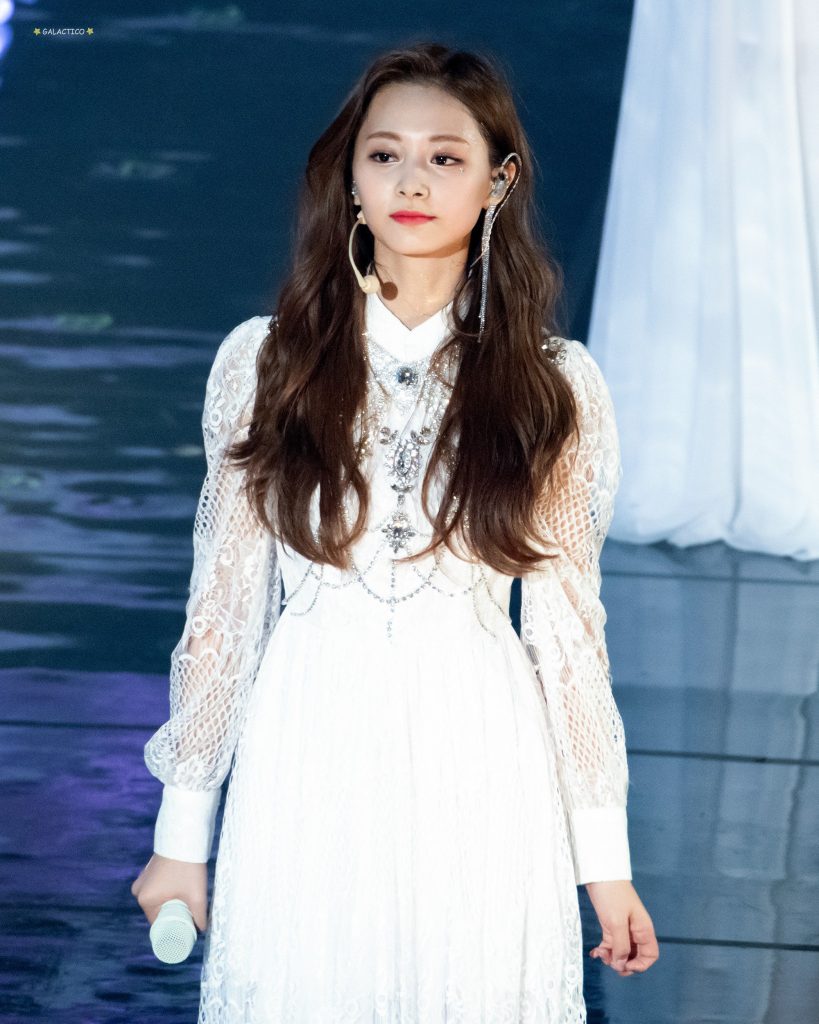 Twice Career
Shortly after "Sixteen", Tzuyu made her debut with the group on the Extended Play (EP) "The Story Begins", which contained the lead single "Like Ohh-Ahh". The group quickly broke into the K-pop scene, and their song was the first K-pop debut to reach 100 million views. The following year, she became one of the most popular idols among South Koreans, according to the annual music survey done by Gallup Korea, attracting a lot of coverage thanks to her singing ability and natural beauty.
Twice's single "Cheer Up" became the best performing single of 2016 and reached the top of the Gaon Digital Chart, winning multiple awards. Their single "TT" from the EP "Twicecoaster: Lane 1" spent four weeks at the top of the chart, and the EP also became the best-selling album of the year. The group has gained fame internationally, and signed with Warner Music Japan to help handle their events in the country. They released the compilation album "#Twice" for their Japanese fans, which became the first Korean girl group album to achieve Platinum certification.
A few of their recent projects include the EP "Feel Special" and their second Japanese album "&Twice".
Flag Controversy
During Twice's appearance in a South Korean variety show called "My Little Television", all of the members of the group held a flag of their country of origin. She held the flag of Taiwan and South Korea. This resulted in many mainland China supporters criticizing her as being a Taiwanese independence activist, leading to JYP quickly making an apology to their Chinese audience. She had to also make an apology to everyone offended.
Numerous Taiwanese politicians went to support her statement, and that it wasn't supposed to be taken so extremely. There was nothing wrong with her expressing her country of origin, since Taiwan has a flag. One of the reasons why it became such a huge issue is due to China wanting to unify all 'independent' Chinese countries under one flag.
As a result, JYP's stock lowered from a 52-week high, and their site was hit by anonymous hackers to temporarily prevent their service from running. The company has announced that its employees would be undergoing extra training for cultural sensitivity, especially when it comes to political issues between countries.
[SCAN] TWICE MONOGRAPH FEEL SPECIAL – page 129

Tzuyu
(color toning)#쯔위 #ツウィ #TZUYU pic.twitter.com/iAgMD08k66

— njmsjmdct2 (@njmsjmdct2) February 15, 2020
The entire issue was one of the main reasons that pro-independence politicians won the 2016 general election.
Personal Life
It is known that Tzuyu is single, and there have been no reports about any romantic endeavors. She is young and puts a lot of time with her work as an idol and with her group Twice. She gained the nickname Yoda due to many of her fans believing that she is an otherworldly creature due to her beauty. She later came to embrace the nickname, and started wearing Star Wars merchandise to some of her meetings.
She doesn't like winter weather.
loves Japanese food.
She previously wore braces.
She loves animals. Her family owns a dog and she got attached to the rabbits in Jeju Island while filming a music video there.