The Untold Truth of TXT Member – Huening Kai
• Huening Kai is a singer and member of K-pop boy band TXT, managed by Big Hit Entertainment
• He has a net worth estimated to be over $100,000
• Kai grew up with a strong background in languages, learning from his parents
• He was the first foreign trainee accepted by Big Hit Entertainment, leading to his membership in TXT
• He is close to his older sister Lea, who was a member of the girl group VIVA
Who is Huening Kai?
Kai Kamal Huening – or Chung Kai – was born on 14 August 2002, in Honolulu, Hawaii, and is a singer, best known for performing under the name Huening Kai as a part of the K-pop boy band TXT, which is managed by Big Hit Entertainment. The group made their debut in 2019 with the extended play (EP), "The Dream Chapter: Star".
The Net Worth of Huening Kai
As of early-2020, Huening Kai has a net worth estimated to be over $100,000, earned through a successful career in the K-pop industry.
TXT has been gaining a lot of attention since their debut, and have been touring around the world.
Family, Early Life, and Career Beginnings
Huening Kai is of mixed German, Brazilian, Korean and Chinese descent. His father grew up in the US, but later moved to Hong Kong and learned the Chinese language. He had a natural singing ability, and can also play several instruments including the flute, piano, guitar, and drums. He had a passion for learning other languages, including Korean, Portuguese, English, and Mandarin, and later became a celebrity in China, singing for around a decade before deciding to settle down with his Korean mother in Hawaii.
So Huening grew up with a strong background in languages, learning from his parents. He aspired to find a career in the entertainment industry, and was encouraged by his parents as his father also took a similar path during his youth. Over the years, he developed his skills and began auditioning for various entertainment companies. He was discovered by Big Hit Entertainment for which he successfully auditioned, leading to a trainee contract with the company.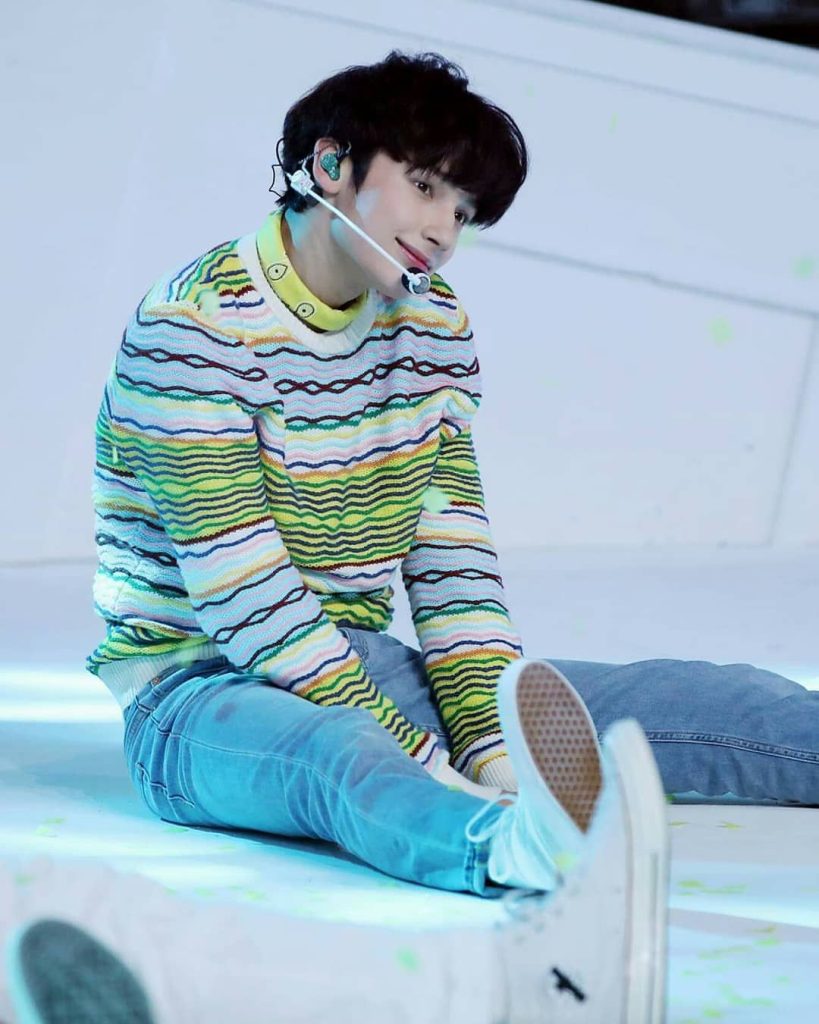 Big Hit is known for managing the idol group BTS, one of the most successful South Korean boy bands.
Joining TXT
Signing with Big Hit Entertainment meant that Huening Kai would be the first foreign trainee they had accepted. After a few years of training with the company, he was introduced as the third member of the company's new project, a five-member South Korean boy band called TXT – other members of the group include Taehyun, Yeonjun, Beomgyu, and Soobin. Their name is an acronym which means in Korean Tomorrow by Together.
They used this name as they believe that the group was formed for building a new tomorrow.
Big Hit had been planning the group as early as 2017, but it wasn't until two years later that the band was introduced to the public – introduction videos for each member were released online through the platform YouTube. They then worked on their debut broadcast which was aired on the network Mnet, while it was also posted on their YouTube page.
Shortly after their debut, they released their first extended play (EP) called "The Dream Chapter: Star" which led to the group making a debut showcase at the Yes24 Live Hall. Their debut single called "Crown" broke the 24-hour record for most views of a boy band K-pop debut music video.
Continued Work with TXT
Shortly after the release of their album, TXT was among the world's emerging artists according to Billboard, with their album reaching 140th spot on the Billboard 200, the highest-charting debut album for any male K-pop group.
They originally planned to release another album during the middle of the year, but two of their members were hit with ailments leading to delays. Soobin was diagnosed with an infectious pink eye, while Yeonjun was suffering from back pains. Two other members were then infected with pink eye, leading to unavoidable rescheduling.
Their first studio album was released later in the year called "The Dream Chapter: Magic", after which the band released their first Japanese single with "Magic Hour" in 2020.
ㅤ #HueningKai ♡ #휴닝카이
— 191225 ➳ © CerfNingNing pic.twitter.com/PTaUOR5gpx

— HUENING KAI PICS (@hueningkaipic) February 19, 2020
The group also embarked on their first tour, which was a debut showcase towards their US market. They performed in numerous US cities including Atlanta, Los Angeles, Chicago, New York City, Orlando, and Dallas. The tour was highly successful, as tickets were sold out from their website in under 10 minutes. Since then, there have been no new reports of their upcoming projects.
Personal Life
Huening Kai is single, as he is still young and likely focused on developing his career.
His busy schedule with TXT also meant that they had very little time for anything else. He is close to his older sister Lea, who was known for being a member of the girl group VIVA – the group made their debut in 2017 managed by Shine E&M, and released the single "VIVA", but has yet to follow up on it. It is known that the siblings' parents are divorced though their father later remarried.