What does Grubby (Twitch) mean? Wiki Bio, definition, wife, family, kids
• Manuel "Grubby" Schenkhuizen is a legendary cyber gamer from Netherlands
• He won his first tournament in 2004, and was invited to the professional cyber clan 4Kings
• He has won many tournaments, including the Electronic Sports World Cup 2005, World Series of Video Games 2006, and World Cyber Games 2008
• Grubby proposed to his girlfriend Cassandra Ng on stage at Blizzcon 2009, and married her in 2010
• Grubby's net worth is estimated to be around $6 million, earned from tournaments, streams, sponsors, speaking engagements, and more
If you ask someone who played Warcraft in 2002-2003 to name one of the first pillars in cyber gaming, be sure to hear Grubby's name. For more than 15 years he's been a legend, though back in the day he didn't even want to devote his life to games. Let's find out how he found his way to world fame which he keeps to the moment.
Early life, education, family
Manuel "Grubby" Schenkhuizen was born on 11 May 1986, in Nieuwegein, Netherlands; his family come from Dutch Idon descent, with his father from Indonesia, though Grubby hasn't revealed his name. He has three elder brothers, but he's the tallest one. He feels grateful to have them in his life, admitting that though they had fights in childhood, they still had good times growing-up together. When they were little kids, they used to share one computer they all used to play on, fighting with each other (not physically) for the right to play longer, and their mother had to make "a rule of one hour", so one could use the computer for an hour and then let the other brother play.
The boys created their own version of this rule which said that the first one who pushed the 'on' button on the PC could play first, and had time advantage over the others. Since Grubby and one of his brothers studied in the same primary school, and their lessons finished at the same time, they had to find a special way to get home faster. So they tried to run, to go by bike, finding new paths and new ways to cut the road and be the first one to reach the house, but they still got there almost at the same time, and had to make their way to the room with the computer crushing each other on the floor or catching hands and legs to hold up one another.
His mother, Thea Feenstra, confesses she doesn't understand the joy of playing computer games, since she's from a different generation and finds this hobby very static, and would like to see her kids playing active games outside. Grubby's interest was so strong that he could only spend around 10-15 minutes outside, sitting behind the front door, and then going back to his mother asking if he could come in. Grubby did a lot of sports: he learned wing-jitsu, enjoyed soccer as a defender and goalkeeper, and played the piano for five years – his mother thinks that if not gaming, Grubby could be a successful and probably famous pianist since she thinks he was very good at it. Grubby is a real family guy – he admits that he could live in any place, but he chooses to live near his parents' house since he travels a lot and gravitates to spending more time with his family when it's possible. In 2018 Grubby posted a photo of his father and his life partner in a cafe, they enjoyed the meal together, and Grubby warmly commented the post. They always have big family Christmas holiday parties.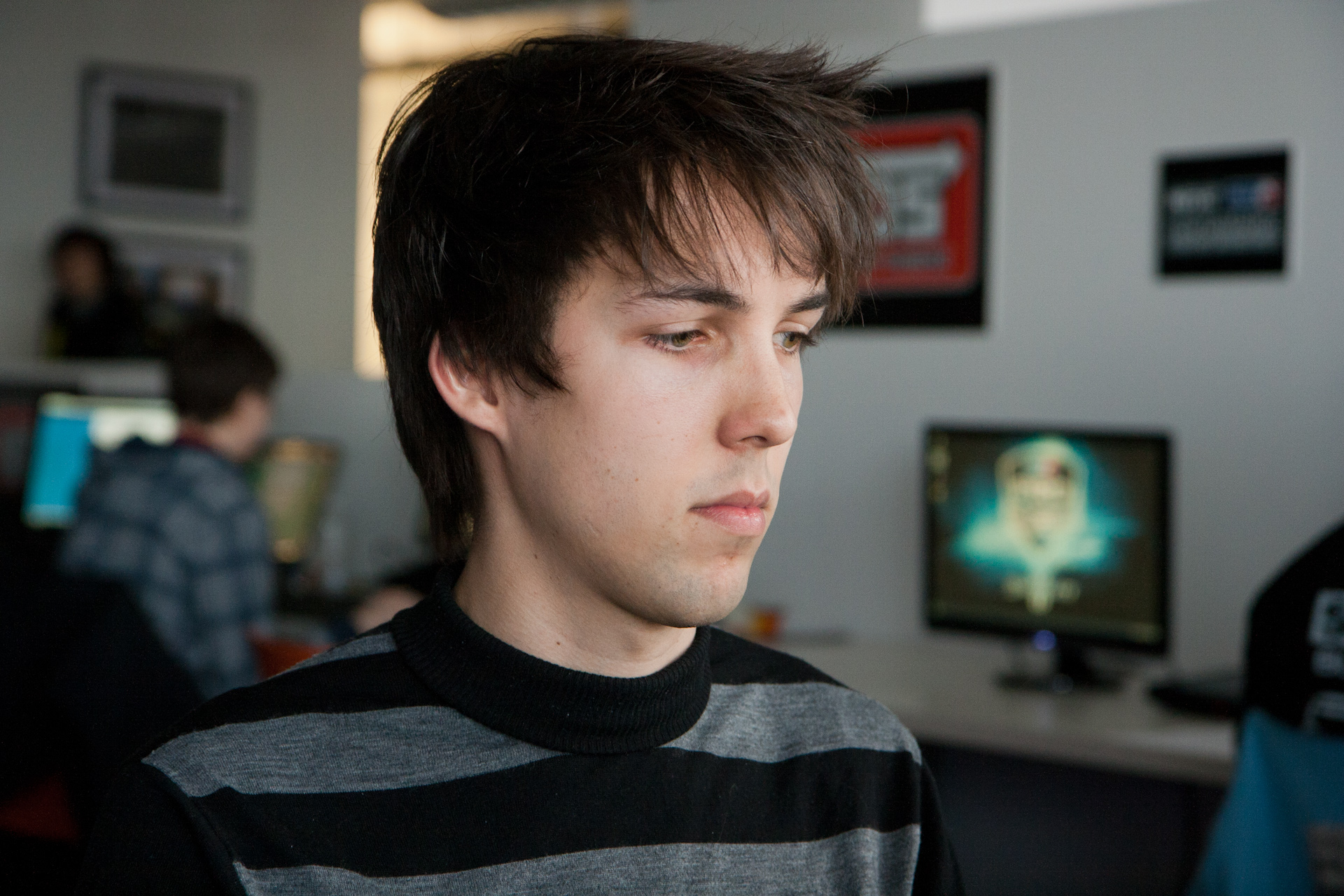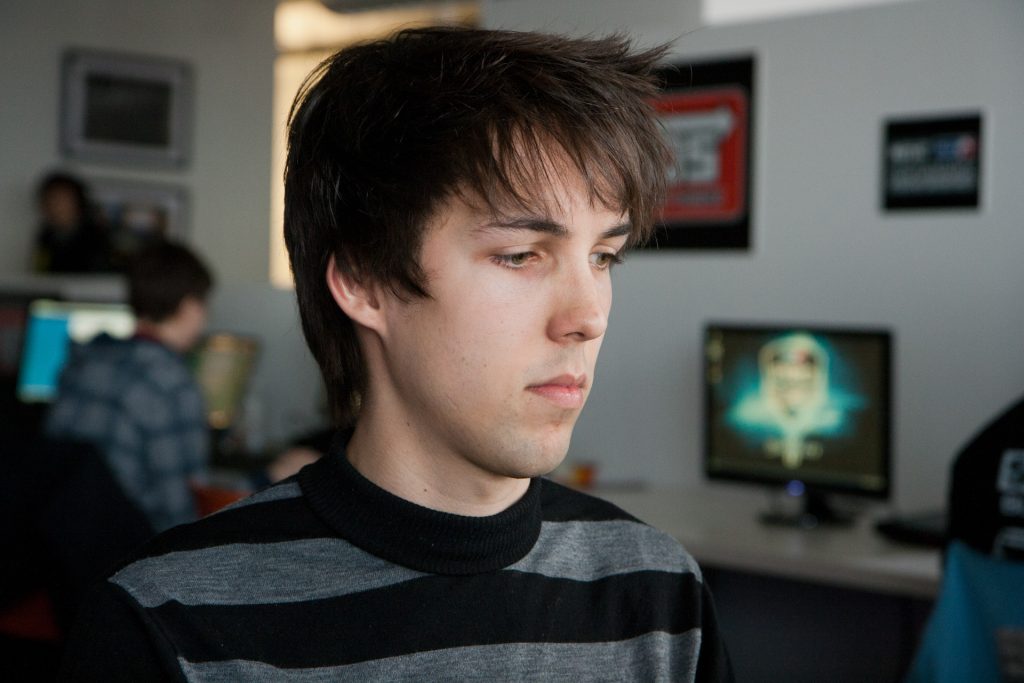 Start of the career
Grubby won his first tournament in 2004 when he was in high school, a Cyber X Gaming WarCraft 3 tournament with $25,000 prize pool, which turned out to be a scam. The person who organized the event left with the money with lame excuses, and no one got anything that time. Grubby was very upset, but he understood that he won a tournament after taking only two weeks to get prepared. He wondered then what would happen if he could take a year off and devote himself to the game fully; the thought didn't let go of him, as he realized that the game could change his whole life.
Parents' opinions have always been very important for Grubby, and he's repeated many times that he would do a lot to keep his relationship with his parents as good as it is, but he understood that even if they didn't let him go for cyber gaming, he would return to high school but he wouldn't be happy, though he was ready to accept their decision. He still felt that even though he was 18 years old, it didn't make him a grown-up in his decisions, so he respected his parents' choice and felt grateful that they let him go for gaming. His mother was very worried, but when she heard Grubby's teachers' saying it was OK for him to leave and return in a year, she breathed a sigh of relief, and let him go his way. Grubby said he wanted to be a pioneer in the games he played, he wanted to put himself in it and do something no one had ever even thought of before. He compared himself with Columbus, exploring the new world, unknown territory.
Success story
Grubby grew stronger day by day, practising and analyzing his wins and losses, playing with his mates. After winning more tournaments, he was invited to the professional cyber clan 4Kings (as known as 4K). Grubby decided that though he enjoyed playing with his friends, he had to move further, and accepted the invitation into the clan. Grubby is a very wise team leader and team member; he truly feels other people and knows the right way to let them go if they want to leave. Thus, in 2007 Grubby's gaming clan lost one of their promising gamers, Creo (Olav "Creolophus" Undheim), who they taught and raised for more than a year. When Creo decided he was done with gaming, Grubby felt he understood him in a way, since he also gave himself a year to find out whether he felt happy gaming professionally or not. So the team was pretty nervous with Creo's leaving, but Grubby felt they all benefited from the partnership even though it only lasted for a year, although Creo and Grubby played in a team in 2v2 fights, and Grubby had to find another partner to be able to play in team ranks.
Grubby seemed invincible in the WarCraft 3 category, winning tournament after tournament, taking the Electronic Sports World Cup 2005, World Series of Video Games 2006, World Cyber Games 2008, and many others. As a true Blizzard fanboy, Grubby never missed a chance to show himself at Blizzcons, and thus won Blizzcon 2005 and was a runner-up at BlizzCon 2009. The latter was something Grubby's fans would never forget, as right after the award ceremony he bent on his knee on stage and proposed to his girlfriend, Cassandra Ng. The scene was epic, many people in the audience were touched and even cried with happiness.
Grubby kept on winning one tournament after another, but for the moment he's decided to quit professional gaming, and to work as a content creator on Twitch and YouTube. He also works as a commentator at tournaments and contests.Looking back at one of the interviews in 2003, one can see that Grubby couldn't even imagine what games may come. When he was asked about his future in RTS gaming, his answer was categoric: 'I will never become a full-time gamer because I don't want to, I really enjoy gaming but I will always do school or work <…>  I'll try to get as far as I can, but I don't know if I will be playing any other games after WarCraft 3', he said to ESReality.
It's Funday Sunday! Happy to be back streaming, enjoy!✌️http://www.twitch.com/followgrubby #warcraft3 #wc3 #streaming #stream #grubby #fundaysunday #orc #nightelf #undead #human #requestday

Posted by Grubby on Sunday, May 27, 2018
Cassandra Ng
Before Grubby met Cassandra, he had very hard times to go through. His team 4 Kings no longer existed, and Grubby was shocked not only because he wasn't paid for more than 10 months and his team broke up in the end, but mostly because he didn't understand at all what more he had to do. In the dark times of his career, Grubby visited Singapore for another tournament (which he lost), and during the afterparty Cassandra came up to him to ask for his autograph. Grubby was in a very bad mood and refused anybody who came up to him, but he changed his mind for Cassandra, and signed the WarCraft CDs she'd brought to the afterparty. She later confessed that her friends asked her to do that, since they needed the autograph badly, but knew that they wouldn't be able to get close to Grubby. Cassandra and Grubby exchanged contacts, and she was gone before Grubby could ask her another question.
They started communicating, then dating; Cassandra followed Grubby to all his tournaments and events. As usual she followed him to Blizzcon in 2009, and no one (especially Cassandra herself) would expect Grubby to propose on-stage to her. On 10 May 2010 they finally married on the Malaysian Island, Pulau Redang. His mother was the master of ceremony, and a Dutch Pastor, Tim, helped the couple to read the vows in the waters of the ocean. Cassandra was born in Singapore and had lived there for a very long time, working in a modeling agency, and participating in Ms. Singapore Universe 2004.
Cassandra has a very warm relationship with Grubby's mother; she's very grateful to Thea and the whole family for accepting her and for letting her and Grubby live in the parents' house when they weren't ready to have their own place. Cassandra has lots of work now as Grubby's manager, still accompanying him to every event he goes to, taking pictures and making reports.
Personality
Grubby considers himself to be a very down-to-earth, shy honest guy who likes to choose his own path in life. His motto is "You should live without regrets and just do you what you love doing". He says he is a very open person and tries to accept all people just the way they are. What he doesn't like about himself is that he can be forgetful sometimes. His bookshelves are full of fantasy, fiction and science fiction; one can see "Harry Potter", Dan Brown's books and all Tolkien's masterpieces in his collection. Grubby has a strong interest in historical books, and as for horrors he prefers Stephen King's books. Since English is not the first language for him and his wife, Cassandra, they have lots of dictionaries at home, as well as books on self-development (about love, relationship, etc.). If they want to spend a night watching a movie, they always choose the extended version of "The Lord of the Rings".
Net Worth
Grubby's net worth is estimated by sources to be around $6 million. Earlier he earned money from tournaments, now he earns money from various platforms such as Twitch (with 350,000+ followers) and YouTube (with more than 170,000 followers), streaming and making gaming videos.