What happened to Craig Kilborn (Daily Show)? Wiki Bio, net worth, wife
Who is Craig Kilborn?
Craig Lawrence Kilborn was born in Kansas City, Missouri USA, on 24 August 1962 under the zodiac sign of Virgo; he holds American nationality and is of white ethnicity. He is best known for his career of a TV host, but is also a comedian, sports and political commentator, an actor and a writer.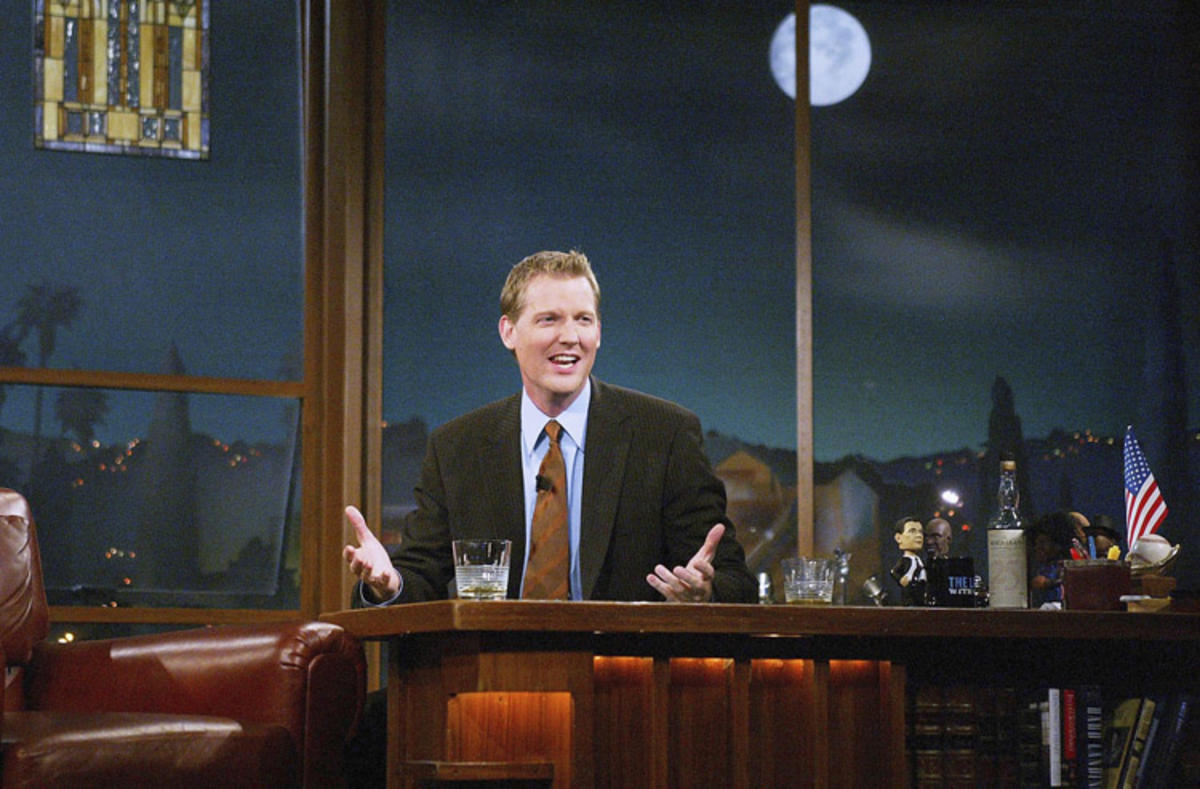 Early life and education
His parents are Hiram, who worked as an insurance executive, and Shirley who was a school teacher. Craig also has a brother named Chris.
Just four years after he was born, his family moved to Hastings, Minnesota, where he went to Hastings High School. He was taller than most of his peers and basketball just felt right for him, so after he started playing, he was recruited by the Northside Magicians all-star team, with which he managed to earn three letters and a lot of other honors. After he matriculated from Hastings, he received a scholarship to Montana State University, from where he graduated in 1984 with two bachelor's degrees, in media and theater arts.
Career
Craig first had a couple of small jobs in which he worked as a local sports anchor, including his play-by-play radio commentary for the Fox-affiliated channel called KCBA, but after those he switched to ESPN to anchor Sports Center in 1993, and stayed there for three years. He began hosting "The Daily Show" on Comedy Central in 1996 – the show which made him famous, and which TV Guide called the "Best Late Night Comedy". Craig was even nominated for an award but didn't win it. He made some changes to the show which were later kept by the new hosts.
After "The Daily Show", he worked as a host of "The Late Late Show with Craig Kilborn" from 1999 to 2004. Again, he changed the show and made it what he wanted it to be. The production wanted him to stay but he decided to quit in 2004 without any particular reason.
Other than working as a show host and an anchor, he has also appeared in a couple of movies, the first of which was "Pauly Shore is Dead", a comedy film shot in 2003, and he also acted in "The Benchwarmers" in 2006, and "The Bronze" in 2015.
Leaving "The Late Late Show with Craig Kilborn"
A lot of people tried to guess why Craig left his show – as he explained in one of his interviews, he didn't have any reason other than the fact that he no longer wanted to do that job. He felt that he had finished what he came to do, and there was nothing more of interest for him. However, he didn't leave the spotlight for good – he launched his own show called "The Kilborn File", but it was shut down after just six weeks of airing; Craig subsequently left Hollywood for good.
Personal life
Craig dated ex-model and actress Amber Smith back in the '90s but their relationship lasted for less than a year. Craig married 'his love of 36 years' in 1989, two years after his son Jonathan was born  – he has never revealed the identity of Jonathan's mother. You would have probably never guess who he married – he married himself. It was a private ceremony and he exchanged vows with a mirror. He took himself on honeymoon to Catalina Island where he spent five nights on his own. These events made his fans believe that he was gay, and a lot of rumors started spreading, which were revealed to be untrue when Craig divorced himself and married Erin O'Brien – a personal trainer at Life Time Fitness. They have two kids together – a son Sheppard born in March 2003, and a daughter Malin born in March 2005. They are living together in their home in Chanhassen City, near Minneapolis, Minnesota.
Craig's book
Craig is about to publish a book even though he was recently joking about it 'not getting published in the next 15 years'. The book is titled "Classic Man: Living Above the Fray" and again, he is joking about it costing a penny. It is a sort of autobiography, about leadership and survival.
Appearance and net worth
Craig is currently 58 years old. He has short blonde hair, green eyes and wears glasses. He is 6ft 5ins (1.96m) tall and weighs around 180lbs (82kg).
According to authoritative sources, his net worth is estimated to be around $7 million. While he was working for ESPN, he had an annual income of $70,000. He owned a mansion in Los Angeles, but sold it to Jed Root for $2.9 million.
Social media presence
Craig doesn't have a Twitter account, however, he has an account on Instagram with 80 posts. He is not that active, but that hasn't stop him from gathering more than 1,500 followers.
Awards
Craig has been nominated for three awards: one as a host in "The Daily Show", and two for "The Late Late Show with Craig Kilborn" but didn't win any of these.
Trivia
Craig is a big fan of the Minnesota Timberwolves basketball team.
People described his interview with Robin Williams during "The Late Late Show With Craig Kilborn" on 17 and 21 November 2011 as 'The best interview in the history of television'.
He was never interested in politics, and sees himself as a 'glorious independent' – however, being English on both sides, he was always fond of Sir Winston Churchill, and could talk about him any time.