What is Kelly Hansen doing now? Biography: Wife, Net Worth
• Kelly Hansen was born in Hawthorne, California in 1961 and is the lead singer of the British-American rock 'n' roll band Foreigner.
• He attended high school in Hawthorne and formed the hard rock band Hurricane in 198•
• He became the third lead singer of Foreigner in 2005 and the band has mostly been focused on touring in the past decade.
• Kelly is married to a non-celebrity American woman Anna and he is active on Instagram with over 10,000 followers.
• His net worth is estimated at over $3 million.
Who is Kelly Hansen?
Kelly was born in Hawthorne, California USA, on 18 April 1961 – his zodiac sign is Aries, and he holds American nationality. He's a singer-songwriter, who's probably known best for being the lead singer of the British-American rock 'n' roll band Foreigner.
Early life and education
Kelly was raised in Hawthorne by his parents, about whom little is known because he respects their privacy; it's believed that his father was also a singer, and that his mother was an athlete. Because Kelly hasn't spoken of having any siblings, most of his fans believe him to be an only child.
Kelly grew up being interested in music, and was a member of several bands while attending a local high school. He was interested in a couple of other activities during those four years, including practicing dancing, acting with the school's drama club, and playing soccer.
Kelly matriculated in 1979, and then chose not to pursue a college degree, but to focus on his career as a singer.
Career before joining the band Foreigner
Kelly launched his career straight out of high school, and went on to sing and perform both his own songs and other people's hits at venues around Hawthorne.
In 1984, he formed the hard rock band Hurricane, together with the bassist Tony Cavazo and guitarist Robert Sarzo. The boys released their debut album "Take What You Want" in 1985, followed by "Over the Edge" in 1988, which peaked at #92 on the US Album Chart, and "Slave to the Thrill" in 1990. Hurricane disbanded in 1991 after their record label went bankrupt, but they reunited in 2000, and released another album – "Liquifury".
Kelly then went on to perform around the US, and collaborated on various projects with many popular musicians and bands, including Don Dokken, Fergie Fredriksen and Slash's Snakepit. The year 2003 saw him collaborate with Fabrizio V.Zee Grossi, and Kelly then released his debut album "Kelly Hanses", with the help of his hard rock band Perfect World.
Kelly became the third lead singer of Foreigner in 2005.
About Foreigner
The rock 'n' roll band Foreigner was founded back in 1976, with its lead singer Mick Jones, keyboardist Al Greenwood, bassist Jay Davis and drummer Stan Williams.
They were signed to Atlantic Recording Studios, and released their self-titled debut album in March 1977, which went on to sell more than five million copies in the US only; the album peaked at #4 on the Top 20 Chart, and remained on the chart for an entire year.
The boys' second album, "Double Vision" was released in June 1978, selling more than seven million copies in the USA, and reaching #3 on the US charts, while also charting in Canada, Australia and the UK. In September 1979, Foreigner released their third album "Head Games", and it spawned two hits: "Dirty White Boy" and "Head Games".
Their fourth album – "4" – came out on 2 July 1981, and spawned the evergreen song "Waiting for a Girl Like You"; the album topped the US charts, holding first place for 10 weeks, and peaked at #2 on Canadian charts.
Foreigner's fifth album, "Agent Provocateur" was released on 7 December 1984, followed by their eighth album "Inside Information" on 8 December 1987.
Mick Jones left the band in May 1990, and introduced his bandmates to their new lead singer Johnny Edwards; they then went on to release "Unusual Heat" in June 1991, which was their worst-selling album, apparently because Mick rejoined the band, then released their greatest hits album, "The Very Best… and Beyond" on 22 September 1992.
Their comeback album "Mr. Moonlight" came out on 23 October 1994, but charted even worse than "Unusual Heat"; the band had a rough decade – after Mick left Foreigner again in 2004, he was replaced by Kelly in March 2005.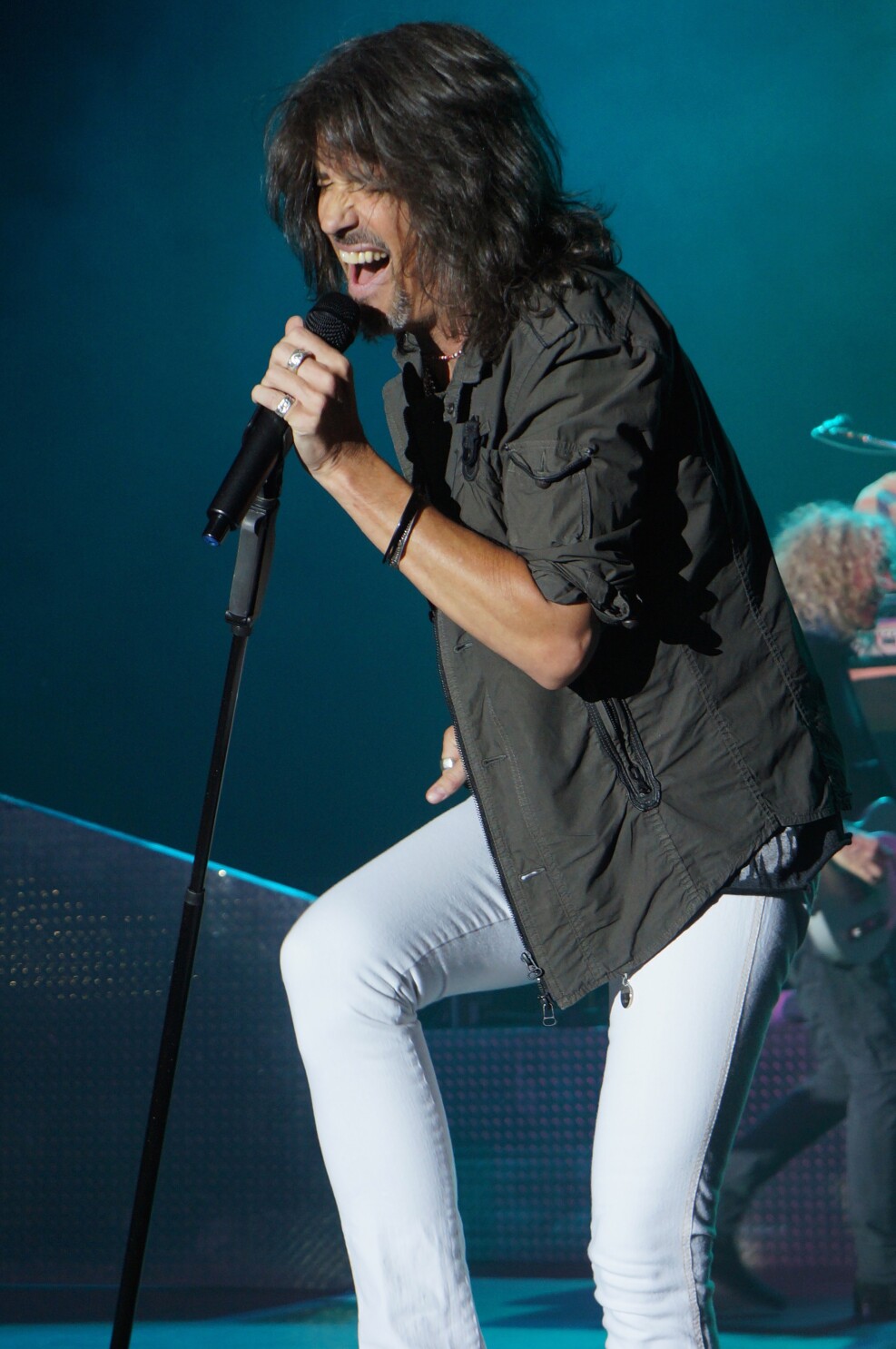 Their first album with Kelly as the new lead singer was "Can't Slow Down", released on 29 September 2009; it peaked at #29 on the Billboard 200 Chart, and appeared on the Switzerland Top 30 Chart. Foreigner spent the following a couple of years touring all around the world, performing in Bangalore, India for the first time on 20 February 2011.
The band has mostly been focused on touring in the past decade, and haven't released a single new album; they revealed on 20 March 2021 that they were indeed working on a new album, which should be released in the second half of 2022.
Love life and wife
Kelly's highly secretive when it comes to sharing details of his love life with his fans, and hasn't spoken of any women (or men) whom he has perhaps been with, but there are still three women whom he's dated, that the public knows about.
Kelly was in a relationship with Dyna Shirasaki, an American musician of Japanese, Spanish and British descent; they haven't shared the exact time when they were together, but it's widely believed that it was in the 2000s. Dyna's today in a relationship with American musician Jeff Young,.
In 2013, Kelly dated Margaret Josephs, an American fashion designer and TV personality, who's today followed by more than 600,000 people on Instagram; they were together for only around half a year.
On 19 May 2020, Kelly married the non-celebrity American woman Anna – nothing about her is known, as she prefers to stay away from media.
As of March 2022, Kelly's married to Anna; he doesn't have children.
Hobbies and other interests
Kelly's quite active on Instagram, and apparently enjoys the attention which he's receiving from his more than 10,000 followers; he's uploaded close to 150 pictures onto the network, most of which feature him during his everyday life.
Kelly is passionate about travelling, and his career has taken him all around the world, while his dream travel destination seems to be Berlin, Germany.
Kelly was physically quite active in his 20s and 30s, and had multiple training sessions at the gym every week, however, he doesn't seem to be working out nowadays.
Summer is Kelly's favorite season, as he enjoys going yachting and swimming in the ocean.
Kelly likes to watch movies late at night – his favorite actor and actress are Al Pacino and Helena Bonham Carter, while a couple of his favorite films include "Scarface", "Scent of a Woman" and "Fight Club".
Age, height and net worth
Kelly's age is 60. He has long brown hair and brown eyes, his height is 5ft 4ins (1.65m) and he weighs around 155lbs (70kgs).
As of March 2022, his net worth has been estimated at more than $3 million.