Who is Lovely Mimi Wiki Bio, husband, kids, before surgery, net worth
• Myha Thi Luong, better known as Lovely Mimi, is an American-Vietnamese Instagram and reality TV star, singer and nail salon owner.
• Mimi grew up in a refugee camp and her family moved to Silver Springs, USA.
• Mimi is best known for her appearance in the VH1 TV series called Love & Hip Hop Atlanta in 2017.
• Mimi has a great sense of humor and is considered to be one of the best nail artists in the country.
• Mimi is very active on social media, and she had surgery to increase the size of her booty in 2017.
Who is Lovely Mimi?
Myha Thi Luong, better known by her Instagram name Lovely Mimi, is an American-Vietnamese Instagram and reality TV star, singer and nail salon owner, who was born in Vietnam on 27 April 1990 under the zodiac sign of Leo, and holds both American and Vietnamese nationality. She is best known for her appearance in the VH1 TV series called "Love & Hip Hop Atlanta" in 2017.
Early life, Education and the start of her career
It was not an easy childhood for Mimi – she spent her early years in Vietnam in a refugee camp before her parents escaped with her to the US, and found their place in Silver Springs. The whole family was in a one-bedroom flat – her father worked as a pastor in Vietnam, but died in 2014. Mimi has five sisters and a brother – her oldest sister is still in Vietnam and Mimi has seen her only once in her life.
They were poor, old fashioned, and kids often made fun of Mimi because of the way she looked – all of which led Mimi to rebel against her parents, she started drinking, running away from home and getting into trouble. It seems as though she spent more time in juvenile detention centers and group homes than in school, and she eventually dropped out of school, and because of her lack of education, didn't have too many options for work – being Asian didn't make things any easier for her either, so she decided to buy a nail salon in Capitol Heights in Maryland, and named it "Luong's Lovely Nails" – that's how it all started.
Mimi was aware of the power of social media, so she joined Instagram with an account called "mimilovelynails" on which she posted images and videos from her salon, but she wasn't satisfied with the progress she was making, so opened another account called "itslovelymimi" and started uploading tutorials for putting-on make-up and painting your nails. People like Da Brat and Snoop Dogg helped her a lot when they shared her "But Why Mimi" video on their social media accounts, and her number of followers almost doubled after that.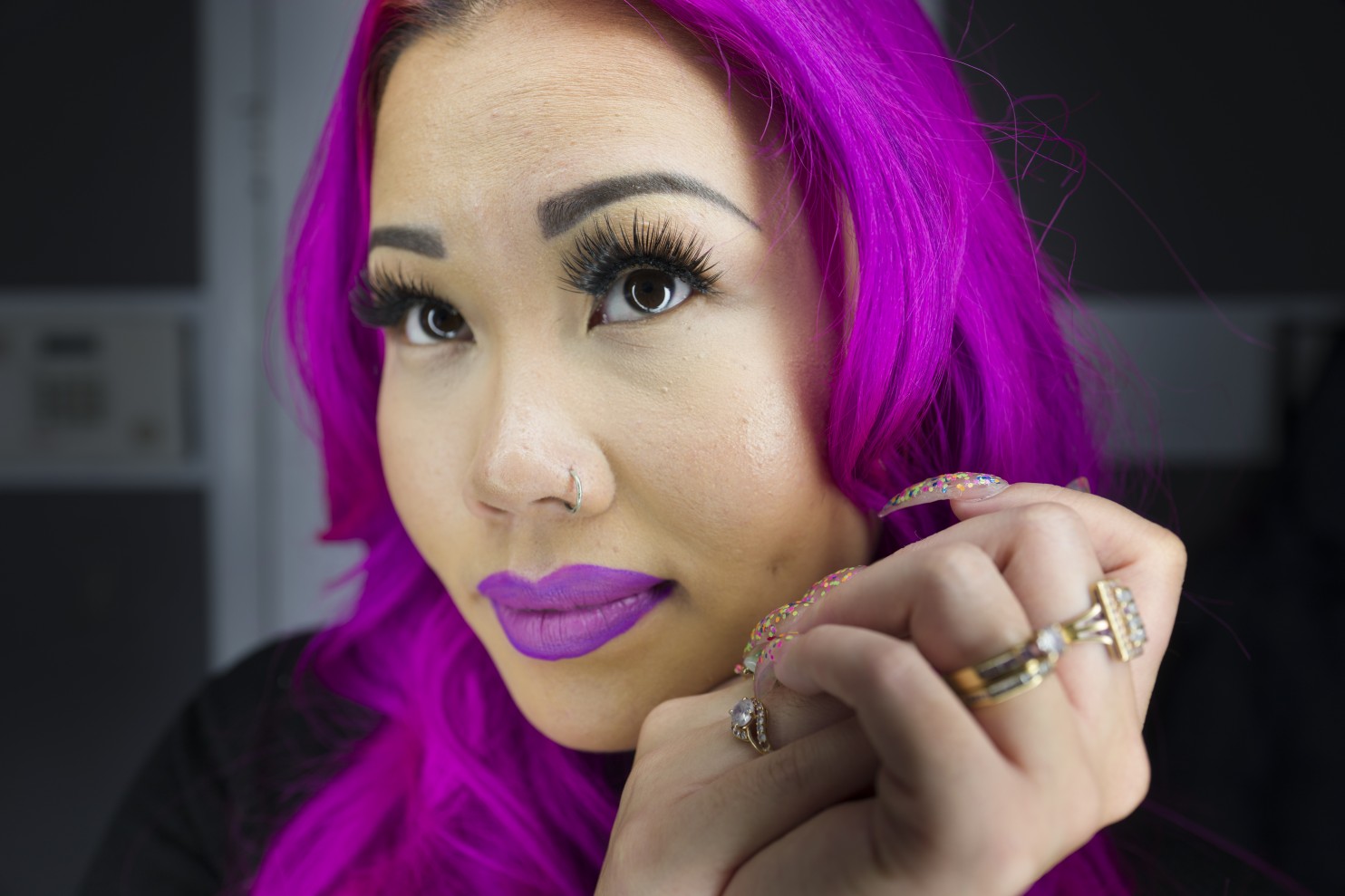 Career
Mimi has a great sense of humor, and when people started writing blogs about her, one of them called her "the ratchet Asian girl", which was an immense help as "Love & Hip Hop: Atlanta" wanted her in their show, especially for that "ratchet" part of her. Since they shoot in Atlanta, Mimi decided to move there, and bought a shop in College Park on Old National Highway, with employees already in place, and named it "UltraViolet Nail Lounge". Her first appearance in the aforementioned show was in the fourth episode of the sixth season on 27 March 2017. Even though it might appear that Mimi was delighted by the fact that she is going to be in a reality TV show, it wasn't that easy for her to make that decision. She knew that the show was intensely dramatic, crazy and might put her in a bad light, which is not good for someone who has a husband and two kids. However, she decided to go for it as she knew it would  boost her career and she became a double life celebrity – one of a messy and loud instigator, and the other a loving wife and mother, and also the owner of a nail salon.
Mimi is considered to be one of the best nail artists in the country, or how her fans like to call her – "nail architect" – and she now has five salons throughout Atlanta.
Personal life
Mimi found the love of her life, Remy Skinner, years before they married in 2010. He is helping her with her career, her salon, by working as her manager – you might see him in some of her videos on Instagram, as he is often in the background. They have a boy and a girl together named Juice and Jayy, and they also have their own Instagram account called "juicenjayy" but they are not running it – their parents are, before they grow too old. They have one more member of the family – their dog Jefe.
https://www.instagram.com/p/BviEEV6A8PU/
Appearance and net worth
Mimi is currently 28 years old. She loves dying her hair, and it's currently green and blue (was pink before that but her natural color is black). She is 5ft 3ins (1.62m) tall and weighs around 130lbs (59kgs) and has many tattoos on her body.
Authoritative sources estimate that Mimi's net worth is more than $2 million, as she earns a lot from her nail salons as well as from her YouTube channel.
Social media presence
Mimi is someone who understands the importance of social media platforms, and is therefore using her accounts to advertise her nail salons. The first thing to be mentioned is her Instagram account, which has the whopping number of 2.6 million followers and more than 7,000 posts. She joined Twitter in February 2016, but it is her least popular account on social media –with 8,400 followers and about 500 tweets. Her Facebook page is being followed by 120,000 people.
The account which helped her become who she is today and raise her popularity is on YouTube – "itslovelymimi" – she joined on 13 January 2015 and has amassed more than half a million subscribers, and nearly 60 million views on all of her 300+ videos combined.
Bootie operation
During one of her interviews, Mimi admitted that she was always fascinated by big booties, and dreamed about having one as well. It is a 'strange desire' as she described it, but she did it anyway, having surgery in May, 2017 and sharing a post on Instagram on which you can see the "before and after" pictures.
Trivia
Mimi released a hip hop song called "We Don't Care" featuring 5ive in September 2016.
She has a different birth date on her American papers, because if she didn't change that when she moved to US, she apparently wouldn't have been let in.