Who is Wynton Harvey? His Age, Parents, Siblings, Net Worth
As one of the most prominent TV personalities of our time, Steve Harvey's extensive career in the entertainment industry includes hosting successful series such as "The Steve Harvey Show" and "Family Feud", among several others. Steve's fame has also extended to his family, who have had to deal with being in the center of the spotlight for a long time.
On tomorrow's show my son Wynton surprises me for #FathersDay + gift ideas for ur dad thx to our sponsor @HomeDepot pic.twitter.com/MloGdqtqkp

— Steve Harvey (@IAmSteveHarvey) June 12, 2015
It's no different in the case of Steve's youngest son Wynton, who despite building a career away from TV cameras, is also well known for his appearances in some of his father's shows, and for the controversies his family has been involved in.
So who is Wynton Harvey? What does he do for a living, and what are the most remarkable details about his life? Keep reading to find out.
Early Life
Wynton Harvey was born on 18 July 1997 in the US, the only son resulting from the marriage of Steve Harvey and Mary Shackelford. Wynton has three older biological siblings and three step-siblings, whom his father adopted upon his marriage to Marjorie Bridges.
Following the divorce of his parents in 2005, Wynton's full custody was given to Steve. In 2016, Wynton enrolled at the Georgia-based Savannah College of Art and Design, leaving his family's home in Atlanta alongside his step-sister Lori, of the same age. The move was documented by his father in a YouTube video, in which Wynton affirmed he was 'excited' at exploring the world on his own. It was also revealed that Wynton was accepted into every college he applied to.
Who Are Wynton's Parents?
Wynton is the youngest biological son of Steve Harvey and his second wife Mary Shackelford. The pair married in 1996 and welcomed Wynton the following year, yet their marriage was far from blissful. As Steve told People in 2016, he had married Mary 'for the wrong reasons' as he had not wanted to be alone, also affirming that the marriage had been 'bad for a long time'. Steve and Mary divorced in 2005, and Wynton went on to live with his father in Atlanta from then on.
Steve eventually moved on and married his third wife Marjorie Bridges in 2007, but the controversy surrounding his second wife was yet to end. In 2011, Mary shared several YouTube videos in which she affirmed that Steve had been unfaithful to her throughout their marriage, had left her estranged from her son Wynton, and left her homeless after the divorce was settled. However, a court statement denied Mary's statements by claiming that she was awarded three houses and millions of dollars in financial support resulting from the divorce settlement.
The judge also slammed her claims about Steve's unfaithfulness, given how these allegations weren't mentioned during the divorce, on top of revealing that it was Mary who had sent Wynton to Harvey's house without previous notice. In the end, Mary was legally prompted to delete her videos, and was accused of breaking a secrecy agreement.
Who Are Wynton's Siblings?
Wynton Harvey has six siblings resulting from his father's marriages. His older sisters are the twins Karli and Brandi, born in 1982, the first daughters of Steve's marriage to Marcia Harvey, with whom he also welcomed Broderick Harvey Jr., born in 1991.
It was during his marriage to Marcia that Steve passed from being a salesman to starting a career as a comedian. He divorced Marcia in 1994, and moved out of Cleveland, Ohio. His move put some distance between him and his children, with Broderick Jr affirming in 2019 that he didn't share much time with his father until he was 16 years old.
Broderick Jr. went on to become a businessman, while Karli is an insurance agent and coach, and Brandi is a writer, podcaster, and businesswoman.
Following the marriage of Steve and Marjorie Bridges, the comedian legally adopted her three children, Morgan, born in 1985; Jason in 1991; and Lori, born in 1997. Nowadays, Morgan is a chef and blogger, while Jason is a fashion designer and entrepreneur. For her part, Lori became an international model and socialité.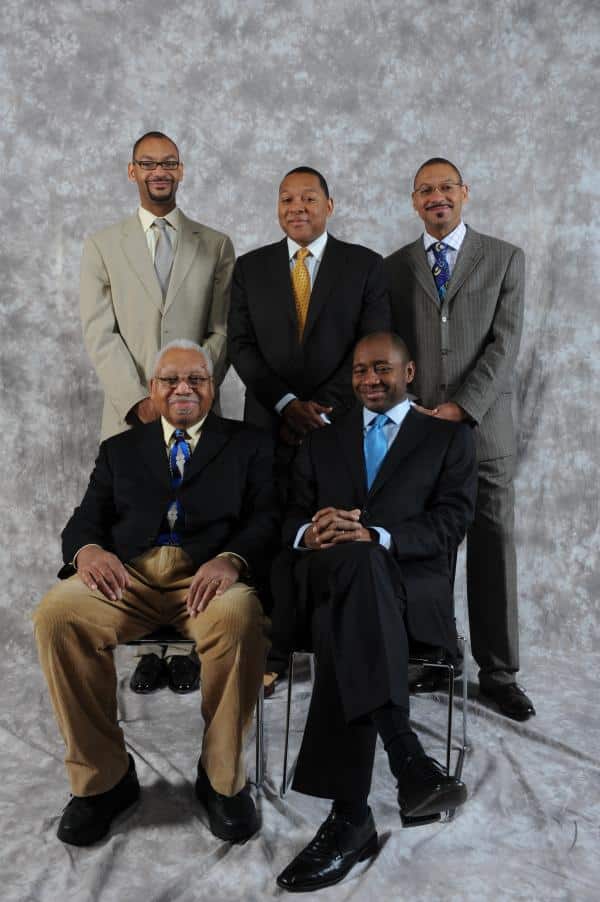 Wynton's Career
Following his graduation from the Savannah College of Art and Design, Wynton Harvey remained in Atlanta, Georgia where he's now established as a photographer.
According to Wynton's website, his love for photography started in 2010, when he was around 13 years old. He eventually pursued photography professionally, focusing on a variety of studio and non-studio settings. His portfolio includes landscapes, high fashion and fine art photography, and artistic portraits, and has minimalist and African-American influences.
As affirmed by Wynton, the goal of his work is to 'evoke emotions' and stimulate the audience. Wynton has been involved in the creation of short films, and made his music debut with the release of the singles "Shadow" and "One Thing" in 2023.
Personal Life
In 2016, Wynton Harvey started dating influencer and blogger Taylor Gordon, the daughter of journalist Ed Gordon. She was welcomed into the family, and even joined their vacations, but the current status of their relationship is unclear. Taylor is the founder and owner of the music business Pocket Loops.
Besides his love for photography, Wynton enjoys fashion, and is often seen at events related to it. In 2018, he joined the Bal des Débutantes, an annual event which invites some of the most promising teens of high society around the world to Paris, allowing them to show off their fashion taste and skills as socialités.
Though Wynton doesn't shy away from showing his style and taste for luxury items through his social media, he's also an advocate for social causes, and often spreads these messages through his platforms.
Appearance & Net Worth
Wynton Harvey is a man of Afro-American descent. He has brown eyes and dark brown hair, which he often sports in stylish ways alongside his beard. Wynton is 5ft 9ins (1.82m) tall, but his weight is unknown.
According to online reports, Wynton has a current net worth of over $500,000, which he has amassed thanks to his job as a photographer. While Wynton's net worth is meant to increase as his career goes further, it's also fair to assume that he and his siblings may have a share of their father's Steve fortune, which is estimated at $200 million, as of late-2023.